These free, cute and creative bakery cakery printables are perfect for your kitchen or breakfast nook. A simple design that really adds a bakery look to your kitchen. Simply print them out and add to 8×10 frames and hang on your wall for super easy, super cheap kitchen wall art.
I loved how these turned out so much that I wanted to share them with anyone else who would like to do this for their kitchen.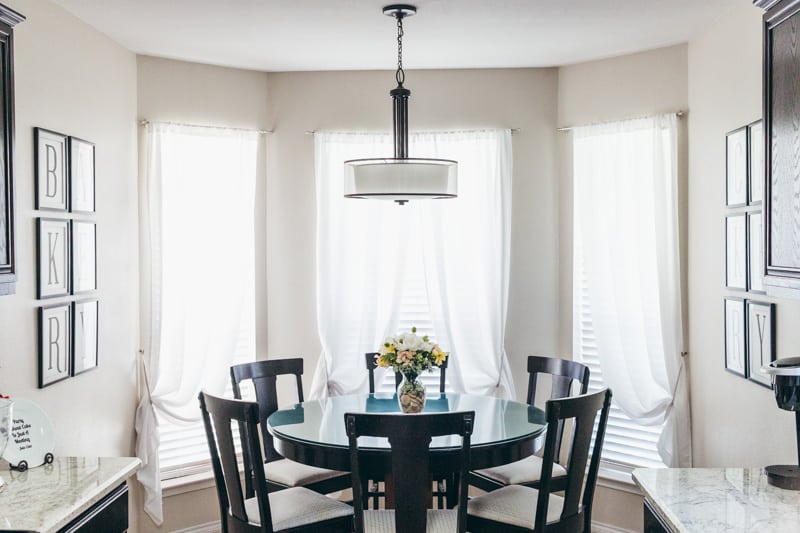 I really needed something to hang on my kitchen walls. I have an eat-in galley kitchen and I've just never found something I really liked to go on each side of my table.
I'm also cheap. (I'm just being honest.) I don't want to spend a bunch of money on wall art. I'm pretty simple in my decor and also didn't want to go over the top.
It occurred to me that I could just print out some large letters, frame them individually and hang them on the walls on each side of my table.
I like the words BAKERY & CAKERY for obvious reasons…I mean my kitchen basically is a bakery/cakery. Those words have the same amount of letters in them, so hanging each word on each wall would be symmetric. I like symmetrical stuff.
I also like touches of black and white. It's classic and just goes with basically almost any color scheme.
I just printed off each letter and placed them into black frames. I got the frames from the dollar tree, so they are $1 each, but I was surprised to find they included a mat in each. Score!
Although they're super cheap, I don't think they actually look cheap…unless you were to inspect each frame, but who's going to do that?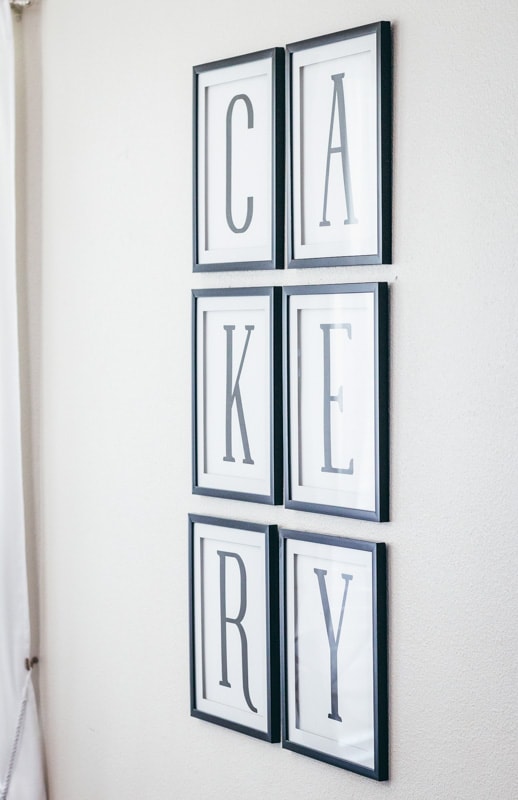 I hung these letters vertically by two, but you could always just hang each word in a straight line, or you could do three letters on top and three on bottom. I just think this design looked best in my kitchen.
Now, if you choose to hang yours like mine, be patient. I did measure, but even when you measure, you'll still need to adjust, especially if you get cheap frames that aren't exactly the same. Just be patient and it'll come together.
I LOVE the final look. It's simple, but really pulls my kitchen together.
Ok, ready for the printables? Just click each pic below or the link under the pic for either the bakery or cakery printable…or both!
*Each letter will be on its own page. For best results, print on cardstock paper.
Each printable will download automatically when you click on the pic or link. Have fun!
Ok I hope you have fun with these!
Don't Forget to Pin it for Later!