A couple weeks ago, I met Rebekah Allan from Angelfoods.net. I say 'met' because it wasn't actually in person, but we 'met' on Facebook and talked on Skype. Let me tell you…she really cares about helping people. She asked me if I wanted to take a look at her cake business school and give my honest opinion.
I was familiar with her website, because, well she's rockin' Pinterest right now. I'd stalked seen her Cake Business School on her website and I was already very interested, so when she asked me if I wanted to take a look at it, I jumped at the chance.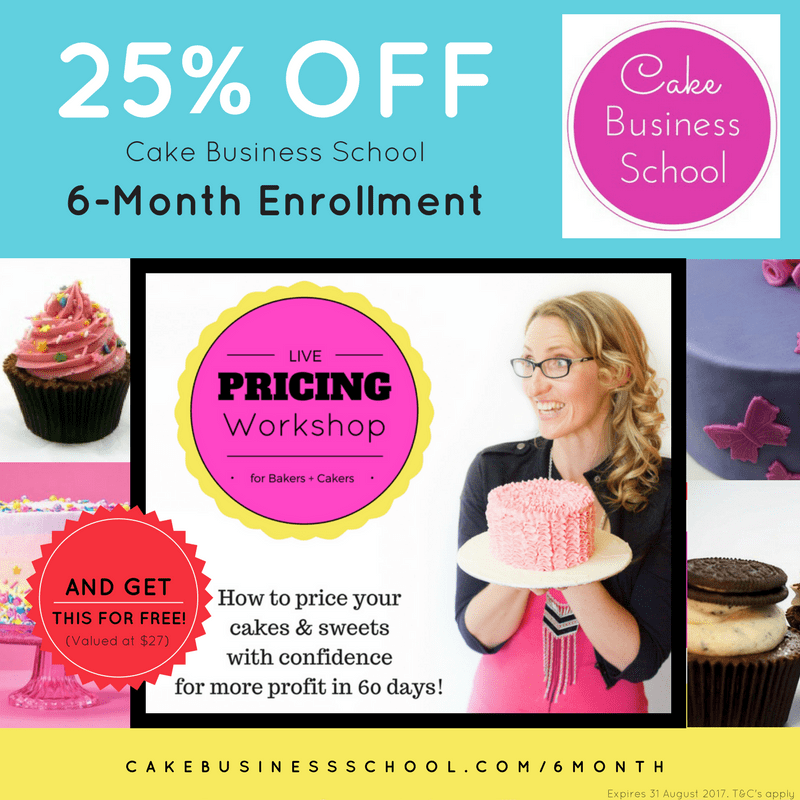 This page contains affiliate links, which means I receive a small referral commission, at no cost to you, if you make a purchase using these links. This helps to support my blog. My promise to you is that I will always tell you my honest opinion…good or bad.
What Is Cake Business School?:
Cake Business School is for anyone who's thinking about setting up a cake business, but it's also great for those who have already started a cake business who want to learn how to gain more customers, start a website, manage their time in a more productive way, become more visible and for those who need help pricing their cakes (and who doesn't need help with that).
I went through Cake Business School from beginning to end. I wanted to be fully informed of all the resources included, so I could give you my honest opinion.
First I will tell you that I have taken countless cake decorating courses. You might call me a cake class hoarder…that wouldn't be too far from the truth. I can tell you that Cake Business School is the most comprehensive course on the caking business that I've ever taken. Getting everything in one place is a BIG deal. When I first started decorating cakes, I would search for each cake business question I came up with and would end up finding the answers (if I even found the answer) in a variety of places.
The first big positive about this course is that you can find all of those answers in one place. Each module includes a video from Rebekah and she includes other resources and materials with each module, like printables and additional videos.
There is so much information in Cake Business School and I wish I had seen this when I was actually taking orders from clients. I'm telling you, this gal really knows her stuff.
Currently there are twenty modules in CBS and more are added every month.
Here's what's cool about it: Not only do you get Rebekah's videos packed with information, you also get extra materials within each module…most modules have additional articles, videos and downloads.
Like I said, there is a ton of helpful resources.
Not only are there training modules, but you'll also get access to other videos and resources under the 'How To' section and the Video Tutorial Library. Plus don't forget to check out the Bonus section where there are even more videos and materials.
SWEET DEAL & BONUS Rebekah is offering:
UPDATED!!
Right now Rebekah has a sweet deal where you can enroll in Cake Business School for OVER 25% off a 6 month subscription PLUS you'll get her live pricing workshop for free.
This deal is only valid until August 31st, 2017.
Click the graphic to grab the deal and to find out more: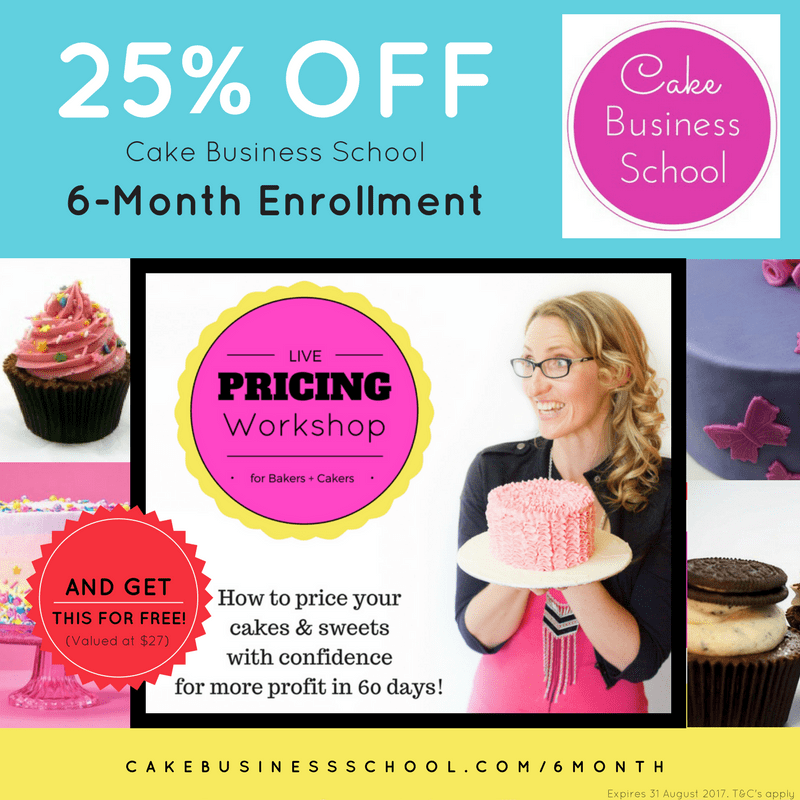 Oh and Cake Business School isn't strictly for those in Australia. It's applicable to anyone, anywhere who wants to learn how to build a successful cake business.
Here's what Rebekah says:
Get instant access to Training Modules + monthly new video training, exclusive access to the members area (where the cool Cakers hang out), free listing in the Biz Directory and social media Member Shares. With email support and red carpet treatment.
Sounds pretty cool, right?
Go here to take a look at a list of all the modules and resources you'll get in Cake Business School.
My pros and cons of Cake Business School:
Pros:
I love how she gives you tons of great ideas for marketing and just getting your name out there. They are real actionable tips you can take.
Cake Business School is great for those just thinking about starting a cake business and for those who have already started, but want a little guidance.
Lots of bonus material within each module…printables and additional articles and videos.
Rebekah has a Facebook group specifically for Cake Business School and that alone is a fantastic resource. In her videos she tells you she loves questions and is happy to help…and she means it. She is very active in the Facebook group and WILL answer questions. In addition, just being a part of the cake community and interacting with others in the group is a great resource.
She's adding more content on a monthly basis.
She gives you a look into her background, which helps you get to know her better. I especially enjoyed her thoughts and helpful tips about having a cake business when you also work a full-time job.
This is a random pro, but she has a nice Australian accent that I would trade my Texas one for any time 😉
Cons:
The licenses for cake businesses that she refers to are a bit more specific to Australia, but that is only a portion of the school and there are a ton of other resources that are very useful. If you're in the U.S., it's a good idea to look up your state's requirements for starting a cake business. Some states, like Texas, have a cottage food law, which allows you to sell baked goods (that don't require refrigeration) out of your home.
The video quality isn't fancy. Some of the videos are outside and you can hear a little wind-noise at certain times, but you can still hear what she's saying. Honestly, I kind of like the videos she does outside because you can hear the birds in the background.
She might throw in a couple of curse words on occasion. I only noticed it a couple of times and for me, it was negligible and wasn't distracting.
FAQs:
Here are just a few of the FAQ's Rebekah has listed on her website:
When does Cake Business School Start and how will it work:
Modules 1 is available straight away. The membership username and password will be emailed straight to you to log in and start.
Each month you'll receive an email with the new training module content.
How long will I have access to the course?
No worries, I've got you covered! You get access to the School, all year long.
Whether you are getting married, got holidays planned, a big work project, other commitments, lots of cake orders, work is nuts, you will have lifetime access to the course.
Soooo, you'll be able to work through everything in your own time AND follow my step-by-step formula for as long as you are enrolled.
You will never be 'behind'. The course will reach your inbox every month & you will learn and digest the info when you are meant to!
How is Cake Business School different than other courses?
Cake Business School is the only course I know of that actually gets INTO practical how-to information to help you market, sell and create a PROFITABLE cake business.
In it I share training you won't get anywhere else including lots of my hard won wisdom on this topic and exactly how, step by step, to showcase your unique skills and services in a way that your ideal clients will love whether you're growing your business off – or online.
Click the picture below to see the list of all the FAQs and additional information about Cake Business School.
Now, all you have to do is go HERE to enroll in Cake Business School! It's as simple as that to get started on the road to achieving your cake business dream.
If you do enroll, make sure to tell Rebekah I sent you!