Awhile back, my son had a milestone birthday. He turned 20…and yes I feel old now. He's a manly man and sort of reminds of a guy that would be on one of those Duluth Trading Company commercials.
You know the lumberjack kind of look? (I mentioned this once to him and he tried to hide it, but I saw him smile and I think his head grew to three times its size.) Anyway, for his birthday, I knew I wanted to make something manly and what's more manly than chocolate beard cupcake toppers!
The beards are actually made of chocolate and the base of the cupcake topper is fondant. I decided to go with metallic beards because, well, I just can't stop myself when it comes to metallics.
I also decided that the beards needed a manly background, so I created a wood plank fondant topper for the silver beards…
and a brushed metal look for the gold beards.
I had originally decided the cupcakes would be chocolate with my double chocolate buttercream, but about a week before his birthday, he texted that he REALLY wanted a 'bad to the bone' lemon cake. Yes he really said that. I told him the cupcake toppers were already in the works and he'd have to settle for lemon cupcakes. By the way, you can get that recipe here: Lemon Sour Cream Cupcakes
Well, lemon cupcakes didn't really go with the theme I had going on, but he didn't seem to care. For the purposes of this post (and mainly because I was just craving some chocolate buttercream) I decided to take the photos using my original idea. They're definitely manly, right?
Ok, on to the tutorial on how to create these bad boys. (Oh and there's a video close to the end.)
This post contains affiliate links. As an Amazon Associate, I earn from qualifying purchases. You can see my policies linked in the website footer.
Supplies for the Chocolate Beard Cupcake Toppers:
Melted chocolate (I used semi-sweet)
Black fondant
Brown fondant

Edible Silver Luster Dust

Edible copper or bronze luster dust

Dark Brown Petal Dust

(or you can use dark cocoa powder)

Round cutters

Piping bag

(for piping the chocolate beards)
Wood texture sheet
Piping Gel
Beard Template (I just found some clip art online)
Alright, lets get to making these guys. Don't forget about the video close to the end of the post.
Making the chocolate beards:
First, you need to print out a template of some clip art beards. Tape that page onto something like a cookie sheet and then tape some wax paper over it.
Now you'll melt some chocolate, I used semi-sweet, and add it to a piping bag. If it's super hot, you might let it cool just slightly first.
Snip off the very corner of the piping bag and pipe over your beard clipart. You'll need to pick up the cookie sheet and tap it onto your table a bit to flatten out the chocolate.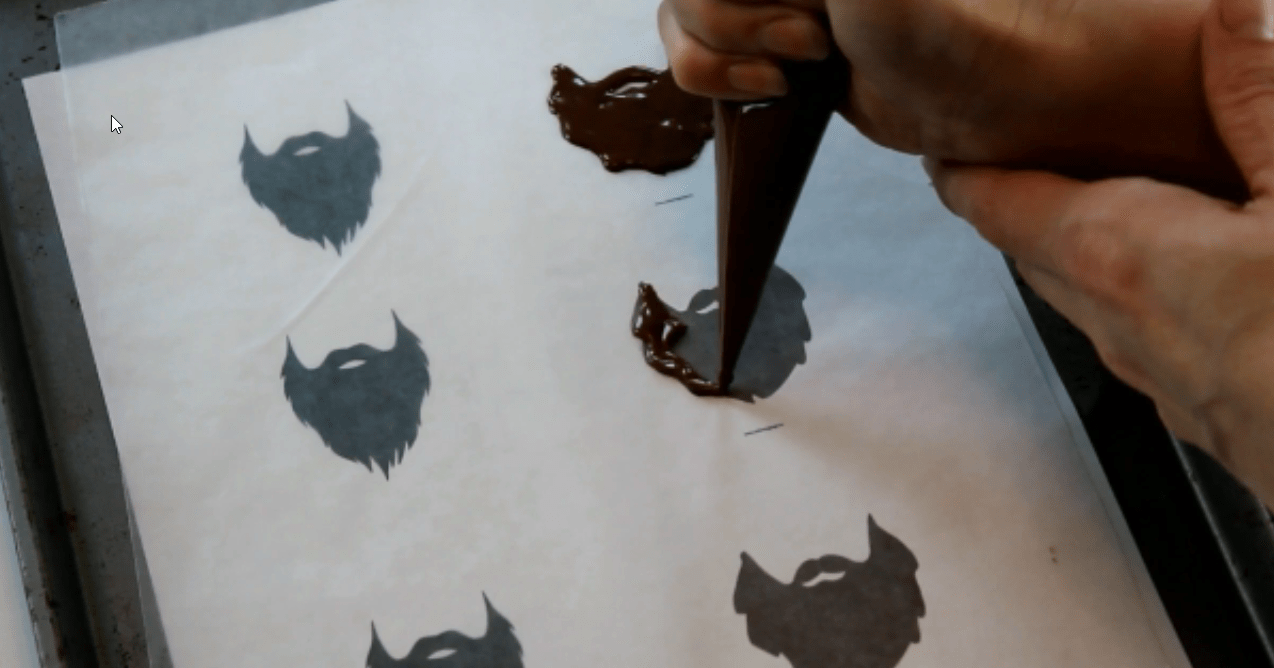 Once you've got them all piped, just pop them in the fridge until they're good and chilled.
Once chilled, dust half of the beards with edible silver luster dust and the other half with edible copper luster dust. Don't add extract to the dust…just dust them dry.
Now pop them into the fridge until your bases have firmed up and are ready to use.
Making the wood plank fondant cupcake toppers:
Now we'll work on the wood plank bases.
Roll out different shades of brown fondant and sort of smash them together.
Now roll into a log, roll it up like a lollipop and then roll it into a log again. (It'll make more sense in the video.)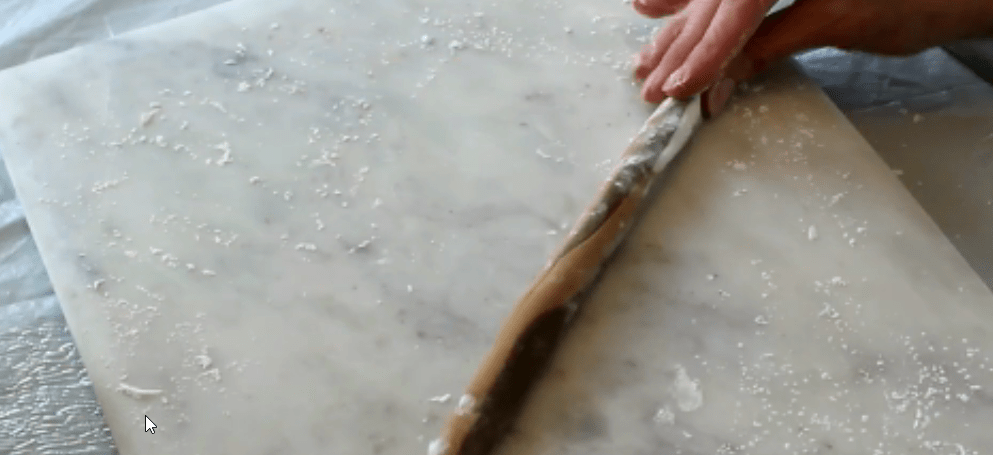 Once you get it marbled the way you want it, just roll it out.
Take your wood texture mat and roll over your fondant to impress the pattern.
Once you've got it rolled out, cut out circles. If you have some fondant left over, then roll it out again and cut out more circles. You want your circles about the same diameter as your cupcakes will be.
Now take a ruler or a straight edge and imprint some lines in your toppers to make them look like wood planks.
Set aside to dry for about a day. Next take your dark brown petal dust (or you can use some cocoa powder) and brush that into the lines you made and around the outside of the toppers.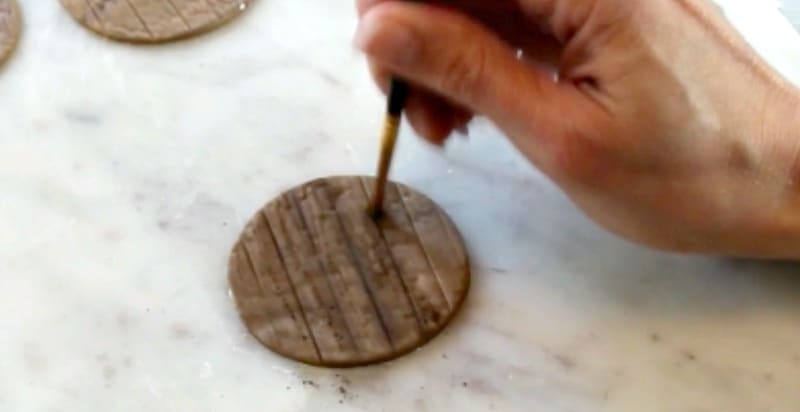 Set these aside.
Making the brushed metal fondant toppers:
Now we'll make the brushed metal toppers. Take your black fondant, roll it out and cut out your circles.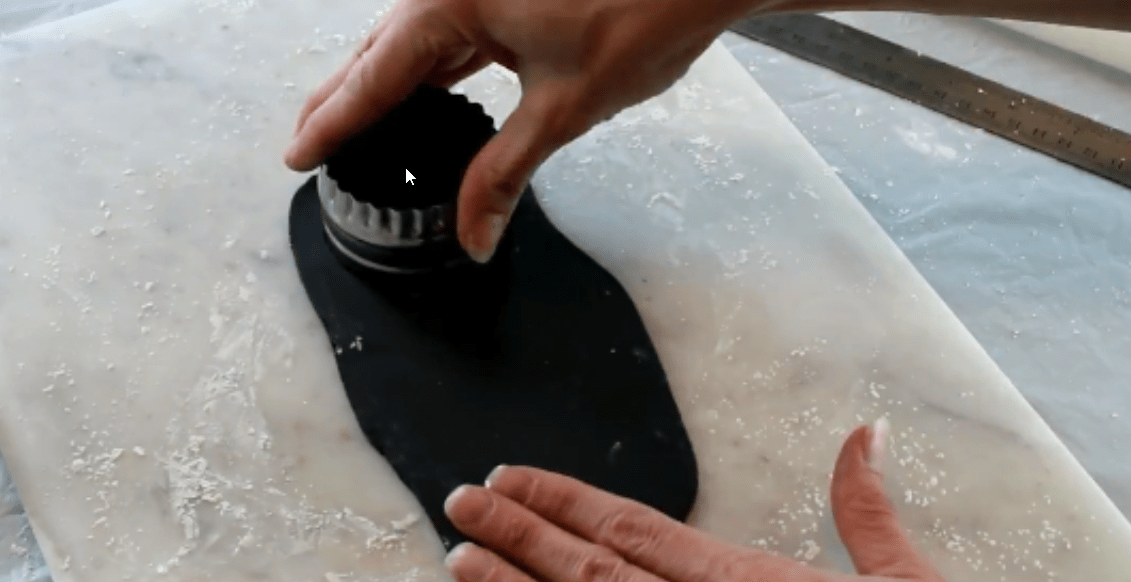 Next, before they firm up too much, add some edible silver dust or some super pearl dust with a bit of lemon extract or vodka. Make sure to dry your brush off a bit on a paper towel and then dry brush lines onto your toppers.
Let it dry a couple minutes and do it again.
Now take the end of your paintbrush and press down around the outside of your topper. You're just making some indentations that sort of look like nail holes.
Set these aside to dry fully.
Putting the chocolate beard cupcake toppers together:
Alright, now it's time to put these bad boys together.
Take your chocolate beards out of the fridge and peel them off of the wax paper. Add a bit of piping gel on the back and just pop them onto the fondant toppers.
You'll need to be gentle with the beards, because they'll be a little delicate. I added the copper beards to the silver fondant toppers and the silver beards to the brown wood look toppers.
Now just pipe your frosting onto your cupcake…
and set your toppers on top!
Just look how manly they are!
And here's the video to show the details:
Ok, what do you think? Know a manly man who'd like to get these?
PIN IT HERE! –>