Yeah, you saw it right, this post is about how you can decorate cakes using dollar store items. Why? Well, for one, I love the dollar store. When I go, I'm usually going for just a couple things, but inevitably find other cute little things in the housewares section, or things I can use for DIY projects or photo props.
I went a little crazy in the dollar store awhile back and actually came up with six different cake designs.
Here's part of my dollar store haul: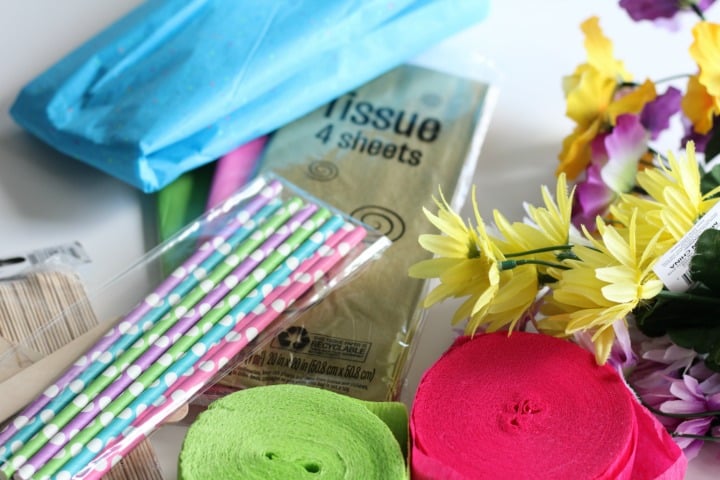 This post contains affiliate links. As an Amazon Associate, I earn from qualifying purchases. You can see my policies linked in the website footer.
Yep, there are six cake designs here with instructions on how you can make the cake decorations from dollar store items. Here are the cakes we'll be making:
The Floral Frame Cake
The Streamer Cake
The Initial Cake
The Gender Reveal Cake
The Name Cake
The Beard Cake
Here's the thing…I'm just not a cake snob. Well, let me clarify that…I AM if it's a cake from a cheap discount store (you know what I'm talking about). I think everyone is capable of making a great tasting, creative cake, even if you don't have a lot of time, experience, money or energy. I also don't think people should be so hard on themselves if they don't think they have major cake decorating skills.
I think it's okay to use a boxed cake mix if you want. I say 'so what'…if you like the taste, go for it, if you have more time and prefer a scratch recipe, I think that's great too. Both have a place in my life. I like to keep my options open. I also feel that when time, money and energy are short, it's perfectly fine to go the easier route when decorating and baking cakes. Now, if you're selling your cakes, you want to use the best ingredients and put your best skills forward, but making cakes for your kids' birthdays or get-togethers are supposed to be fun…not hectic, right?
Ok, enough of my lecturing. We can give ourselves a break while still creating unique, great tasting, beautiful cakes with whatever skill set we have, whatever money (or lack thereof) we have, or how much energy we want to spend on it. So let's get started!
You can make these toppers just as I did, or you can use some of these techniques and ideas as a jumping off point for your own design. I'd actually love to see what you make!
Some of these cakes require a little buttercream piping. If you don't want to mess with that, it's totally fine! They're still going to look cute!
You can just spread your icing on your cake and use a spoon to swirl the icing to create a rustic effect, then pop your topper on your cake.
The great thing about these cakes is that they aren't expensive to create, you're still making something with your own hands (not just making a trip to the grocery store) plus you can make these toppers way ahead of time. All you have to do the day before or the day of the party is to pop the topper on the cake! You could make it even easier on yourself by baking your cakes the week or two before the party and freezing them. Check out this post for my tips on freezing cakes and cupcakes.
A quick note: My advice for these cakes is if you are keeping the cake in the fridge, let it come to room temperature before inserting the topper. It'll make it much easier.
Now on to the cake tutorials!
1. The Floral Frame Cake:
For this cake, I used:
First, use your hot glue gun and glue your popsicles into a square shape.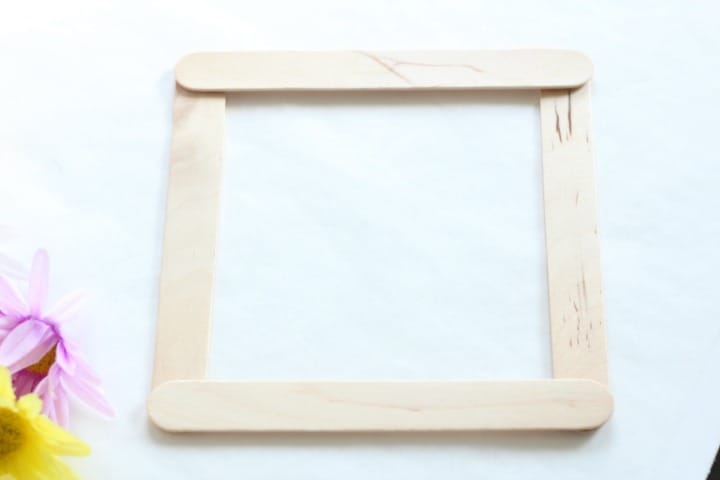 Now, cut your flowers off the stems. Try to cut them as close as you can to the flower, so they well lay flatter on the frame.
Next, lay them out how you plan to glue them onto your frame, then glue the corners on first.
Just continue gluing on your flowers until they cover the popsicle sticks. I also added in a couple leaves in the corners.
Turn the frame over and glue a popsicle stick to the back of each side. Theoretically, it would have been better to glue these on before attaching flowers. (Sometimes I just get so excited when I start a project, that I skip steps.) Anyway, the popsicle sticks are so you'll have something to insert into the cake.
Now all you need to do is bake your cake, ice it and then insert the topper into the cake.
For this cake, I went with simple white buttercream. I just iced the cake with an
[easyazon_link identifier="B00F0A6FYU" locale="US" nw="y" nf="y" tag="iscreamforbut-20″]offset spatula[/easyazon_link]
and smoothed it. It doesn't need to be super smooth. Then I used a
[easyazon_link identifier="B0000VLEU4″ locale="US" nw="y" nf="y" tag="iscreamforbut-20″]smaller offset spatula[/easyazon_link]
and went around the cake creating the texture. Just drag it around the cake and clean off the spatula every so often. If you don't have a small spatula, the back of a spoon works too.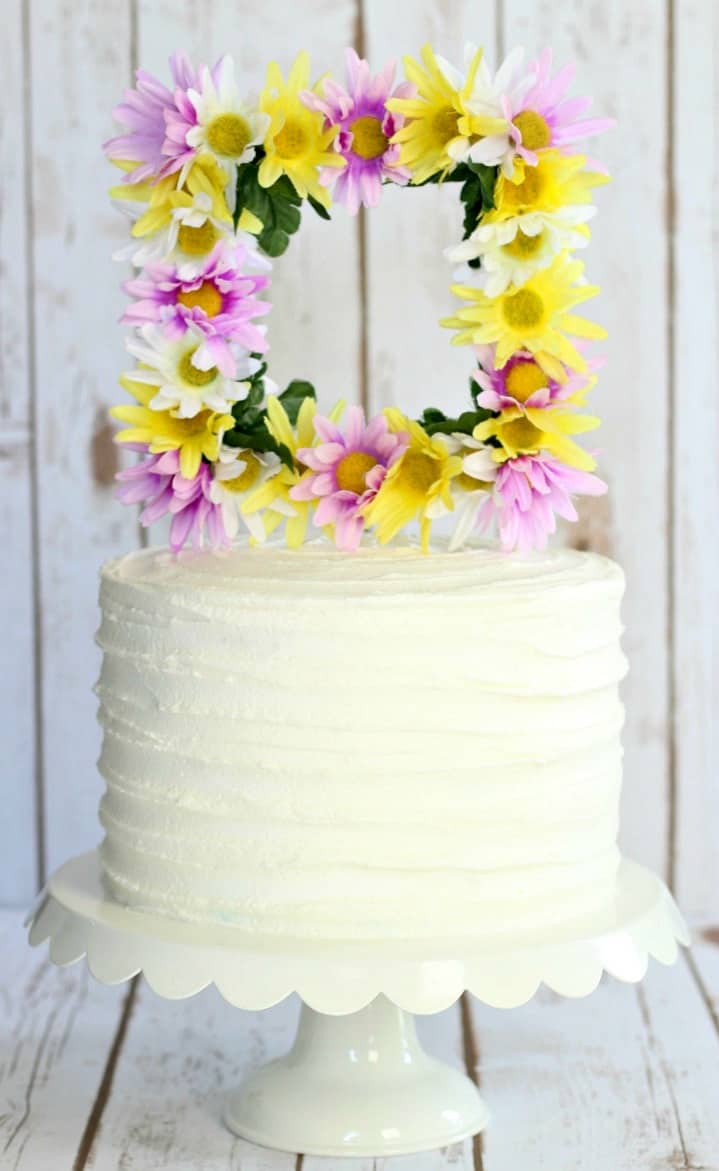 So simple, yet so pretty, right?
2. The Streamer Cake:
For this cake I used:
First take your streamers and cut some stripes, about 5 to 6 inches long for each strip, they don't have to be perfect. I cut anywhere from 6 to 8 strips for each streamer.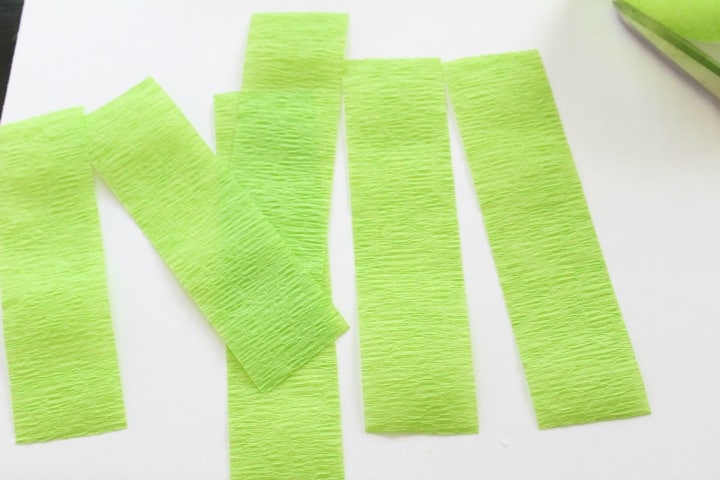 Now stack them onto each other and cut off the ends so they'll be the same length. Now cut strips on one side of your stack of crepe paper. Don't cut all the way through, but leave about an inch uncut.

Next, take your streamers and hold them by the end that hasn't been cut. I just held them with the cut end down. Scrunch the end together and then add the other pieces, one at a time, scrunching them together as you go.
When you get the strips all together, twist them between your finger and thumb to get it as skinny as possible. Now stick that end into the straw. Twist the straw a little so it goes in snug. It should stay in fine. I didn't need any glue to hold mine in place.

You'll want to 'fluff' your streamers a little. Some of the strips will get a little wonky. If you want, you can give it a little haircut too. Just cut a few of the strips here and there and you'll get different lengths.
When you stick these into your cake, make sure your cake is not cold. These are just paper straws and they are not super sturdy. They'll bend and crease. Trust me. You can 'pre-drill' the holes into your cake if you want. Just take a dowel and make the holes where you want to insert your straws, then just insert them. I cut some of the straws a little shorter, so it would give the look a little dimension with differing heights.
For this cake I used the same method as the floral frame cake, but added a few steps. I iced the cake, then used the offset spatula to make the lines around the cake. I then added some blue gel color to a little of the buttercream and used a Wilton 2D icing tip to do the swirls around the top and the stars on the bottom. I also added some sugar beads to the piped stars.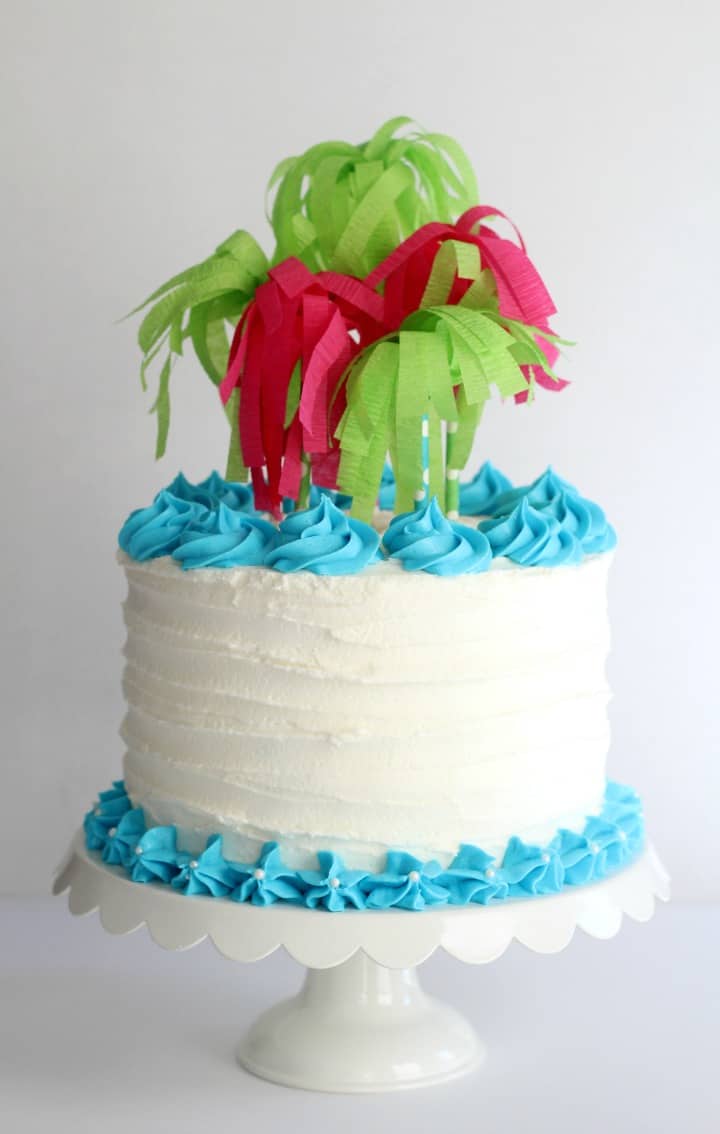 So fun, right? The great thing about this one is that you could change the colors up for the streamers and the icing border.
3. The Initial Cake:
For this cake I used:
I found this gold glitter poster board at my local Dollar General. It's retina burning shiny. Seriously…I had it on my table with the window blinds open and I had to close the blinds it was so bright.
Do you see what I'm talking about? Blinding! It's so shiny, you can see my window and curtains reflected. The good news is that you're only going to use a portion of it. It's not that blinding in smaller portions. Obviously, you could use any color of poster board you find, but I like the bling.
For this cake, I actually used Word on my computer, typed my first initial, and picked a font and size that would be easy for me to cut out. I printed it out and then cut out the letter. If you don't have a printer, you can perhaps find those foam letters at your dollar store and use them as templates.
Once you get it cut out, take your migraine inducing glitter poster board and turn it face down. Now take your letter and put it face down on the back of your glitter board. It can't be face up because then when you turn your glitter board over, depending on the letter you're using, it could be backward. Trace around it and then cut out your letter.

Turn your letter face down and glue a popsicle stick or skewer to the back of your letter.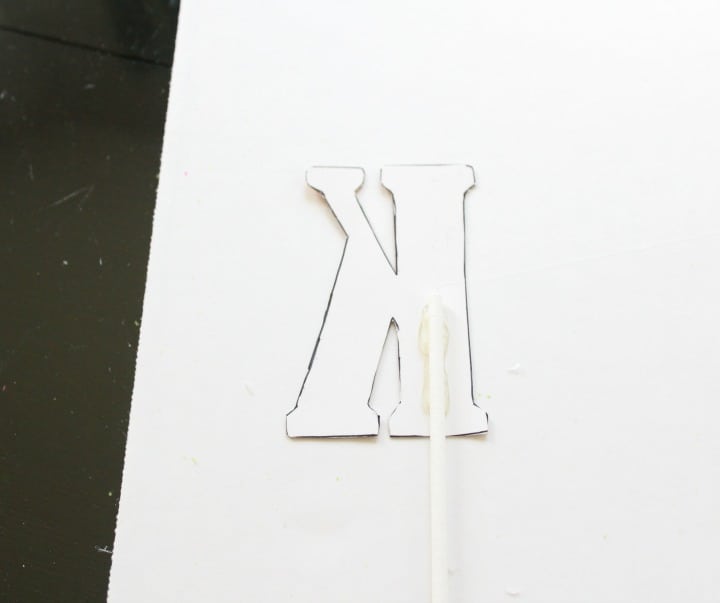 Next all you have to do, is insert it into your cake!
For this cake, I went with a simple white design. I iced the cake and then took my small offset spatula to make the texture around the cake the same as the floral frame cake. I used my favorite icing tip, the Wilton 2D tip, and piped little dollops on the top of the cake and a large shell border around the bottom. I also added some gold sugar beads to the piping around the top of the cake.
Such a sweet cake. You can use any color poster board and of course, any color icing. Here's a tip though, if you use a plain poster board and not the coated glittered one, make sure you don't insert your initial all the way into the buttercream. The butter will seep into the poster board and could discolor it.
4. The Gender Reveal Cake:
For this cake I used:
First you need to take your foam board and draw a question mark on it. Ok, my drawing is a little rough…drawing is not my talent. It doesn't matter, though, we're going to cover it up. Take your exacto knife and cut out your question mark.
To make the tissue paper roses: Cut strips of your tissue paper. The wider and longer your strip is, the bigger and fuller your rose will be. Start at one end and just roll it up scrunching the middle as you go. Once you get to the end of your strip, squeeze the middle. Take your scissors and cut there.
Now, you'll have two roses. Do this with varying lengths and widths of tissue paper so you'll get different size roses.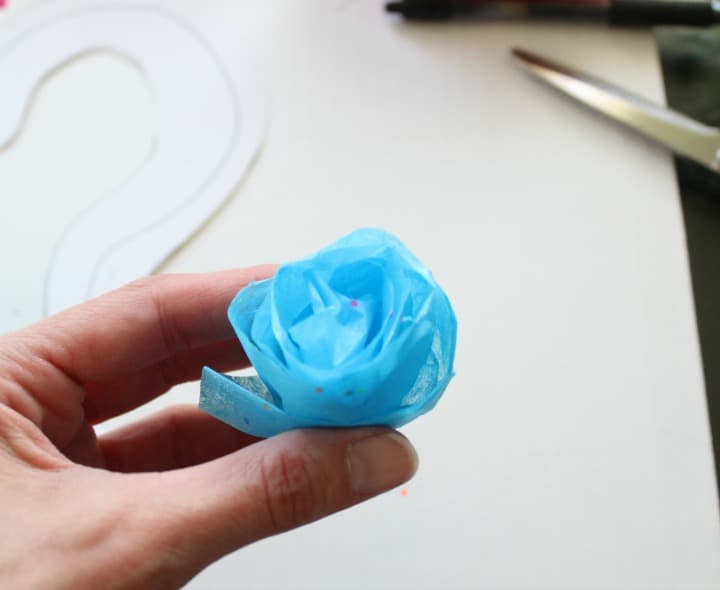 Now you just need to take your tissue paper roses and hot glue them onto your foam core question mark.
Keep going until your entire question mark is covered. Turn it over and hot glue a popsicle stick to the back so it can be inserted into the cake.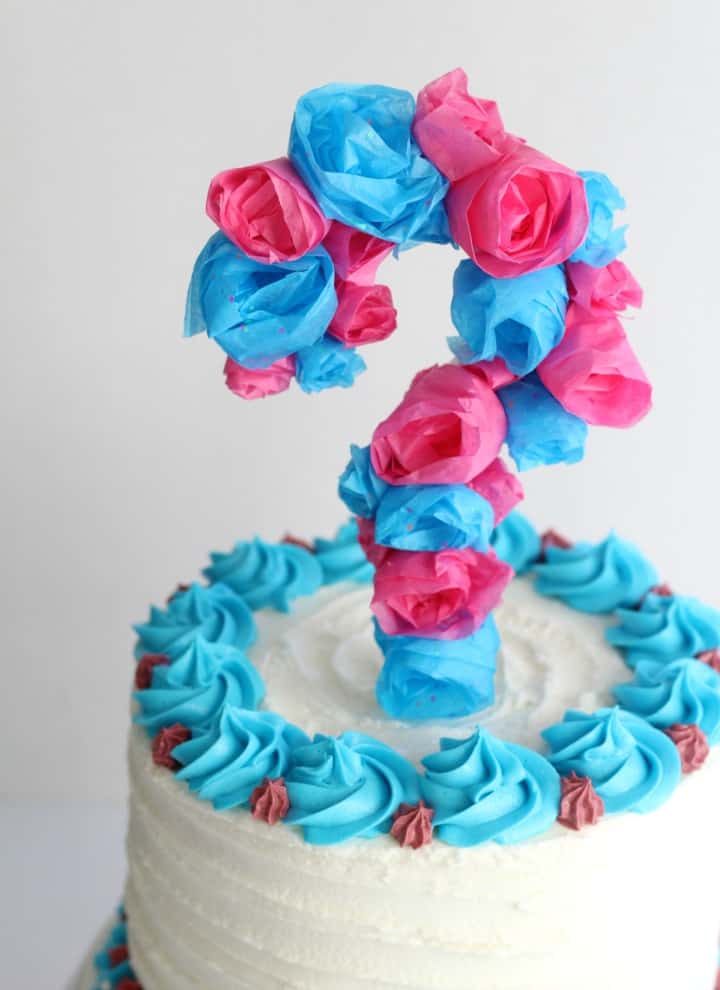 For this cake, I used my Wilton 2D tip for the swirls on the top and the stars on the bottom. I then piped some small pink stars between the swirls with a Wilton tip 18.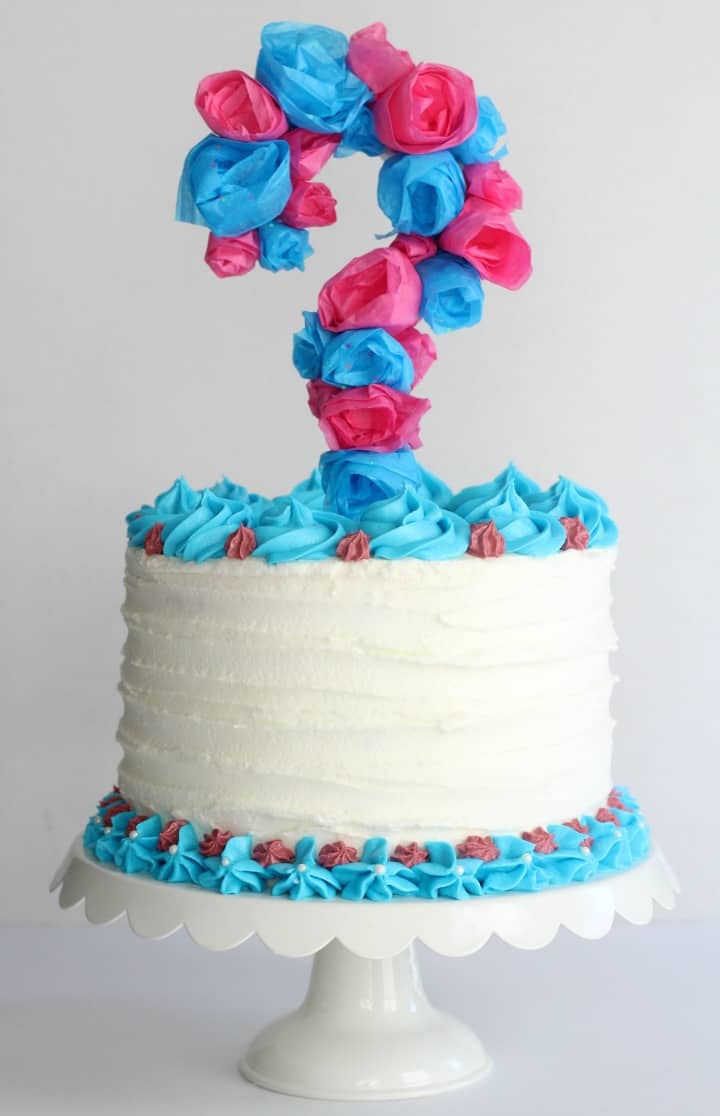 So cute. Don't forget to dye your cake batter pink or blue!
5. The Name Cake:
For this cake I used:
I used Word and typed out my letters. I changed the font and size to fit the cake style and printed them out. I just went with 'Mom' here, but you can use any name you want. Keep in mind the amount of cutting you'll have to do. Cut them out and lay them face down onto your face down glitter poster board. Trace around the letters, but you'll want to leave some extra space at the bottom of each letter. You'll be folding that part under to tape to the board. That's how the letters will stand up. Now just cut out your letters.
Place your cake on your board and decorate it. I used white buttercream and added a few rose colored buttercream stripes to the cake. I took a large buttercream smoother and smoothed around the cake.
Take your letters and fold the bottoms in and tape those ends to your cake board.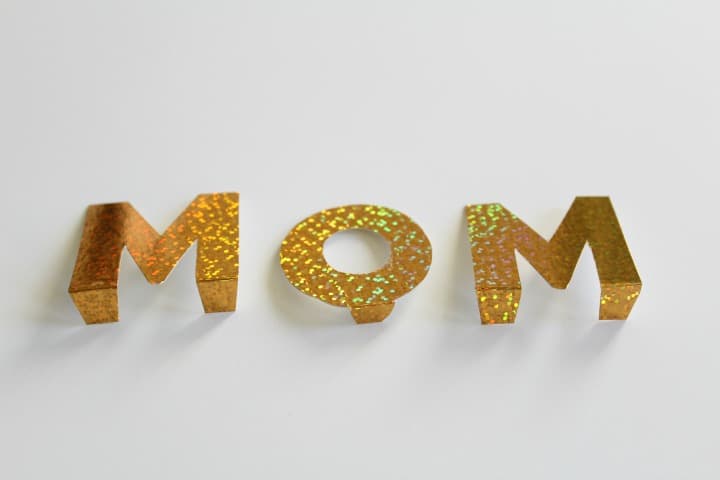 For the top, I just used my Wilton star tip 18 and piped swirls around in various colors of rose. Then piped some stars in between them.
You can, of course, change up the colors of the icing and the poster board.
6. The Beard Cake:
Ok, it's time to get real. I wasn't sure if I would add this cake to the list, but I went ahead and did it. Here's the reason I was hesitant. If I hadn't told you it was a beard, would you have known it? After looking at it for while, it sort of started to look like a gold sparkly ghost. I think if I had to do it over again, I would have found a picture of a beard that also included a hat or some hair on top, to give it more of a reference point.
BUT…here's an idea. If you make it just like this one, wouldn't it be cute to have the guy standing behind his cake with the beard in front of his face and then snap a pic? My step-kids weren't at home when I made this cake, but I SO wish they had been because I could have gotten such a cute picture of that.
On to the cake…
For this cake I used:
First, find a picture of a beard silhouette online and paste into your Word document. Make it the size you need it and print it out. You could also find a picture in a coloring book…do they make coloring books that are just beards? If you're a good artist, you could probably just draw one. Anyway, once you get it cut out, set it down on your face down glitter poster board and trace around it…then cut it out.
Turn it over and glue on a popsicle stick or wooden skewer.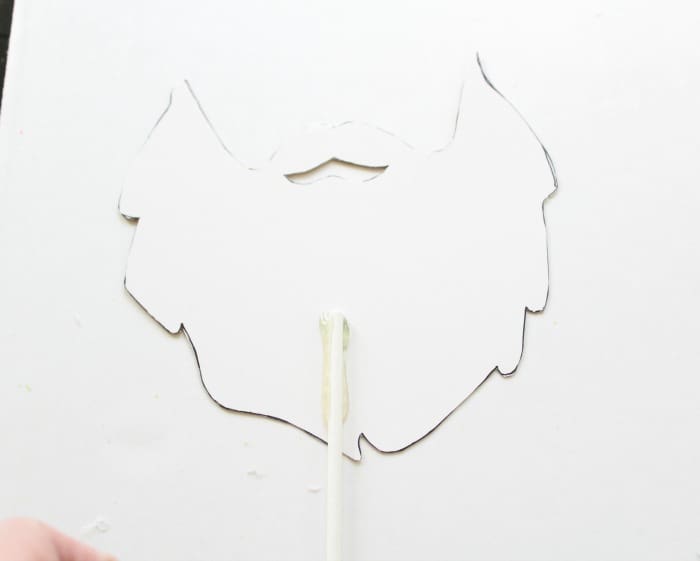 Now just insert it into your cake!
For this cake, I used my super delicious Double Chocolate Buttercream and just piped a shell border over the entire cake using my Wilton star tip 18. I just started at the bottom of the cake and worked my way up.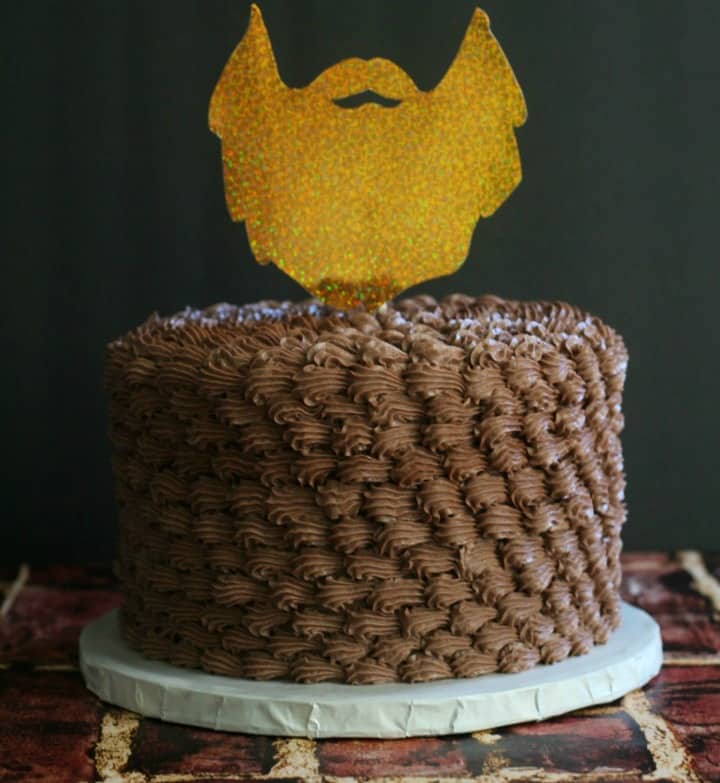 There you have it! Six techniques you can use to decorate cakes with dollar store items. The fun thing about these is that they can be customized. You can change the colors to match any theme. They are simple, not too time consuming AND you can make them ahead of time. No stressing out at the last minute!
Don't Forget to Pin it for Later!