These Easy Edible Wedding Cupcake Toppers are such a cute way to personalize your wedding or to give as wedding favors. You can use this technique on any cupcakes you like.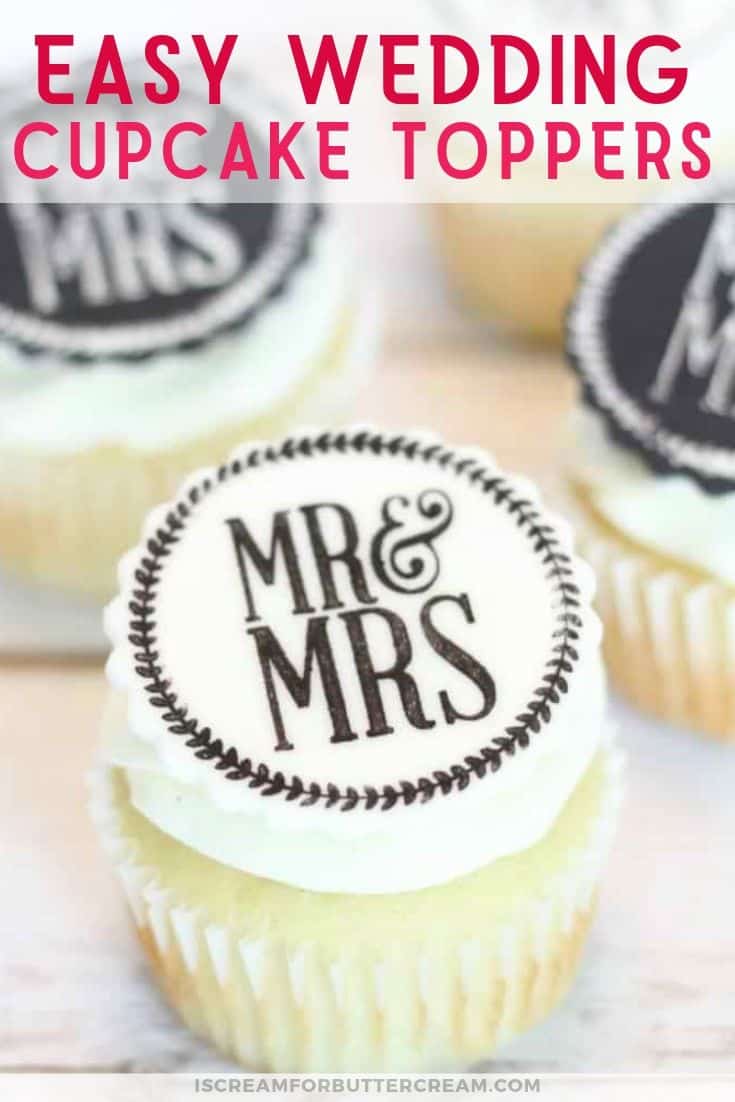 I am a stamp hoarder. Yep, I can't pass up the stamp bin in Walmart, Michaels or Hobby Lobby. They've always got a bin with discounted stamps in there and sometimes you can find some really great deals.
Recently, I found this little gem and I thought how cute these would look as wedding cupcake toppers. I decided I'd show you how to make these Super Easy Edible Wedding Cupcake Toppers using rubber stamps.
This is something you can do ahead of time. I know lots of bride's are on a wedding budget and are looking for ways to do things themselves. While I don't suggest making your own wedding cake, unless stressing out is super fun for you, I do think these little toppers are a great idea. If you've decided to go for a smaller wedding cake and want to supplement that with cupcakes, this is a great way to do that.
You can use a different stamp, or even get a personalized stamp with your own initials. You just want to make sure you are only using this stamp for food. I'm sure I don't have to tell you, but don't use your stamp with ink and then use it for food…even if you wash it. Just don't do it.
Ok, lecture over.
Another idea would be to give these little cuties as wedding favors. There are tons of websites where you can buy personalized cupcake favor boxes, or just buy the plain boxes and use some letter stamps to stamp your own monogram on them.
So now that you have some great ideas, let's start making these babies.
This post contains affiliate links, which means I will receive a referral commission, at no additional cost to you, if you make a purchase using these links. As an Amazon Associate, I earn from qualifying purchases.
These links also use cookies, which tracks and allows me to get credit for the referral. You can see my policies linked in the website footer.
Supplies You'll Need:
This technique will work on most rubber stamps. The trick is that you want to wash your stamp with soapy water and let it completely dry. I'm going to reiterate my point above…don't use a stamp you've used regular ink on before. Use these ONLY with edible markers or edible dusts.
Here's the stamp I used:
Ok, now we'll get started:
Making the Easy Edible Wedding Cupcake Toppers:
After you've washed and dried your stamp, you'll want to roll out your fondant. Choose whatever colors you want. I chose black and white because it's classic, but you can coordinate these toppers with your wedding colors if you'd like. You could even do all white and change up the edible ink colors. Edible markers come in all different colors. (Just make sure the markers you buy say edible on them.)
Roll out your fondant. You don't want it super thin, but you don't want it really thick either. If you've read my blog before, you know I love using a pasta roller attachment to roll out my cupcake toppers to keep them the same thickness. If you don't have one, no big deal, just use your small fondant roller and try to roll out the fondant evenly. Sprinkle a little cornstarch on your surface before rolling them out, so they don't stick.
Stamping the Fondant:
I chose not to cut out my circles yet, since my stamp had a circle pattern to it and it's hard to line that up if the circles are already cut out. It's easier to line up the circle cutter around the stamped design.
We'll start with the easiest one first. Take your stamp and use your edible marker to color all over the stamp part. Move quickly because the ink will dry fast. I hold my marker sideways so I get more surface area covered quicker.
Now stamp it onto the white fondant. Push it down like you're stamping on paper. Don't just barely set it on there, press it down just a bit, but not too firmly or you'll mash your fondant too much. Use a tiny bit of pressure. Sometimes you can get two stamps out of coloring it once. The second stamp will be a little lighter and if that doesn't bother you, then go for it!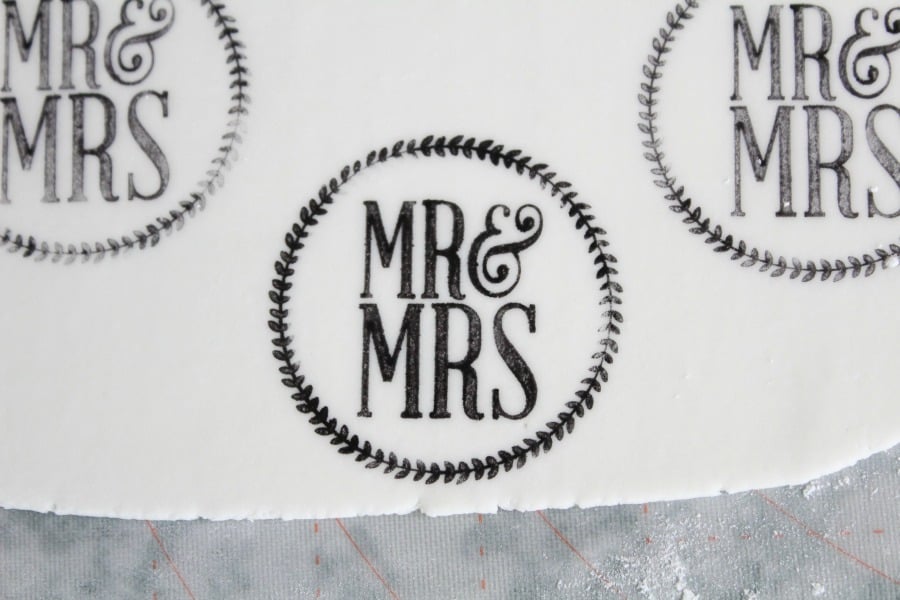 Now for stamping on the black fondant. I mixed my super pearl luster dust and a little of the white petal dust on a plate. Add a couple drops of lemon extract, mix it up with a brush and spread out the mixture so it's not all one big blob. Now you'll want to make sure your stamp is washed and dried if you've used another color prior to this. Take your stamp and dab it onto your dust mixture and then stamp onto the black fondant.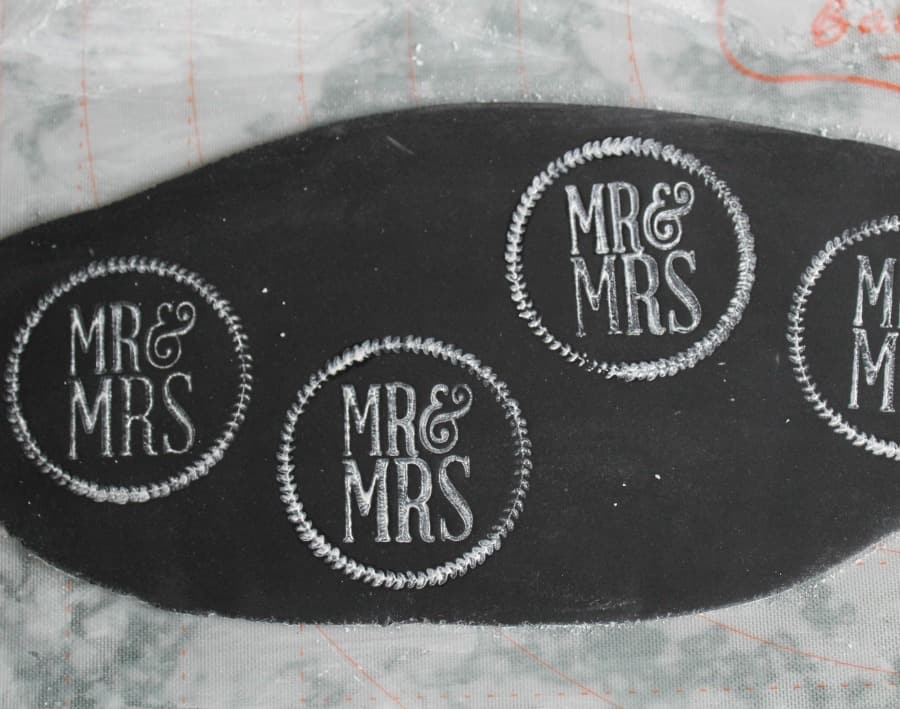 You can even mix some gold petal dusts together, add some lemon extract and stamp with that and it'll give you a completely different look.
Now we'll cut these puppies out.
Use your fluted circle cutter. A good size to use for cupcake toppers is the 2″ x 2″ size. Place your cutter over your stamp and press down. Again, I like to cut out the toppers after I've stamped them, because I can make sure the image is perfectly centered that way.
Once you've gotten them cut out, you'll want to set them on a piece of foam, or a cake board sprinkled with cornstarch to dry completely. When moving them, be careful not to touch the design, since it could smear it.
These will take a day or two to fully dry. The great thing about these is that they can be made ahead of time…even a month or two ahead of time. They won't go bad. After they've dried out, just keep them covered in a cool, dry place until you're ready to use them.
When you put these together, just bake your cupcakes, cool them, pipe your buttercream in a swirl pattern and set the cupcake topper on top. That's it! And if you need a delicious buttercream recipe, you can find mine here.
And do you want the most delicious vanilla bean cake recipe ever? You can try mine here and it makes wonderful cupcakes: Favorite Vanilla Bean Cake
There you have it! Now you've made your own wedding cupcake toppers and it was so easy, right! Guests will be so impressed!
If you make these, I'd love to hear how it went!
Don't Forget to Pin it for Later!