I'm a girly girl, so that means I'm attracted to shiny objects and ruffles. I came up with this idea for a ruffled cupcake topper and I think it works perfectly for a bridal shower. What's more girly and bridal-like (is that a word?) than ruffles, right? These little edible bridal shower cupcake toppers are super feminine. You could even change up the colors to match the wedding. Pink or mint colored ruffles would look adorable.
So let's get started!
This post contains affiliate links. As an Amazon Associate, I earn from qualifying purchases. You can see my policies linked in the website footer.
Supplies You'll Need:
Baked Cupcakes (You can find my easy sour cream cake recipe here and my scratch vanilla bean recipe here)
Buttercream (you can get my recipe here)
White fondant

Small fondant roller

Pearl mold

Wood skewers or skinny dowel rods
Tiny letter stamps (similar to

these

)
Edible Marker

Scalloped

or

Plain

Circle Cutters

Super Pearl Dust
The Base of the Cupcake Toppers:
The first thing you want to do is roll out your white fondant. I use a pasta roller attachment on about a level 0 or 1. If you don't have one, you can do this with a small fondant roller. The pasta machine just makes it go quicker and makes sure all the toppers are the same thickness.
DON'T CUT YOUR CIRCLES OUT YET! Ok sorry I yelled at you, but I had to catch you before you started cutting them out. We are going to attach the ruffles to the rolled out fondant pieces before we cut the circles. It makes it easier to attach the ruffles.
Making the Ruffles:
To make the ruffles, roll out your fondant on the thin side and cut out strips. Lay your dowel rods on your work surface and spread them out a little. Lay your fondant strips on top of the dowel rods and then lay down the other dowels in the spaces between the other ones.
Let them sit like this for about five minutes and then pull out the dowels. Scrunch the strips up just a bit.
Take a small skewer or popsicle stick and lay it on the top edge of your fondant strip. Push down in one motion and roll it up and down to crimp the top of the strips.
The top edge will look a bit jagged. Just take a knife or mini pizza cutter and cut a straight line across the top.
Do this to all of your fondant strips you ruffled. Brush on a bit of water to your wide fondant strips (what we're using for the cupcake topper bases) and attach your ruffles. Start with the bottom layer first.
Then attach the second layer of ruffles overlapping the bottom layer a bit.
Take your circle cutters (I used two different types: A scalloped circle cutter and a plain one) and lay it over your ruffles, leave some space at the top for the letters and pearls, and cut out your toppers.
When they're cut out, they'll look like this. Just set them aside while you work on your pearls.
Adding the final touches:
Next, use your fondant pearl mold. I used this one: The link to it is above, in the list of supplies.
Make your pearls and then brush on a little water at the top edge of the ruffles. Now attach your pearls and cut the ends off where it meets the end of the circle on each side.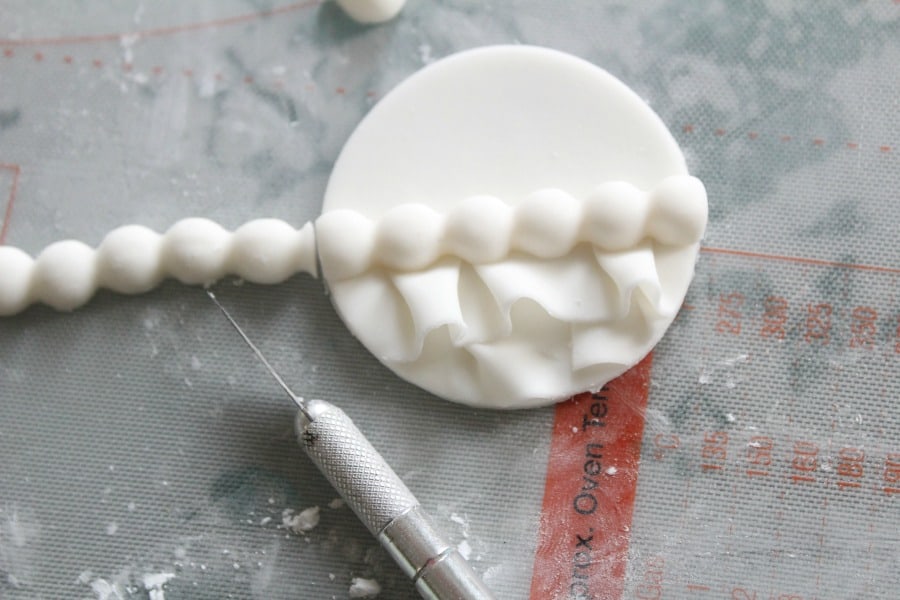 After you've added pearls to all of your toppers, you can start on adding the letters. I used a mini stamp set and Americolor edible black marker. You can get the Wilton edible markers at craft stores and even at some Walmart locations, but I find they don't deposit as much color as the Americolor markers do.
You want to start with the middle letter, so you can make sure everything is centered. Take your stamp (that you've washed and dried first) and color it with your marker. The picture below is of the 'S', but you'll want to start with the 'R'.
Stamp your 'R' right in the center.
Now do the same thing with the other letters.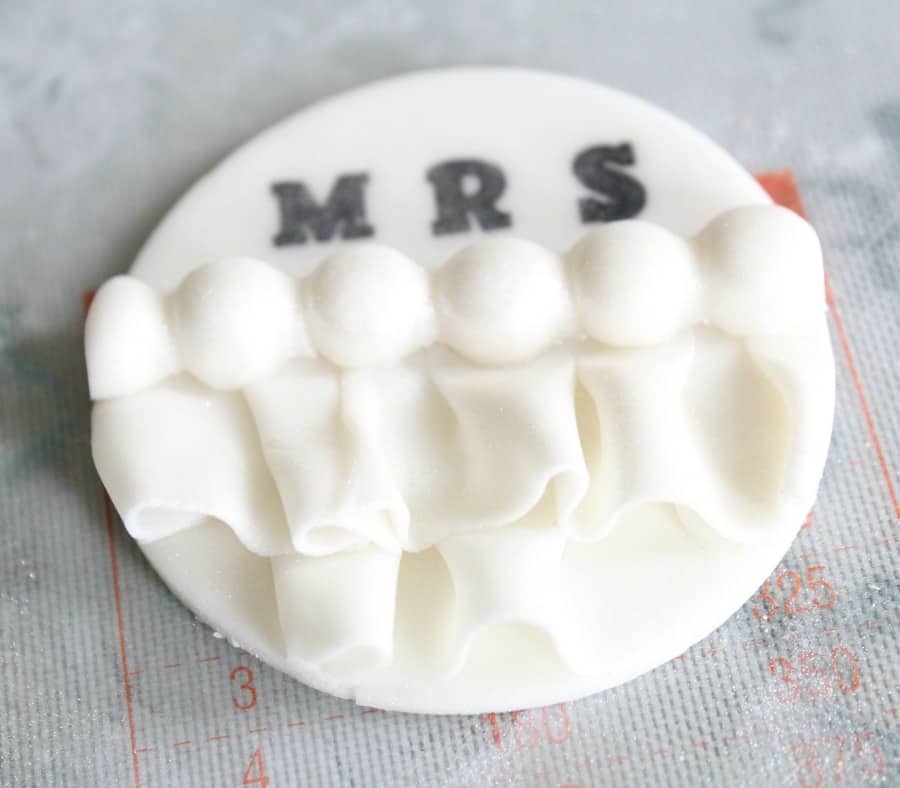 You can use your marker to make a little period at the end of Mrs. if you want.
Next take your super pearl dust and white petal dust and mix equal parts.
Take a fluffy paint brush (one used only for cake decorating, of course) and lightly dust your toppers to give them a little sheen. (Not the 'Charlie Sheen' kind of sheen…just lightly dust it. We're keepin' it classy, my friends.)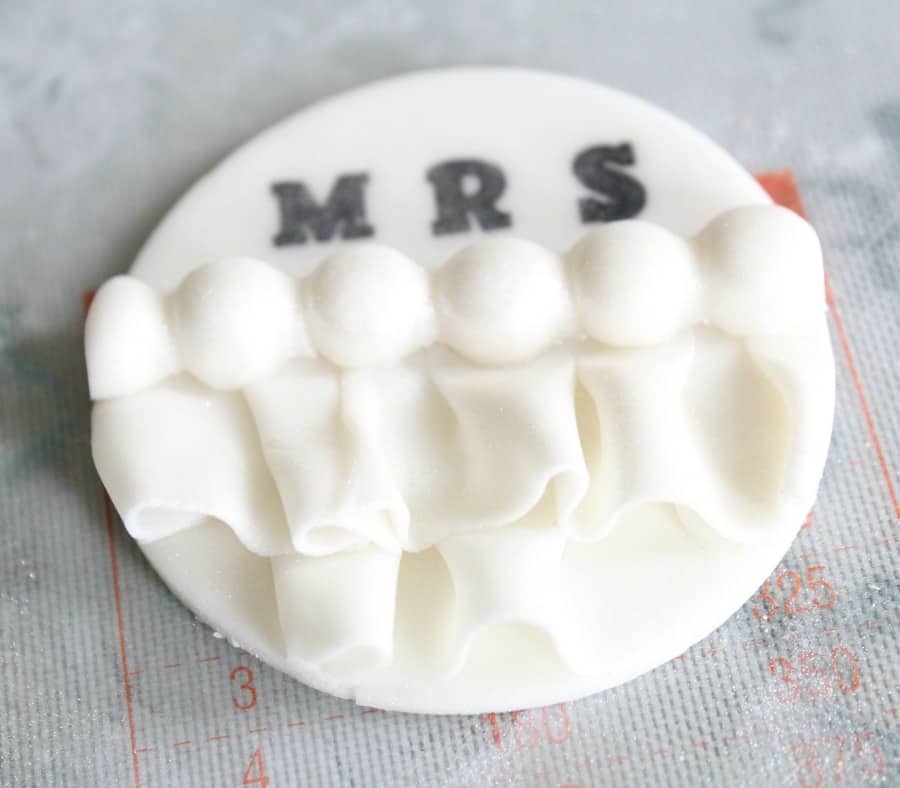 Set these babies on a piece of foam or a cake board dusted with a little cornstarch so they'll dry firm. You can make these ahead of time and they'll be fine stored for months. Just make sure you store them flat. What I like to do is to set them on a cake board, let them completely dry and then cover with press and seal wrap.
Bake your cupcakes and pipe on your buttercream. You can find my very favorite buttercream here. Then all you have to do is set your toppers on top of your cupcakes and voila! Your friends will be so impressed 😉
Remember, you can always customize these cuties by using the couple's wedding colors. You even make your pearls silver or gold to kick them up a notch. Just mix silver or gold luster dust with lemon extract and brush onto your pearls before you attach them to your toppers. The combinations are endless here.
If you make these, I'd love to hear how it went. As always, email me with your questions…I'm here to help!
Don't Forget to Pin it for Later!