I have been working on this project for a while now and I'm happy to say I finally finished it. Trying to create courses around my normal posting schedule is always a challenge and this free mini course was no different. I put in as much energy and thought for this course as I did my paid cake courses. No corners were cut. This time though, I wanted to make something a little smaller than my other courses, and easier to digest in one sitting.
So, here it is…the Free Fondant Ruffle Mini Course. By the end of this course, you'll have all the basics down for making fondant ruffle cakes in three different ways.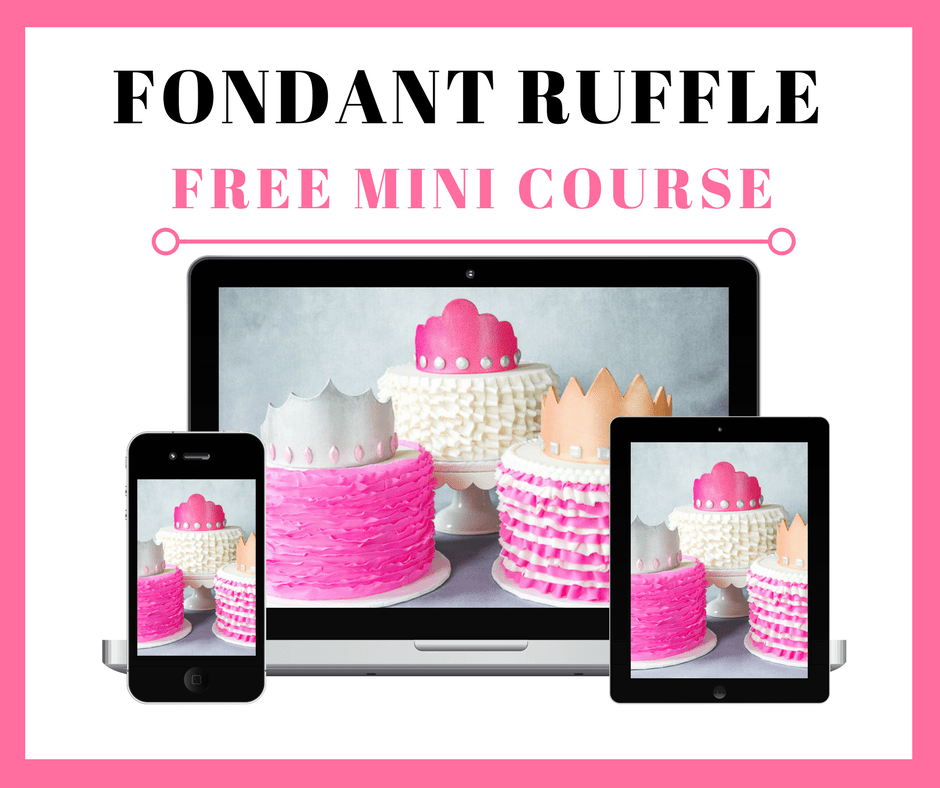 I decided to make this into a free mini course, basically because I wanted to show you several different ways to do fondant ruffles. Obviously, there are more ways to make them, but I had three specific ways in mind. Originally, this was going to be a blog post, but when I sat down to outline out what I would show in the tutorial, I realized I wanted to tell you more than would go into a blog post, plus I wanted to do several different videos.
That's why I decided to make this whole thing into a mini course, that you could sign up for and take completely free.
Here's how you get the course:
Just click the graphic below and it'll take you to my teachable school and you'll just sign up using your email. You'll be subscribed to my email list (that means you'll get an email when a new blog post goes up) and you'll get immediate access to the fondant ruffle course for free.
There's no limited time and it DOES NOT ask for your credit card number. I do have other courses on my teachable that are not free, but those are completely separate. I promise the ruffle course is totally free.
So, why fondant ruffles? Well, they're great for a number of reasons. First, they're just really cute and feminine and I LOVE making girly cakes.
Second, they're great to try out when you're just starting out working with fondant. I say this in one of the videos in the course, but when I started working with fondant, I was NOT confident in my ability to get it perfectly smooth. With fondant ruffles, you don't have to stress out over that. As long as your cake is stable, a few fondant wrinkles here and there are not going to even show up, since you're adding ruffles over the whole thing.
The third reason, is that fondant ruffles are just so flexible…and I don't mean because fondant is stretchy either. I just mean that you can do any color you want, tons of styles and add them in tons of different directions and patterns. You've just got so many options.
Free Fondant Ruffle Mini Course
So, let's talk about what this mini course covers.
First, I'll go through all the supplies you'll need for making the ruffles.
Next I'll go through how to prepare your fondant and I'll show you two different ways to roll out your ruffle strips.
Then comes the fun part…the actual decorating.
You'll learn to make all three of these cakes:
The Vertical Ruffle Cake
The Horizontal Ruffle Cake
The Frilly Ruffle Cake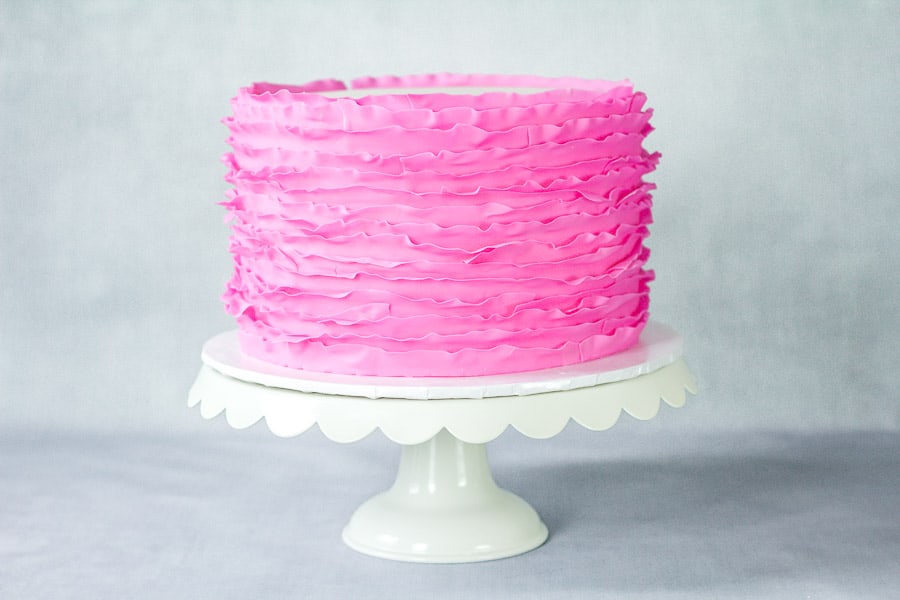 Once you've signed up, you've got immediate access to the course and you can always go back at any time and re-watch the lessons as many times as you want.
Click the graphic or link below to sign up…hope to see you in the course!
Free Fondant Ruffle Mini Course
Oh, and if you're interested in making the cute fondant crown toppers on these cakes, just click the link below to check out that post: Fondant Crown Tutorial with templates
DON'T FORGET TO PIN IT BELOW!