Easy, simple, but oh so cute. These gender reveal cupcakes are filled with either blue or pink buttercream, then you'll add marbled icing to the top. Finally, their topped off with cute printable cupcake toppers.
Back when I had my son (a long long time ago and in a galaxy far far way), we didn't have gender reveal parties. It just wasn't a thing. Well maybe it just wasn't a thing in my area.
Anyway, I think people are so clever coming up with sweet videos and specialty cakes for their reveal parties, but I wanted to come up with something simple and easy to do (that wouldn't take all day), but still looks cute. Enter these Gender Reveal Cupcakes with Printable Toppers.
You can use any cake recipe you'd like for these. Go with a scratch cake, or make it super easy on yourself and use a cake mix.
The insides of the cupcakes are then filled with pink or blue buttercream, so it'll be a complete mystery until someone bites into one. 🙂
The cupcakes are then topped off with marbled blue and pink buttercream, which I show how to do in the video tutorial below.
And I've even provided free printable cupcake toppers for you! Woo hoo! I've got two different designs:
The pastel colored toppers: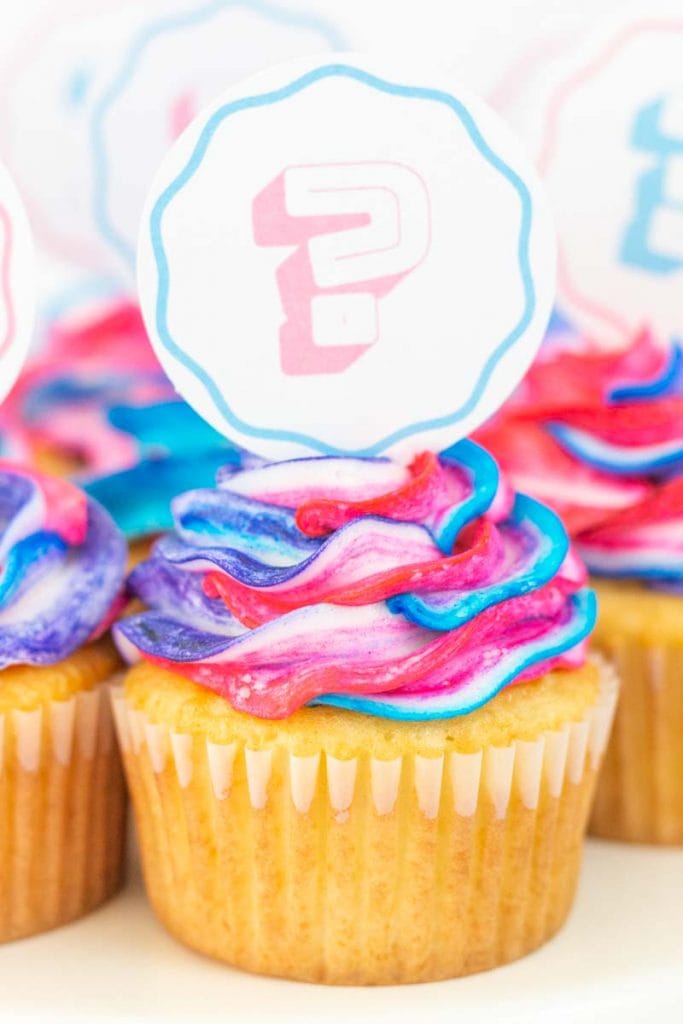 Or the bright colored toppers:
This post contains affiliate links. As an Amazon Associate, I earn from qualifying purchases. 
Items You'll Need for the Gender Reveal Cupcakes:
Cupcakes (You can use cake mix, or scratch cake.) Here are some of my favorite cake recipes: Vanilla Cake, White Cake, Chocolate Butter Cake
Buttercream (I made about a recipe and a half to two recipes. That gave me plenty of buttercream to fill the cupcakes and then to top them.) You'll want to tint about 1 ½ cups either pink or blue to fill the cupcakes, then leave the rest white for the marble effect on top. Here are my favorite buttercream recipes: Vanilla Bean Buttercream, Bright White Heat Stable Buttercream
Cupcake wrappers
Wilton 230 tip (for filling cupcakes)
Wilton 2 D tip (for piling on cupcakes)
Printable Cupcake Toppers (links to download them below in the tutorial)
Tape
Toothpicks
Ok here's the video, which will show you how to create your own gender reveal cupcakes! (Don't forget to download the printable toppers below the video!)
And here are the printable toppers. (Remember there are two different kinds…the pastel and the brighter colors.)
Click the graphic below or link to download the pastel color topper printable:
Click the graphic below or link to download the bright color topper printable: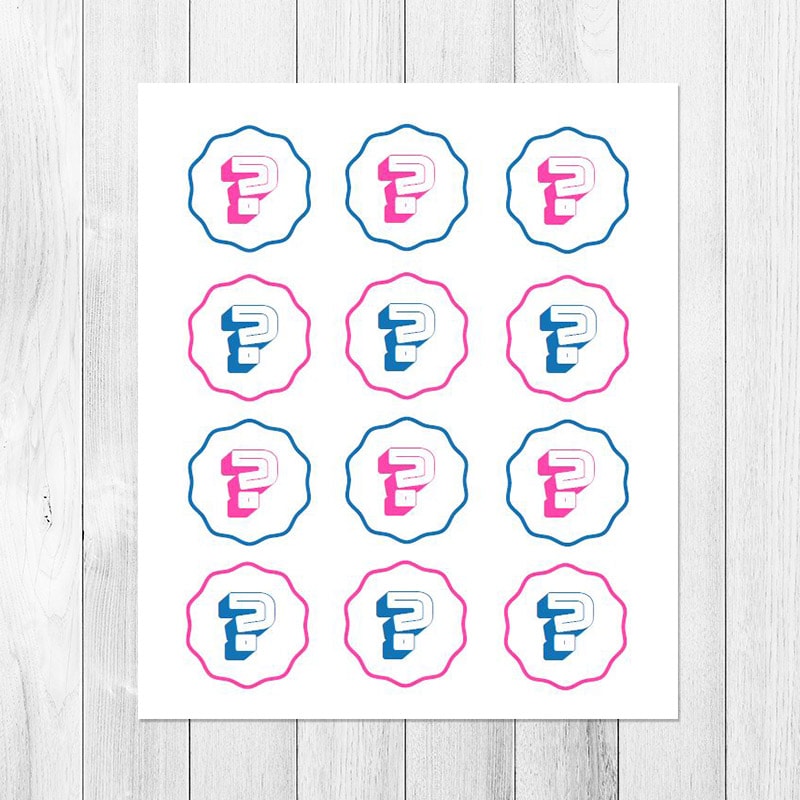 Ok, I hope you have a ton of fun making these cute gender reveal cupcakes!
Don't Forget to Pin it for Later!