January 2021 – 1st Quarterly Cake Swag Club Box Contents Revealed!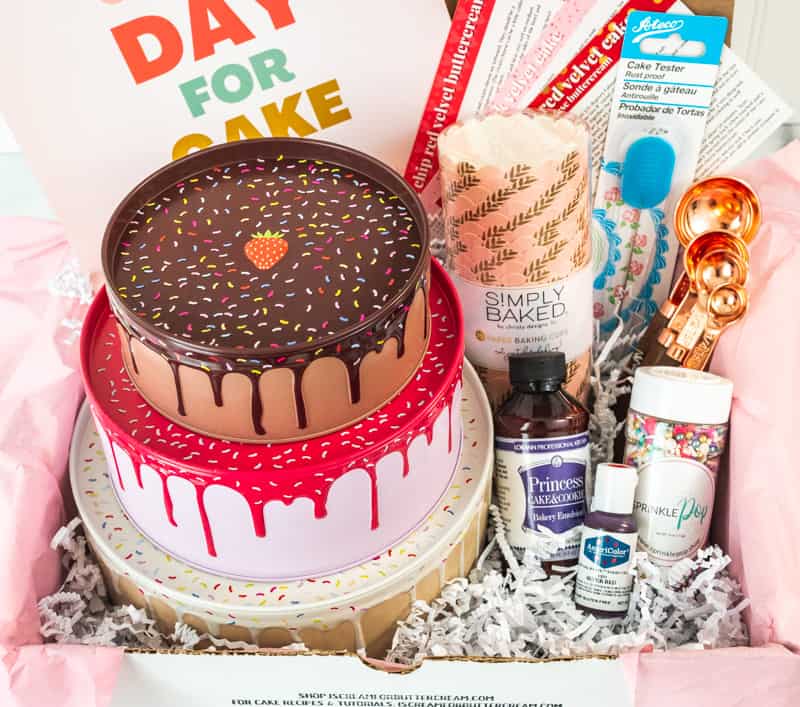 The beginning of the year is a time for starting over, New Year resolutions, organizing and for doing something sweet for ourselves.
This quarter's box is all about the color pink (and a bit of red too). This quarter, we're also celebrating the New Year, Valentine's Day and early spring.
I hope you enjoy this quarter's box as much as I enjoyed putting it together for you!
So let's break down what's inside! (Don't forget, there is a box opening video close to the end of this post!)
---
Cake Themed Tins
These cute cake themed tins will help you get organized this new year. They can house your icing tips, cutters, or any other item you want to organize and they'll look cute doing it.
If you'd like to grab a set of these tins only, you can head to the shop here: Cake Themed Tins Set of 3
Frameable Print
Every day is a good day for cake! You can frame this print and hang it anywhere you want some cake inspiration.
Sprinkle Pop – Hey Sugar Sprinkle Mix
These sprinkles are so fun and include tiny gold stars, pink hearts, multi-colored jimmies and metallic sprinkles. This blend works for Valentine's Day and Spring!
If you'd like to purchase the sprinkles only, you can do so here at the shop: SprinklePop Hey Sugar Sprinkle Mix
Rose Gold Wood Handled Measuring Spoon Set
Continuing with the pink theme, are these beautiful rose gold wood handled measuring spoons! They're almost too pretty to use!
If you want to purchase a set of these by themselves, you can head to the shop here: Rose Gold Measuring Spoon Set
LorAnn Princess Emulsion
Princess emulsion can be used in a number of different baked goods, from cakes to pancakes to muffins to buttercream…it's so good! Princess emulsion has a light, nutty taste accented with undertones of citrus and rich vanilla. It's perfect for the pink velvet cake (recipe card in this box!)
You can grab the emulsion here on it's own if you like: Princess Bakery Emulsion
AmeriColor Super Red Gel Food Coloring
This food coloring is concentrated and will last you a long time. You can use a couple drops in the pink velvet cake and you can use it to make the red velvet cake or buttercream (recipe cards in this box). Use this gel coloring any time you need a rich full red color.
Recipe Cards
Recipe cards are included for the scratch pink velvet cake, sour cream red velvet cake and red velvet buttercream. These recipes are great for Valentine's day, early spring or any other time!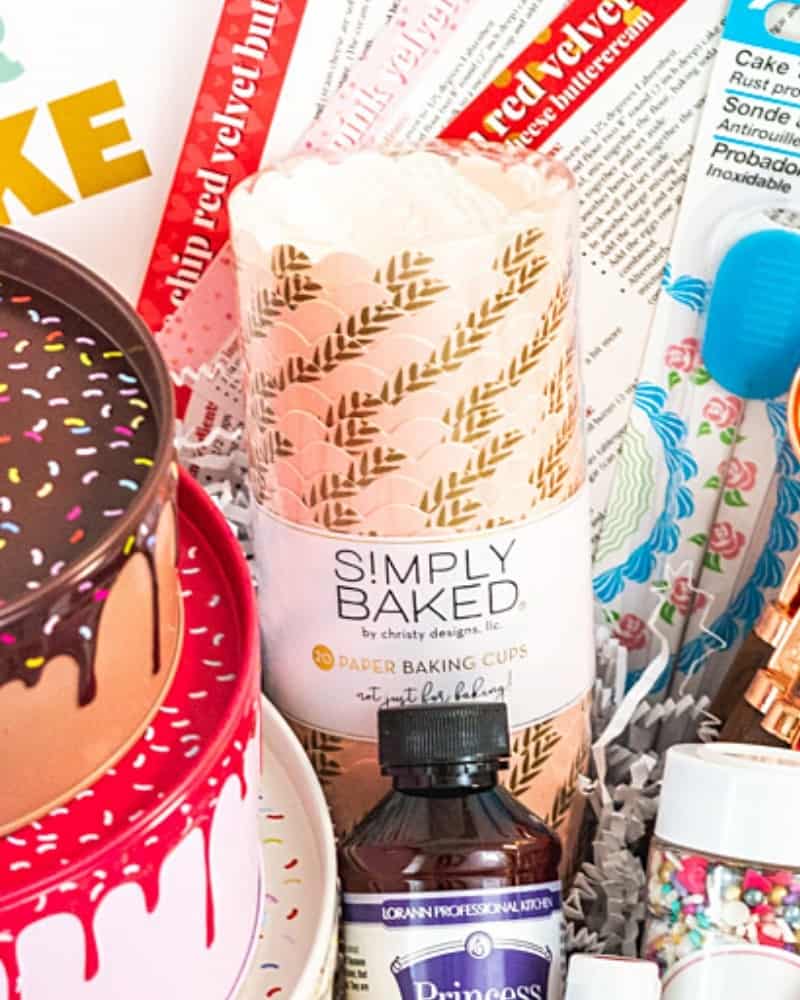 Simply Baked Pink & Gold Baking Cups
These pink and gold baking cups are so fun! They're pre-greased, microwave & oven safe and you don't even have to use a cupcake pan to use them! They'll make large cupcakes or you can use them as treat or snack cups.
If you like these cups and want to purchase them on their own, head to the shop here: Simply Baked Pink and Gold Baking Cups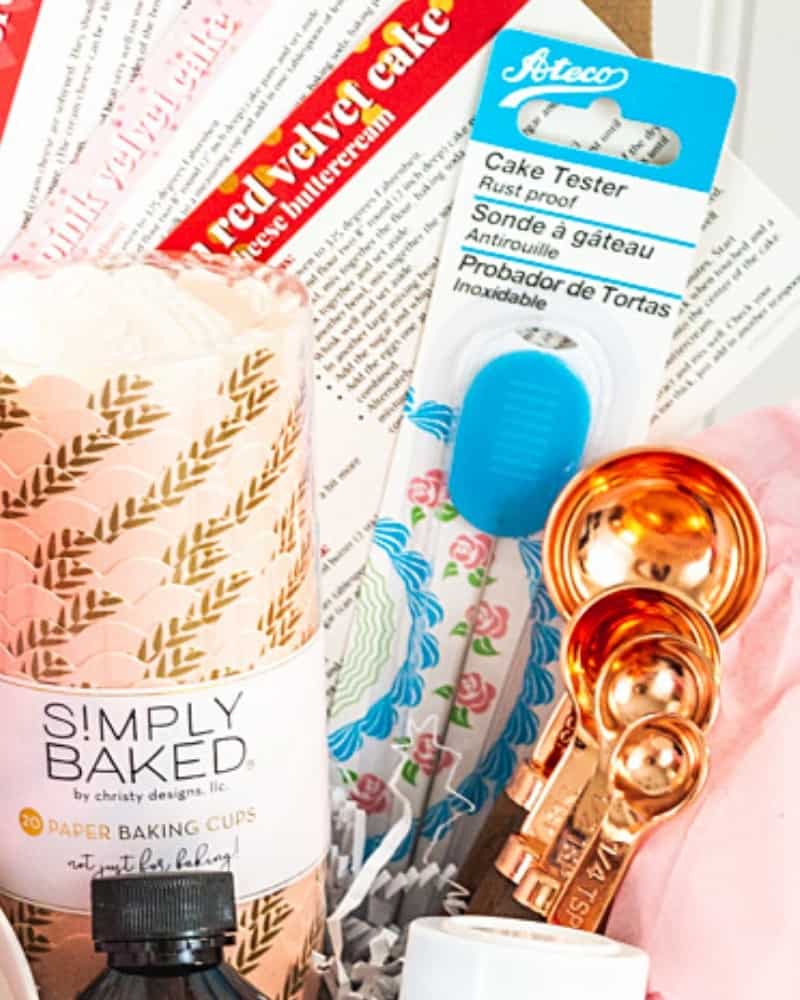 BONUS GIFT – Ateco Cake Tester
This month I've included a fun surprise gift and it's this reusable cake tester! So much better than just using a toothpick!
These are amazing and so handy. If you'd like one…or two, just head to the shop here: Ateco Reusable Cake Tester
I had so much fun picking things out for this quarter's box. I hope you love it and have fun using everything in it!
Don't miss the next quarter's box! Get on the waitlist to get first dibs!
---
Unboxing Video:
CORRECTION! I do realize I made a mistake at the beginning of this video with the months this box covers. It actually covers January, February and March!
If you missed out on this quarter's box, but want to get a heads-up when the next box is released, you'll want to join the waitlist here: Cake Swag Club Waitlist