So I've been seeing a lot of unicorn cakes around lately and I'm loving them. There are so many variations and they're all so pretty and feminine. But, I've never seen a guy unicorn cake. I figure if there are girl unicorns, then there's gotta be guy unicorns too, right? In true Kara form, I just had to do something different, albeit maybe a little weird. I am nothing if not weird 😉 So, on a whim this past weekend, I challenged myself to create a manly unicorn cake…we'll call him The Manicorn.
He's so cool right? He's all black and white with shades of gray, plus he's got a spiky mohawk. What's cooler than a mohawk?
Instead of going with feminine colors and rosettes, I decided to use black and white with shades of gray piped with star tips.
This post contains affiliate links. As an Amazon Associate, I earn from qualifying purchases. You can see my policies linked in the website footer.
Here's what you'll need to make this cake:
Four layers of cake (you need this cake to have some height)
White buttercream (use shortening instead of butter and clear vanilla extract to get it pure white)
Black buttercream (make chocolate buttercream and add in black gel food coloring)
Various shades of gray buttercream
Star tips…I used a Wilton tip 6B, Wilton tip 1M, Wilton tip 4B and Wilton tip 21
Black fondant
White fondant
Buttercream smoother
Small fondant roller
Edible Silver Luster dust or super pearl dust
Paint brushes used only for cake decorating
How to Make the Manly Unicorn Manicorn Cake:
The video below will show you all the steps to create this cake.
For the cake:
You want to use four layers of cake. What I didn't do and what I should have done was either put a cake board between the second and third layer and use a center dowel hammered all the way through the cake and into the board. That will really stabilize your cake.
Once it's stacked, then you want to let it settle for a few hours or overnight, so you don't get any bulges. Then you'll want to ice your cake and smooth it. I used a little of the black buttercream along the bottom and smoothed it to give it a watercolor effect.
For the ears:
For the ears, take a little white fondant and a either a knife or small pizza cutter and cut out the larger ear shape. Cut out smaller shapes for the inside area as well, but use the black fondant.
You'll want to mix a little of the silver luster dust or pearl dust with lemon extract or vodka and paint the smaller ones, then attach them with water to the bigger ear shapes.
Curl them up a bit and insert a toothpick, then set aside to firm up.
For the horn:
Take black fondant and roll into a log. Make one end thicker than the other. Next just roll it up while stacking it at the same time. (Don't forget the video at the end will show you how to do this.)
Let it set up a bit and then dry dust it with the silver petal dust. Once it's firm, insert a skewer into the bottom.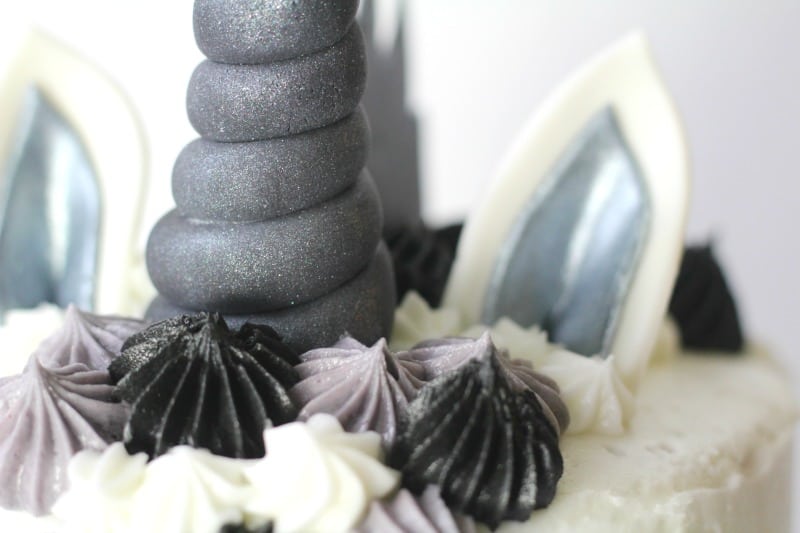 For the spiky mohawk:
Take the black fondant and roll out a bit. You'll want to measure how wide your cake will be, so you know how big to roll your mohawk.
When you roll it out, make sure the top is thinner than the bottom. You will need to insert toothpicks into the thicker bottom part, so it'll stand up on top of the cake.
Cut some spikes into the mohawk, dust with silver luster dust (on both sides) and then insert two toothpicks into the bottom part. Set aside to firm up fully. It'll take a couple hours to overnight.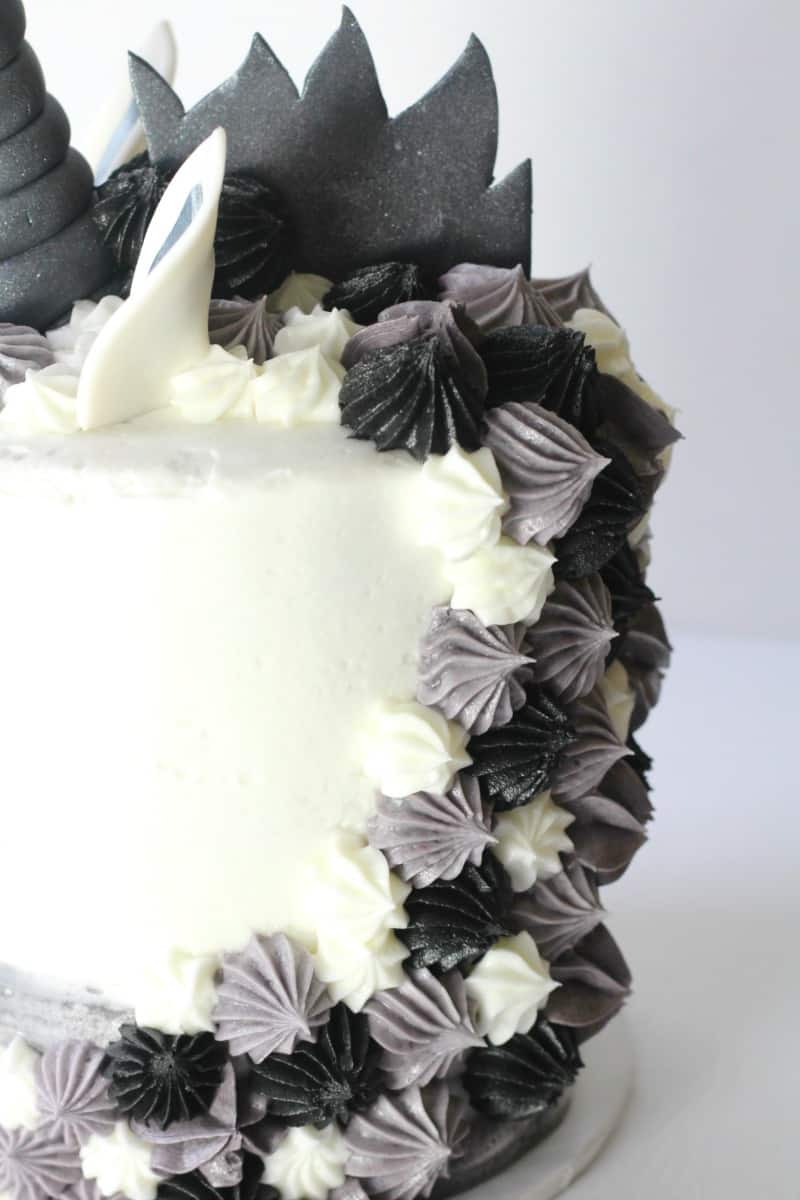 For the eyes:
I just took some of my black fondant and used two different sizes of circle cutters to cut out the shapes.
Putting the Manly Unicorn Cake together:
After all of your fondant has firmed up, you'll just attach the eyes to the chilled buttercream cake. You don't even need water to attach them.
Insert the horn, the mohawk and the ears…then start piping away.
For the piping:
I used an assortment of star tips in black and white and various grays. Just start going crazy piping stars on the top and at an angle in the back. You want it to curve so that when you're looking at the front of the cake, you can see the 'mane' of the manicorn appearing around the side.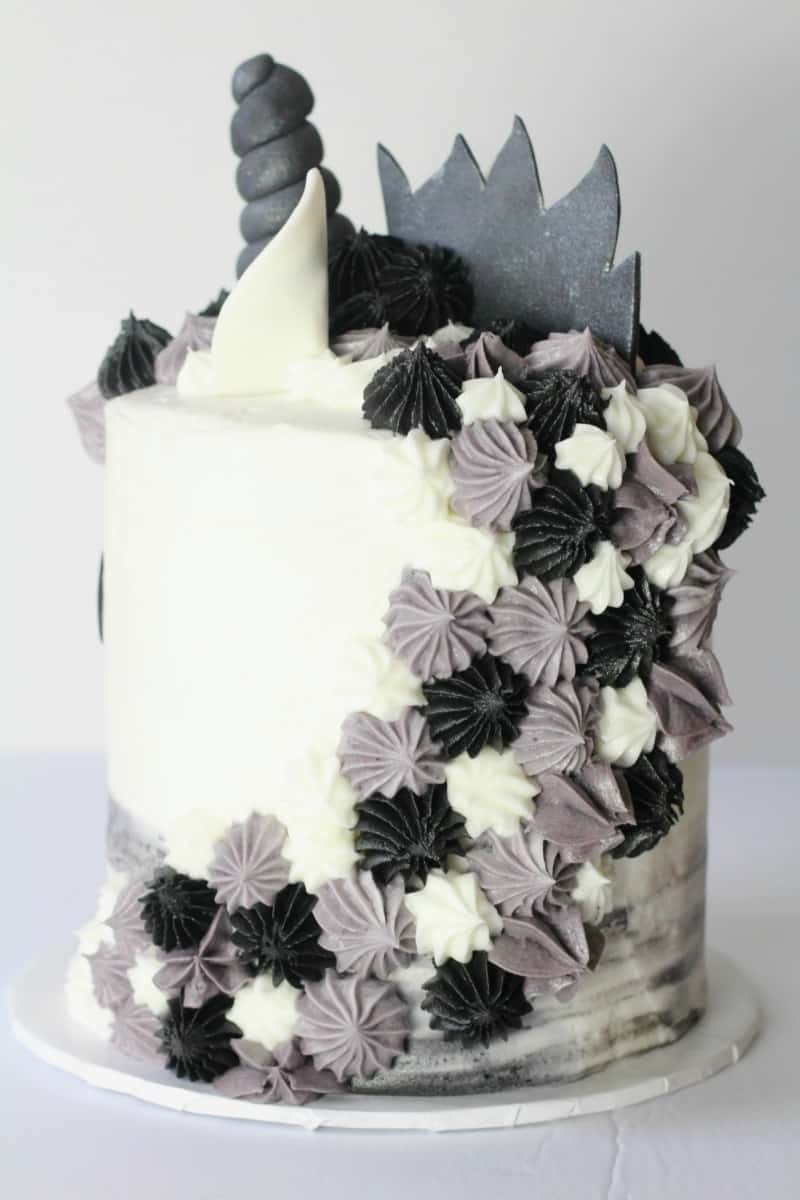 Don't forget to pipe around the ears and along the front a bit.
And here's the video that shows all the steps:
I had a lot of fun with this one and I hope you try out your own version…I'd LOVE to see it!
PIN IT HERE –>
FREE: 7 Quick & Easy Tips to Make Your Cakes Look Professional
Ready to start making cakes that look amazing?
Grab this FREE guide with quick and easy tips to make your cakes actually look like a professional made them, so you can start showing them off!

See our privacy policy here.