When I was a kid, we didn't have cable. We lived WAY out in the country, so nothing like that was available to us. This was back in the day with those huge satellite dishes that people had to anchor down to concrete in their yard. Well those were for the ritzy people. We couldn't afford one of those on a rancher's salary, so we had an antenna mounted on the top of the house. Yeah, we were fancy.
We got three channels…until lighting struck the antenna. Then we got one channel that was so snowy that a poltergeist could have shot out of the TV at any time. Oh, but we had a VCR! We had a good selection of movies, but I had my favorites that I would watch over and over. One of those was The Empire Strikes Back. It was in my top three circulation of movies…right up there with Police Academy and the original Parent Trap. Yep, I was an 'eclectic' child.
I can't even count how many times I watched The Empire Strikes Back, but it was enough to say the lines along with the movie. A couple years ago, I finally realized that I hadn't seen the other Star Wars movies all the way through (I'm talking about the original ones.) So I sat down and watched them. The Empire Strikes Back is still my favorite, but that might be because I literally grew up on it.
As much of a fan as I am of that movie, my step-son is even CRAZIER about Star Wars. He requested that I make a cake with light sabers for his groom's cake, so I was ALL for it.
I like to do as much prep work as I can ahead of time when I've got a cake order. It helps with the stress. In caking, you never know what could happen and there's ALWAYS something that isn't going to go as planned. So I plan for the 'unplanned'.
I decided that since I was also doing their wedding cake, I needed to do as much as possible on this groom's cake beforehand. I sketched out a design and decided to do basically what I call a cake overlay. The entire top of the cake is one big flat piece of fondant that was premade and dried, then set on top of the cake. When it's served, you can either slide a knife under it to loosen it from the fondant and keep intact, or you can go ahead and cut into it when you cut the cake.
So let's get started on how to make the Star Wars Groom's Cake!
This post contains affiliate links. As an Amazon Associate, I earn from qualifying purchases. You can see my policies linked in the website footer.
Supplies you'll need:
A rectangle cake (mine was 15 x 11)
Red, white, black and blue fondant and tiny amounts of pink, purple and blue fondant for the galaxy base
White petal dust
Edible

black luster dust

Edible

red luster dust

Edible

blue luster dust

Edible silver luster dust
Edible

light pink petal dust

Yellow petal dust
Small pizza wheel for cutting fondant
Paint brushes (used only for food)

Small fondant roller

Large fondant roller
Lemon extract or vodka (for painting)
The base of the overlay:
So now we'll start with the galaxy base part of the overlay. You want to start this part of the project at least two weeks ahead of time. This baby takes A LONG time to dry.
Consider how big your cake will be and make this base about an inch bigger on each side. You want a small amount of overhang.
Knead your black fondant and roll it into a log. Roll small amounts of pink, blue, purple and white into tiny logs and place next to the black fondant log. Twist them together a couple times to marble the fondant, then roll it out flat. If you see too much of the bright colors, knead the fondant a little more and roll out again.
Roll it out until its the length and width that you need for your topper. Don't roll it as thin as you would when covering cakes with fondant. You need it to be a bit thicker, so it'll be strong enough and have less chance of cracking when you have to pick it up later. Now cut the edges straight. Place it on a cake board that's sprinkled with cornstarch. Now you'll need to let this thing dry for several days. Then turn it over onto another cake board sprinkled with cornstarch and let that side dry thoroughly.
Once dry, take your white, pink and yellow petal dust and swirl some around your color spots on your galaxy base. Just sort of blur the lines a bit. Next, mix a little white and silver petal dust with a bit of lemon extract or vodka. You don't want this super runny. Take your paint brush and dip it in the paint and tap the excess off. Now just use your finger or thumb and flick the brush onto the galaxy base. We're making stars here…(channeling the '80s splatter paint.)
After the above steps, it'll look like this:
Overlay pieces:
Next we'll work on the elements we'll be adding to the overlay. I LOVE working with templates. I know my limits and one of those is that I CANNOT draw. I just don't have that talent, so I use templates. I found some clipart of lightsabers and the imperial and rebel symbols. I adjusted the sizes in Word to the size I'd need for my overlay and printed them out. It took me several tries to get them the right size.
I then cut them out and covered both sides with clear box tape as a sort of 'homemade laminating' and then cut the excess tape off.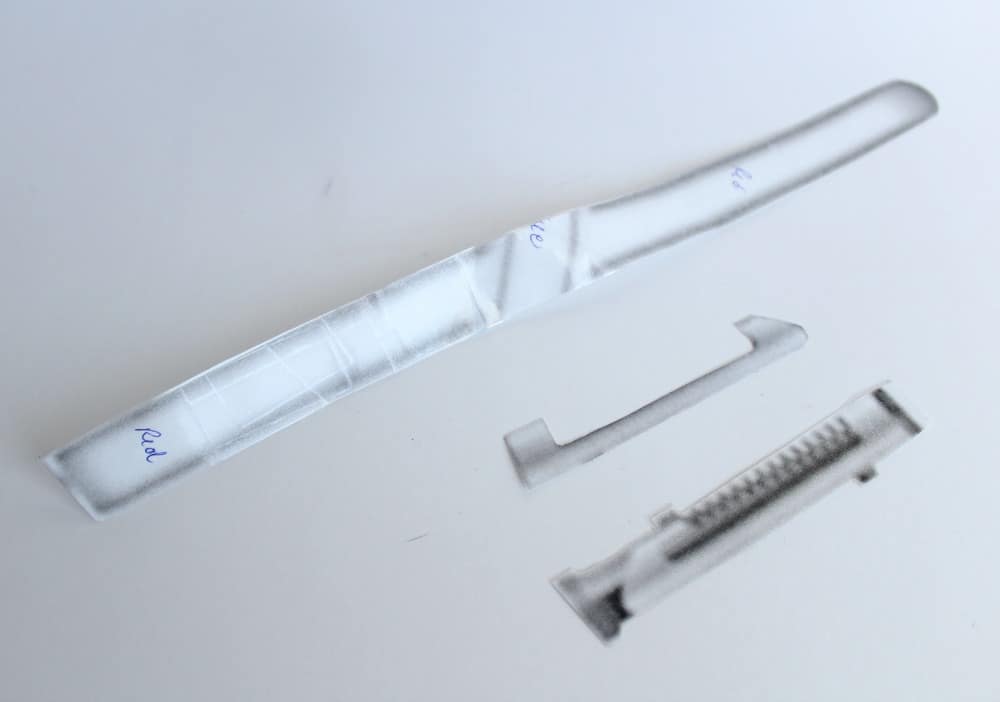 Making the lightsabers:
Now you'll want to roll out your various colors. For the longer pieces of the lightsabers, you want them a little thicker, so they don't break when you move them around later. Roll out your red and blue fondant. Spread a small amount of shortening over them and lay the template over. Cut around the template with an exacto knife. Since the shapes are essentially the same for the lightsabers, except the bottom angles, I just used the same template for the other lightsaber, but I turned it over so the angle would be correct.
Mix your edible blue luster dust and the red luster dust with lemon extract or vodka and then paint your lightsabers. These will need to set on a flat surface and dry for several days before using.

Making the lightsaber handles:
I printed two of the handles, so I could cut out the silver piece that runs along the side. I wanted that to be separate and placed over the main handle.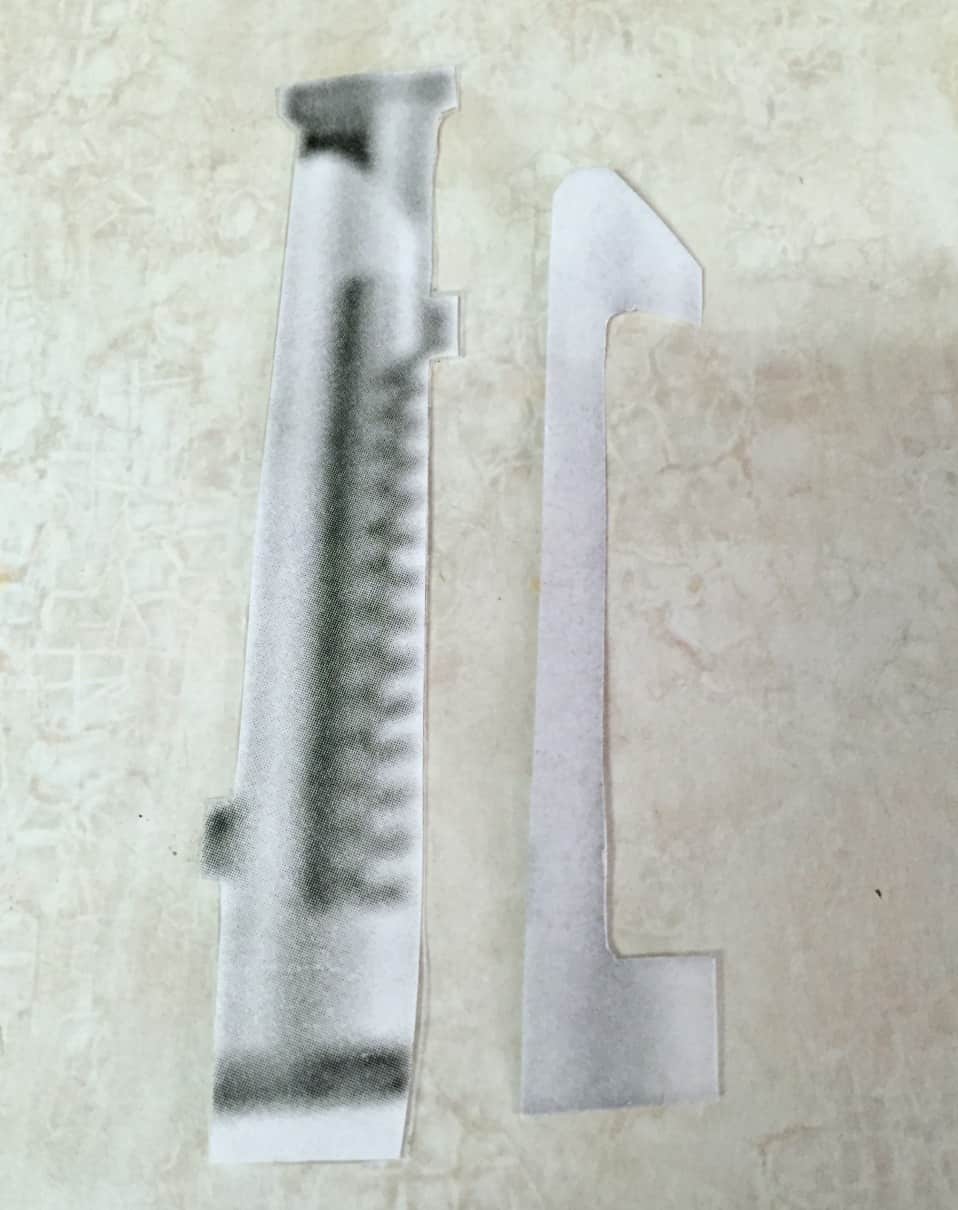 I cut the handle out in black fondant and then the smaller silver piece in white. I painted that piece with silver and attached to the handle. I made some score marks and then brushed on some black luster dust over the black areas to add some sparkle.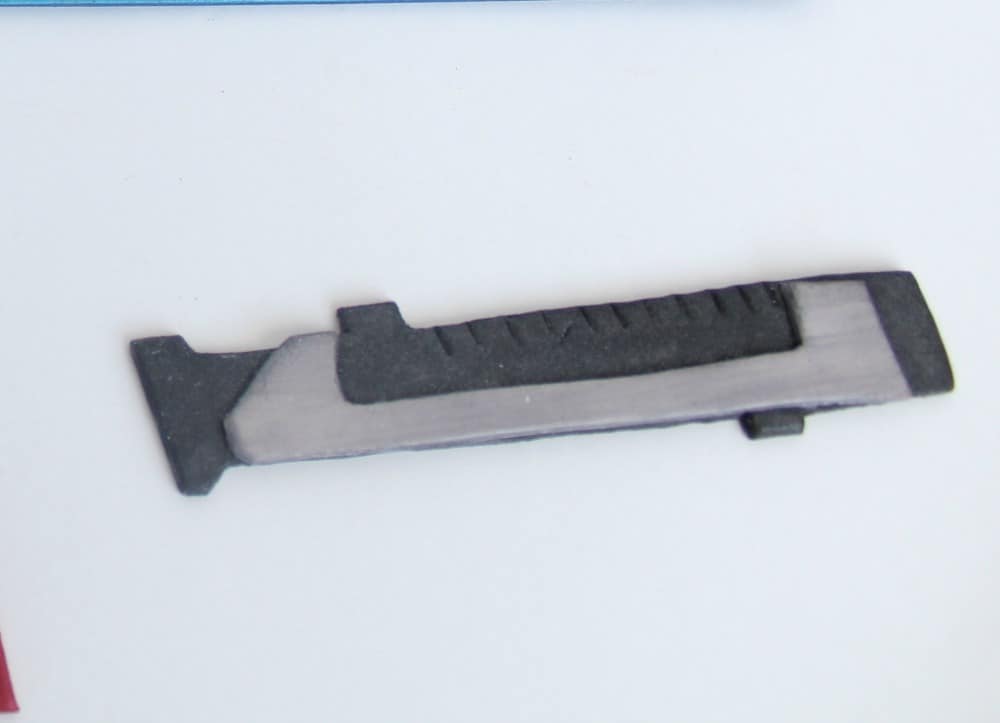 Set all of these elements to the side to dry for at least several days. The long parts of the lightsabers are going to be super delicate even when they're dry. It's a good idea to make extra. By the way, I had to make the blue one three times. No joke. I almost let Darth Vader get the best of me.
Building up the blue lightsaber:
Once they are REALLY dry, we'll need to build up the blue lightsaber. Here's what I mean: The lightsabers are criss-crossed on the cake, so one needs to be lifted up a little higher than the other so when it's laid on top, it doesn't crack. Since Luke Skywalker is the good guy, we'll put the blue one on top.
Turn your blue lightsaber pieces face down. Roll out some black fondant about the thickness you want to lift up that lightsaber. Cut it into strips and attach with a little water on the back of the pieces. Do this for the handle too. Now, the exact spot where the two lightsabers will cross needs to have a thinner piece, otherwise it will crack.
 Making the Star Wars Symbols:
Now we'll start on the symbols. I did the same thing as with the lightsabers. I found some clipart online and printed them out in the size I needed. I used a circle cutter and cut out a black circle for each. I then cut out the red portion of the templates, laid them on rolled out red fondant and cut them out. I attached those to the black circles with a bit of water.  I let them dry for a day and then brushed dry petal dusts in red luster and black luster on each.
Putting the Star Wars Groom's Cake Together:
After all of your pieces have dried thoroughly, you can add them to your base overlay. I wanted a border around the overlay, so I cut out strips of white fondant, painted them with edible silver luster dust and attached them with water around the edges of the overlay. Next, I attached the other pieces with melted candy melts.
I baked a vanilla cake and added crushed oreos to the batter. I also made my favorite vanilla buttercream and added crushed oreos…Cuz what's better than a Star Wars cookies and cream cake?! Uh, not much.
So I stacked, filled my cake and did a very light coating of buttercream on the outside. I covered only the top of the cake with fondant. It doesn't have to be perfect, but it DOES need to be level or your overlay could crack. I then added a bit of melted candy melts to the top and set my overlay onto it.
For the sides, I cut strips of red and white fondant and added them so they would vertically overlap. It kind of looks like corrugated metal to me. I did the sides in white and painted them with silver luster dust. I then painted the red sides with the red luster dust. I rolled fondant into noodles and used that to border the cake. I added some cut out shapes to the sides in corresponding colors. I don't really know what those shapes represent, but they just looked mechanical to me, so I think it works.
I think it turned out very industrial looking, which I think just enhanced the whole Star Wars theme.
I'm really happy with how this turned out and the fact that I did so much ahead of time was my saving grace.
PIN IT HERE!  –>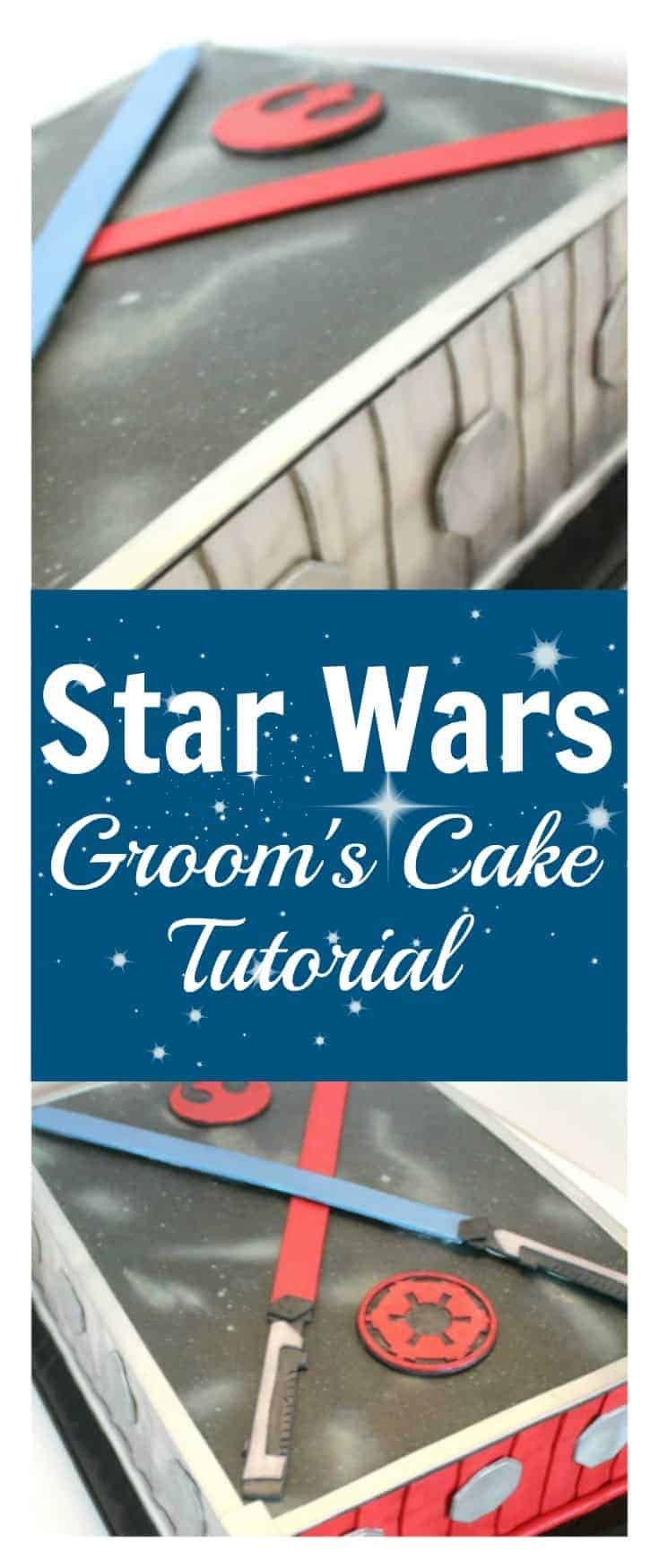 So, let me know what you think! If you try any of these techniques out, let me know how it goes. I'd be glad to hear from you!