The combination of butter, white chocolate, marshmallows, vanilla and Lucky Charms, makes these cereal pops such a delicious treat.
Hey there! Before you scroll, there's lot's of helpful stuff in the post that may answer any questions you might have about this recipe. Enjoy!
Okay y'all, I have a confession. I went to the store and bought a box of Lucky Charms, to make this recipe. Theoretically it would have been better to have bought 'said box' the exact day I planned to make these cereal pops, but nooooo, I have to be a planner.
Well instead of making them, I just ate the entire box of cereal. In my defense, Lucky Charms IS my favorite cereal and it took me several days to get through the box. That's not really a good defense is it? I kept thinking, oh there's enough left to make them, I don't need that much. Sheesh. Denial is a scary thing, right?
Anyway, I had to head back to the store, with my head hung in humiliation, and buy another box. I haven't told you the worst part…the first box I bought was a family size box. I am out of control people.
I suppose I could have gotten some kind of healthy cereal, then I wouldn't have eaten it at all, but what would be the fun in that? Oh, and do you know what happens to your mouth when you go through an entire box of Lucky Charms in a couple days? It gets destroyed…deeestroyed.
Alright enough of that. Now you know my most embarrassing secret. Well…at least the most embarrassing secret this year so far. Now, onto the Lucky Charms White Chocolate Cereal Pops.
I knew St. Patrick's Day was coming up and that I wanted to do something along those lines…then it just came to me. As I said before, Lucky Charms is my favorite cereal, so that was the first thing I thought of and what could make Lucky Charms even better? Well…marshmallows and white chocolate, right?
These babies are super easy to make, but they can be messy. Get the kids involved…they love messy.
These are similar to Rice Krispie Treats, but on a whole other level. Melting the butter, marshmallows and vanilla together really adds flavor. Plus uh, you know, white chocolate…yum!
The method is a little different than your normal Rice Krispie Treat method.
Here's how to make the Lucky Charms White Chocolate Cereal Pops:
Add six cups of Lucky Charms cereal in a large mixing bowl.
Next you want to take four tablespoons of butter (½ stick) and melt it in a saucepan at about medium heat.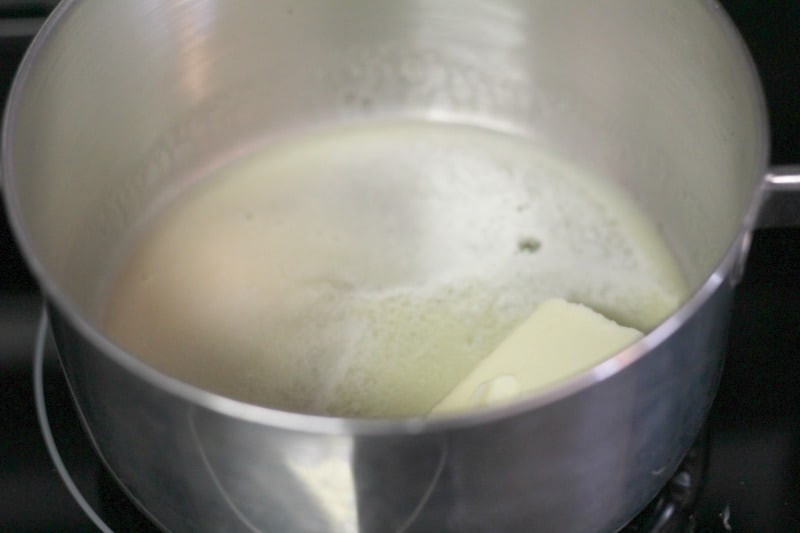 Add in ¾ cup of white chocolate chips and melt it with the butter. It's not gonna look pretty. It's okay.
Once the chocolate is pretty much melted, add in a 10 oz. bag of mini marshmallows. Keep stirring until all is melted. It'll take a bit. Now add in a teaspoon of vanilla and stir.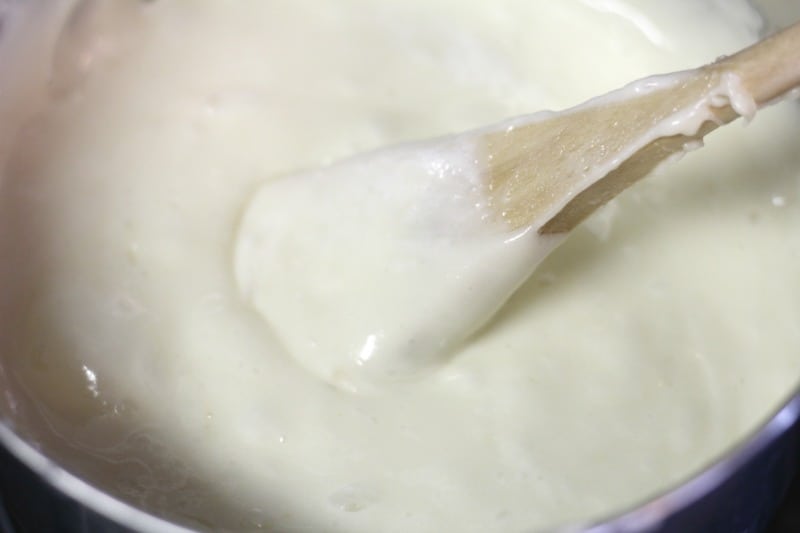 Pour onto your cereal.
Here comes the messy part. Try to mix it up as best you can with a spoon, but eventually, you'll have to get your hands in there.
Here's a tip: Take some shortening and smear it all over your hands and then go to mixing. Like I said earlier, kids would love this part.
Now you can either mash this mixture into a 13 x 9 inch glass pan, let them set up then cut them, or you can make these into cereal pops like I did.
To make them into cereal pops, just roll the mixture into balls. I tried to roll mine slightly bigger than you would for cake pops. When you roll them, you want to try to compress them a bit in your hand. Don't crush them, just compress them a bit. Set them on a tray covered with wax or parchment paper.
You can finish these up in a couple different ways. To make them into cereal pops, take some popsicle sticks and dip them into some melted white chocolate.
Then insert that end into the cereal ball, then just set them aside to set up.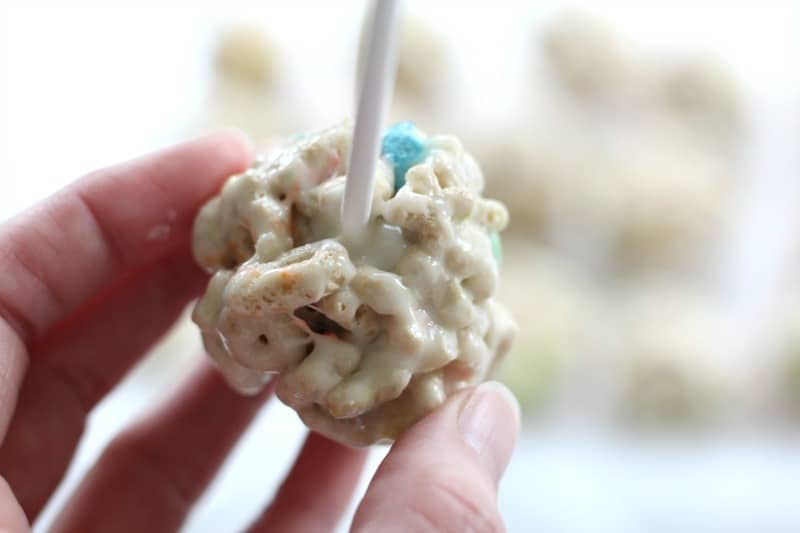 Once the chocolate has set a bit, dip the top of the cereal pop in the melted white chocolate.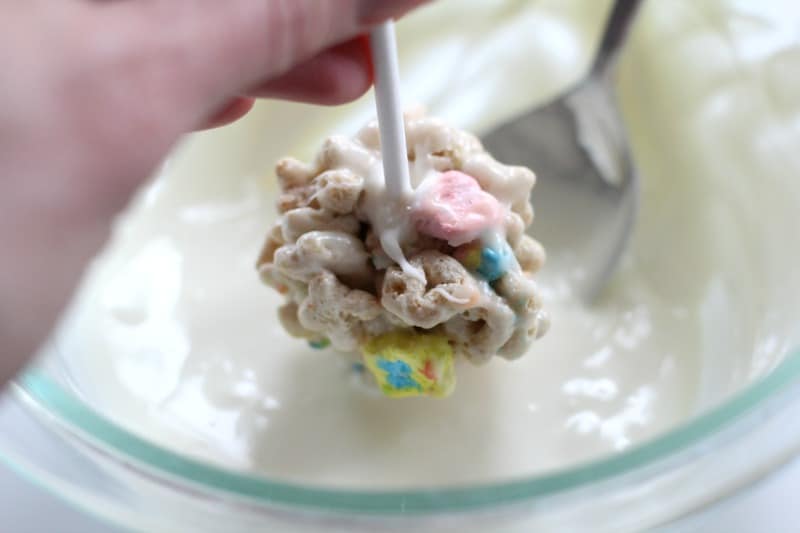 Now just insert the cereal pops into some foam, so they can set up.
The next way you can make them is to set them into cupcake wrappers. Just dip one end in melted white chocolate, then dip the other end.
Now just push them cereal ball down into the cupcake liner. The melted chocolate will help to keep it in place.
This is an easy way to make them when you don't have popsicle sticks.
Here's the printable recipe version:
Recipe:
Lucky Charms White Chocolate Cereal Pops
These puppies are super delicious and easy to put together. The combination of melted butter, white chocolate, marshmallows, vanilla and, of course Lucky Charms, makes these cereal pops such a delicious treat. Plus kids will love them.
Print
Pin
Save
Saved!
Rate
Servings:
35
cereal pops (approximately)
Ingredients
6

cups

Lucky Charms cereal

¼

cup

butter

(½ stick)

¾

cup

white chocolate chips

1

10 oz bag

mini marshmallows

1

teaspoon

vanilla extract

additional white chocolate for dipping
Instructions
Pour six cups of Lucky Charms cereal into a large mixing bowl.

In a saucepan on medium heat, melt the butter.

Add in the chocolate chips and melt.

Add in the marshmallows and melt completely, then mix in the vanilla.

Pour the mixture over the cereal and mix well. Mix as well as you can with a spoon, then use clean hands to mix more.

Method 1: Spread into a Pam sprayed 13×9 inch glass pan, let set up, then cut into squares.

Method 2: Roll cereal mixture into balls slightly larger than cake pop size. Add a little melted chocolate on one end of a popsicle stick and insert that end into the cereal pop. Let set up, then dip the top of the cereal pops into melted white chocolate. Insert the other end of the popsicle stick into some foam to let them set.

Method 3: Roll the cereal mixture into balls. Dip opposite ends of the cereal pops into melted white chocolate. Add to cupcake wrappers with one of the white chocolate dipped ends down. The chocolate will help keep the cereal pops in place.
Notes
This recipe card may contain affiliate links. As an Amazon Associate, I earn from qualifying purchases.
Nutrition
Calories:
56
kcal
|
Carbohydrates:
7
g
|
Fat:
2
g
|
Saturated Fat:
1
g
|
Cholesterol:
4
mg
|
Sodium:
55
mg
|
Potassium:
24
mg
|
Sugar:
4
g
|
Vitamin A:
215
IU
|
Vitamin C:
1.7
mg
|
Calcium:
35
mg
|
Iron:
1.4
mg
Baking at higher elevation?
Adjustments will need to be made for that. This website does not specialize in higher elevation baking. Please take time to do your research on what adjustments should be made.
Want to support this blog?
Feel free to leave a tip here: Tip Jar!
Disclaimers
To see food safety, allergy & nutrition disclaimers, go here: Disclaimers
How to Share
I'd love for you to share this recipe link or tag it, but please do not share screenshots or copy/paste the recipe to social media as the content and photographs are copyright protected and we (bloggers) work really hard on our content. Sharing the link, tagging us on socials and pinning it is super appreciated though!
There you have it! A delicious and easy treat the family will love!
Items & Tools Used to Make this Recipe:
Don't Forget to Pin it for Later!
GET MY 5 FAVORITE BUTTERCREAM RECIPES!
Never miss a post! Get on the free newsletter list by entering your email, and grab this handy printable: 5 Favorite Buttercream Recipes!
Plus you'll get free cake tips & recipes in your inbox every week!
See our privacy policy here.