Use petal dust to add color to your gumpaste roses. It's a great way to make them pop and using two different colors is a good method for getting a realist look on your sugar flowers.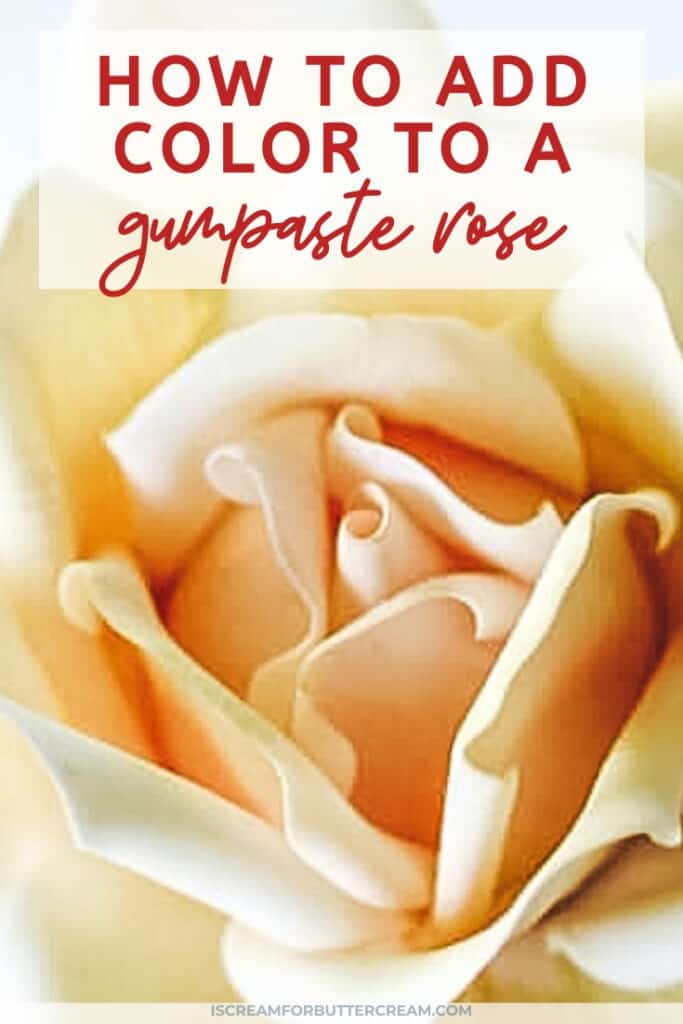 Now that you've made your large gumpaste rose, it's time to make it pretty by adding a little color. In this post, I'm going to show you how to add color to a large gumpaste rose by using petal dusts.
If you haven't read the previous post, you can check it out here: How to Make a Large Gumpaste Rose. Plus there's a video there of the whole process.
I like my roses to have subtle color, so I decided to go with a soft peachy-pink hue with some light moss green around the outside of the rose. I tend to tone my petal dust colors down with cornstarch. (A little more about that later.)
Oh, and if you prefer your roses to be a brighter color, you can always do that.
This post is the first of a three part series. Here are the links to each post in the series:
How to Add Color to a Large Gumpaste Rose (you're here now)
In this post, I've included some screen shots and detailed instructions. The good news is that there's also a video later in the post that will show you all the steps as well. Let's get to it!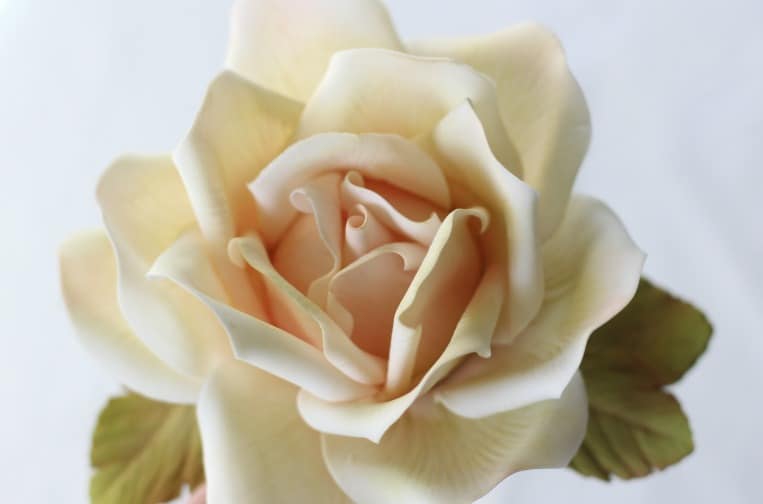 This post contains affiliate links. As an Amazon Associate, I earn from qualifying purchases.
Supplies You'll Need to Color a Gumpaste Rose:
Petal dust in your choice of colors (I used flesh petal dust,

soft pink

and a kiwi green (or moss green) mixed with cornstarch for the outer petals.) (If you decide you want a pure white rose, I've got some tips below for that as well. I use white luster dust to give it some sheen.)
For the white rose, I use satin white luster dust (similar) or super pearl dust
Small paint brushes used only for caking
Cornstarch to tone down your color
First off, if you don't want a white or a very light colored rose, you'll need to color your gumpaste before you make the rose. Once it's dried, you can then add some petal dust to deepen the color.
For this tutorial, I'm going to show you two different dusting variations. Tips for white roses and then a more vintage, soft look using two colors (as pictured above.)
Dusting the White Rose:
As you may think, this one is the easiest to color. Technically, you could leave the rose as is after you've made it and it's dried, but I like to add just a bit extra to it to give it a little sheen.
My favorite way to do that is with satin white petal dust (linked above in the ingredient list.)
It has just a small amount of luster in it, not really enough to make the rose look pearlized.
You could also use super pearl dust, but add a bit of cornstarch to tone it down…unless you want a really pearlized look to your rose.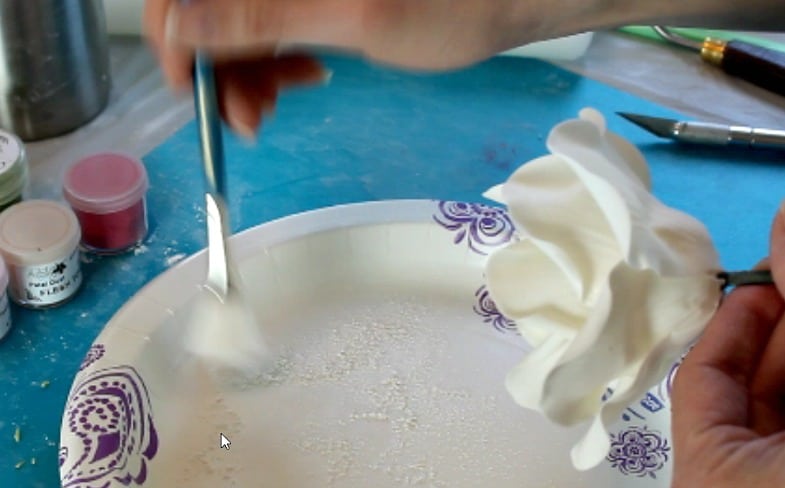 Really all you're doing is dusting on a light color of the satin white luster dust and that's it. It's demonstrated in the video below.
Dusting the Rose with a bit of Color:
For this color variation, I wanted to go with a more vintage rose look. You can see that there's a bit of pinkish-coral in the middle and it greenish-yellow on the outside petals.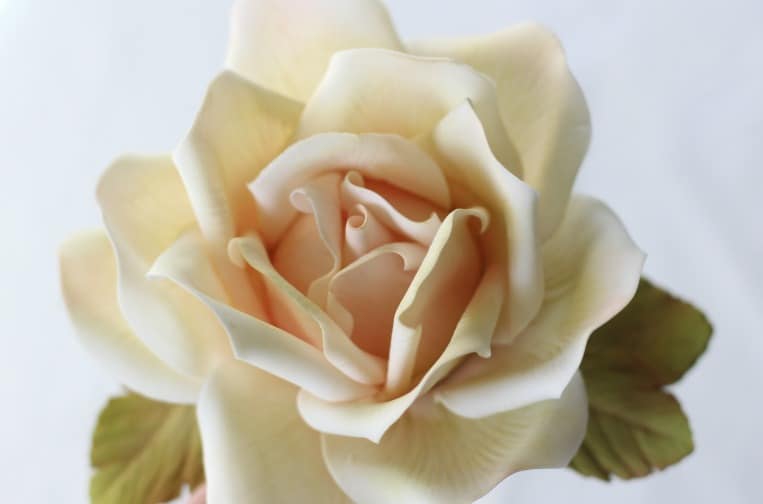 Just mix your flesh colored petal dust with the light pink dust to give you the soft coral (blush colored) look. You'll want to add that mixture to the middle of your rose.
Dust the bud, the first row and the second row liberally. Then you'll add just a bit of that color where each petal meets the base. Do this for the inside and the outside of the petals.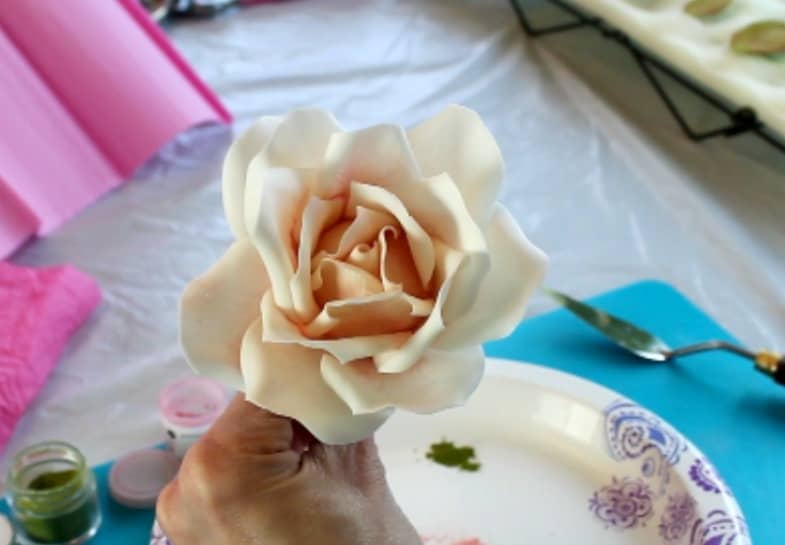 I also like to add just a bit on the outside of the petals, just in the middle of the tip of each petal.
Next, mix the kiwi or moss green with a bit of cornstarch. This lightens the color a bit. You'll dust this on your outer petals. Do the inside and the outside of each petal (but just the outer petals.)
Once the outside petals are dusted with the green, dust just a small bit closer to the inside of the flower, but not much at all on the bud area. You want that area to remain mostly the coral color.
Once that's done, turn your rose upside down and dust the outside petals.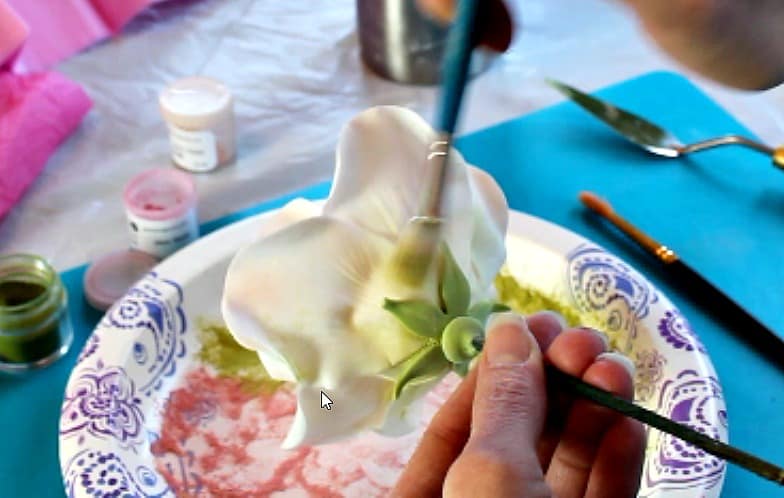 Dust the green a little heavier around the base of the rose.
Don't forget to dust the calyx. (I talk more about that in the last video of the series.)
Once your rose is dusted, use an empty squirt bottle to blow some air on it to get any of the loose dust off. You can also twirl it under a steamer to add some shine to it. If you do that, don't get too close to the steamer and it only takes a few seconds…any longer than that and you'll melt it.
I chose not to steam mine, because I sort of like the matte look.
You can watch the video of the process here:
That's it! Now you've got yourself a gorgeous rose! Don't forget to check out the other posts and videos in this series. You can find them here:
How to Make a Large Gumpaste Rose (there's also a free printable quick reference guide!)
How to Add Color to a Large Gumpaste Rose (you're here now)
Ok, now I want to see your beautiful dusted roses. If you'd like to try a different color combination, but you're stumped, just ask me for ideas. I've got thousand (we'll maybe just a hundred) ideas of color combos I think would look awesome.