This very detailed tutorial will show you step-by-step how to make a beautiful, perfect large gumpaste rose from start to finish.
Making gumpste flowers (specifically roses), doesn't have to be so challenging. You just need a plan and this gumpaste tutorial is an easy-to-follow process that will guide you through making roses.
If you've been frustrated with making gumpaste roses, don't worry. I'm going to share with you all my best tips. There are some tips and tricks for sugar roses that really make it simple and possible to create beautiful roses for your cakes.
In this post you'll find detailed written instructions, a video and a printable guide to use (and yes that's all free).
This post is the first of a three-part series. After you've completed your rose, just click the next title on the list to continue on. Here's the list of each post.
How to Make a Large Gumpaste Rose (you're here now)
First I'll say that there are a multitude of ways to make a rose. I'm going to show you what I do. Hopefully, it gives you a great starting off point and you can adjust it to what works best for you.
I've written instructions below with screenshots. I've also included the supplies you'll need plus some extra tips. There's also a narrated video below, so you can actually see it being made.
Jump to:
Supplies You'll Need to Make a Large Gumpaste Rose:
Gumpaste: You need gumpaste…fondant will not work as well. I normally use store bought gumpaste, either wilton or Satin Ice.
Rose Petal Cutter Set: We'll use the three largest cutters in the set) These cutters are very similar to what I used: Rose Petal Cutters; And these cutters look a bit wider than what I used, but they are a good brand and would work as well: Ateco Rose Cutter Set
Shapers: (This is optional, but they're very handy to maneuver the petals around when you're attaching them.)
Petal Veiner: – Here 's one similar to mine: Rose Petal Veiner
Ball Tools: (You don't absolutely HAVE to have this but it's really useful in giving your petals a nice curve.)
Wilton Fondant 9 Inch Rolling Pin or Pasta Roller Attachment (Ok, you don't HAVE to have a pasta roller attachment, but it is pretty awesome if you do. You can get your gumpaste really thin and even with a pasta roller.)
18 gauge floral wires: I usually get the paper covered wires.
1 inch styrofoam ball: Try to get the compressed styrofoam…it's smoother.
Hot glue
Wire cutters: Because you may need to cut your wires shorter, so go ahead and get the bigger ones…they'll cut through almost anything.
Gumpaste shaping foam: (You'll use this with your ball tool to give the petal curves.)
Ok, let's get started. Don't forget, there's a video at the end that will show you all the steps.
Steps for Making the Large Gumpaste Rose:
Making the Base:
First of all, some people like to make their rosebuds out of gumpaste. If I'm making a small rose, that's fine, but it really makes for a heavy flower when you're making a large rose.
Other's prefer to use the styrofoam cones you can buy at cake decorating supply stores. None of these places near me, keep those in stock and frankly, sometimes I just don't think ahead to order them.
I came up with this method of just using a one-inch styrofoam ball and it works just as well and they're so much easier to find, plus they're fairly cheap.
First tape three of the 18 gauge wires together with floral tape. Usually, the styrofoam balls will have a hole at the bottom. If yours doesn't, just make a hole with a skewer or your wires.
(Oh and try to get the more compacted styrofoam balls, they seem to work better. I've added a link to them up in the supply list.)
Next squirt in some hot glue and insert the wires that you taped together. Let it firm up fully.
Again, we're using styrofoam, so that it won't add a bunch of weight to your flower.
Making the Petals and Putting it Together:
We'll be using the three largest petal cutters in the set.
The Bud:
First, you need to sprinkle cornstarch on your rolling mat, so your petals won't stick. Then roll out your gumpaste super thin.
If you've got a pasta roller attachment, I like to roll them out at about the number five setting. If you don't have one, just use your small fondant roller.
First I'll say that I usually widen my petal cutters a bit. I just pull them apart a tad.
Take your largest petal cutter, I know it sounds weird to use the largest cutter, but just trust me, and cut out one petal. This will be your bud.
Use your foam mat (the firmer one) and thin the edges with either a ball tool or your fondant roller.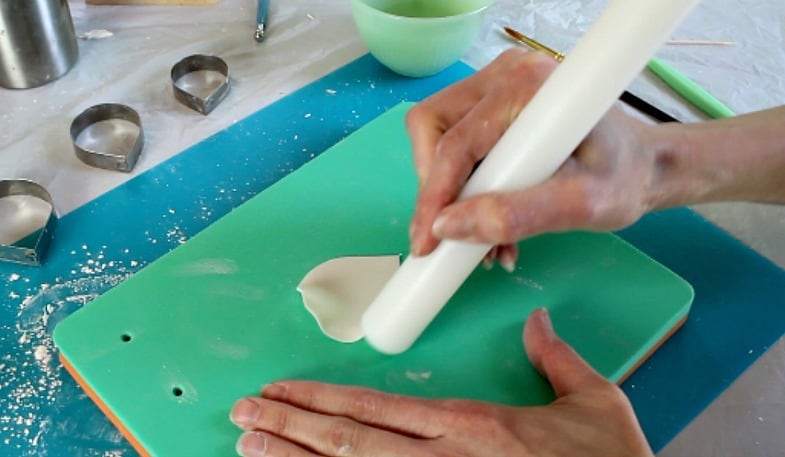 Now, add the petal to the veiner and press.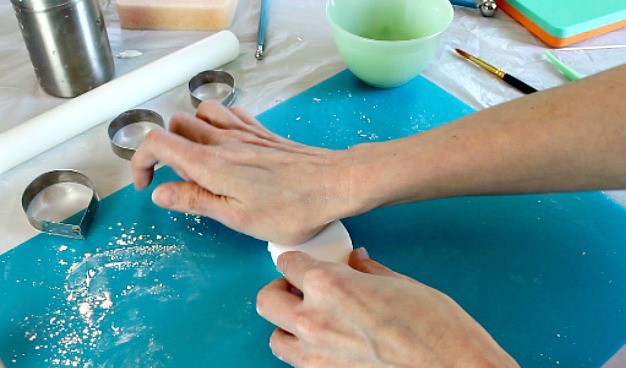 Attach the petal to your styrofoam ball with a bit of water. Just wrap it around and let the cone stick up from the ball.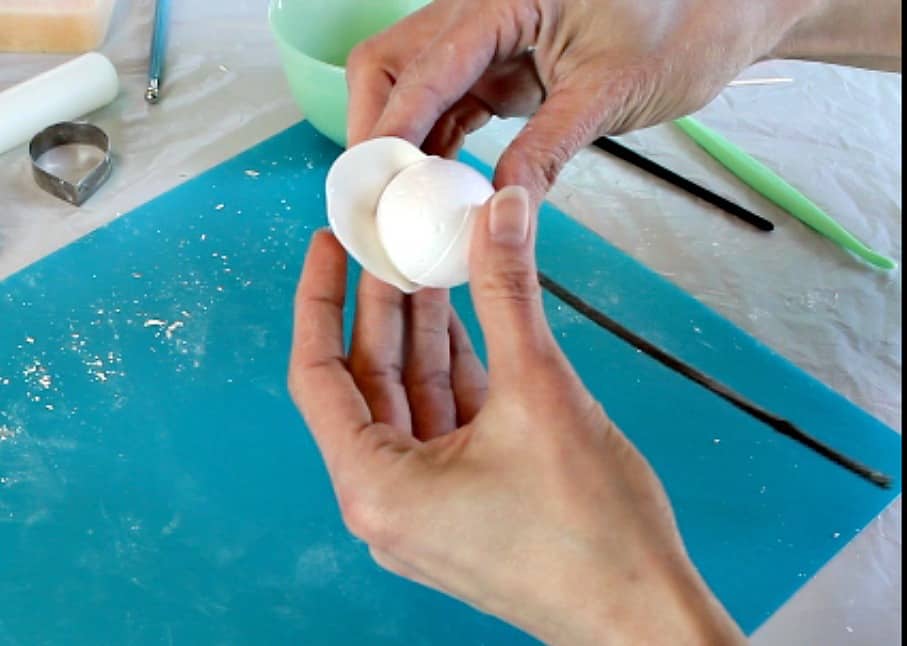 Use your fondant tool to help you adjust it. It'll take some fidgeting to get it just right.
Now just stick the flower in a block of foam while you work on the next petals.
The First Round of Petals:
For the first round of petals, roll out your gumpaste as you did for the bud. Now, use the smallest petal cutter and cut three petals.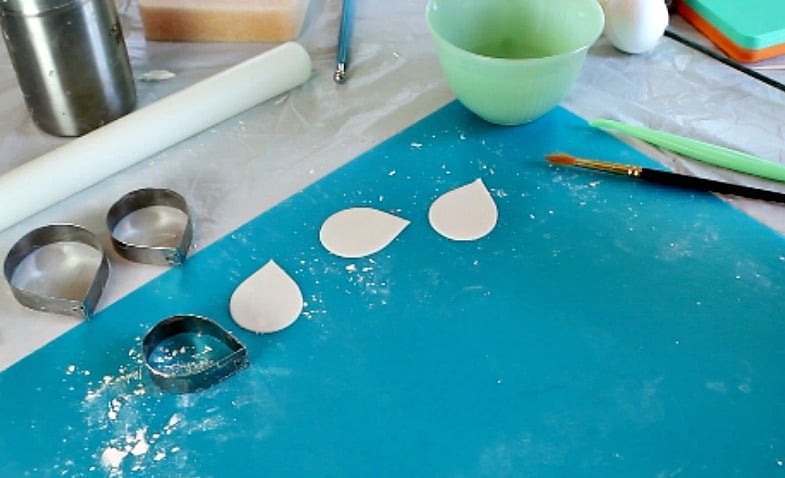 Thin the edges with your fondant roller.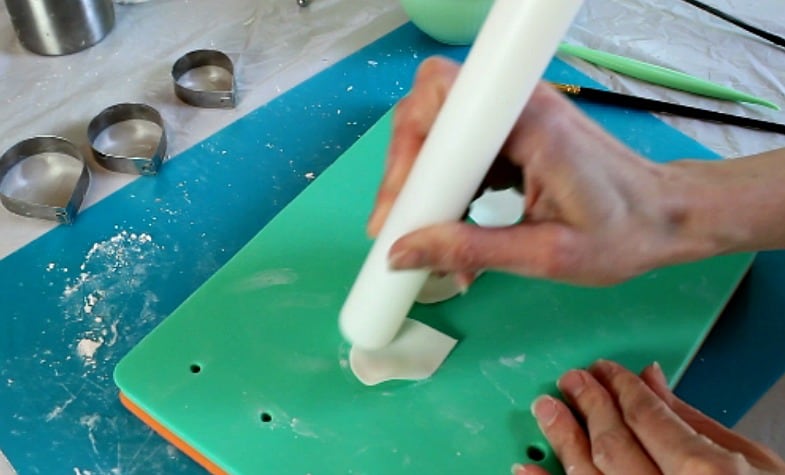 Vein them.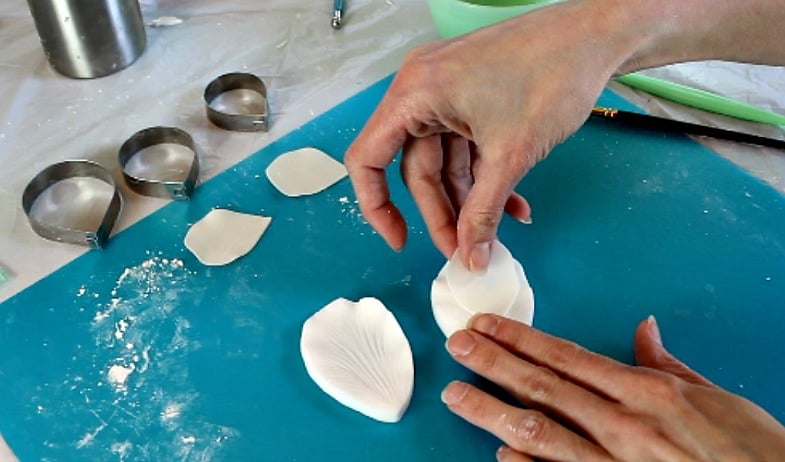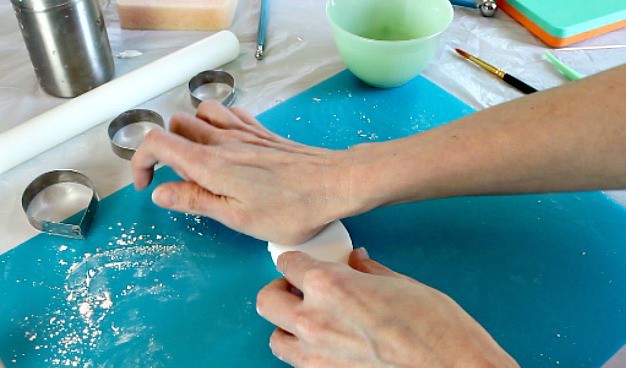 Use a toothpick to curl the edges back a bit.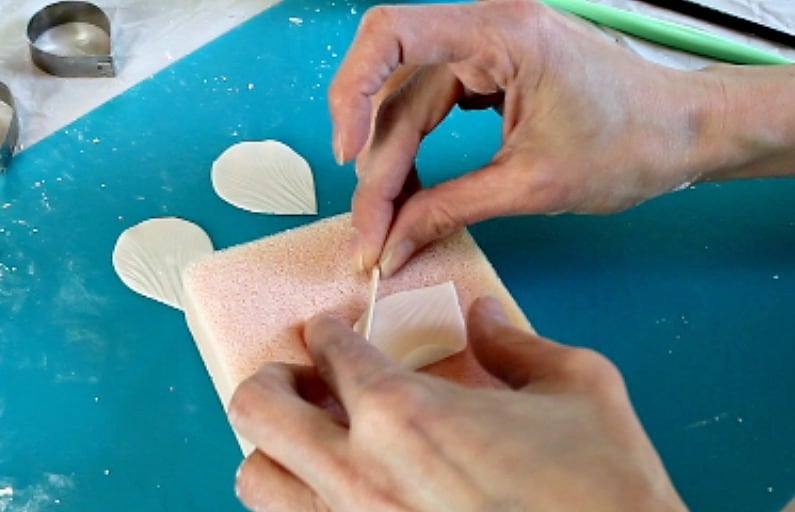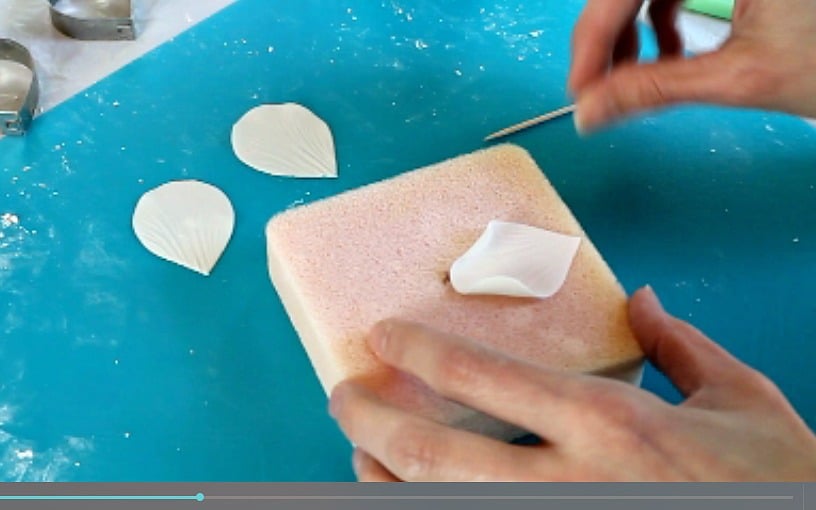 Now turn the petal face down on the soft foam and use a large ball tool or your fondant roller to cup the middle a bit.
Attach the petals around the bud with a bit of water. The curls will be facing out.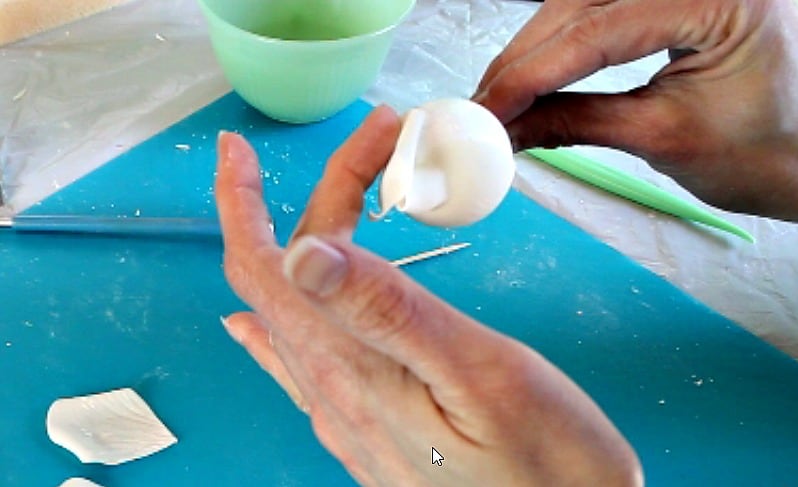 Try to overlap them a bit if you can and make sure the top of the petals are a little bit higher than the bud you just made.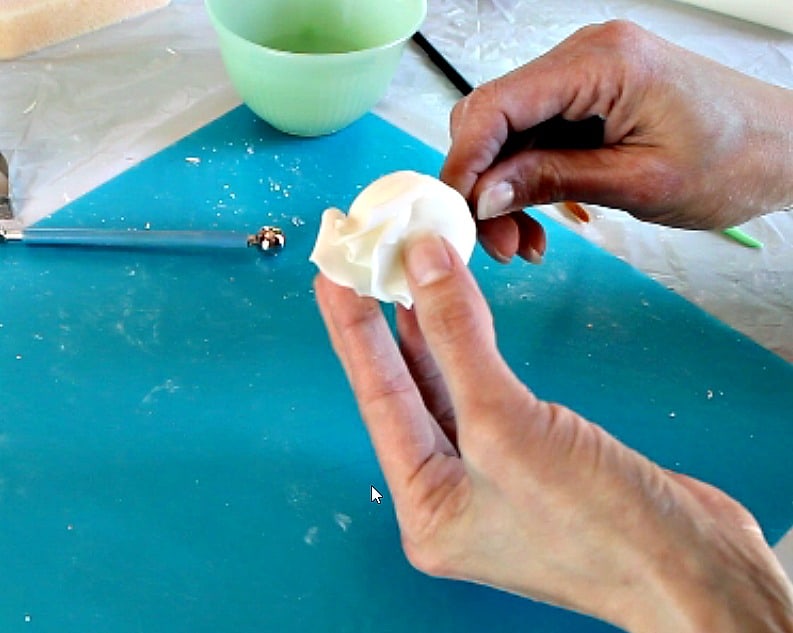 Now, set the stem of the flower into the foam while you work on the next round.
The Second Round of Petals:
For the second round of petals, roll out your gumpaste like before. Use the next largest size petal (your middle size) and cut out three petals.
Thin the edges and vein them. Use the toothpick trick and curl the edges, then turn them face down and cup the middle with your ball tool.
Now just attach these as you did before. Make sure to attach each petal where the petals you put on earlier meet up.
Try to overlap them a bit and make sure that the tops of the petals are slightly higher than the round of petals before. (This is important or the middle of your rose will look to high and will give it a weird look.)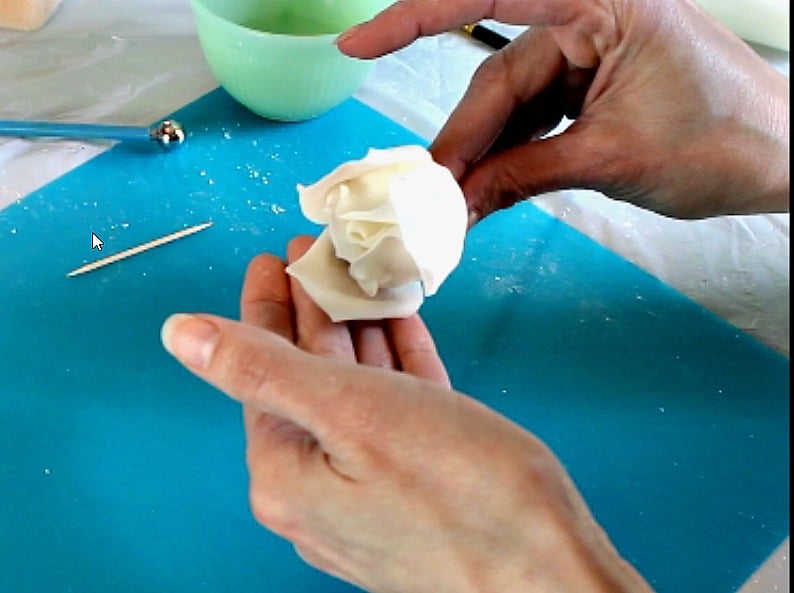 Don't worry about the bottom of the styrofoam ball right now. It'll eventually get covered.
Once those petals are on, stick your flower in some foam and work on the next round of petals.
The Third Round of Petals:
On this row, use your largest petal cutter and cut out five petals.
Do the same as the other petals by thinning the edges, veining them, curling the edges and cupping the middle.
We're adding one more step here. Take five tablespoons and lay your petals on top of them. Make sure the curled edges of your petals are facing down.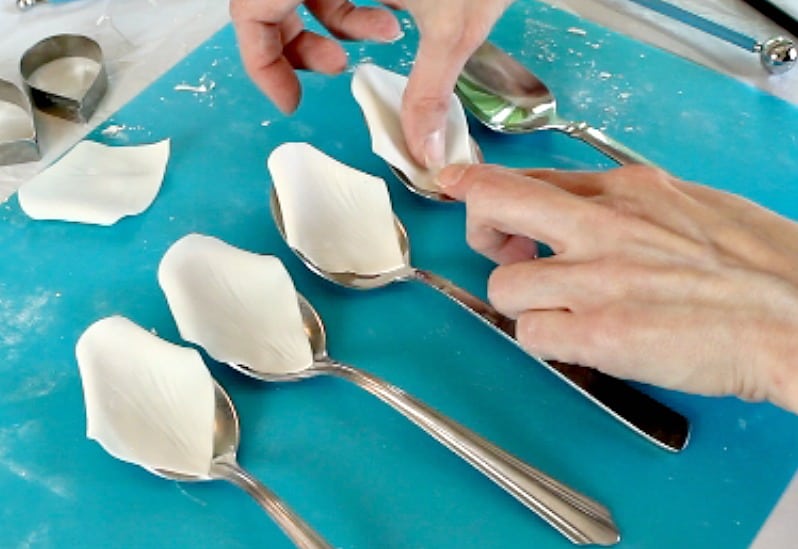 Leave your petals on the spoons for about 15 – 20 minutes or so to let them firm up a bit. Don't let them completely dry up though.
Next, just attach them to the rose with a bit of water. You don't need to add water to the entire petal just the bottom and up the sides a bit.
Make sure to overlap them when you attach them and make sure the tops are level with the row before them.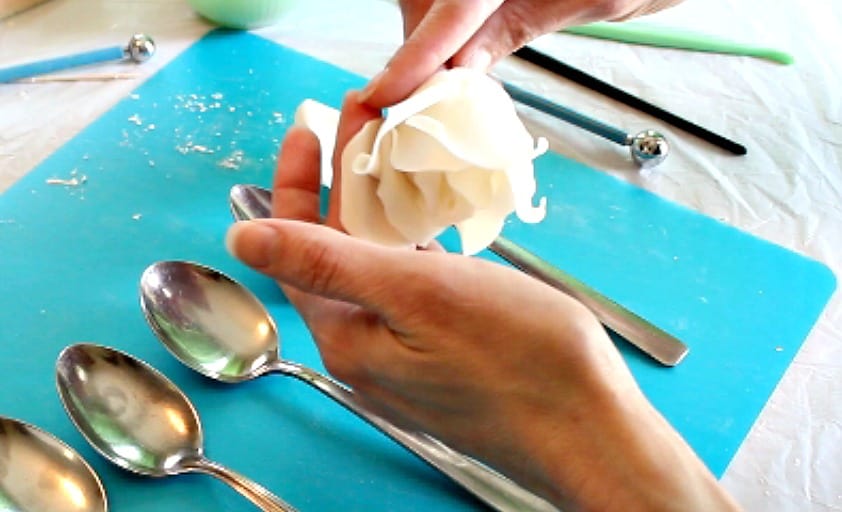 Now let your flower dry a bit while you work on the last round.
The Fourth Round of Petals:
Now we're really rolling. This is the last round. (Of course, you can always just go one more round after this if you want to make a really full rose.)
Use the largest cutter and do the same thing as the step before except cut out seven petals.
Thin them, vein them, curl the edges and set them on tablespoons the same as you did before. Let them set up for 15 – 20 minutes.
Now just attach them to your rose and make sure to overlap them as you add them. At this point, it's easiest to turn your rose upside down and attach them.
For this row of petals, the tops of the petals need to be a little lower than the petals before.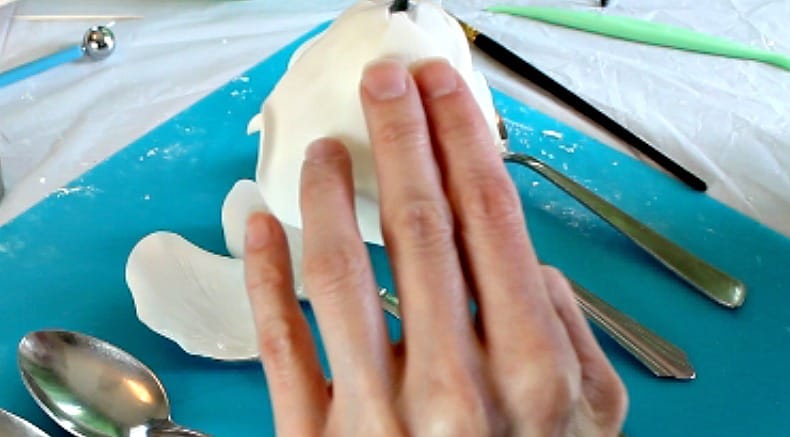 I find that when I attach them while holding the rose upside down, if I just line the point of the petal up to the bottom of the styrofoam ball, it ends up being about the right height.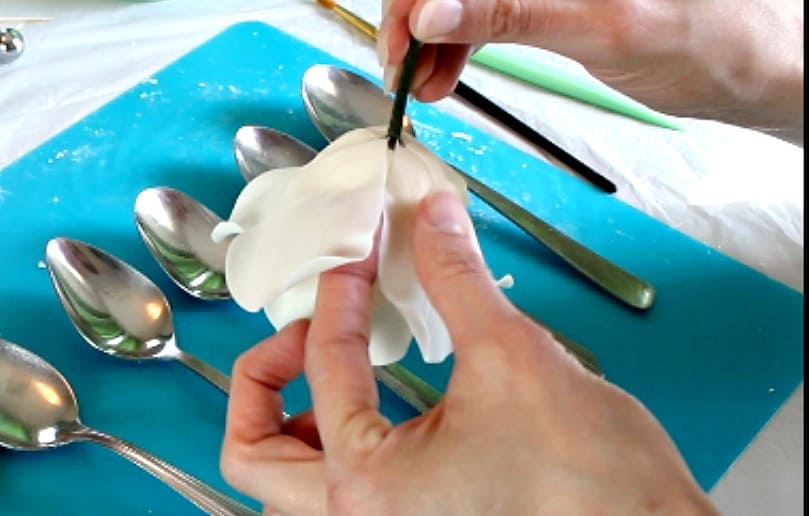 Drying the Rose:
Once you add these petals, you won't be able to just stick it back into the foam or the petals will flop down. You can bend the wire and hang it over a taller cooling rack, so it just hangs upside down, or you can set a piece of soft foam over a tall glass and poke the wires through it and let the rose sit on top of the foam.
If you go that route, just add some bits of foam or paper towel under the rose petals to keep them from falling down too much. This method will give your rose a more open look and it's what I prefer.
Important Petal Height Note:
My most important tip is to get your petal height correct. That will make or break your rose. If the middle is too high it just looks weird.
You want the rows like below:
The first row just a tad higher than the bud.
The second row higher than the one before.
The third row the same height or a bit higher than the second row.
The fourth (last) row, lower than the third.
Video:
Make sure to check out the video below, so you can see all the steps.
So you made it through! Yeah! I know I gave you A LOT of detail here, but I wanted to try to make it as clear as possible.
Also, don't forget to check out the related posts and videos linked below:
Don't Forget to Pin it for Later!