This almond cake with cherry buttercream is a super moist cake with a hint of almond flavor, then covered with a creamy, delicious maraschino cherry frosting.
Hey there! Before you scroll, there's lot's of important stuff in the post!…including the FAQ section, which may answer any questions you might have about this recipe. Enjoy!
A while back, I got a request from a YouTube subscriber that I make an almond cake with cherry buttercream. She mentioned it was her favorite cake and it sounded like a great idea to me, so off I went to create it.
The almond cake is based off my favorite vanilla bean cake recipe. It's virtually the same except you'll be adding in more almond emulsion.
Now, I use almond emulsion instead of almond extract because I think it just has a better flavor, but if you only have the extract, that's totally fine. If you can, you really need to try almond emulsion though. You can really tell the difference when you've used this. I use Lorann Oils and you can find that here: Lorann Oils Almond Emulsion
You'll also add slivered almonds around the base of your cake. So, you'll have a nice almond flavor inside the cake and a nice crunchiness to the outside.
I wasn't sure how I felt about cherry buttercream, but I was really surprised at how much I like it. I've had things with cherry flavor in it before and I was really afraid it would taste like medicine. That cough syrup taste still sticks in my mind.
Well, that's not what happened with this buttercream. We're not using an added cherry flavoring. We're just using chopped maraschino cherries, so there's no 'fake taste' going on here…just a delicious cherry flavor and a sweet pink tint to the buttercream frosting.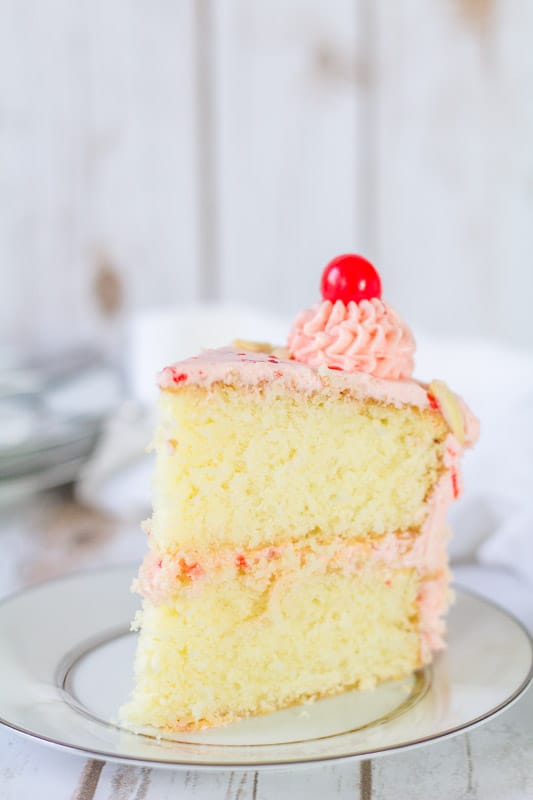 The mixing method for this cake, is the reverse creaming method, so it may be a little different than what you're used to. Instead of creaming the butter and sugar together, you'll be adding the butter to the dry ingredients. This makes a super tender cake. It's so worth it.
When the cake was finally cool, I added the buttercream. I first just added a crumb coat. I let that chill in the fridge for a bit, then added a thicker layer on top and around the cake.
I filled a piping bag and just piped a couple of small buttercream dollops on the top, added some slivered almonds in between and then a cherry on top of each dollop.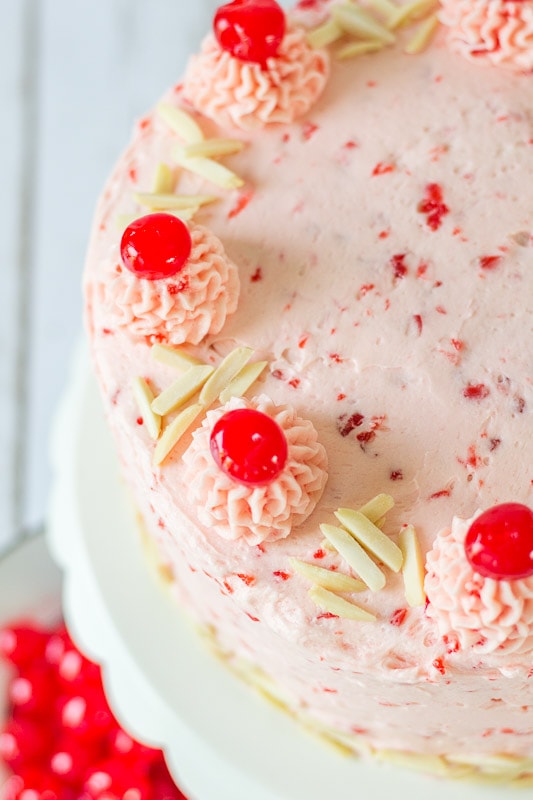 Doesn't this cake look like something out of the 1950s? I don't know why I think that, but somehow it reminds me of the 50s.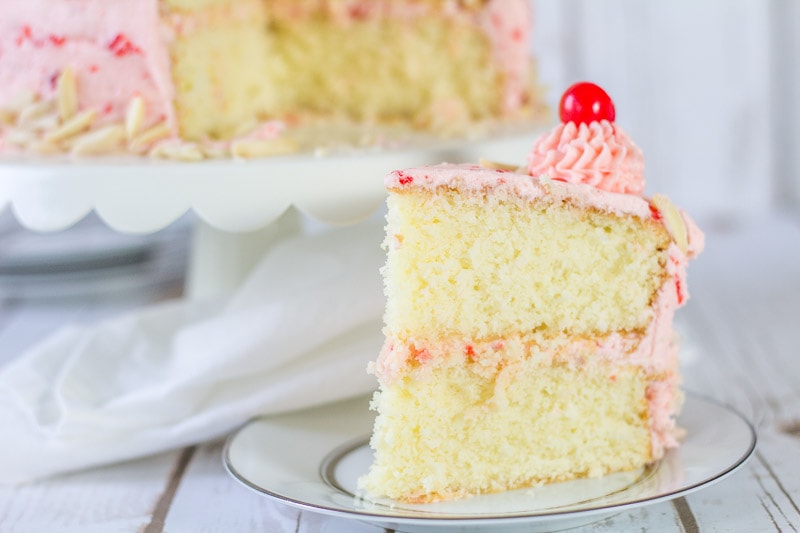 Tips & FAQs for the Almond Cake:
The mixing method for this cake is a little different, but it's worth it. It makes for a really tender texture.
Make sure the butter is almost room temperature (it can be a bit cooler than room temp.) Don't heat it in the microwave though, you'll just want it to come to room temp on it's own, make sure you don't allow it to get too warm though.
Cut your butter into chunks before you slowly add it to the dry ingredients.
What if I don't have cake flour? Well you'll get the best results with cake flour, but if you can't get it, you can substitute with all purpose flour with these changes: For every cup of cake flour called for in the recipe, use one cup of all purpose flour instead and remove two tablespoons of it, then replace that with two tablespoons of cornstarch.
I don't have almond emulsion, where do I get those? I have a link in the post above where you can purchase that. If you don't want to do that, you can always omit the almond emulsion, however you won't get the almond taste in your cake. You could also use regular almond extract. The taste isn't quite as good, in my opinion, but it works in a pinch.
I want a stronger cherry taste in the buttercream, can I add more cherries? Yes you can! Just add them in sparingly though while you're mixing up your buttercream because the more you add, the thinner your buttercream will be.
Can I make this into cupcakes? Yep you sure can! There are instructions for how to do that in the recipe card below.
Have a question that wasn't answered? Feel free to leave it in the comments below.
Now onto the recipe.
***I write recipes using volume (cups) measurements because here in the U.S., this is what people are used to seeing and using. For weight in metric measurements, click the 'metric' button under the ingredients in the recipe card. The weights are converted by a program, not me, and it's a best guess. Please note that because I develop recipes using 'cups' I can't guarantee that weighing the ingredients will produce the exact same results.
Recipe: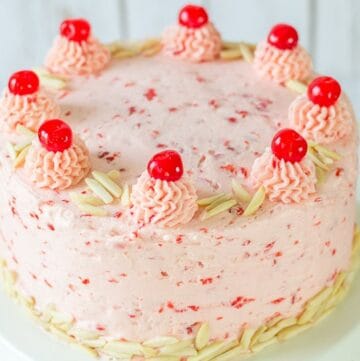 Almond Cake with Cherry Buttercream
This almond cake with cherry buttercream is a really moist cake with a hint of almond flavor, then covered with a creamy, delicious cherry frosting.
Print
Pin
Save
Saved!
Rate
Ingredients
Almond Cake
3

cups

cake flour

2

cups

sugar

1 ½

teaspoon

baking powder

½

teaspoon

baking soda

1

teaspoon

salt

1

cup

butter

room temp

1

cup

sour cream

½

cup

whole milk

1

tablespoon

vegetable oil

(or canola oil)

1

tablespoon

vanilla bean paste

or extract

1

teaspoon

almond emulsion

or extract

3

eggs

slivered almonds

optional – for the base of the cake
Cherry Buttercream
1

cup

butter

room temp

¼

teaspoon

almond emulsion

or extract

1

teaspoon

vanilla bean paste

or extract

6

cups

confectioners sugar

2

tablespoon

milk

(or cream)

½

cup

chopped maraschino cherries
Instructions
For the cake:
Preheat the oven to 325 degrees. Grease and flour two 8 inch round cake pans.

Combine the flour, sugar, baking powder, baking soda and salt in a mixing bowl, whisk and set aside.

In another bowl, combine the sour cream, milk, oil, vanilla, almond and eggs. Mix well with a whisk and set aside.

Cut your room temperature butter into chunks. Turn your mixer on low and add in the butter little by little into your dry ingredients. Mix on low and then medium until the flour mixture is completely coated with the butter. The mixture will be crumbly and sort of resemble sand.

Pour in about half of the liquid mixture. Mix on low/medium until just combined.

Pour in the remaining liquid mixture and mix on low/medium until combined. Be careful not to over mix. You just want to mix until all the ingredients are combined…not for a couple of minutes.

Scrape down the sides of the bowl and mix again on medium for only about 10 – 15 seconds.

Pour into prepared pans and bake at 325 degrees for 40 – 45 minutes.

Cool in pans on wire racks for about ten minutes, then turn the cake layers out of the pans to cool on the racks until completely cool.
For the buttercream:
In a bowl, cream the butter with an electric mixer on medium.

Add in the almond and vanilla extracts and beat again on medium until well combined.

Add in three cups of the confectioners sugar and one tablespoon of milk and beat again on low at first, then switching to medium until well mixed.

Add in the last three cups of confectioners sugar and one more tablespoon of milk. Beat well on low at first, then switch to medium and beat until well mixed.


Add in the chopped cherries and mix again until well incorporated.

Spread icing on cooled cake layers. Pipe icing dollops around the top of the cake and add a cherry to each dollop. Add slivered almonds around the base of the cake.
Notes
The cake layers or cupcakes can be frozen for up to a month.
For cupcakes: Fill the cupcake liners just slightly over half full. Bake at 350 degrees for about 25-30 minutes. Cool on a wire rack.
This post contains affiliate links. As an Amazon Associate, I earn from qualifying purchases. You can see my policies linked in the website footer.
Nutrition
Calories:
825
kcal
|
Carbohydrates:
118
g
|
Protein:
6
g
|
Fat:
37
g
|
Saturated Fat:
23
g
|
Cholesterol:
133
mg
|
Sodium:
555
mg
|
Potassium:
162
mg
|
Sugar:
94
g
|
Vitamin A:
1140
IU
|
Vitamin C:
0.2
mg
|
Calcium:
82
mg
|
Iron:
0.6
mg
Baking at higher elevation?
Adjustments will need to be made for that. This website does not specialize in higher elevation baking. Please take time to do your research on what adjustments should be made.
Want to support this blog?
Feel free to leave a tip here: Tip Jar!
Disclaimers
To see food safety, allergy & nutrition disclaimers, go here: Disclaimers
How to Share
I'd love for you to share this recipe link or tag it, but please do not share screenshots or copy/paste the recipe to social media as the content and photographs are copyright protected and we (bloggers) work really hard on our content. Sharing the link, tagging us on socials and pinning it is super appreciated though!
If you try this one, let me know how you like it. Personally, I fell in love with that cherry buttercream 🙂
Items & Tools Used for this Cake: