What is insanely good and insanely easy? This Melted Ice Cream Chocolate Chip Cake right here. And no I'm not being dramatic. Seriously you won't believe how easy this one is and how moist and yummy it is.
The base of this cake is made with a cake mix…don't hang up on me yet, just hear me out. If you're mostly a scratch baker…I am too, so I feel ya. I'm telling you though, you won't know this cake is based off a cake mix when you eat it. Plus it comes together so quickly, you'll want to make it over and over because it's one of those 'no fail' kind of cakes.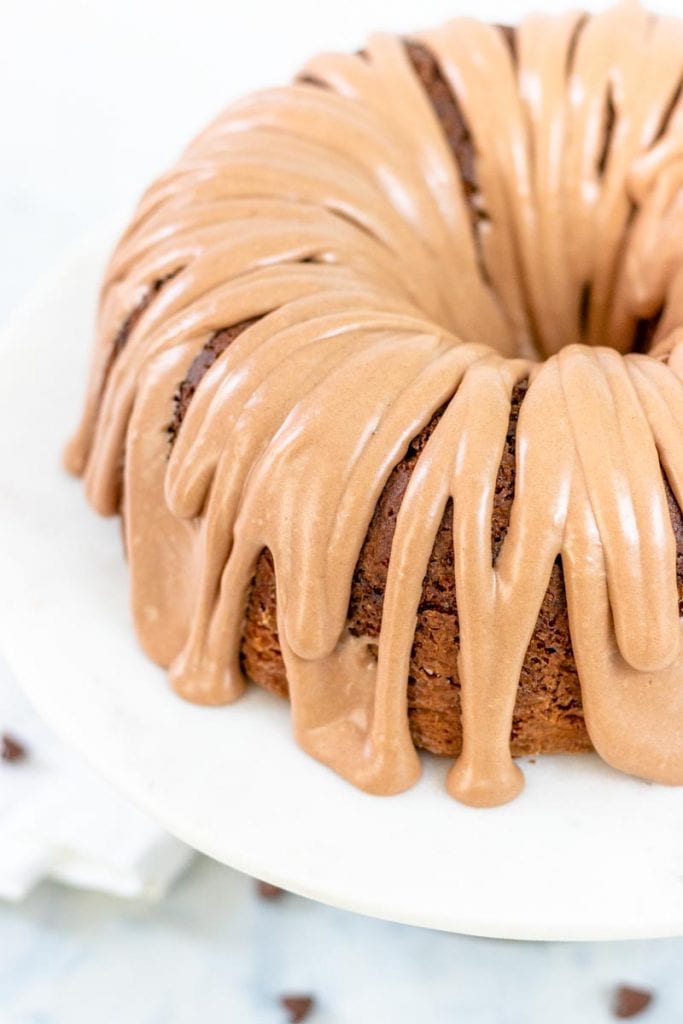 I used a yellow cake mix. Trust me on this one. I love the flavor of a yellow cake and using a chocolate cake here, would just be too much of a chocolate overload. The yellow cake combined with the melted chocolate ice cream just gives you the perfect flavor.
Ok, let's talk about the ice cream. I went with melted chocolate ice cream. It gives the yellow cake a touch of chocolate flavor, but not too much, since we'll also be adding in milk chocolate chips.
I used Blue Bell Dutch Chocolate, because…um…I'm in the South and because Blue Bell is life down here. I'm not sure there is anything better than Blue Bell Dutch Chocolate, or Blue Bell Homemade Vanilla.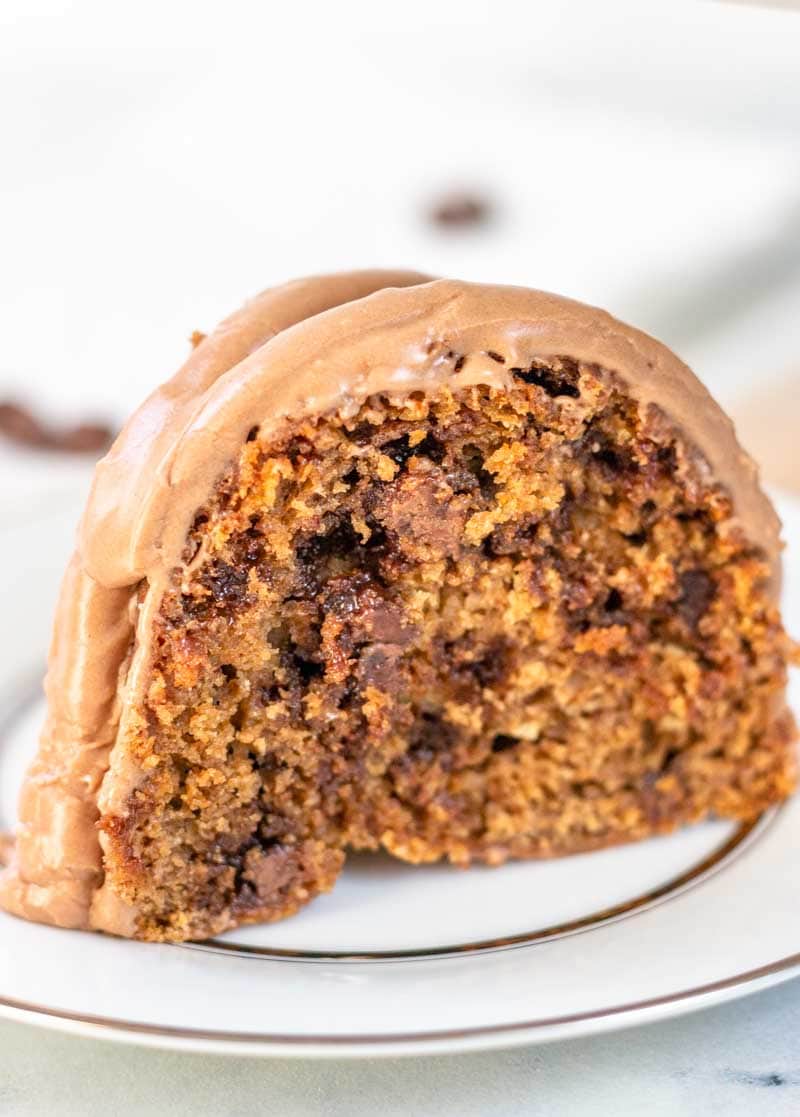 If you don't have Blue Bell where you are…I'm so sorry…that must be awful for you. I'm sure though that you can find some really good chocolate ice cream to use where you are. (Unless you just feel like traveling south and snagging some Blue Bell. It would be so worth it, but it wouldn't last for the trip back. ;))
Ok, enough of my love affair with Blue Bell ice cream. You're gonna use an entire pint of melted ice cream. Just set it out on your counter and let it melt. Now don't go leaving it out for hours…gross. Just enough to get it melted. You can put it into a bowl and stir it and it'll melt faster.
Once your batter is mixed up, you'll then add in milk chocolate chips. So yummy.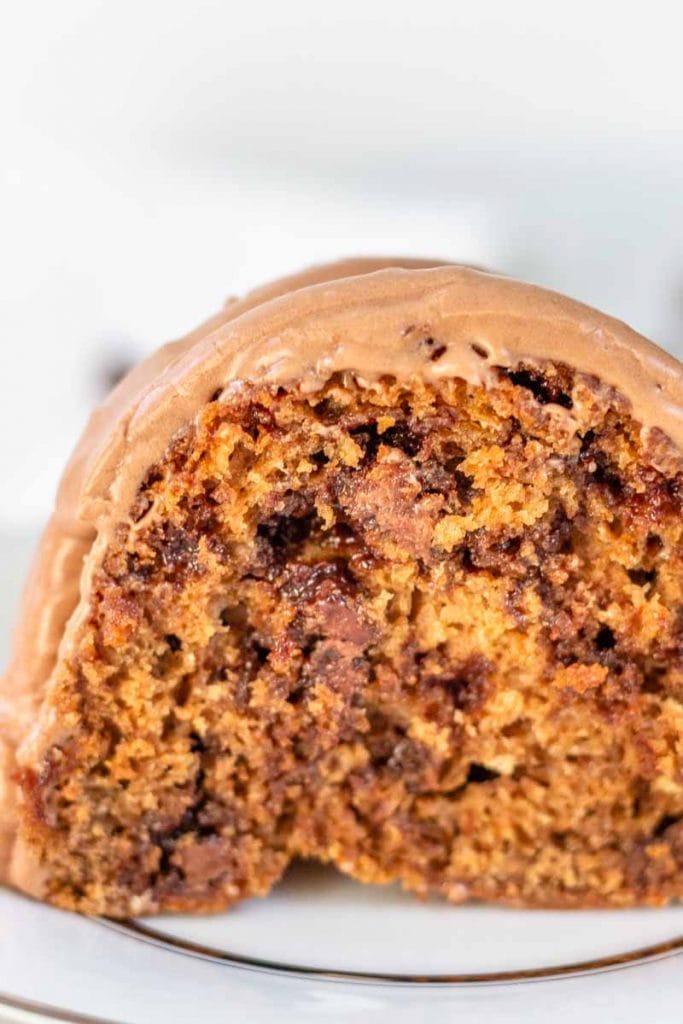 Then we're gonna top off this piece of heaven with a milk chocolate glaze. Whoa momma!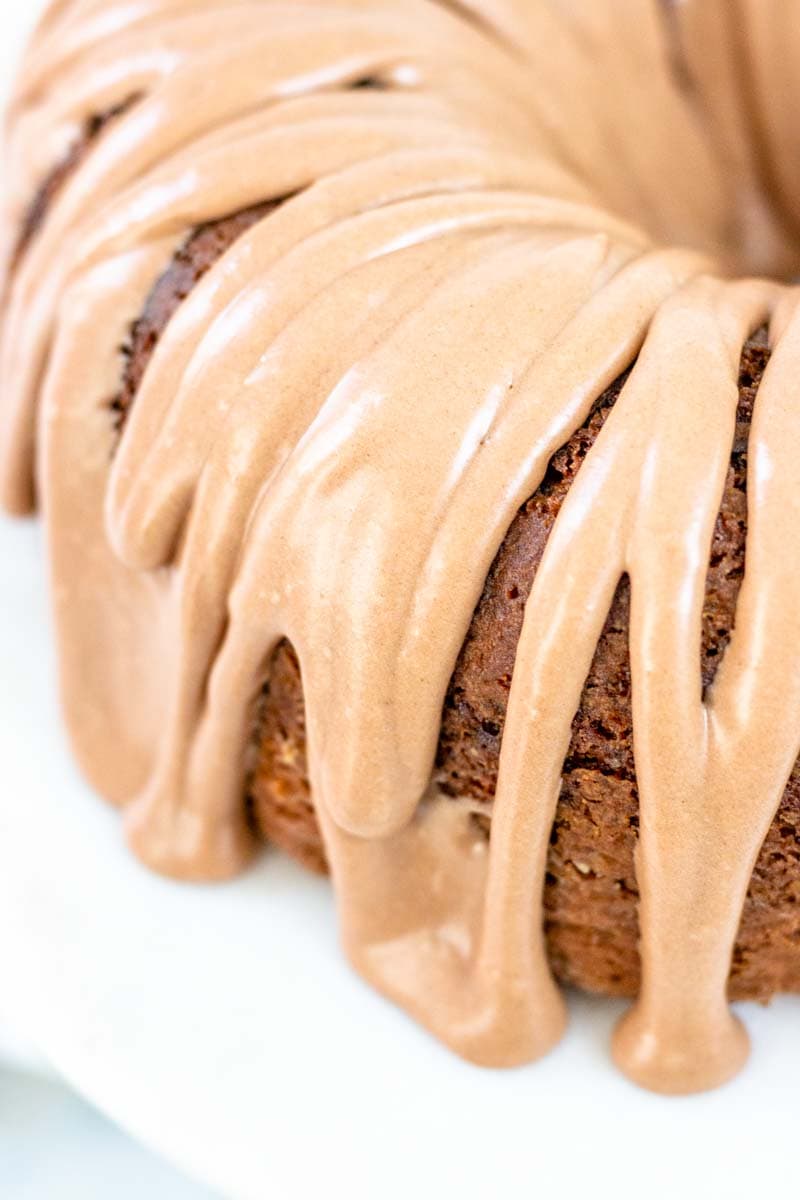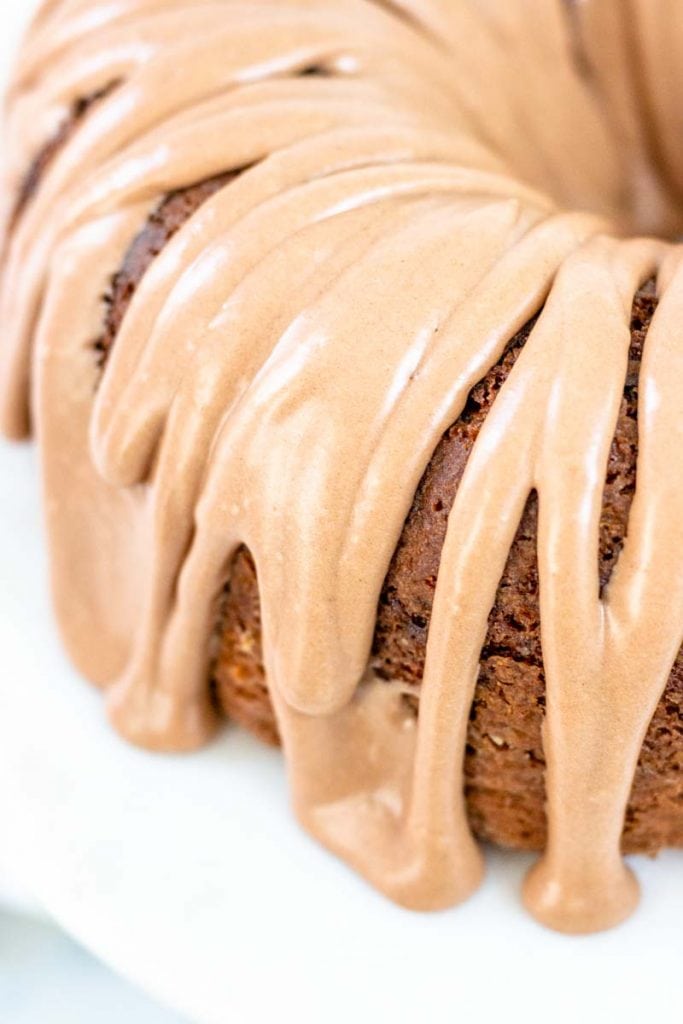 Ok, now let's get to the actual recipe. Oh and there's a video at the end of this post as well.
Melted Ice Cream Chocolate Chip Cake
This melted ice cream chocolate chip cake is so easy to make yet it's insanely moist and yummy. With only a few ingredients, this cake comes together quickly. It's one of those no-fail cakes you'll make over and over.
Total Time
2
hours
40
minutes
Ingredients
For the cake:
1

box

yellow cake mix

(I used Duncan Hines)

1

pint

melted chocolate ice cream

(I used Blue Bell brand)

3

large

eggs

1 1/2

cups

milk chocolate chips

(can use up to 2 cups if you want extra chocolate)
For the glaze:
1/3

cup

milk chocolate chips

1/4

cup

butter

2

cups

powdered sugar

6

tbsp

milk or cream

1

tbsp

corn syrup

(optional for shine & firmness)
Instructions
For the cake:
Preheat the oven to 350 degrees.

Grease and flour a bundt pan very well.

Take your ice cream out of the freezer and let it melt. You can add it to a bowl and stir to melt it quicker.

Meanwhile, take the milk chocolate chips and pulse them just a few times in a food processor if you have one. If not, just add them to a plastic bag and hit a few times with a rolling pin to bust them up a bit. This will help to keep them from sinking while baking. Set them aside for now.


In a mixing bowl, combine the yellow cake mix, melted ice cream and eggs. Mix well for a minute or two.


Add in a couple teaspoons of flour to the chocolate chips and stir to coat, then fold the milk chocolate chips into the batter.

Bake at 350 degrees for about 40 minutes.

Cool in the pan on a rack for about 20 minutes. Then turn out onto the rack or a cake plate and cool completely before adding glaze.

For the glaze:
Melt the chocolate chips and butter in the microwave or on the stove. Heat only until melted, being careful not to scorch. If microwaving, heat for 45 seconds, stir well and if not melted fully, then heat at another 10 seconds. Cool the melted chocolate slightly (almost to room temp) before adding the other ingredients.


Add in the remaining glaze ingredients and drizzle over the cake.

Nutrition
Calories:
446
kcal
|
Carbohydrates:
74
g
|
Protein:
5
g
|
Fat:
14
g
|
Saturated Fat:
8
g
|
Cholesterol:
64
mg
|
Sodium:
358
mg
|
Potassium:
124
mg
|
Fiber:
1
g
|
Sugar:
57
g
|
Vitamin A:
7.3
%
|
Vitamin C:
0.4
%
|
Calcium:
15.6
%
|
Iron:
8.7
%
And here's the video:
This post contains affiliate links, which means I will receive a referral commission, at no additional cost to you, if you make a purchase using these links. As an Amazon Associate, I earn from qualifying purchases.
These links also use cookies, which tracks and allows me to get credit for the referral. You can see my policies linked in the website footer.
Supplies Used to Make the Melted Ice Cream Chocolate Chip Cake:
PIN IT HERE!–>