If you want to get off on the right foot with decorating cakes, Rose Atwater's new book, Cake Decorating for Beginners, is an essential first step. Rose is a long time cake blogger at Rose Bakes and she brings tons of experience to the table.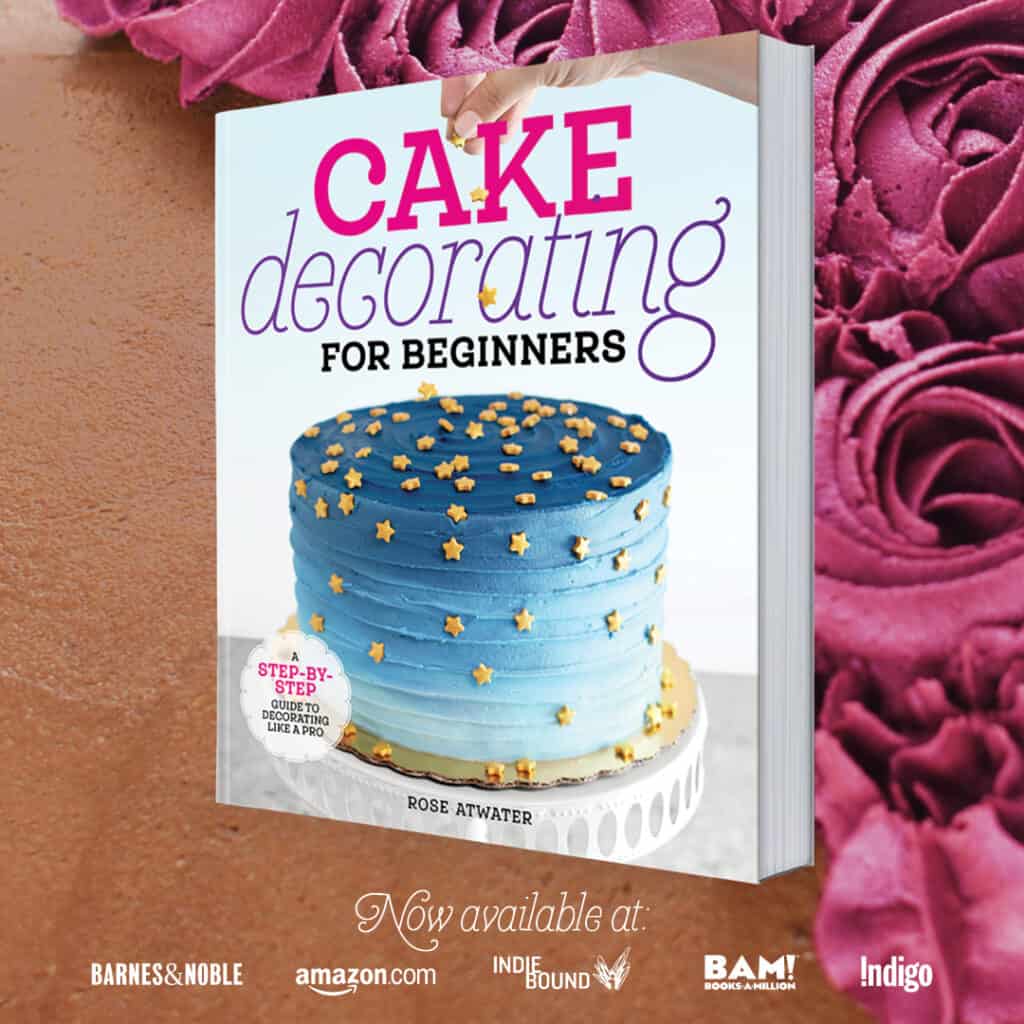 I have been given a complimentary copy of Rose Atwater's book 'Cake Decorating for Beginners' to review. My promise to you is that I will ALWAYS give my honest opinion…good or bad. My comments in this post are my own.
As an Amazon Associate, I earn from qualifying purchases.
I 'met' Rose my first year of blogging. I say 'met' because we've actually never met in person, only through the internet. That's sometimes the way things go in this crazy world of blogging.
I'd known about Rose for a while before I even started blogging. I'd followed her website Rose Bakes for a while and I really liked her style of cake decorating.
I was so excited when Rose reached out to me and told me she had a new book coming out and I could not wait to read it.
WHAT'S THIS BOOK ABOUT?
Cake Decorating for Beginners is just that…it's ALL about beginner cake decorating.
In this book, Rose goes through really everything you need to know about beginner cake decorating.
She goes into what supplies you'll need…including where to get them. She'll show you how to build layer cakes and every detail of decorating a cake including a bunch of really cute cakes you'll definitely want to make.
She's even included some recipes in the book to get you started.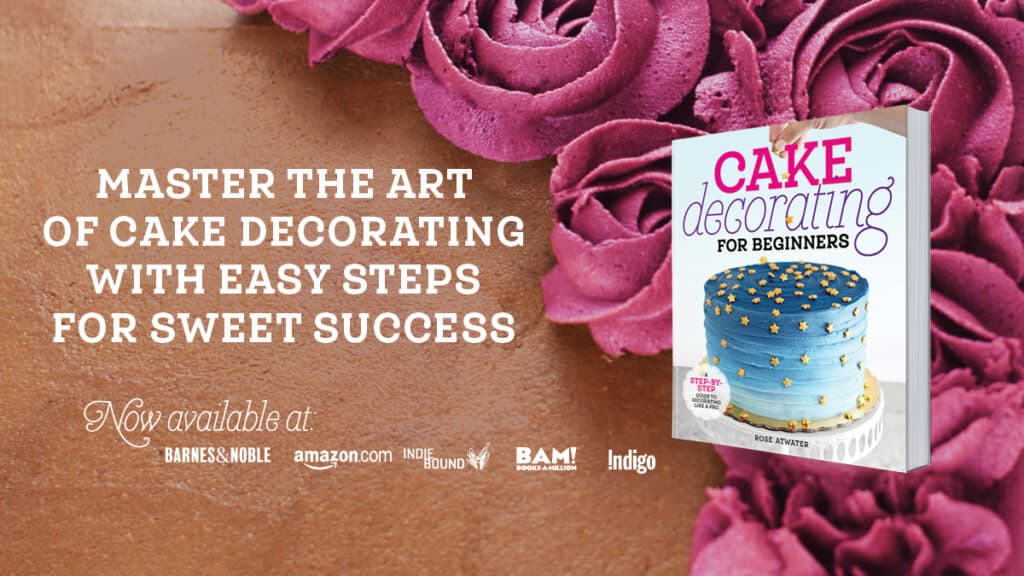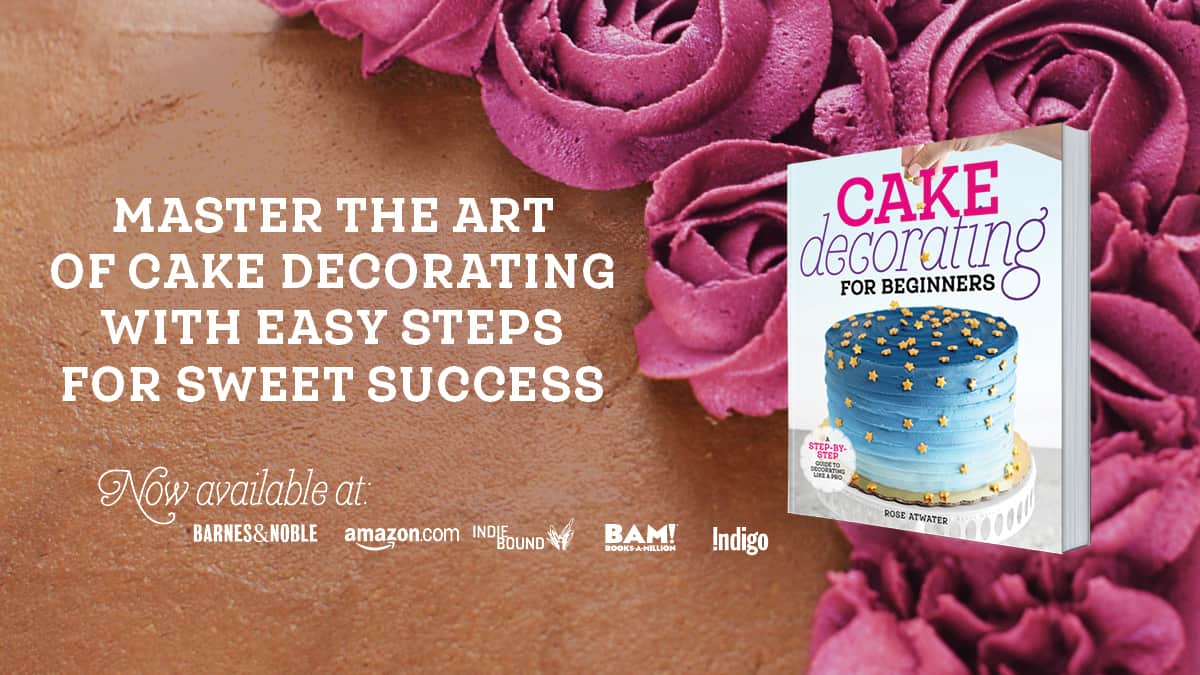 WHAT'S IN THE BOOK?
First, Rose goes through all the items you'll need, why you need them and where you can get them. Then she goes through the proper method of prepping your cakes for decorating. (A super important step that you don't want to skip.)
She then goes through frosting, piping and fondant basics and there's even a chapter on chocolate basics. You know those super cool drip cakes you see? She'll show you how to do it and she even troubleshoots issues you might have with getting the proper drip consistency.
IS THIS BOOK FOR ME?
This book is perfect for the beginner cake decorator, or someone who really just doesn't know where to start and really wants a good foundation.
It's also good if you've started decorating cakes, but you're having issues pop up and you just don't know why they're happening. It could be the method or technique you're using and it's always good to see another person's perspective.
Rose is a good teacher and makes things easy to understand in this book.
MY THOUGHTS ON THE BOOK:
Like I said above, Rose is an excellent teacher and she makes things easy to understand with plenty of pictures and instruction.
Throughout the book, she even gives little golden nuggets of cake decorating advice…little tips and tricks.
All the photos in this book are very well done. They're bright and colorful and the step-by-step shots clearly show what the instructions convey.
She doesn't just leave you with nothing to bake either…she's included cake and buttercream recipes for you to use as well.
Rose really goes into detail in this book. Not just listing out items you need and an overview of prepping a cake. I mean she goes through everything like mixing up different colors of icing, leveling cakes, torting cakes, stacking cakes and much more. There is a ton of information in this book.
Not only does she go over the basic principals of decorating cakes, but she's also included some really cute cake tutorials with instructions on how to make them.
Rose has many years of experience and you can trust her.
My favorite thing about this book is that the cake tutorials are of actual cakes you can realistically make. I mean they aren't over the top, cut-out cakes with built structures and tons of fondant on them. These are cakes you can actually make and they won't take you days to do it.
As an Amazon Associate, I earn from qualifying purchases.
WHERE CAN I GET THIS BOOK?
Right now Cake Decorating for Beginners is available for pre-order on Amazon. It will officially be released on December 24th. But you can order now and not have to remember to order on the 24th!
Just click on any of the graphics in this post, or go ahead and click here to order: PRE-ORDER CAKE DECORATING FOR BEGINNERS HERE!
I hope you really love this book as much as I did. It's chock full of great cake decorating tips and tutorials and I just know you'll get so much out of it.