I love making gumpaste flowers. Yes, it does take patience, but it's really satisfying when you can make something that looks like a real flower out of basically a piece of sugar paste.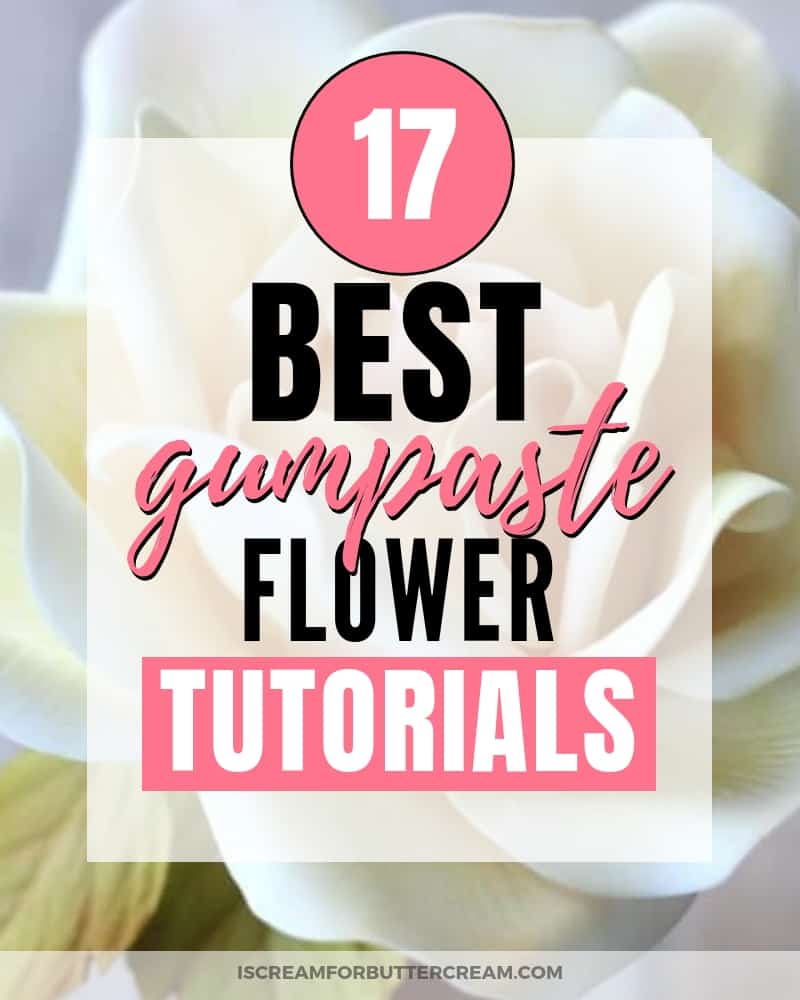 I've searched the 'interwebs' and here are the 17 best gumpaste flower tutorials (in my opinion) that I've found. You'll learn gumpaste roses, sunflowers, succulents, peonies and more.
Now you'll have lot's of ideas for sugar flowers for decorating your cakes and a lot of fun experimenting.
Ok, let's get started.
(You can click on any of the images to be taken to that pin, or click on the link below the image to be taken directly to the tutorial. Some of these links will take you directly to a YouTube video.)
Fondant Gerber Daisy Tutorial:
Fondant Gerber Daisy Tutorial by McGreevy Cakes
This is one of my favorites. You can make them in a bunch of bright colors and they're so pretty together.
Years ago, I had a friend who decorated her wedding with gerber daisies…in all the different colors. At first I wasn't sure if I'd like it. It just seemed like it would be really bright, but I was SO wrong. It was gorgeous. All those colors actually DO go together.
Rainbow Peony Tutorial: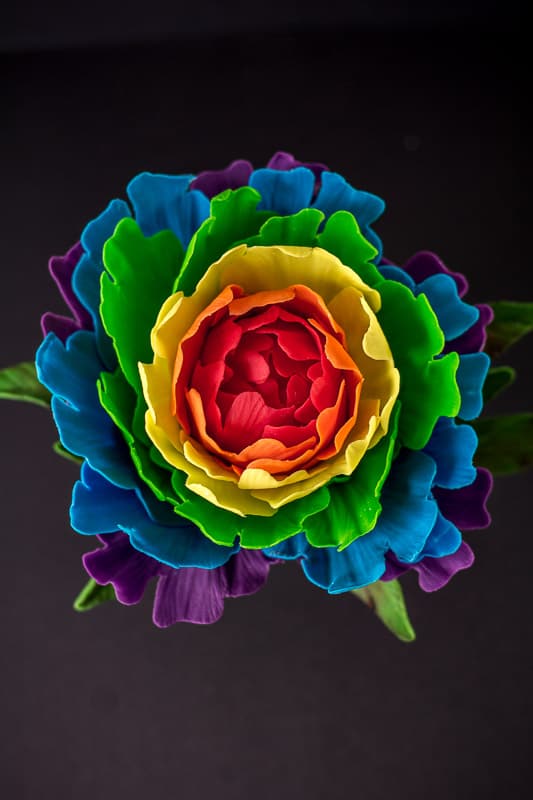 Rainbow Gumpaste Peony by I Scream for Buttercream
Speaking of being colorful, I have yet to see a rainbow gumpaste peony, which is why I wanted to create one.
Now, you could make this into any color you want, but I had fun making it rainbow.
Ranunculus Flower Tutorial:
Ranunculus Flower Tutorial by Cakes by Lynz
I love these…I just think they look so elegant on cakes.
Gumpaste Succulent Tutorial:
Gumpaste Succulent Tutorial on Cake Central
Succulents are still very popular right now. They're cute on really any cake including cupcakes.
So, even if you can't grow them (like me), you can still make them out of gumpaste. 😉
Unwired Peony Tutorial:
Unwired Peony Tutorial by Tarttokig
Ok, now we have another peony tutorial and like my own tutorial, this one is unwired. Her method is a bit different than mine, but we each have our own way of doing things and we have to figure out what works best for each of us.
Tiger Lily Gumpaste Tutorial:
Tiger Lilies Gumpaste Tutorial by Bobbies Baking Blog
You don't see these types of flowers on cakes very often and that's why I really like them. It really makes your cake unique and helps it stand out from the others.
Large Gumpaste Rose Tutorial: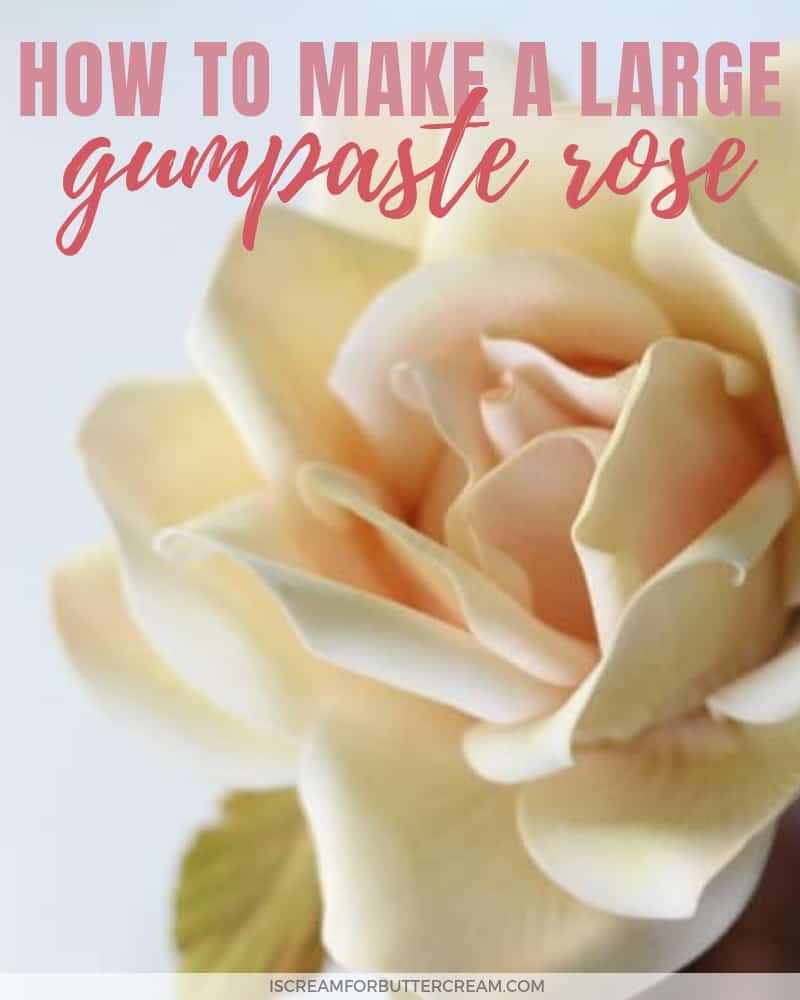 How to Make a Large Gumpaste Rose
This is a classic on cakes. You just can't go wrong with beautiful roses.
I make mine a little different and with easy to find supplies and no wired petals.
Gumpaste Hibiscus Tutorial:
Hibiscus Tutorial by Dusky Rose Veiners
This one is a little different and I like that. Not everyone will have these on their cakes and that will really make for a unique look.
Potted Gumpaste Succulent Tutorial:
Potted Gumpaste Succulent Tutorial on Cake Central
Here is another succulent tutorial and this one is super cute because it looks like it's actually in a pot.
Sugar Orchid Tutorial:
Sugar Orchid Tutorial by How to Cake That
Have you ever tried to grow orchids? I have and I've killed two of them. I've tried all the 'tricks' too and I just can't keep them alive.
I DO however think I could manage a gumpaste orchid. Once they're made, as long as you don't drop them, they'll stay good practically forever. 😉
Gumpaste Open Peony Tutorial:
Gumpaste Open Peony Tutorial by Cakes by Lynz
Yes I know I've already included a couple peony tutorials, but this one is different because it's an open peony and that gives it a unique look.
Gerbera Daisy Tutorial:
Gerbera Daisy Tutorial by Tartokig
Here is another pretty option for creating gerbera daisies. This one is a pretty cream colored one. Of course you can do them in bright colors, but I think the cream color would look lovely on a darker cake.
Gumpaste Sunflower Tutorial:
Gumpaste Sunflower Tutorial by Renee Connor
This is one of my favorites as well. It takes a bit of time and patience, but the result is just so pretty. Sunflowers are beautiful on summer and even fall cakes.
Easy Fondant Rose Tutorial: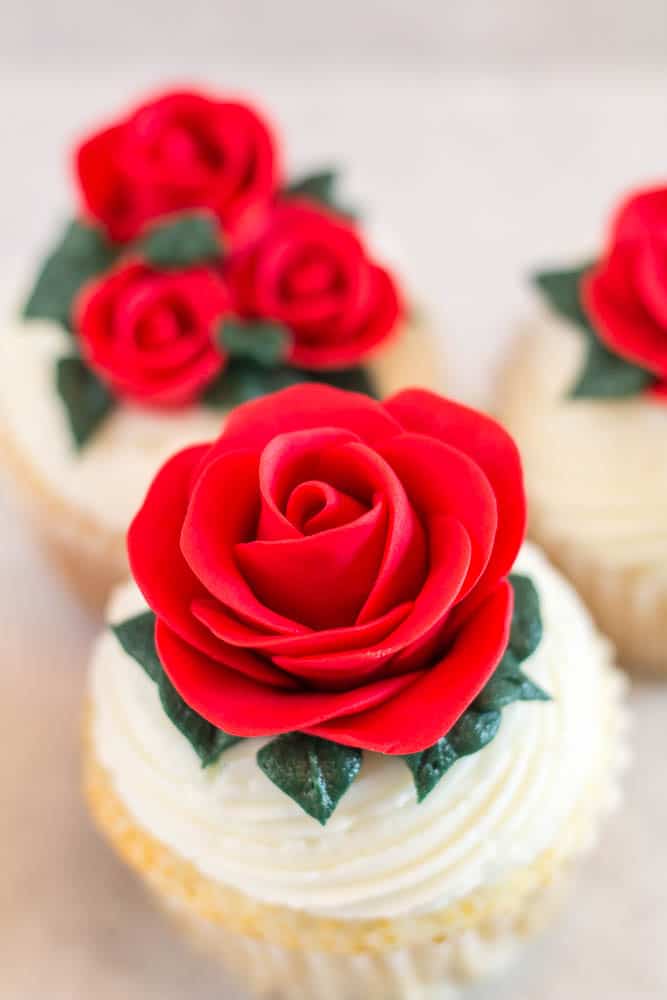 Easy Fondant Rose Without Tools
This is one of mine again and you can make this one without any tools at all. You only need fondant or gumpaste.
Gumpaste Carnations:
DIY Handmade Carnations by The Cake Blog
These are also simple and easy to do and great when you're just starting to work with gumpaste or fondant.
Ruffled Fondant Flowers:
Ruffled Fondant Flower by Bluprint
These are a great way to get started with fondant or gumpaste flowers. They're simple to make, but they still look really pretty.
Gumpaste David Austin Rose:
Gumpaste David Austin Rose by Cakes by Lynz
There isn't much that's prettier than a David Austin Rose. These have got to be some of the most elegant looking flowers on cakes.
Ok, now, let's get to some tips and frequently asked questions for making gumpaste flowers.
Gumpaste Flower Tips & FAQs:
Some sugar flowers work better if you use gumpaste instead of fondant. Just make sure you use what the tutorial says to use. Technically you can make most with fondant, but fondant can just get crumbly on you real fast and it just doesn't have as much stretch as gumpaste does.
Make sure to keep your gumpaste or fondant covered, or it can dry out on you very quickly.
To get the gumpaste to stick to itself, you can just use a bit of water. It doesn't take much, if you use too much, it'll make the gumpaste too gooey. You can also use egg whites as a glue, or just dissolve a small pinch of gumpaste into a small bowl of water and use that as the glue.
What gumpaste do you use? I just use premade gumpaste from either Wilton or Satin Ice because that's what is readily available to me and I don't really like to mess with making my own. I've heard good things about Nicholas Lodge's gumpaste recipe though, which you can find here: Nicholas Lodge Gumpaste Recipe
WANT TO SAVE THIS? CLICK HERE OR ON THE PIN IMAGE BELOW TO SAVE THIS POST TO YOUR FAVORITE GUMPASTE FLOWER PINTEREST BOARD.