This Chocolate Rum Cake isn't your average rum cake. This one has a spicy kick that's mixed into the cake batter. There's rum in the glaze that's soaked into the cake and a nice chocolate drizzle on top. This cake is wonderful during the holidays or any time you just want to feel cozy.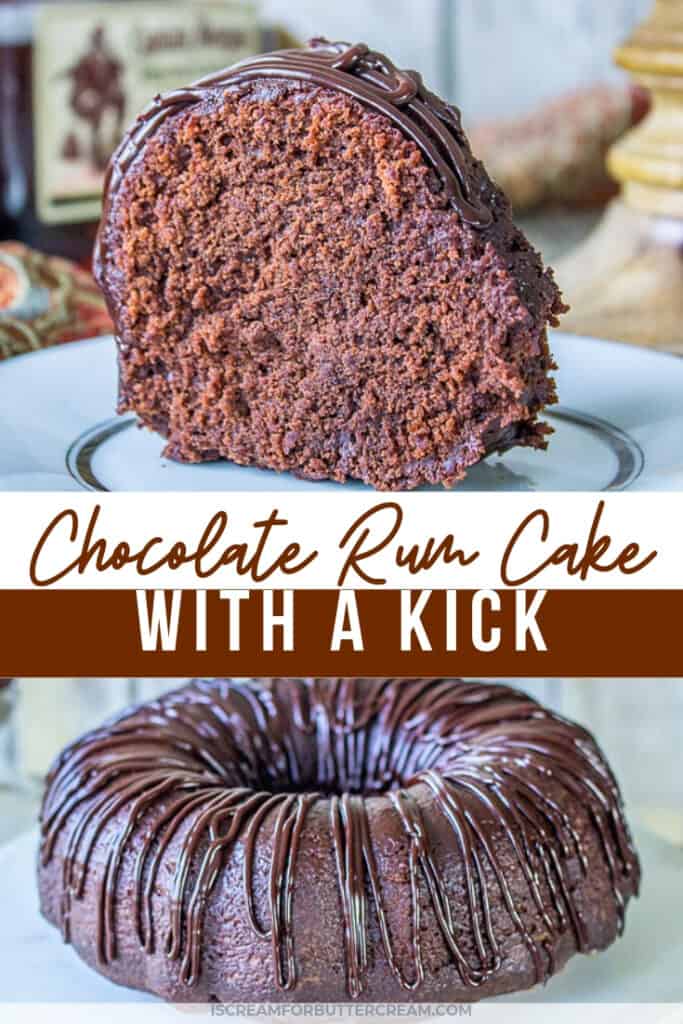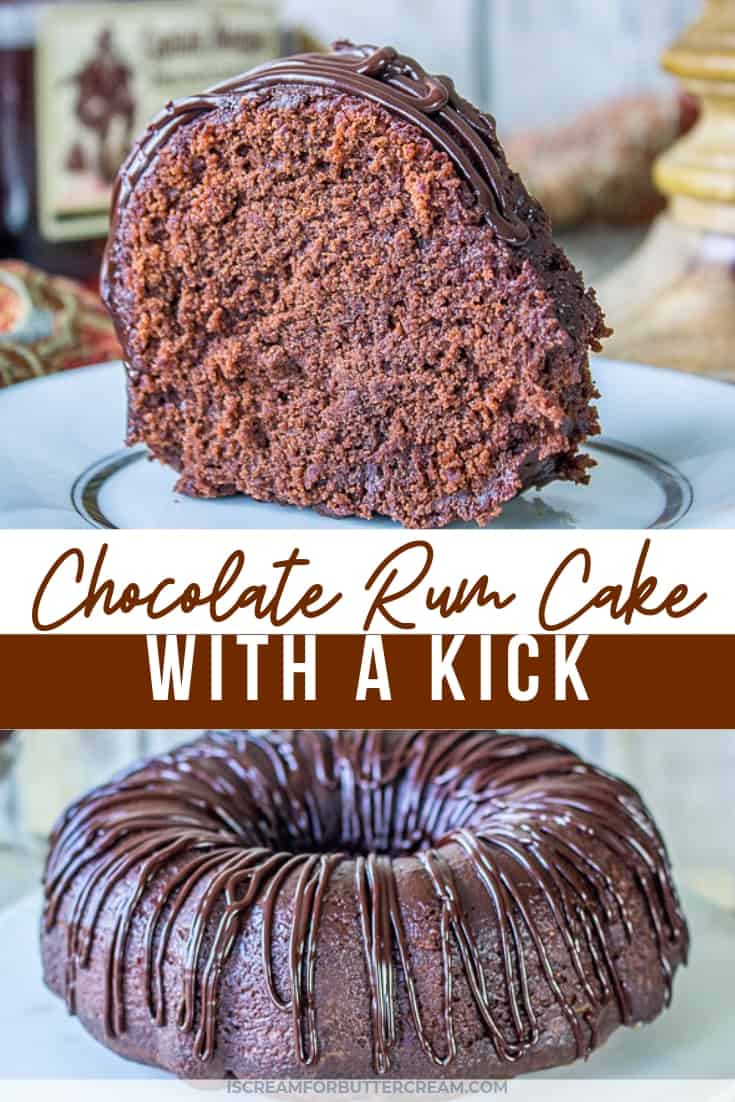 You don't want just any old rum cake, do you? I mean, what's life without a little controversy. (Can a cake be controversial?) Anyway, I didn't want to just come up with a plain ol' rum cake, no I had to go all crazy (maybe a little controversial) and make a chocolate rum cake with a kick. I know what you're asking…what's the kick? Are you sure you want to know?
You have to promise me you'll just give it a chance before saying no way. Ok, the kick is cayenne pepper powder. (Oh, the controversy.) Yeah, I know it sounds a little strange, but it really works well with the chocolate and no, it doesn't make the cake spicy hot…promise.
This post contains affiliate links. As an Amazon Associate, I earn from qualifying purchases.
Now, if you don't even want to try the cayenne pepper in it, I promise I won't be mad, but obviously I think you should try it 😉 You won't be adding much, it just gives it a little extra spicy kick.
The flavor of the cayenne pepper is subtle. It doesn't hit you in the face and scream CAYENNE PEPPER! You only get a hint of something spicy going on…just enough to be intrigued.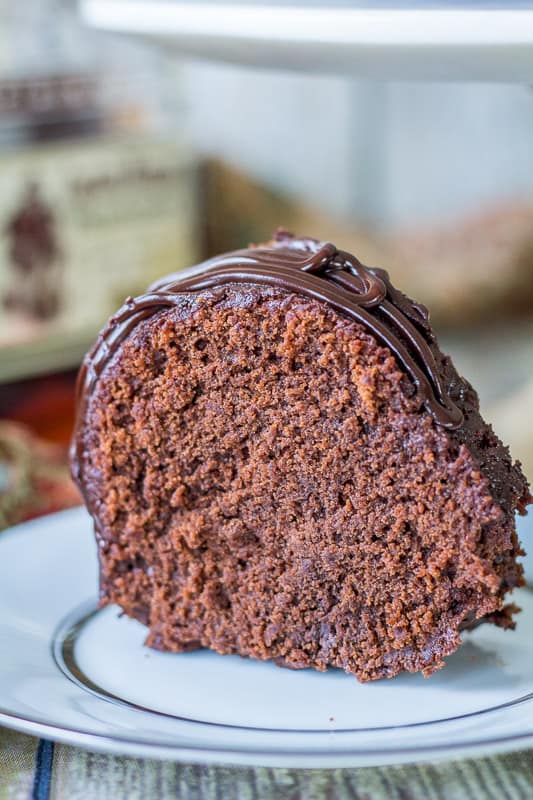 Now, you are definitely gonna taste the rum in this one. If you don't like rum, this may not be the cake for you and you might want to try my chocolate butter cake. But, if you're like me and you like some Captain Morgan every now and again, then I hope you try this one out.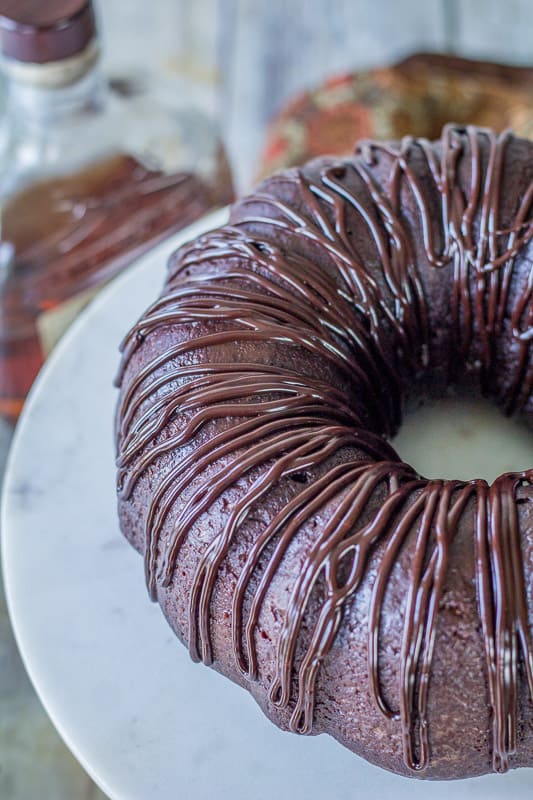 I'm not a big drinker. I don't like beer, nor am I a huge fan of wine either. Maybe that makes me weird? Anyway, I DO however like rum, but I'm kind of picky. I only like Captain Morgan Spiced Rum.
Every once in a while, I'll have a glass of rum and coke, but I've had the same bottle of rum in my house for two years and as you can see in some of the pictures, it's still got a long way to go.
Basically, the brand choice for rum is up to you. Of course I prefer Captain Morgan, but you may prefer something else and I say go for it.
Not only will you be adding the rum to the cake batter, but you'll also add it to the glaze that soaks into the cake. Then you'll drizzle on a nice helping of melted chocolate.
Ok, on to the recipe for the Chocolate Rum Cake!
**By the way, this recipe was developed and tested using volume measurements (cups etc.). I do this because most people are used to measuring, instead of weighing. You may use the metric converter button to see the weight (gram) measurements. Those numbers are estimates on weight. Your results may vary a bit if you use the weight measurements.
Chocolate Rum Cake with a Kick
This Chocolate Rum Cake has rum mixed in the batter and the glaze, then a chocolate drizzle on top. The kick is a touch of cayenne pepper in the cake batter. It's not hot, but just adds a touch of spice.
Print
Pin
Save
Saved!
Rate
Ingredients
For the cake:
2

cups

all purpose flour

¾

cup

cocoa powder

(can use up to 1 cup)

1

cup

granulated sugar

1

cup

packed brown sugar

½

teaspoon

baking soda

1

teaspoon

baking powder

½

teaspoon

salt

½

teaspoon

cinnamon

½

teaspoon

cayenne pepper powder

can use up to 1 tsp

3

large

eggs

¾

cup

vegetable oil

1

teaspoon

vanilla extract

½

cup

spiced rum

(I used Captain Morgan)

¾

cup

hot coffee or hot water
For the rum glaze:
¼

cup

unsalted butter

½

cup

spiced rum
For the chocolate drizzle:
2

cups

semi-sweet chocolate chips

¼

cup

milk or cream
Instructions
For the cake:
Preheat oven to 325 degrees. Grease and flour a bundt pan and set aside. (I used cocoa powder to dust my pan after I greased it.)

In a mixing bowl, mix the dry ingredients (flour, cocoa powder, sugars, baking soda, baking powder, salt, cinnamon and cayenne pepper powder. Whisk up well.

In a separate bowl, mix together the liquid ingredients (eggs, oil, extract and rum.) Whisk up well.

Pour the liquid mixture into the dry mixture. Mix until incorporated.

Add in the hot coffee or hot water and mix until incorporated. Scrape down the sides of the bowl and mix again.

Pour into a bundt pan and bake at 325 for about 45-50 minutes.

One baked, cool on a rack for about 20 minutes, then invert onto a rack or a plate to cool completely while you make the glaze and drizzle.
For the rum glaze:
In a saucepan, melt a ¼ cup of butter. Take it off the heat and add in ½ cup rum. You can add it back to the burner to make sure everything is melted together. Take off the heat and let cool down just a bit.

Once your cake is cooled for about half an hour, brush on the rum glaze. While it's soaking in, work on your chocolate drizzle.
For the chocolate drizzle:
In a saucepan, add two cups semi-sweet chocolate, ¼ cup cream or milk and melt. You may need to add in a little more milk to get the correct drizzle consistency.

Once it's melted, drizzle onto your cake.
Video
Notes
This recipe card may contain affiliate links. As an Amazon Associate, I earn from qualifying purchases.
Nutrition
Calories:
528
kcal
|
Carbohydrates:
60
g
|
Protein:
5
g
|
Fat:
26
g
|
Saturated Fat:
18
g
|
Cholesterol:
50
mg
|
Sodium:
154
mg
|
Potassium:
318
mg
|
Fiber:
4
g
|
Sugar:
39
g
|
Vitamin A:
205
IU
|
Calcium:
66
mg
|
Iron:
3.4
mg
Disclaimers
To see food safety, allergy & nutrition disclaimers, go here: Disclaimers
How to Share
I'd love for you to share this recipe link or tag it, but please do not share screenshots or copy/paste the recipe to social media as the content and photographs are copyright protected and we (bloggers) work really hard on our content. Sharing the link, tagging us on socials and pinning it is super appreciated though!
Alright, there you have it! This chocolate rum cake is definitely out of the norm, but it's sure to be a hit with the rum fans out there.
Don't Forget to Pin it for Later!