Needing ideas for delicious layer cake recipes you can make for the holidays? I've got ya covered! Here are some of the best, most delicious layer cakes that will make the perfect Christmas dessert.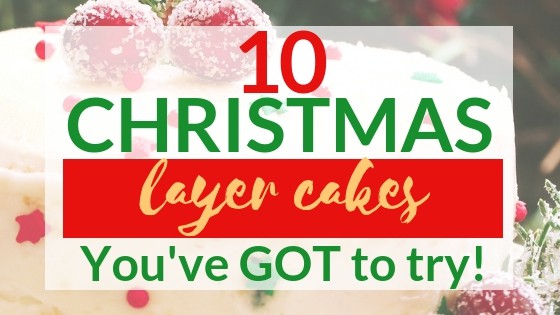 So many cakes, but so little time, right? I'd like to make each and every one of these cakes. It's so hard to choose which!
Ok, let's get to it…
CHOCOLATE PINE CONE CAKE:
Ok this first one is more of a 'design', than a layer cake. If you're looking to get a little creative with your cake, you'll want to try these cute little pine cones on it. If you want to make a delicious chocolate cake to put these little pine cones on, check out my recipe for Chocolate Butter Cake.
This cake is so cute and would definitely make a statement on your Christmas table.
Link to Tutorial: Chocolate Pine Cone Cake by Oh Nuts
HOLIDAY PEPPERMINT CAKE:
Are you a fan of peppermint and chocolate? In my experience, either people love it or hate it. I'm in the 'love it' camp, so this one is right up my alley. I'm definitely making this one.
.Link to the Recipe: Holiday Peppermint Cake by Love Bakes Good Cakes
EGGNOG CAKE:
Um eggnog is why I gain like 15 pounds every Christmas. Okay maybe it's not that much, but I LOVE that stuff.
Link to the Recipe: Eggnog Cake by The Cake Blog
COCONUT CAKE:
Ever thought about coconut cake for Christmas? I think people tend to assume it's a spring or Easter cake, but it's beautiful on a Christmas themed table and I guarantee you won't find a more moist coconut cake. This one is one of my absolute favorites.
Link to the Recipe: Coconut Cake by I Scream for Buttercream
SPARKLING CRANBERRY WHITE CHOCOLATE CAKE:
Ever try cranberry with white chocolate? It's amazing. The tartness of the cranberries pair perfectly with the sweetness of the white chocolate. Even if you're not a cranberry fan, I challenge you to just try it.
Link to the recipe: Cranberry White Chocolate Cake by Life Love and Sugar
WHITE CHOCOLATE RASPBERRY CAKE:
Can you tell I'm a white chocolate fan? This combination is also a fave as the tartness of the raspberries pair perfectly with the sweet white chocolate. And you can't deny it makes for a beautiful cake.
Link to Recipe: White Chocolate Raspberry Cake by What 2 Cook
GINGERBREAD CAKE:
Oh the rich and spicy taste of gingerbread. It's definitely a holiday favorite and this one looks so good.
Link to Recipe: Gingerbread Cake by Tornadough Alli
SOUR CREAM RED VELVET CAKE:
Ok, now we're talkin' a super moist AND delicious red velvet cake recipe. Sour cream in the cake batter really makes this one moist and the cream cheese buttercream just takes it over the top. I think red velvet cakes are so pretty for Christmas.
Link to Recipe: Sour Cream Red Velvet Cake by I Scream for Buttercream
HOT CHOCOLATE CAKE:
Yes, yes and yes. Cuz every Christmas celebration needs a chocolate cake, right? And especially one that tastes like hot chocolate.
Link to Recipe: Hot Chocolate Cake by The Cake Blog
CHRISTMAS FUNFETTI CHEESECAKE LAYER CAKE:
Ok this one is like 'mega cake'. You get a layer cake PLUS a cheesecake in one AND it's in Christmas colors. Win-win!
Link to Recipe: Christmas Funfetti Cheesecake Layer Cake by Itsy Bitsy Kitchen
So, which one are you going to try? Maybe I'll make one for myself and one for everyone else. 😉
Other posts you might like: