Some of my best memories are coming home from school and seeing that my Mom had made a cake. It was always the classic yellow cake with fudge frosting.Usually it was during the summer when we'd been playing outside or swimming all day. I don't know about you, but swimming always made me insanely hungry. So when I'd get home and see that cake on the counter…well let's just say it didn't last til the end of the day.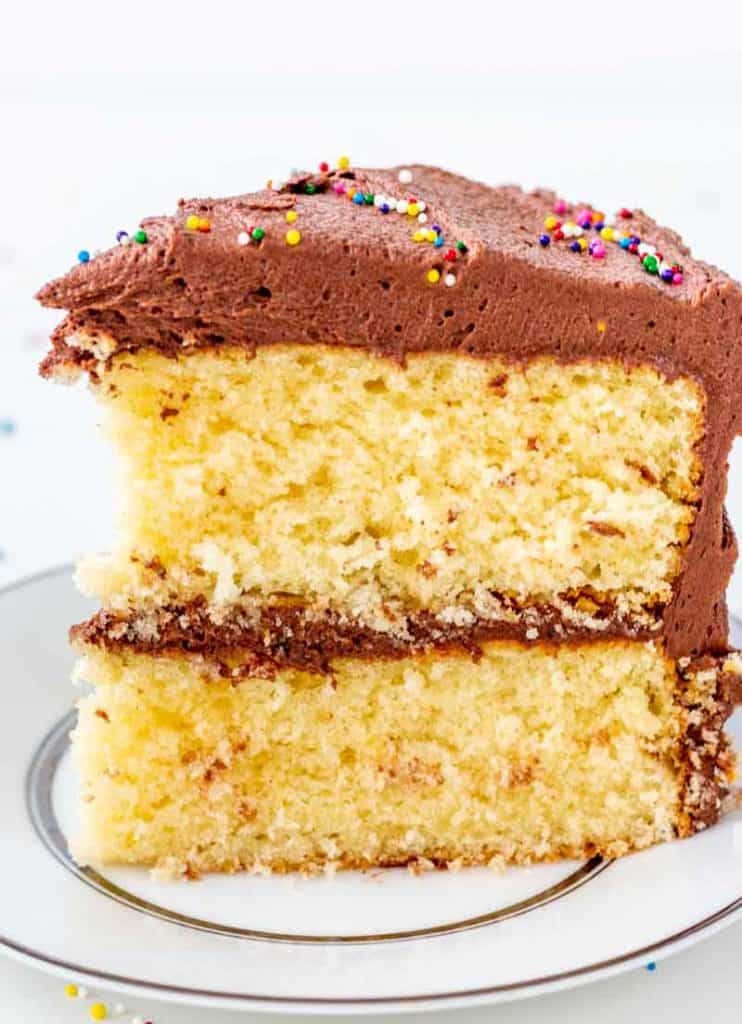 Now my mom was an excellent cook, but as far as cakes go, she usually just used a box cake mix. Hey, I was totally okay with that, since she made her fudge frosting from scratch. And when your Mom makes something for you, it's made with love and that just makes everything taste good, right?
So I wanted to create a scratch version of her cake and this process has really made me nostalgic. (By the way, you can catch the video of this cake close to the end of this post.)
This cake recipe does use cake flour. Theoretically you can use all purpose flour with a few changes. You can go to this link to get some common substitutions: Printable Baking Measurement & Substitution Cheat Sheet Post I really like using the cake flour though because it really makes a difference in the cake texture…it just makes it very delicate and soft, so if you can get it, use cake flour for this one.
The next ingredient you'll want to know about is buttermilk. If you don't have buttermilk, you can always substitute that if you need to. You can find that sub on the link above as well. I would really like to twist your arm though about using full fat buttermilk. It really adds flavor and a lot of moisture to the cake. No, you don't have to drink it….ewwww….but putting it in your cake makes it so delicious.
Okay once that deliciously delicate cake is baked, you'll want to cover the whole thing in creamy fudge frosting. The recipe for the fudge frosting will make a lot. I do NOT like to skimp on frosting…no way. I want to make sure I've got plenty for the filling, the top and the sides. You'll have a nice thick layer on your cake and you might have some extra to sneak off to your bedroom and enjoy all by yourself.
Oh and if you really want to feel like a kid again, add some sprinkles!
Ok, let's get to the recipe!
This post contains affiliate links, which means I will receive a referral commission, at no additional cost to you, if you make a purchase using these links. As an Amazon Associate, I earn from qualifying purchases.
These links also use cookies, which tracks and allows me to get credit for the referral. You can see my policies linked in the website footer.
Classic Yellow Cake with Fudge Frosting
This classic yellow cake with fudge frosting is like taking a page out of your childhood. The cake is rich, tender and delicate, then it's topped with a ton of creamy fudge frosting. Add sprinkles for fun!
Total Time
1
hour
20
minutes
Ingredients
For the Cake:
2 1/2

cups

cake flour

1

tsp

baking powder

1/2

tsp

baking soda

1

tsp

salt

1

cup

buttermilk

or sour milk

1/4

cup

oil

2

tsp

vanilla

1

cup

butter

room temp.

1 3/4

cup

sugar

2

whole eggs

2

egg yolks
For the Fudge Frosting:
2

cups

butter

room temp

1 1/2

cups

cocoa

1

tsp

vanilla

1/2

cup

corn syrup

6

cups

confectioner's sugar

4

tbsp

cream or milk

may need to use up to 6 tbsp

Optional: sprinkles
Instructions
For the Cake:
Preheat oven to 350 degrees.

Grease and flour two 8″ round cake pans.

In a bowl, add the cake flour, baking powder, baking soda and salt. Whisk and set aside.

In another bowl, add the buttermilk, oil and vanilla. Whisk well and set aside.

In a large mixing bowl, beat the butter and sugar with an electric mixer set on medium/high for several minutes until light and fluffy.

Add in the whole eggs, one at a time, mixing on medium just until combined after each addition.

Then add in the egg yolks and mix on medium just until combined.

Now you will alternate adding in your dry and liquid mixtures. Add in a third of the dry mixture and mix on medium just until combined. Add in half of the liquid mixture and mix on medium just until combined. Add in another third of the dry mixture and mix on medium just until combined. Add in the other half of the liquid and mix on medium just until combined, then finally the last third of the flour mixture and mix only until combined.

Scrape down the sides of the bowl and mix again on medium just for about 10 seconds. Be really careful not to over-mix your batter.

Pour into two greased and floured 8″ round pans and spread evenly.

Bake at 350 for about 35 minutes.

You can test with a toothpick. There should be some light crumbs on the toothpick, but nothing liquid.

Cool cake layers in their pans, on a cooling rack, for about 15 minutes. Then turn out of the pans and directly onto the racks and cool completely before adding fudge frosting.
For the Fudge Frosting:
Melt the butter in a saucepan on low to medium.

Add in the cocoa and stir over low/medium heat for a couple minutes and mix with a whisk to make sure all the chunks are gone. You don't need to boil it. Just melt it all together on low.

Take off heat and stir in vanilla extract and corn syrup.

Let sit for about 10 minutes to cool.

Transfer to a mixing bowl and add in three cups of the confectioner's sugar.

Add in several tablespoons of milk or cream and mix well with an electric mixer on medium.

Add in the other three cups of confectioner's sugar and mix well on medium.

Check your consistency. If it's too thick, add in milk a tablespoon at a time, mixing after each addition to get it to a smooth consistency.

Spread onto cooled cake.

Optional: Add some colorful sprinkles for fun.
Video
Notes
Notes: This cake does not need to be kept refrigerated unless you use a different icing that is perishable. It can remain covered, at room temp for a couple of days. After that, you may wish to keep in the fridge to help it last longer. The buttercream makes plenty to cover a two layer, 8″ cake, or a 13 x 9 inch cake.
Nutrition
Calories:
992
kcal
|
Carbohydrates:
126
g
|
Protein:
7
g
|
Fat:
54
g
|
Saturated Fat:
31
g
|
Cholesterol:
184
mg
|
Sodium:
699
mg
|
Potassium:
292
mg
|
Fiber:
4
g
|
Sugar:
100
g
|
Vitamin A:
30.8
%
|
Calcium:
8.8
%
|
Iron:
11.1
%
I hope you like this one and I hope it reminds you of your childhood as much as it reminds me of mine.
Don't Forget to Pin it for Later!