These cotton candy baked cake donuts are as delicious as they are pretty. The cotton candy flavoring in the donut and the glaze is just enough to give it flavor, but not enough to make it overwhelming.
There's no yeast involved in this recipe, so no waiting for the dough to rise. We're using cake batter, which allows you to bake them instead of frying them.
Not that baking them makes them actually healthy…I mean let's be real, we ARE talking about cotton candy cake donuts here. So why baking? Well because it really gives you that cake texture, plus it's so much easier to bake than fry something.
Now, for this recipe, you don't actually need cotton candy. We're working with cotton candy flavoring. It's inexpensive and a little goes a long way.
I used it in a previous recipe on the blog and I liked the flavor, so we're going with it again here. You can check out that post here: Cotton Candy Poke Cake
This is the cotton candy flavoring I used:
Theoretically you don't have to buy actual cotton candy, but if you want to top your donuts with it, it's totally fine and I'm thinking absolutely no one will complain about it 😉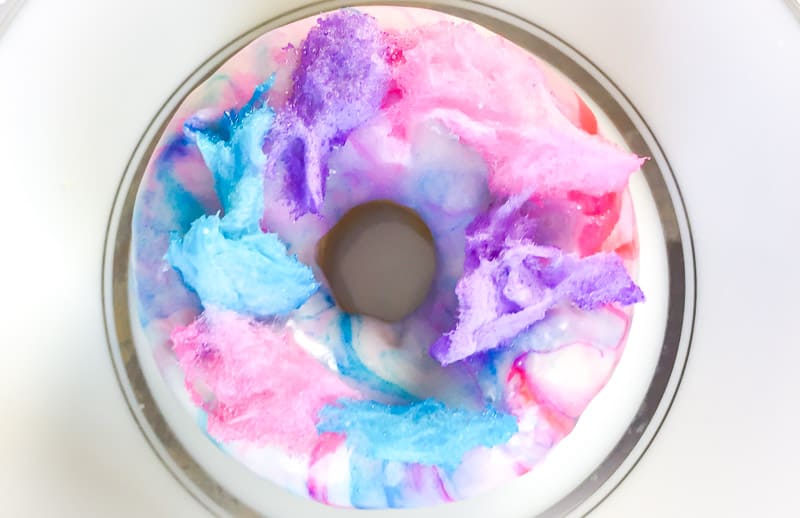 I really loved the marble look after adding the glaze and so I decided to leave mine with only the glaze on top…but the choice is yours.
The cake batter for these donuts is different than your normal cake batter. Normal cake batter would be a little too delicate for this purpose. I loosely adapted this recipe from King Arthur Flour's Cake Donut Recipe. I made some ingredient adaptions and added in the cotton candy flavoring. I think the texture came out just right.
Now we'll talk about donut pans. There are tons of choices. You can go the silicone pan route or use a metal pan. That's totally up to you.
I used a silicone pan similar to this one:
Even though a silicone pan is technically 'non-stick' my non-trusting self still coated it with a little shortening. I don't like to take risks when it comes to getting my cakes out in one piece. By the way, if you need tips on that, you can check out that post here: Tips for Getting Cakes to Release
These donuts aren't hard to make, basically it's just mixing up the batter, baking them, mixing the glaze and then coating the tops. I've even got a video below to show you the process.
Alright, now onto the recipe!
Recipe:
Cotton Candy Baked Cake Donuts
Cotton candy baked cake donuts are delicious AND pretty. They've got a light cotton candy flavor and are baked, not fried, which makes them easy to prepare. For an added bonus, add actual cotton candy on top!
Print
Pin
Save
Saved!
Rate
Ingredients
For the cake donuts:
2 ⅔

cup

flour

all purpose

2

tsps

baking powder

¾

teaspoon

salt

1

cup

milk

½

teaspoon

cotton candy flavoring

¼

cup

butter

½ stick

¼

cup

oil

1

cup

sugar

2

eggs
For the glaze:
1

tablespoon

melted butter

1 ½

cup

confectioners sugar

1

tablespoon

corn syrup

¼

teaspoon

cotton candy flavoring

4

tablespoon

milk

add an additional 2 tablespoon if needed

pink and blue food coloring

gel coloring is best

cotton candy

optional
Instructions
For the cake donuts:
Preheat the oven to 400 degrees.

Grease the donut pan with a bit of shortening.

In a bowl, mix flour, baking powder and salt. Set aside.

In another bowl, mix together the milk and cotton candy flavoring.

In the mixing bowl, beat the butter, oil and sugar until fluffy.

Add the eggs and beat just until incorporated.

Add in the dry and liquid mixture. Make sure to alternate the dry mixture with the liquid mixture. Start and end with the dry mixture. (Dry, liquid, dry, liquid, dry) Mix just until incorporated after each addition.

Spoon into donut pan about ¾ of the way up.

Bake approximately 15 minutes. Start checking at 10 minutes.

Set on a rack to cool for about 5 minutes. Take a paper towel, lay over the donuts and press down lightly to flatten the bottoms of the donuts slightly while they're still in the pan. Cool another 5 minutes on the rack still in the pan.

Next, turn out of the pan to cool completely on the rack before adding the glaze.
For the glaze:
In a mixing bowl, add the melted butter, confectioners sugar, corn syrup, cotton candy flavoring and about three tablespoons of milk.

Mix well and check the consistency. If needed, add more milk to thin the glaze. You'll most likely need a couple more tablespoons.
Glazing the donuts:
Once the donuts are cool, take the glaze and add a bit of pink and blue food coloring and swirl only slightly.

Place a donut face down into the glaze mixture about halfway down the donut and twist it.

Lift it up, while twisting and let the excess drip off a bit. Turn face up and set onto a cooling rack until the icing firms up.

Optional: Add cotton candy to the top. If you choose to do this, make sure to wait at least five minutes to let the glaze firm up just a bit, or it'll melt the cotton candy. Don't wait too long, or the glaze will firm up too much and the cotton candy won't stick at all.
Notes
Adapted from King Arthur Flour's Cake Donut Recipe.
This recipe card may contain affiliate links. As an Amazon Associate, I earn from qualifying purchases.
Nutrition
Calories:
339
kcal
|
Carbohydrates:
55
g
|
Protein:
4
g
|
Fat:
11
g
|
Saturated Fat:
4
g
|
Cholesterol:
42
mg
|
Sodium:
211
mg
|
Potassium:
140
mg
|
Sugar:
34
g
|
Vitamin A:
230
IU
|
Calcium:
67
mg
|
Iron:
1.5
mg
Baking at higher elevation?
Adjustments will need to be made for that. This website does not specialize in higher elevation baking. Please take time to do your research on what adjustments should be made.
Want to support this blog?
Feel free to leave a tip here: Tip Jar!
Disclaimers
To see food safety, allergy & nutrition disclaimers, go here: Disclaimers
How to Share
I'd love for you to share this recipe link or tag it, but please do not share screenshots or copy/paste the recipe to social media as the content and photographs are copyright protected and we (bloggers) work really hard on our content. Sharing the link, tagging us on socials and pinning it is super appreciated though!
Ok, what do you think? Aren't they pretty?
I love how colorful these are and kids will love them. (I know, because I tested them out on my step-kids.) Actually, what am I saying?…adults will love them too. We're all kids at heart, right?
Don't Forget to Pin it for Later!