Do you ever have trouble with your cakes sticking to their pans? In this post, I'm giving out all my tips for getting your cakes to release beautifully every single time.
Confession time…I am the queen of shortcuts. I'm constantly trying to figure out how I can do things ahead of time, do them quicker and more efficiently.
I test multiple methods out for whatever I'm doing. Maybe half the time, my method works the first time. The other half, well, I basically learn from my mistakes. These tips for getting your cakes to release from their pans are basically tips I learned from screwing up.
The number one lesson I've learned is that this is a step you can't skip and shortcuts just don't work.
I thought I'd share my tips with you, so you don't have to mess with guessing what will work and what won't work.
This post contains affiliate links. As an Amazon Associate, I earn from qualifying purchases. You can see links to my website policies in the footer.
First I WILL say that in my experience, different cakes call for different methods. The more moist and tender a cake is, the more it will tend to stick to the pan. For me, chocolate cake LOVES to stick in pans, so I have to do a little more preparation on them. I've broken my tips out into two different methods. If you are unsure, it's better to go ahead and do the second step…it doesn't hurt anything.
So, on to the tips!
Releasing Vanilla Cakes from their pans:
You've probably heard about the cake release recipe. You mix equal parts, vegetable oil, shortening and flour and coat your pans with it. (The recipe is at the end of this post.) You can then store it in a sealed container and use it for later. It's shelf stable. This stuff isn't all hype…it really works. I've never had it fail on me.
Mix your cake release recipe well. It's gonna be messy. Each time you use it, you'll have to mix it a bit. I've tried mixing it by hand and with a mixer and honestly I haven't noticed a huge difference. It will work either way.
Now, some people will use a pastry brush to brush it onto the pans. I normally don't do that because for some reason, I can't get pastry brushes that don't shed. Every time I've tried it, little bristles come off the brush and stick to the pan. Gross!
What I do is get a little paper towel and load it up with the pan release and then rub it onto the pan. You want to coat it well.
For most vanilla cakes, I've found that's all I need. You usually don't need to sprinkle any flour on the pans. The exception to that would be my Favorite Vanilla Bean Cake. It's really moist and tender and I've found it helps to also coat the pan with flour to get it to release really well.
Alternatively, you can spray your pans with PAM cooking spray or the Baker's Joy spray that has flour in it. If you go this route, I can't guarantee it'll work on every cake. It's kind of been hit or miss with me, but I have found if I spray it VERY well, there's a better chance my cakes might release. When I use the pan release recipe though, I don't have to worry…I know it'll work.
Releasing Chocolate Cakes (and oil cakes) from their pans:
I've found that chocolate cakes (or cakes made with oil instead of butter) are a whole different ball game. I have a theory that it's because they just tend to be a bit more moist and tender than the average vanilla cake, since they're usually made with oil. Regardless, I change things up a bit.
I take my pan release mixture and rub a good amount on the cake pans. Don't be stingy with it.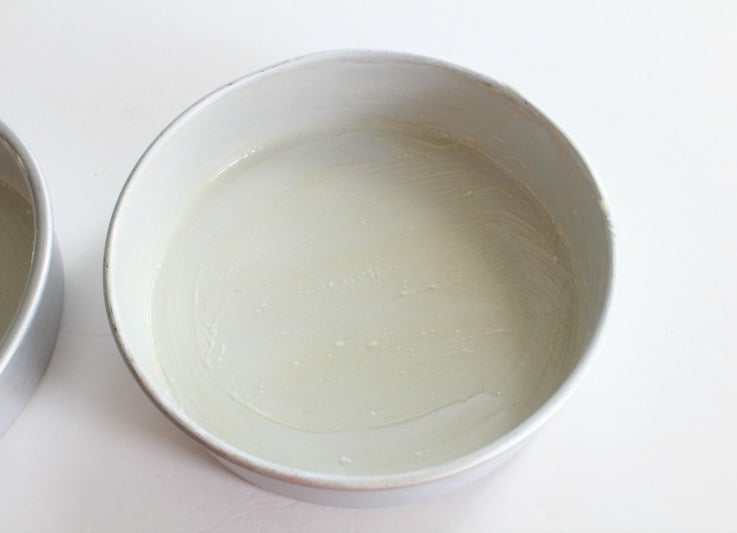 I then take flour and sprinkle into each pan and then tap it around to coat the bottom and sides. Don't forget the sides!
This method has worked great for me. Just about every single time I've forgotten to sprinkle the pans with flour, I've had problems with sections of the chocolate cake sticking to the pan.
Also, I've never gotten the cooking spray, either PAM or Baker's Joy, to do the same job for chocolate cake.
What to do After the Cakes have Baked:
These steps are important for getting your cakes to release.
After you take your cakes out of the oven, let them cool on wire racks for ten minutes. JUST TEN MINUTES! Ok, I'm sorry I yelled at you, but I needed to get your attention 😉 If you've got larger pans or perhaps a bundt cake, you might want to let it sit on the racks like this for about fifteen minutes…but don't forget about it.
Now, once you let them sit for the recommended amount of time, take the cake pan and set it directly on your stove or counter. Take the rack and turn it face down on top of the cake.
Now grab the whole thing and flip it over in one quick motion. Your cake will be sitting upside down on your rack.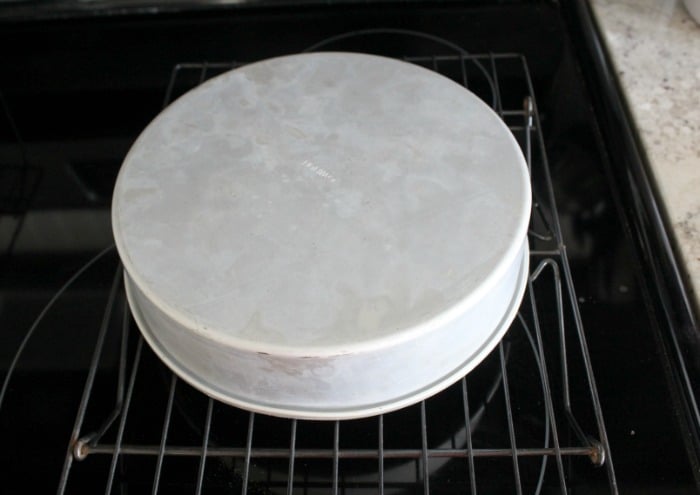 Just grab the pan and lift up and off your cake.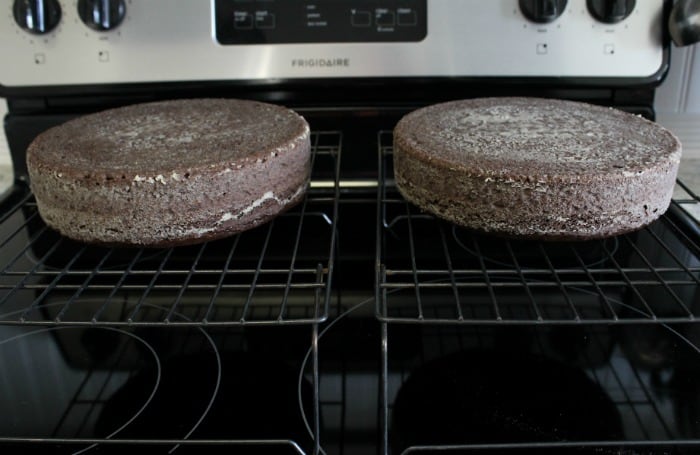 At this point, you just want let your cakes to cool completely. You can then layer and fill them, or you can freeze the layers for later. Here are my tips for freezing cakes and cupcakes: Tips for Freezing Cakes and Cupcakes
That's it! It just takes a little extra time, but oh so worth it. No more frustration and heartache of chunks of the cake sticking in the pan (unless you just want an excuse to eat that layer all by yourself.)
And here's the cake release recipe I promised:
Pan Release
Use this mixture to coat your cake pans. They'll release like a charm. If you're making a chocolate cake, a very tender cake, or a cake made with oil, it helps to also coat it with flour after you've coated it with the pan release.
Ingredients
1

cup

vegetable oil

1

cup

flour

1

cup

solid shortening
Instructions
Mix everything together well.

Coat the bottom and sides of the cake pans well with the pan release using either a paper towel or a pastry brush.

If you're making a vanilla cake, you can go ahead and pour your batter into the pans.

If you're making a chocolate cake, after you've coated the pans with cake release, sprinkle the pans with flour and then tap them to coat the bottom and sides of the pans, then pour in your chocolate cake batter.
I'd love for you to share this recipe link, but please do not share screenshots or copy/paste the recipe to social media as the content and photographs are copyright protected and us bloggers work really hard on our content. Sharing the link and pinning it is super appreciated though!
Don't Forget to Pin it for Later!