If you ever have trouble getting cakes out of pans, here are tips that will keep that from ever happening again.
There are several ways you can go about this including the cake release recipe. We'll get into all the different tips plus how to make the cake release and use it and some alternatives.
Confession time…I am the queen of shortcuts. I'm constantly trying to figure out how I can do things ahead of time, do them quicker and more efficiently.
I test multiple methods out for whatever I'm doing. Maybe half the time, my method works the first time. The other half, well, I basically learn from my mistakes.
These tips for getting your cakes to release from their pans are basically tips I learned from screwing up. The number one lesson I've learned is that this is a step you can't skip and shortcuts just don't work.
So, I wanted to share my tips with you, so you don't have to mess with guessing what will work and what won't work.
First I WILL say that in my experience, different cakes call for different methods. The more moist and tender a cake is, the more it will tend to stick to the pan.
For me, chocolate cakes and cakes with fruit in them, just LOVE to stick to pans. For these cakes, I tend to go the extra mile and do a little more preparation.
The biggest tip here is that you HAVE to prepare the pans ahead of time. There's just not a lot you can do if your cake is stuck.
You can try setting the pan in some hot water for a bit to see if it will loosen, but that trick just doesn't work that often.
You may have a cake that you can hide its flaws with icing though or you may be stuck just using it to make a trifle or cake pops.
For next time, you'll want to know how to prevent your cakes from sticking and that's what we'll go into here.
Now on to the options!
Jump to: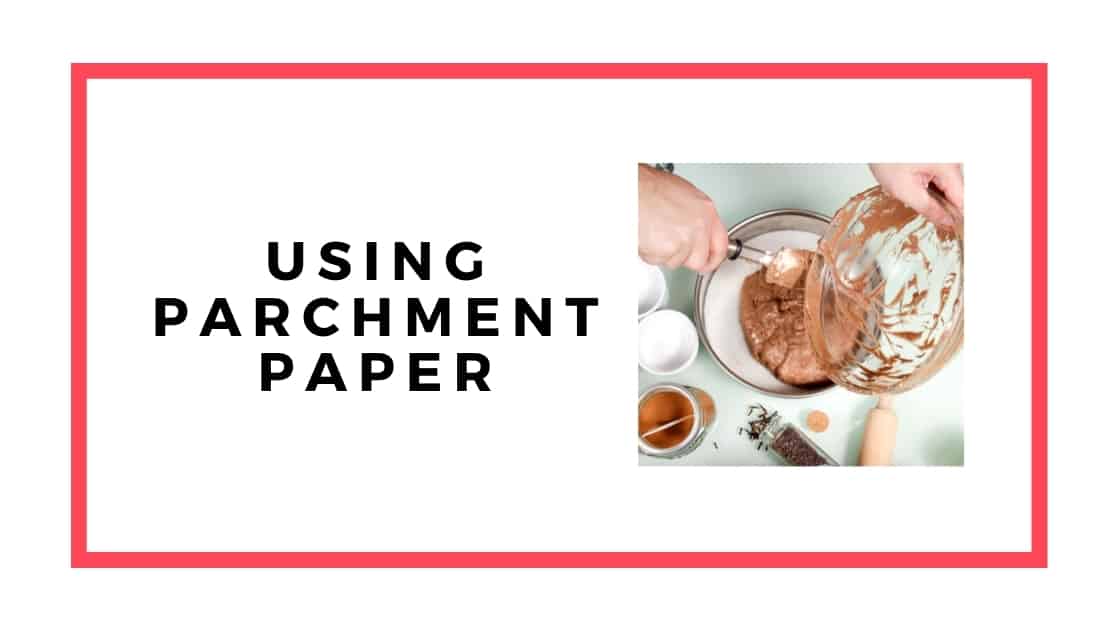 Using parchment paper
A lot of people prefer this method and it really seems to work well for them. There is nothing wrong with this method, but it's just not one that I've gotten into the habit of doing.
This is the way to go though if you don't want to use any additional oil on your pans to keep your cakes from sticking. The only thing is it may take you a little time to cut the right size parchment circles.
Buttering Pans
I used this one a lot when I was a kid and baking cakes. This is not my favorite method and it just doesn't work as well as other options.
Butter burns and it really seems like it over-browns the bottom of the cake layer and then just doesn't give it enough releasing power.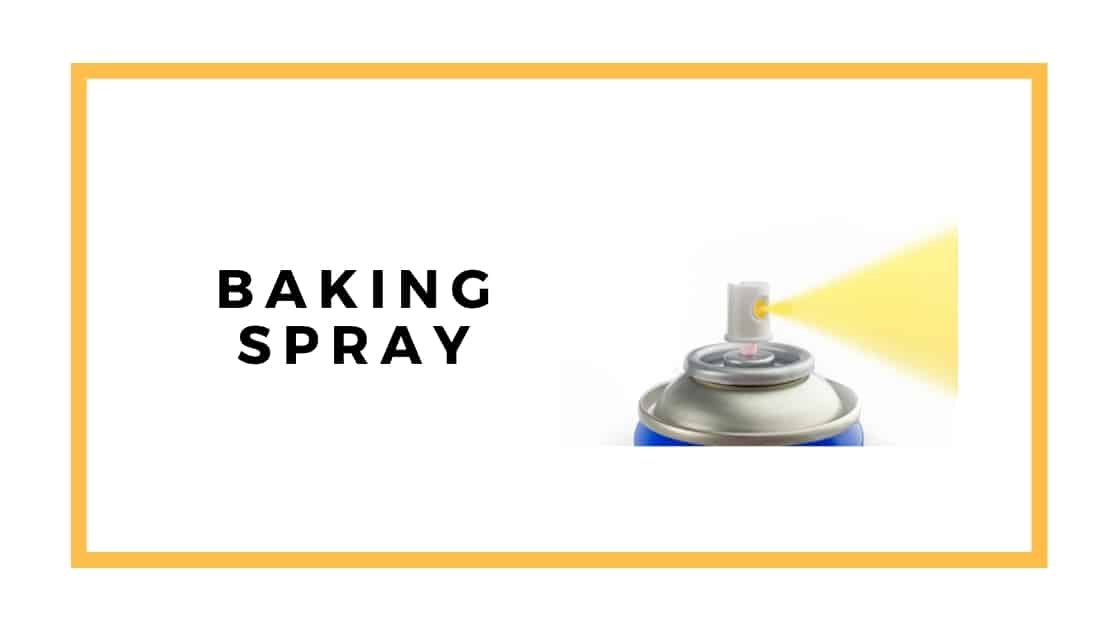 Baking Spray
You can spray your pans with PAM cooking spray or the Baker's Joy spray that has flour in it. If you go this route, I can't guarantee it'll work on every cake.
It's kind of been hit or miss with me, but I have found if I spray it VERY well, there's a better chance my cakes might release.
I would not recommend this on super moist cakes or cakes with fruit in them like carrot cakes etc. as the spray just doesn't seem to work as well as other methods.
Vegetable Shortening
Another option is to coat your pans with vegetable shorting (like Crisco). I actually use this method quite a lot.
You'll just take a paper towel and smooth a thin film of vegetable shortening all over your cake pans and the sides, then pour your batter in.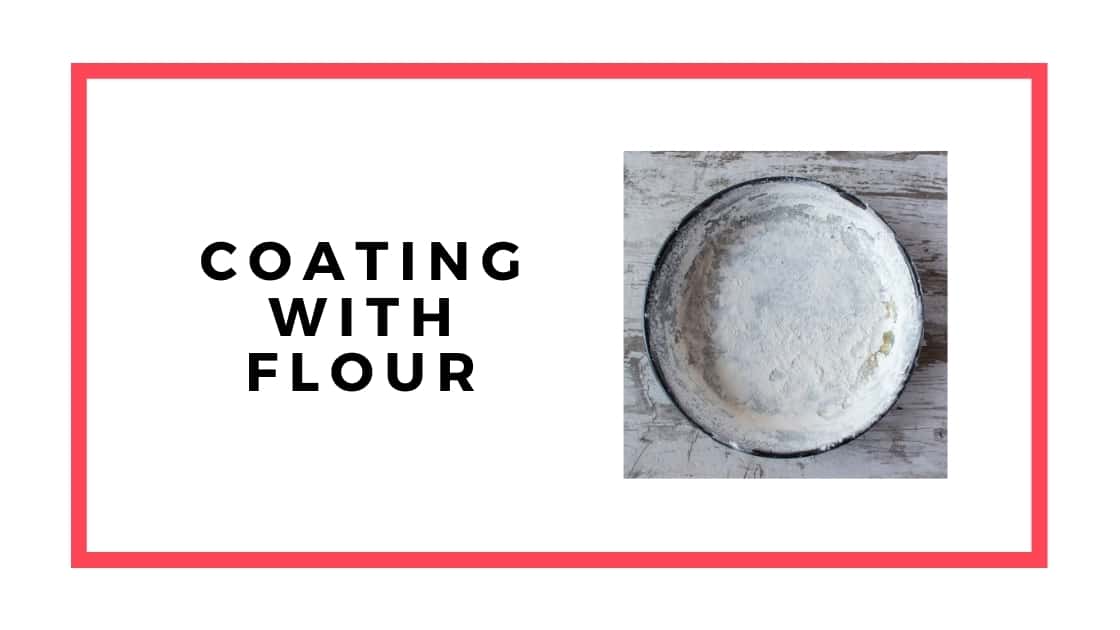 Coating with flour
Now, if you want to go the extra mile, you can then coat your pans with flour. Make sure though that you coat them with vegetable shortening first so the flour has something to stick to.
I use this method a lot if I've got a very delicate cake that sticks easily.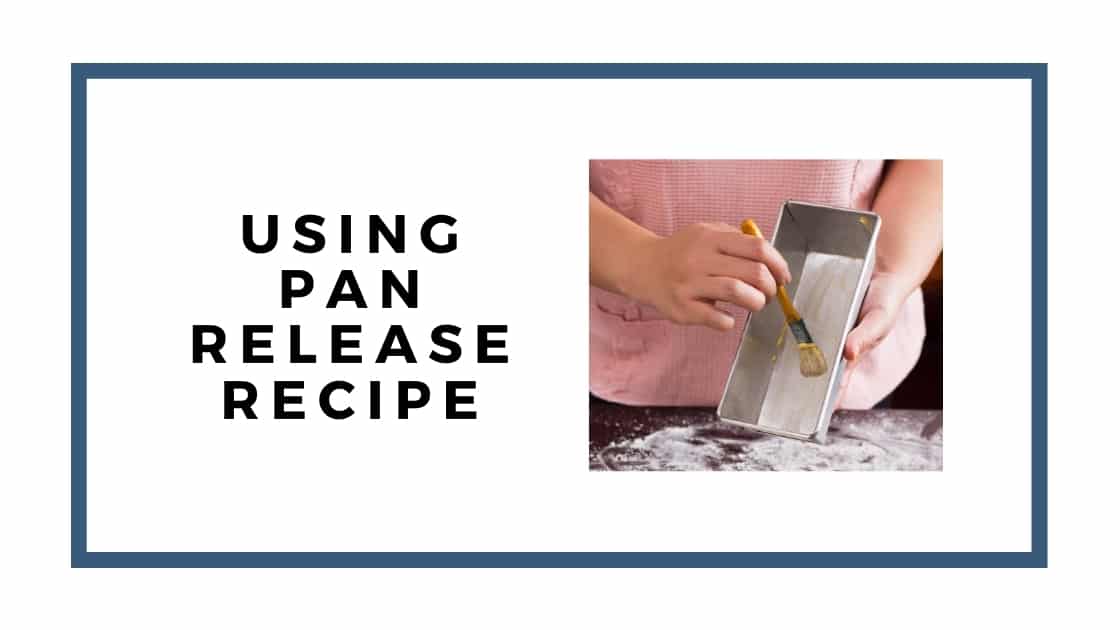 Using the pan release recipe
You've probably heard about the pan release recipe. My recipe is slightly different and is at the end of this post. Make sure to also watch the video below as well to show you how to make it so it doesn't come out clumpy.
So, for most vanilla cakes, I've found the pan release is really all you need. You usually don't need to sprinkle any flour on the pans after you've added the pan release.
For chocolate cakes, or cakes made with a lot of oil, I've found that it doesn't hurt to go one more step and flour them after you've added the pan release, but it's not an absolute necessity.
How to use the pan release recipe
Take the pan release mixture and rub a good amount on the cake pans. Don't be stingy with it. You can just use a paper towel like I do, or you can brush it on.
Just make sure that if you use a brush that it's only for food and that it's not shedding brush bristles everywhere.
My recipe for pan release is a little thicker and I find it's easier to work with and you can add it just using a paper towel.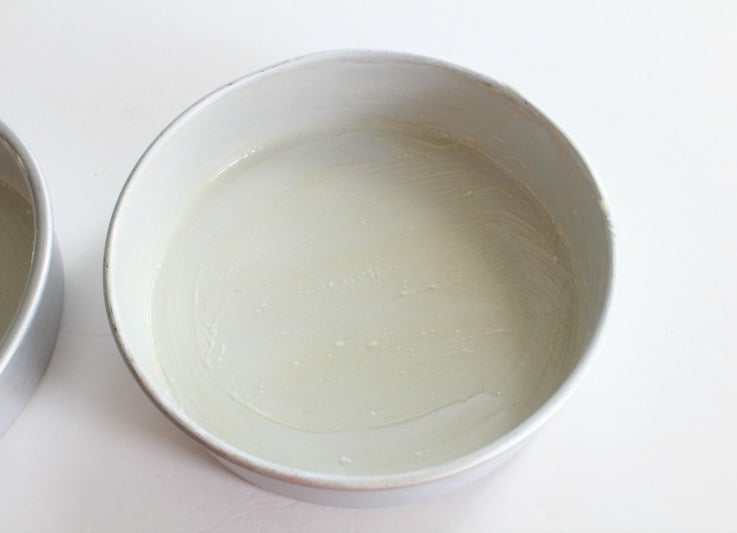 If you want to go the extra mile, then you can sprinkle flour into the pan and then tap it around to coat the bottom and sides and dump out excess.
This method has worked great for me. (Don't forget to grab the pan release recipe down below and to watch the videos for tips on making it.)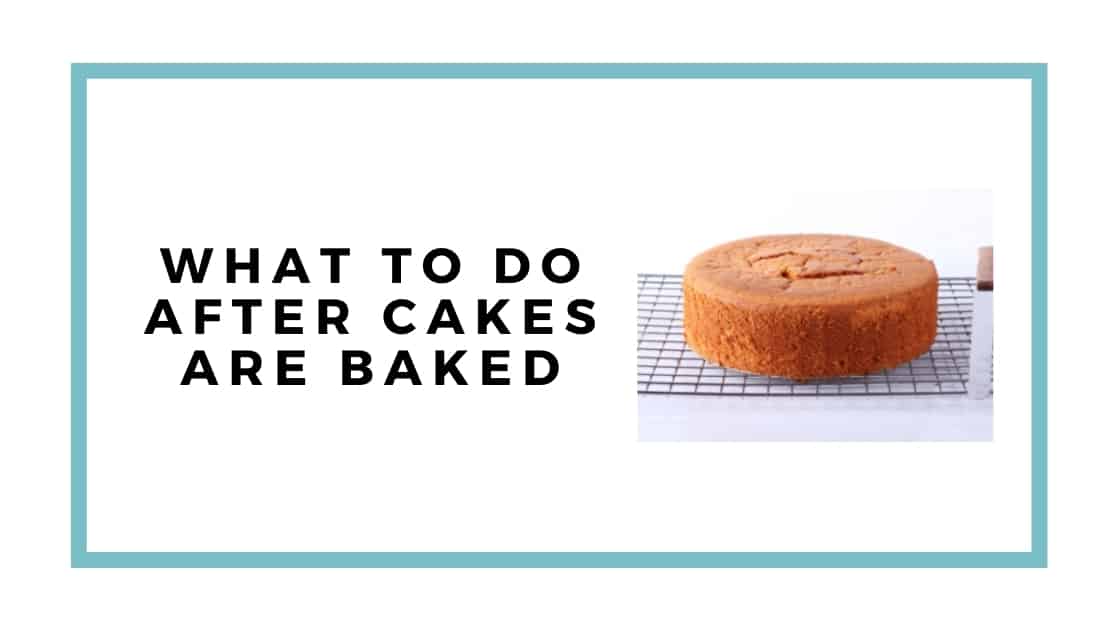 What to do after the cakes have baked
These steps are important for getting your cakes to release.
After you take your cakes out of the oven, let them cool on wire racks for ten minutes. Don't try to take your cakes out of the pans right away. That will be a disaster.
You also don't want to cool them completely in the pan (unless the recipe explicitly says to.)
Now, if you've got larger pans or perhaps a bundt cake, you might want to let it sit on the racks like this for about fifteen to twenty minutes…but don't forget about it.
Once you let the cakes sit for the recommended amount of time, take the cake pan and set it directly on your stove or counter. Take the rack and turn it face down on top of the cake.
Now grab the whole thing and flip it over in one quick motion. Your cake will be sitting upside down on your rack.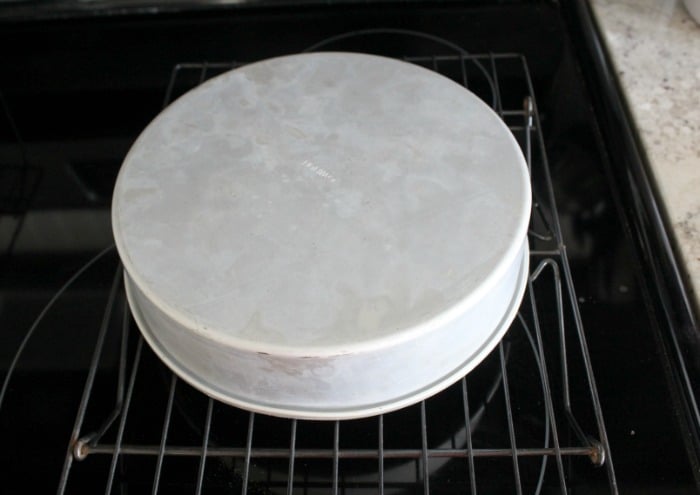 Just grab the pan and lift up and off your cake.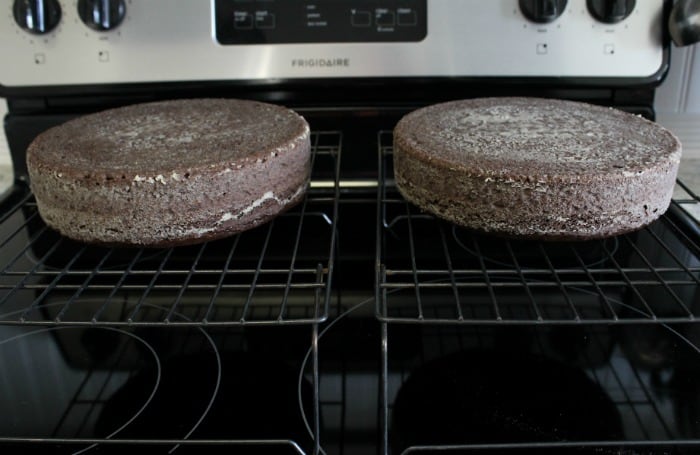 At this point, you can flip the cakes back over right side up if you want or just leave them like this. (I show how I do this in the video below.)
You then want to let your cakes cool completely on the racks. After they've cooled, you can layer and fill them, or you can freeze the layers for later. Here are my tips for freezing cakes and cupcakes: Tips for Freezing Cakes and Cupcakes
That's it! It just takes a little extra time to prepare your pans, but it's so worth it. No more frustration and heartache of chunks of the cake sticking in the pan (unless you just want an excuse to eat that layer all by yourself.)
Video
And here's the cake release recipe I promised:
Recipe: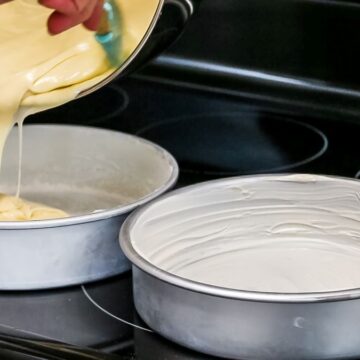 Pan Release
Use this mixture to coat your cake pans. They'll release like a charm. If you're making a chocolate cake, a very tender cake, or a cake made with oil, it helps to also coat it with flour after you've coated it with the pan release.
Print
Pin
Save
Saved!
Rate
Ingredients
1

cup

vegetable shortening

(like Crisco)

1

cup

all-purpose flour

½

cup

vegetable oil
Instructions
Add the shortening to a mixing bowl and mix with an electric mixer until smooth.

Slowly mix in the flour. Add it in little by little as you're mixing. Once all the flour is added, mix until everything is smooth. Make sure to scrape down the sides of the bowl and mix again. (You're adding in the flour a little at a time so that the mixture doesn't become clumpy.)

Add in the oil a little at a time and mix while adding. Once it's all added, mix until it's all smooth. Scrape down the sides of the bowl and mix again.

Once it's smooth, add it to a container and store in a cool dry place.

To use, just dip a little out of the container with a paper towel or brush and coat your pans before adding cake batter to them.
Notes
Pan Release last for about three months in the pantry and up to about 6 months in the fridge.
Baking at higher elevation?
Adjustments will need to be made for that. This website does not specialize in higher elevation baking. Please take time to do your research on what adjustments should be made.
Want to support this blog?
Feel free to leave a tip here: Tip Jar!
Disclaimers
To see food safety, allergy & nutrition disclaimers, go here: Disclaimers
How to Share
I'd love for you to share this recipe link or tag it, but please do not share screenshots or copy/paste the recipe to social media as the content and photographs are copyright protected and we (bloggers) work really hard on our content. Sharing the link, tagging us on socials and pinning it is super appreciated though!
Other posts you might like
Don't Forget to Pin it for Later!