I'm always a fan of getting food gifts, especially when that food gift is cake. These mason jar cake gifts are easy to put together and make such cute gifts for friends, co-workers, teachers and others you really just don't know what to get.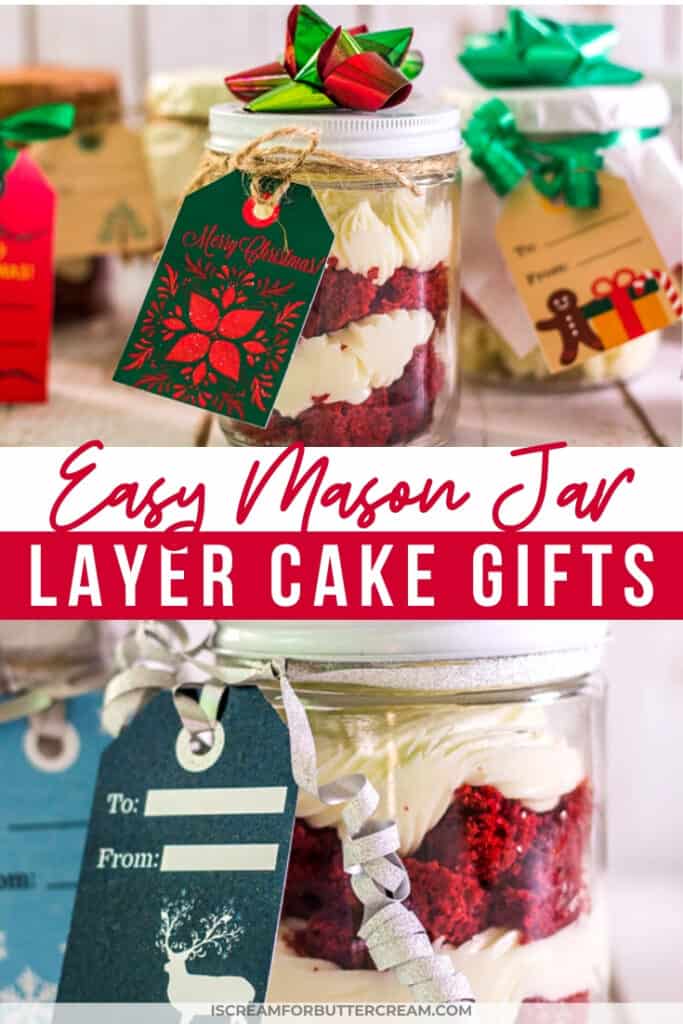 I love baking at Christmas and I just don't have enough people who live at my house to eat all the stuff I bake, so these are the perfect way to share some of that baking love with others.
If you're having a tough time coming up with easy and inexpensive gifts this year, then these really take the guesswork out of it. Very quick and very easy to put together, plus who doesn't love getting cake and buttercream!?
When I first decided to make these, I wanted to use the old style mason jars. You can still use those, but I decided to find a jar with a wider opening. I found some on amazon and they worked perfectly. They're 16 oz. jars, which gives the perfect amount of cake and buttercream, plus they have a white lid and I like that it goes with everything.
Oh, and those tags on the cake jars? I've got you covered on that too. I've got another post that includes printables for all the tags used. You can go here to grab them and download them: Free Christmas Gift Tags
As an Amazon Associate, I earn from qualifying purchases.
Okay, let's get started on the tutorial. (There's also a video toward the end of the post.)
Putting the Mason Jar Cake Gifts Together:
Since these mason jar cake gifts are so simple to put together, the actual tutorial part is fairly short.
All you've got to do is bake your cake and prepare your icing. One recipe or (boxed cake) and one recipe of buttercream will make about 8, 16oz. mason jar gifts.
All I did was cut up my cake into cubes, pop a layer of the cake cubes into the mason jars, then piped on some buttercream. I then did one more layer of cake and buttercream.
Add a bit of ribbon and your gift tag and that's it! Easy Peasy.
Here's the video to show the process:
Don't forget to check out the free printable gift tags here: Christmas Gift Tags
If you want even more options for Christmas food gift tags, you can find more here: More Christmas Food Gift Tags
Like this idea? Pin it below!