This vanilla bean buttercream frosting is a classic American buttercream, using all butter and no shortening. Yes there is a secret to making the best vanilla buttercream and you're about to find out what that is!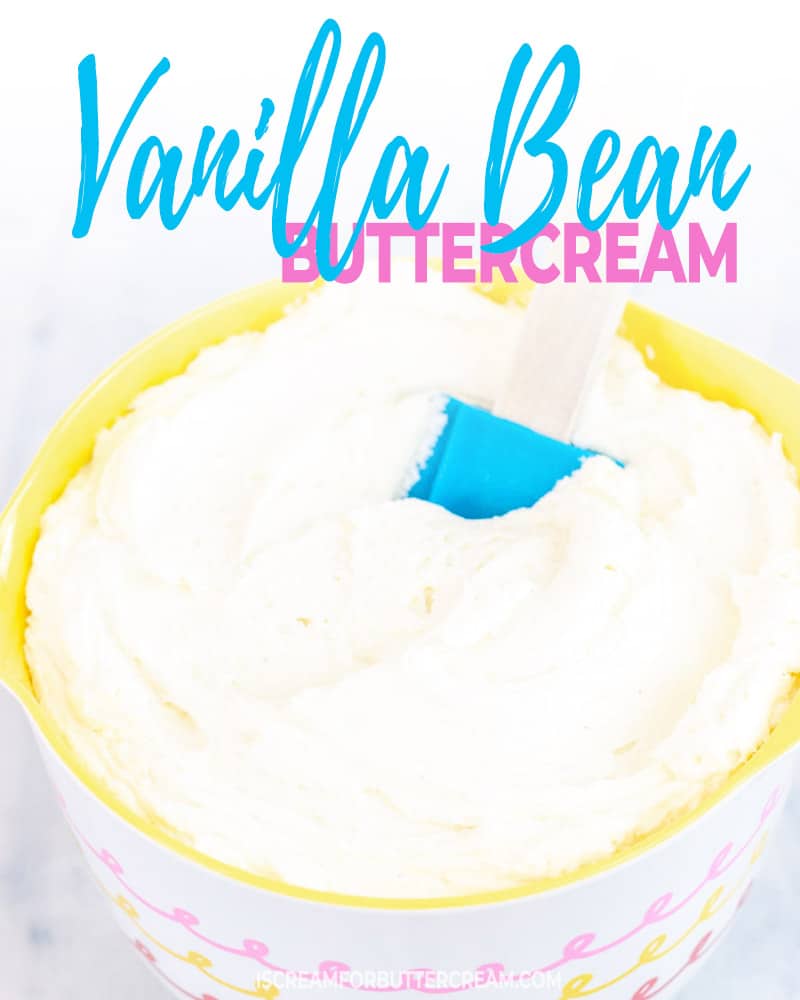 I LOVE buttercream. I'm sure you had no idea, right? I mean, look at the name of my blog! I will admit I use a lot of fondant in my cake decorating, it's an awesome medium to work with, but I almost always use a thick layer of buttercream for the filling. I will confess that I can eat buttercream straight out of the bowl and this vanilla bean buttercream recipe is my absolute favorite frosting.
This page contains affiliate links, which means I will receive a small referral commission, at no cost to you, if you make a purchase using these links. These links use cookies, which tracks and allows me to get credit for the referral. This helps to support my blog and allows me to continue to provide free content. You can see my policies here:  Cookie Policy, Privacy Policy, Disclosures
For me, the sweet creaminess of real butter American buttercream just gets me and this is my 'go to' recipe.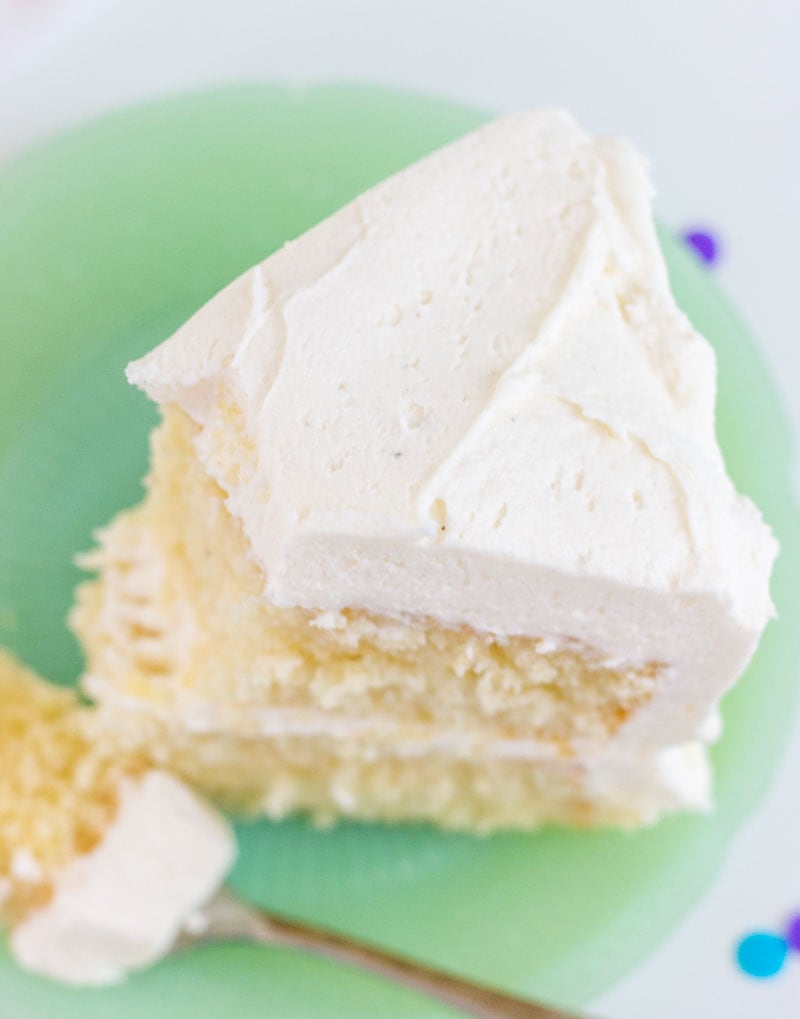 If you're looking for a shortening based icing…one that's bright white, more heat stable and great for piping, you'll want to check out my recipe for that here: Bright White, Heat Stable Buttercream
But, if you're looking for an all butter buttercream, you're in the right place.
The secret to this buttercream is that half of the butter is unsalted and the other half is salted. I also use vanilla bean paste.
Yes, it definitely makes a difference. I prefer to use vanilla bean emulsion paste or Madagascar vanilla extract if you can't get the paste.
Since this buttercream uses real butter, it will have a slight yellow tint to it. If you prefer a bright white buttercream, you may want to replace half the amount of butter with shortening and use clear vanilla extract, or check out my recipe for bright white buttercream.
There are a couple ways to make all butter buttercream whiter though. You can beat it for five minutes or so, after you've mixed it up. When you beat it for a longer time, the color seems to lighten.
You can also add in a touch of violet gel food coloring. I mean just a touch though. Violet is on the opposite side of the color wheel as yellow, so it will cancel out the yellow color, but be very careful to only use a teeny tiny amount and use a toothpick to do that.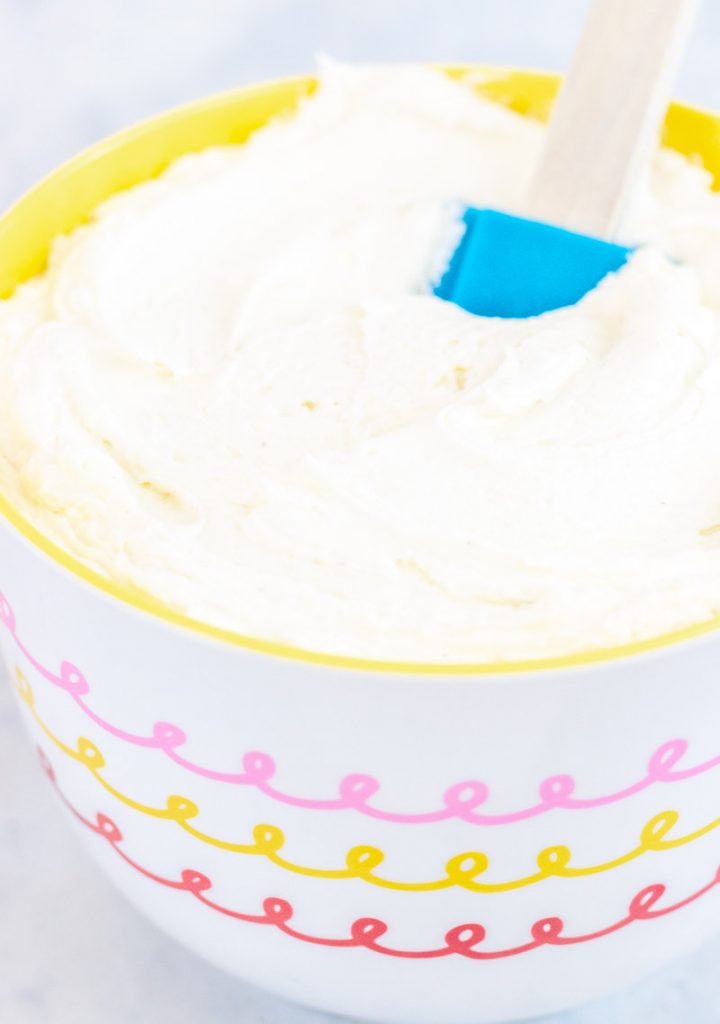 Tips & FAQs for the Vanilla Bean Buttercream:
Make sure that your butter is room temperature before you start. Don't microwave it though, that could mess with the texture of your buttercream. Just set your butter out on the counter and let it come to room temp on its own.
I don't have a stand mixer…can I just use a hand mixer? Of course! A hand mixer is completely fine to use.
I don't have vanilla emulsion or paste, what can I use instead? You can always just use regular vanilla extract in place of the emulsion or paste. Just use the same amount.
Is there a way to make this icing whiter? Yes! There are a couple things you could try. I've laid them all out in the post above, so make sure to scroll back up and check that out.
Do I have to use salted butter? No, you don't, but I find that using half salted and half unsalted butter, makes a really tasty buttercream. If you don't have access to salted butter, you can just use all unsalted and then add in a pinch of salt.
Ok, enough talk…Here's my Vanilla Bean Buttercream Recipe. I hope you love it so much, you eat it straight from the bowl like I do…no judgement here!
Try this buttercream recipe with my Favorite Vanilla Bean Cake recipe.
Vanilla Bean Buttercream
This vanilla bean buttercream frosting is a classic American buttercream, using all butter and no shortening.
Ingredients
1

cup

unsalted butter

room temp

1

cup

salted butter

room temp (salted tastes better, but if you don't have it, just use unsalted here and add in a pinch of salt)

6

cups

confectioner's sugar

2

tsps

vanilla bean paste

or vanilla extract

2-3

tbsp

milk
Instructions
Use the paddle attachment on your mixer (this is your secret weapon for creamy buttercream). Cream the butter well for several minutes on medium speed. (If you don't have a paddle attachment, just use the whisk attachment, or a handheld mixer.)

Add in three cups of confectioner's sugar and beat on low until incorporated and then medium until well mixed.

Add one tablespoon of milk and beat until incorporated, then add the last three cups of confectioner's sugar and beat on low, then on medium until well mixed.

Add another tablespoon of milk and the vanilla paste or extract, then beat on medium until well mixed.

Now, check the consistency. If it's too thick, add another tablespoon of milk. If it's too thin, add another cup of confectioner's sugar. Once you reach the consistency desired, beat on medium speed for about four to five minutes. The icing will lighten a bit in color.
Notes
This buttercream makes enough to cover a two layer, 8" round cake or about 24 cupcakes. Since this buttercream is made with all butter and no shortening, it will have a slight yellow or cream tone to it. If you want it to be very white in color, you can add a very tiny speck of blue or violet food coloring to cancel out the yellow, or just add white gel food coloring. You could also whip your icing for several more minutes once it's mixed. Whipping it seems to lighten the color a bit. You could also add clear vanilla extract instead of regular vanilla extract and that will lighten the color although the vanilla taste will not be as good. Now you're ready to ice your cakes, cupcakes, or even just eat it with a spoon straight out of the bowl!
Nutrition
Calories:
509
kcal
|
Carbohydrates:
60
g
|
Fat:
30
g
|
Saturated Fat:
19
g
|
Cholesterol:
81
mg
|
Sodium:
139
mg
|
Potassium:
12
mg
|
Sugar:
59
g
|
Vitamin A:
18.9
%
|
Calcium:
1.2
%
|
Iron:
0.2
%
WANT TO SAVE THIS? CLICK HERE OR ON THE PIN IMAGE BELOW TO SAVE THIS VANILLA BEAN BUTTERCREAM TO YOUR FAVORITE PINTEREST BOARD.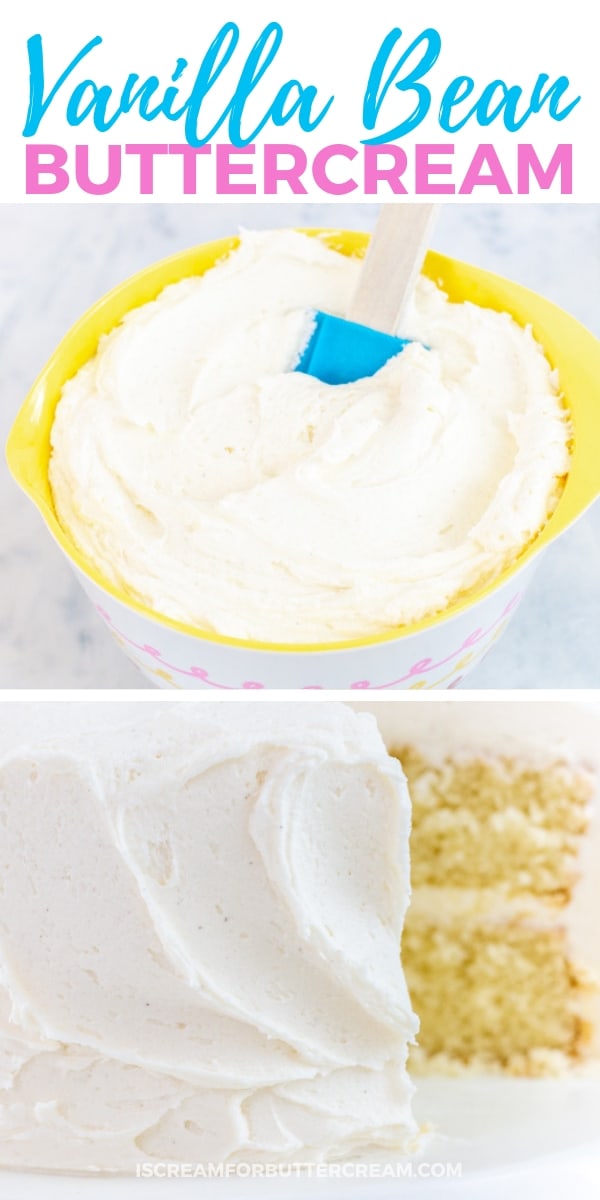 GET PROFESSIONAL LOOKING CAKES WITH THESE SIMPLE TIPS!
Grab the guide: 7 Tips to Make Your Cakes Look Professional PLUS access to the subscriber-only resource library!
Plus you'll get free cake tips & recipes in your inbox every week!
See our privacy policy here.