With Father's Day coming up, I wanted to create something just for the Dads. Yeah I know not all dads go fishin', but mine did and that's what I think of when I think about Father's Day.
I thought to myself, what could make cupcakes look more dad-like? Well how 'bout cupcakes with fishing bobs on top? I decided instead of just making the fishing bobs out of fondant, I'd make them from cake pops!
I cannot even count the number of times I went fishing as a kid. Here's a little something about my childhood, if you're interested. My Dad was the rancher/maintenance man for a Children's Home while I was growing up. We lived out there on the grounds, which happened to be WAY out in the country. Lot's of land to play on and lots of kids to play with.
We didn't have cable like the cool kids in town did. We had stuff like bows and arrows, go-karts, cows, horses, pigs, lots of grass, dirt and bikes to ride. (By the way, up until I was in Jr. High we rode those bikes on unpaved roads…yeah we were bad you know whats.) We also had lots of fishing poles and with a really country Dad, we fished a lot (and camped, which if I'm being honest, I never enjoyed.)
My Dad always told me we couldn't talk when we were fishing. "You'll scare the fish away," he'd say. Somehow that doesn't seem true to me. I think he just wanted us girls to shut up so he could enjoy his fishin'. Either way, we respected it. Oh, and have you ever gotten cut by catfish gills? It stings and bleeds…think paper cut times a hundred.
So these cupcakes bring back the good old days for me and remind me of my Dad. I hope Dad is having a blast fishing in heaven. There's fishing in heaven, right? Well, fishing that doesn't actually hurt the fish maybe. I'm sure God can work that out.
Alright let's get to the tutorial!
As an Amazon Associate, I earn from qualifying purchases.
SUPPLIES YOU'LL NEED FOR THE FISHING BOB CAKE POP CUPCAKES:
Cupcakes (You can find my favorite vanilla bean cake recipe here: Vanilla Bean Cake)
Buttercream tinted blue (You can find my buttercream recipe here: Vanilla Bean Buttercream)
Red Hot Candies
Swedish Fish (optional for decorating)
Don't forget to check out the video close to the bottom of this post to see how they're made:
MAKING THE FISHING BOB CAKE POPS:
You can basically stop after you've made the cake pops and they'll still look cute, but I wanted to set them onto cupcakes so it would look like they were actually bobbing on the top of water. Your choice here.
First you want to mix up some crumbled cake with a bit of buttercream. I like to use about two cups of cake to a couple tablespoons of buttercream.
Mix it well and then form into cake balls.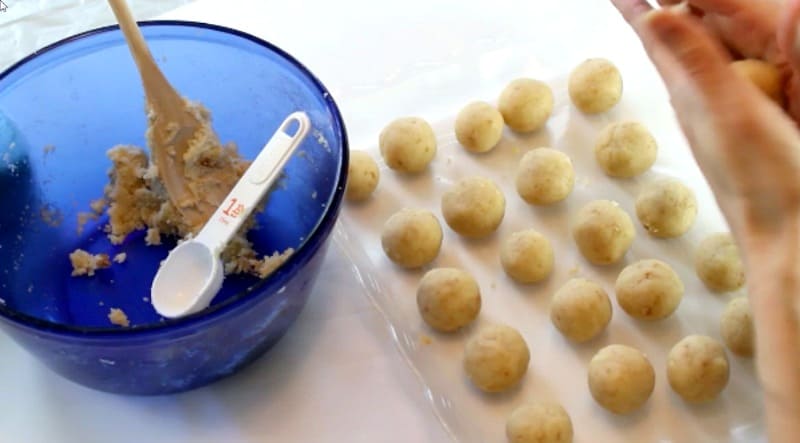 Melt your red candy melts and dip one end of your cake pop stick into the melted candy melts and then insert into the cake ball. Let that firm up.
Once it's firm, dip your entire cake pop into the red candy melts and then pop into some foam to set up fully.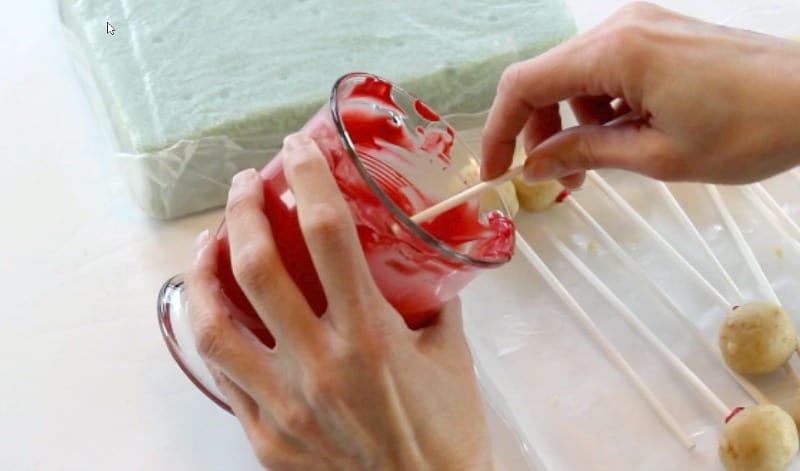 Next, melt some white candy melts and dip your cake pops only half way in and let them set up.
Now, dip them a second time, so it's a good coating of white on the top.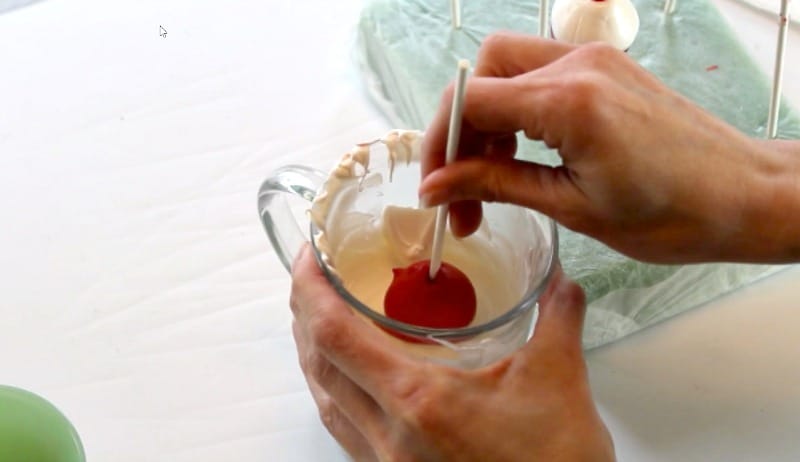 Before that sets up fully, pop on a red hot. Now let them set up fully.
FOR THE CUPCAKES:
Now all you've got to do is ice your cupcakes with blue buttercream. I just used a spoon so I could make it look like water.
Now, twist off the cake pop from the cake pop stick and set onto the cupcake.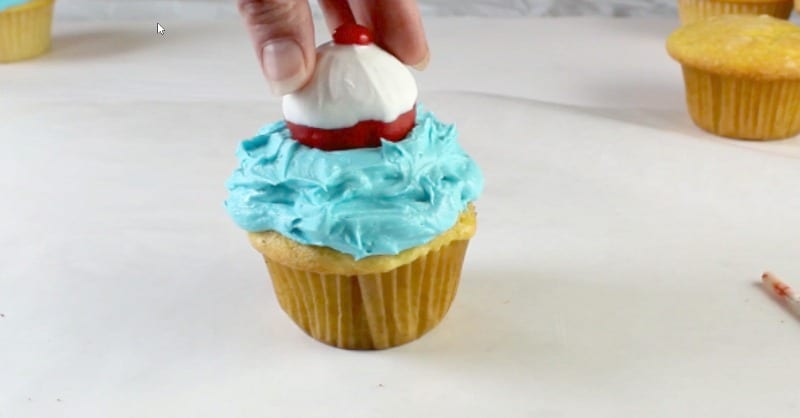 You can add a cute little swedish fish if you want to.
Aren't they cute?! I love these and wouldn't it be such a fun project for the kids? What Dad wouldn't want to get these on Father's Day? I also think they'd be great at a backyard BBQ! And actually who wouldn't want to eat a cupcake with a cake pop on top?!
And here's the video:
I'd love to hear from you if you try these!
Don't Forget to Pin it for Later!