This moist, from scratch, german chocolate layer cake is filled with coconut pecan filling, then covered in rich german chocolate buttercream frosting. It's the perfect chocolate cake recipe for any birthday or celebration.
I've been asked a few times to write a recipe for German chocolate cake, but I've always hesitated.
I think the reasons were mostly selfish though. I'm allergic to pecans and German chocolate cake has that coconut pecan filling and I really like to taste my own cakes.
(Ok, let's be honest…I really like to eat a lot of my own cakes and I knew I wouldn't be able to eat any of this one.) I know it sounds selfish.
But, I knew there were people wanting my version of it, so I put on my big girl pants and got to crackin'. I wrote my version of german chocolate cake and tried this puppy out more times than I can count at this point.
Hey there! Before you scroll, there's lot's of important stuff in the post!…including the FAQ section, which may answer any questions you might have about this recipe. Enjoy!
Jump to:
I was able to taste the actual cake, just not the filling (which has the pecans in it).
Anyway, after trying it multiple times, I think I've gotten it to taste just the way I want it to and it makes just the right amount for the pans. (The first couple of times, there was too much batter.)
Ingredient Notes:
Let's talk a little about just some of the ingredients in this cake.
German Sweet Chocolate: I owe all the wonderful flavor in this cake to the German sweet chocolate. I just used the Bakers brand of German Chocolate and the flavor is SO good.
You'll also use this in the buttercream…it's SO yummy.
Cake Flour: We're using cake flour in this cake because I love how cake flour makes such a light crumb…the cake texture just feels softer. Make sure to check out the FAQ section below if you can't get cake flour.
Cocoa Powder: You'll use a little cocoa powder in both the cake and the buttercream just to give an added jolt of chocolate flavor. Use regular cocoa powder, not dutch.
Brown Sugar: I've added in some brown sugar to the cake, instead of just using all white sugar. I really love brown sugar in chocolate cakes as I feel like it adds some depth and richness to it.
Buttermilk: There's buttermilk in this cake as well and I LOVE baking with buttermilk. It's rich, has a good fat content to it and really gives a good flavor to the cake. (If you can't get it, make sure to look at the FAQ section below.)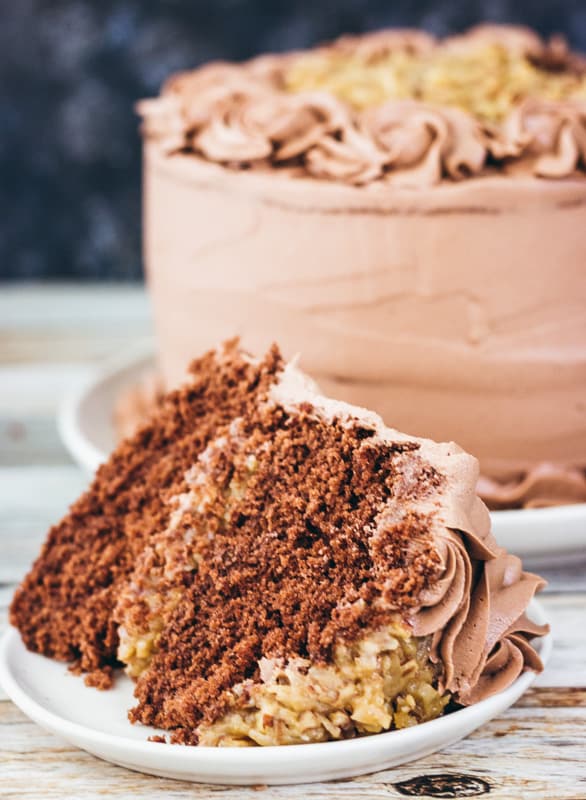 Mixing Method Notes:
Now let's talk just a second about the mixing method for this cake. We're going to use the reverse creaming method. That just means instead of creaming the butter and sugar together first, you'll actually mix the dry ingredients and mix in the butter to coat it, then add in the liquid ingredients.
Don't worry, there's nothing' to it. In fact I find it easier to use this mixing method, instead of the regular creaming method and the recipe instructions will talk you through it…plus there's a video.
Why am I using the reverse creaming method for this cake?
I like it because it's easy to do.
You're able to add in more liquid and sugar (it's good for high ratio recipes)
It seems to make a softer textured cake
One thing to note and something I've noticed when using the reverse creaming method is that these cake layers will bake up flat. There won't be any dome in the middle at all. Don't panic that you did anything wrong.
I've made this one a bunch of times and it always bakes through, but it won't puff up in the middle, so don't panic about that.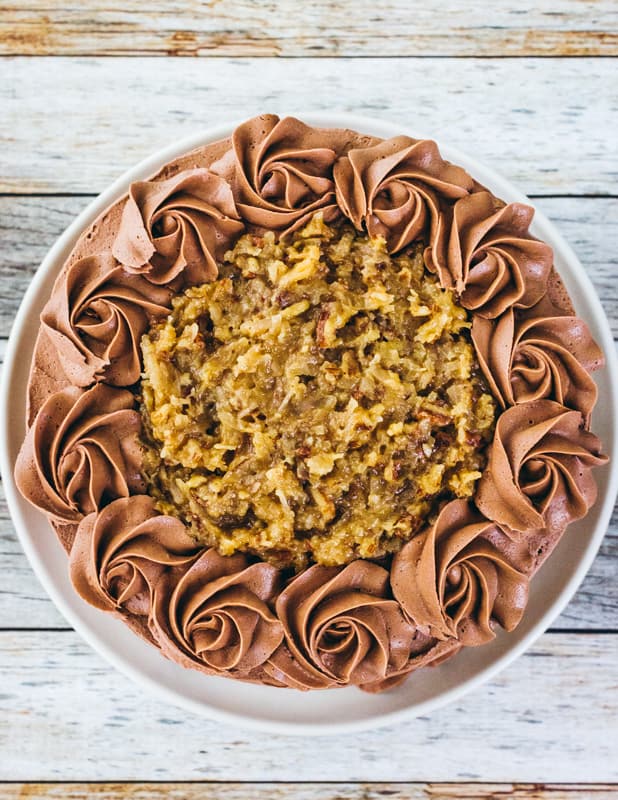 Tips & FAQs:
So what makes a cake a German chocolate cake and not regular chocolate cake?
Well for one, we're using German chocolate in this one. Now, there are some German chocolate cake recipes that don't use the German sweet chocolate, but I've found most recipes do use buttermilk and the amount of chocolate isn't quite as dark and rich as a classic chocolate cake.
I can't find German sweet chocolate, what do I do?
The German sweet chocolate really makes the cake and buttercream special, but if you can't find it, you can use semi-sweet chocolate, or even milk chocolate in place of it.
Can I substitute the buttermilk?
You can. If at all possible, you'll want to use buttermilk if you can get it. It really adds richness and flavor, but if you can't get it, you can fill a measuring cup up with milk, take out one tablespoon of the milk and replace it with either vinegar or lemon juice. Mix it and let it sit for around five minutes and use that in place of the buttermilk.
Can I substitute the cake flour?
You'll get the best results using cake flour, but if you can't get it, you can substitute with all purpose flour and make these changes: For every cup of cake flour called for in the recipe, use one cup of all purpose flour instead and remove two tablespoons of it, then replace that with two tablespoons of cornstarch.
Why use regular natural cocoa powder and why not the dutch processed cocoa powder?
Because natural cocoa powder is acidic and dutch cocoa powder has all the acids neutralized. The cake recipe calls for baking soda and baking soda needs acid to work. The buttermilk and brown sugar also have a bit of acid. You want to keep all the ratios working together. If you lesson the amount of an ingredient, or change it, it can throw off the ratios and your cake may not taste right, or the texture could be off.
Make sure you're not packing down the cake flour.
When you measure, don't pack your flour into your measuring cup. Spoon the flour into your measuring cup and level it off.
When preparing the coconut pecan filling, it's essential that you go slow.
If you heat it too fast, it will scramble the eggs and you'll get cooked egg bits in your filling. This part will take some time, so be patient. If you don't want to mess with making the filling from scratch, you could always just buy the filling pre-made. There's no judgment here.
As an Amazon Associate, I earn from qualifying purchases.
Ok let's get to the recipe!
Note About How I Write Recipes: I write recipes using volume (cups) measurements because here in the U.S., this is what people are more familiar with and I don't want anyone to feel intimidated when baking. For metric measurements, click the 'metric' button under the ingredients in the recipe card below. The weights are converted by a program, not me, and it's just a best guess. Please note that because I develop recipes using volume measurements, I can't guarantee that weighing the ingredients will produce the exact same results.
Recipe:
German Chocolate Layer Cake
A moist, from scratch German chocolate layer cake that's filled with coconut pecan filling, then covered in rich German chocolate buttercream.
Print
Pin
Save
Saved!
Rate
Ingredients
Have questions?
Check out the Tips & FAQ section or the video in the post!
Instructions
For the cake:
Preheat oven to 325 degrees Fahrenheit.

Grease and flour two 8" round (2" inch deep) cake pans and set aside.

In a small bowl, break up the sweet German chocolate and melt in the microwave. Set this aside to cool while you mix up the other cake ingredients.

In a large mixing bowl, whisk together the flour, cocoa powder, granulated sugar, brown sugar, baking soda, baking powder and salt.

In another bowl, mix together the buttermilk, regular milk, oil, eggs, and extract. Whisk well and set aside.

Make sure the butter is slightly cooler than room temperature. Add the butter (in chunks) slowly to your dry ingredients while mixing at medium-low speed. (You can turn your stand mixer on medium-low and leave it on while you add the butter chunks a bit at a time, or you can use a hand mixer.)

Turn the mixer up to medium and mix until all the flour is coated with the butter and the mixture is crumbly. It will have a sand-like texture.

Pour in about half of the liquid mixture. Mix on low to medium for about a minute.

Pour the last of the liquid mixture and mix again only until well combined. Don't over mix the batter at this point. Mixing it for several minutes is too long. Once all the ingredients are incorporated well, stop mixing.

Use a rubber spatula to scrape the sides and bottom of the bowl. Mix again for only about 10 seconds.

Add in the melted chocolate and mix again, until just combined.

Pour into prepared pans. The batter might look a bit grainy due to the brown sugar…that's okay.

Bake at 325 degrees for approximately 55-60 minutes. These layers will not bake with a dome on them. They will bake flat. Don't panic that you did anything wrong if the layers do not puff up in the middle.

Once baked, set on wire racks to cool for 10-15 minutes, then turn the cakes out onto the racks and let them cool out of the pans completely before adding filling and frosting.
For the filling:
In a medium sized saucepan, add the egg yolks, sugars, butter and evaporated milk. Slowly bring it to a low boil and then let it simmer for about 10 minutes until it thickens. Be patient with this part. Take as long as possible and heat it slowly. If you heat it too quickly, your eggs will scramble and your filling will get chunky. Raise the heat in increments. Once it's boiled and thickened a bit, remove from the heat and add the extract, coconut and pecans and stir. Set it to the side and allow it to come to room temperature before adding to the cake.
For the frosting:
Melt the sweet German chocolate and set aside to cool a bit.

Use a paddle attachment on your mixer, if you have a stand mixer. If not, just use your whisk attachment or use a hand mixer.

Cream the butter well at medium speed.

Add in the cocoa and beat on low until combined, then on medium until well incorporated. Scrape down the sides of the bowl and mix again.

Add in 3 cups of powdered sugar. Beat on low until combined, then on medium until fully and incorporated.

Add 2 tablespoons of milk plus the last 3 cups of powdered sugar. Beat on low until combined, then on medium until fully incorporated. Scrape down the sides of the bowl, then mix again. (If it's too thick at this point, add another tablespoon or two of milk and mix.)

Add vanilla extract and the cooled down melted chocolate. Beat until well incorporated.

Check the texture of your buttercream and if it's still too thick, add milk only a tablespoon at a time, and mix after each addition.

For a fluffier frosting, mix on medium-high for several minutes.
Notes
This cake will need to be kept in the refrigerator if you add the filling. It can be frozen for up to a month if wrapped well in plastic wrap and foil.
Nutritional values are an estimate.
Make sure to check out the TIPS & FAQs for this recipe in the blog post.
*This recipe card may contain affiliate links. As an Amazon Associate, I earn from qualifying purchases.
Nutrition
Calories:
1297
kcal
|
Carbohydrates:
151
g
|
Protein:
10
g
|
Fat:
77
g
|
Saturated Fat:
45
g
|
Polyunsaturated Fat:
5
g
|
Monounsaturated Fat:
21
g
|
Trans Fat:
2
g
|
Cholesterol:
236
mg
|
Sodium:
437
mg
|
Potassium:
371
mg
|
Fiber:
5
g
|
Sugar:
123
g
|
Vitamin A:
1840
IU
|
Vitamin C:
1
mg
|
Calcium:
127
mg
|
Iron:
3
mg
Baking at higher elevation?
Adjustments will need to be made for that. This website does not specialize in higher elevation baking. Please take time to do your research on what adjustments should be made.
Disclaimers
To see food safety, allergy & nutrition disclaimers, go here: Disclaimers
How to Share
I'd love for you to share this recipe link or tag it, but please do not share screenshots or copy/paste the recipe to social media as the content and photographs are copyright protected and we (bloggers) work really hard on our content. Sharing the link, tagging us on socials and pinning it is super appreciated though!
Video:
Other Recipes You Might Like:
Don't Forget to Pin it for Later!