Organize your recipes with these free recipe binder printables. Make your own DIY recipe binder using these cute templates that include cover sheets, printable recipe cards, divider tags, a grocery list plus a menu planning printable.
I've been in an organizing zone lately. I get that way sometimes and lately when I go to find a recipe, I've got to search through what feels like a thousand pieces of paper to find what I need.
I decided to design some printables for a recipe binder, so I could get everything organized. I was feeling generous and I thought perhaps you'd like to get your recipes organized as well…so I'm giving you the recipe binder printables for free. Yay!
Jump to:
These printables are not only handy, but they're pretty too and if we're going to organize, then why not make it pretty at the same time, right?
I've recently done some updates on these. I had a misspelled world (oops…) and I had some requests to make it a fillable (editable) binder.
So I've revamped this recipe binder and now it's even easier to download because it's literally just one click to get it.
What's included in the printable binder:
This binder printable is jam-packed with goodies. Here's what you'll get:
A cover page to slip into the binder:
You can see the cover above.
Recipe section divider covers:
Some are already named and some are blank so you can add what you want. (You can either type in the blanks or print out and handwrite in.)
Recipe cards in different colors:
These are editable so you can type in the recipes or print and handwrite them out.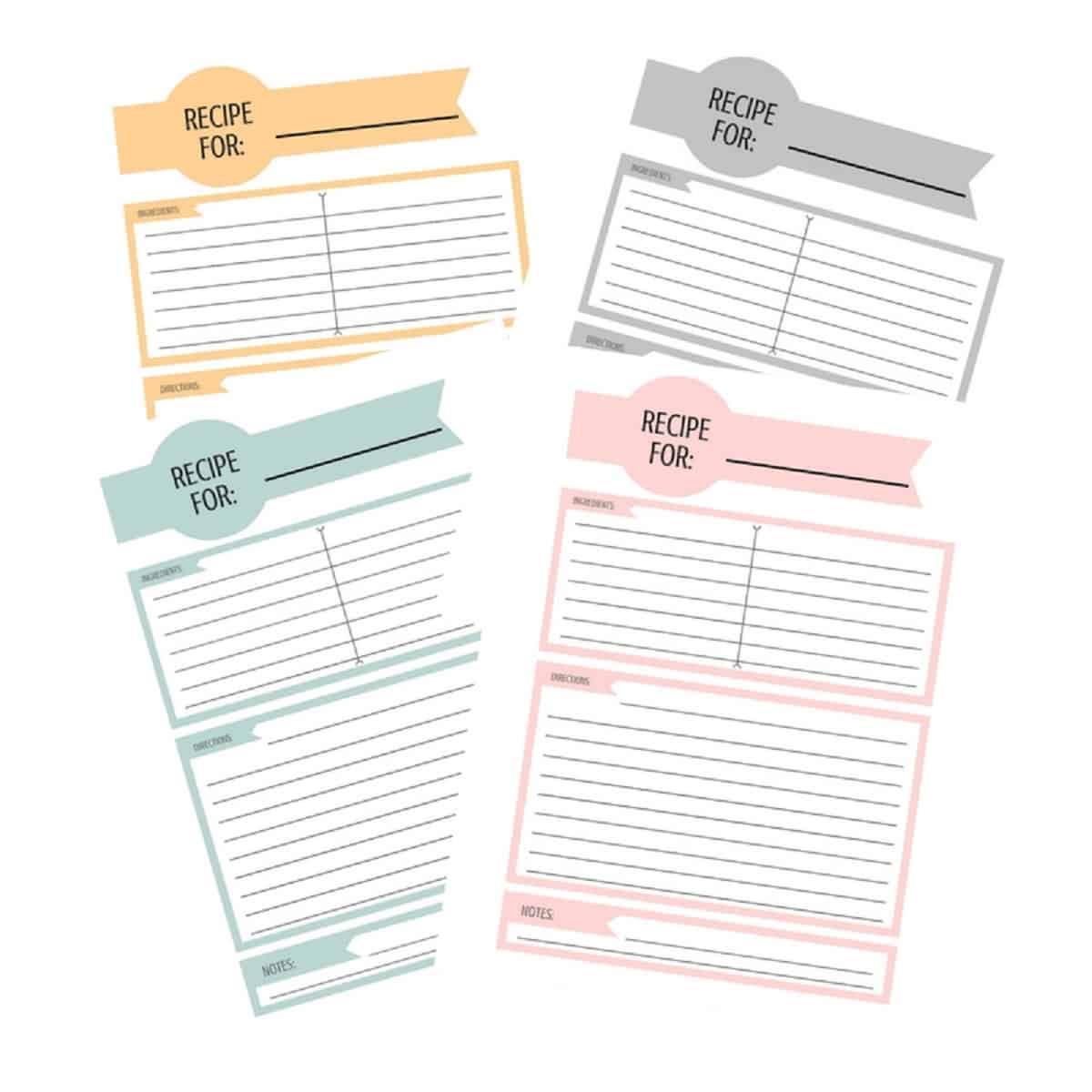 Recipe section tabs:
These will help you easily get to the section you need to. There are some that are already filled out and some that you can either type into or handwrite in.
Meal planning & grocery list printable:
These are handy to list what meals you'll be making in a certain week and there's a matching grocery list printable to jot down everything you need. I find that it's really handy to keep the grocery list in the kitchen and then update it as you need to.
How to Download the Binder:
Just click the link below and the entire binder will download for you. I've also been able to update this to be an actual fillable form, which means you will be able to type into some of the areas. (Those areas will show up in blue, but won't print in blue.)
Please note: For some reason, if you're using Firefox internet browser, it may not download as a fillable form. Google Chrome and Edge internet browsers should work just fine and have worked for me.
Just click the link below to download the entire recipe binder and have fun!
Printable & Fillable Recipe Binder
(If you'd like to download extra recipe cards only, just click the link below for that.)
Troubleshooting Notes: If you're having issues…Remember that these fillable forms will NOT work properly if you're using Firefox internet browser, so use Google Chrome or Edge. Also, you'll want to give them a few seconds after they download so that the fillable areas have a chance to populate.
Don't forget to pin it below!