If you've got tons of bakeware, baking pans and sheets, or just loads of baking ingredients, you'll definitely want to see these tips and ideas on how to organize baking supplies.
Here you'll find DIY solutions to get your baking storage under control.
You know, all that baking stuff you've got scattered around in various places? I've got ya covered on ways to store it all and some ways to make it pretty, yet realistic to actually keep up.
Ok let's get right to the tips.
Jump to:
Tip 1: Hide your mixer (if you can)
I try to put as many small appliances as I can inside my cabinets and not out on my countertops. I have such a small kitchen with limited counter space, it's really a necessity.
If you've got enough room in your cabinets, you could hide your large stand mixer in there.
Here are a couple ideas:
You could extend one of your top cabinets down to the counter and hide your mixer (or other small appliance) there.
Like this one below:
See the post here: Luxury Living Showroom Kitchen by atlantahomesmag.com
Or you can add a shelf that lifts out of your bottom cabinet. I would LOVE this idea.
See the post here: How to Hide Small Kitchen Appliances by themakerista.com
Tip 2: Create a baking zone
This is one I've recently implemented. It's so much easier to have all your baking supplies in one handy place.
It totally makes more sense to stick it all in one place. I love how she organized hers and made it cute too.
See the post here: Baking Zone Organization by onsuttonplace.com
Here's another example of creating a baking zone. This one is more involved, but man I would LOVE to do this in my kitchen. How convenient is this! Go see how she did it.
See the post here: Kitchen Storage Ideas for Consumables by designdazzle.com
In my own house, I've created a baking zone (on a smaller scale), but I love how convenient everything is.
I love those ingredient containers. They're thick and the lids clamp down, so it's an air-tight way to keep your ingredients lasting longer.
And they even come with labels!
Here's a link to the storage containers I use: Ingredient Containers
Tip 3: Use the cabinet doors and the backs of cabinets
This one I'm definitely doing. Take a look and see how she used the backs and the doors of her cabinets to create more space.
See the post here: Organized Baking Cabinet by twotwentyone.net
Tip 4: Make it pretty and functional with containers and labels
Ok these labels are the cutest and if you like to get all super organized, go grab yourself some pretty containers, add your baking ingredients to them, then go grab these free pantry labels.
See the post here: Free Printable Pantry Labels: Handlettered by thecreativityexchange.com
Tip 5: Organize your cookie cutter collection
Are you searching for half an hour trying to find that one cookie cutter you need? See how Kitchen Concoctions organized her collection.
I'm definitely going to try this out, so I can get a handle on all mine.
See the post here: Baking Supply Organizing Ideas by kitchen-concoctions.com
Tip 6: Organize your cake decorating supplies in a DIY organizer
Um I just love this. I have an enormous collection of food coloring and icing tips that just keeps growing and it's all just jumbled together.
I mean it's in a container, but I really like how this one keeps everything separate, so you can actually find things easily.
Make sure to check out the post. It shows you every step to make one for yourself.
See the post here: Cake Decorating Organizer Trays by instructables.com
Tip 7: Organize your cake decorating supplies or bakeware in a free-standing cabinet or pantry:
Ok, if you've got a really small kitchen (like me), you may need to just break down and purchase a storage cabinet. There are lots of free-standing cabinets and pantries out there.
They are definitely the solution I've found for all my cake decorating supplies. You could even decide to just store all your bakeware in them.
So, I used to have my cake decorating supplies stored all over the place in my house. In closets, in cabinets, in rolling carts.
I purchased this cabinet…Well, it's really more like a pantry, but I'm calling it my cake cabinet. There are probably better quality pantries you can buy, but I liked the size of this one and I wanted something simple that wouldn't break the bank.
I can put 'most' of my cake decorating stuff in this thing and still have some room for bowls and a couple pans.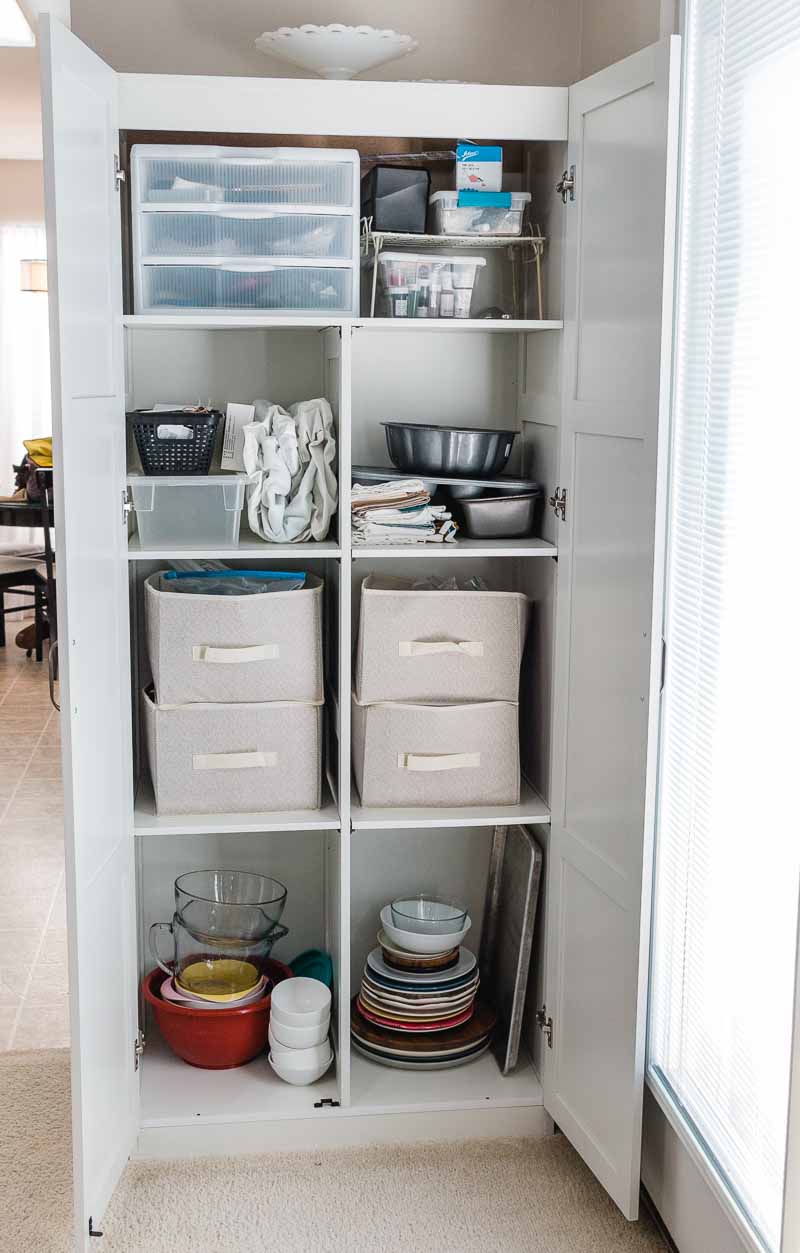 When you choose one, you might want to make sure the shelves are adjustable or at least think about what you'll actually be storing in there before you make the purchase. I still have some more organizing to do in mine, but I think it's off to a good start.
I picked up some bins to add my cookie cutters to and all of my miscellaneous cake supplies, but I really like the other ideas above, so I think I'll implement those here as well.
I do still keep my gumpaste flowers etc. in our entryway closet. They like it in a dark room anyway and they stay out of the way there, so they don't get broken. I also keep my cake boxes in there as well.
I'd actually love just an entire room to put all my cake stuff in, but that probably sounds a little crazy…To others maybe, but not to me. 😉
If you do have an entire room dedicated just to cake stuff, I am so jealous.
Ok, if you want to check out some free standing cabinets and pantries, here are some ideas:
Sauder HomePlus Storage Cabinet, White finish
ClosetMaid 1556 Pantry Cabinet, Espresso
Sauder 419188 Storage Cabinet, Oak finish
Ameriwood Home Farmington Wide Storage Cabinet, Rustic
HOMCOM 72″ Traditional Colonial Kitchen Pantry Cabinet, White
HOMCOM Modern Kitchen Pantry, Grey
You can pick up some storage cubes pretty cheaply. I got mine from the Dollar Tree, but here's another option below:
AmazonBasics Foldable Storage Cubes – 6-Pack
Tip 8: Be logical & realistic about organizing:
My last tip is to just try to be logical and realistic about it all. Not all of these ideas will be logical for your lifestyle or your personality even. Like I'm probably not going to remove everything from their containers, put them in other containers and then label them.
I think that looks amazing, but let's face it, I'm just not going to do it. I could go down an organizing rabbit hole and become obsessed because I LOVE organizing, but I have to just stop myself and say, hey it's good enough and I can find what I need and it looks 'mostly' tidy.
Here's what I do:
I keep most of my baking pans in a bottom cabinet in my kitchen. I keep my baking spices and extracts in the pantry along with the sugar and other baking ingredients like flour.
I make sure the flour, sugar, etc. are in containers that snap tightly.
Now, I don't keep huge tubs of ingredients, since I don't sell cakes anymore…I bake them mostly for the blog. I know if you're baking from home, you'll have to have a larger area to store stuff and all I can say is I really hope you have a bigger kitchen than mine.
In theory, I'd really like to keep all my baking ingredients in one small cabinet. Of course, I know that might not be possible for you if you sell cakes.
Now I really just need to figure out how to better organize all my photography equipment and backdrops. They're in the garage and another closet.
I keep adding more photography stuff and I'm not sure which obsession is worse…photography props and backgrounds or cake decorating supplies.
Anyway, I definitely want to try out a couple of these ideas I've got in this post. I love the idea of hanging things on the cabinet door, and I plan to get some additional boxes and drawers for my cake cabinet. I think that will save me some additional room.
Here are some other kitchen organization items I've been eyeing:
Over the Cabinet Door Organizer Holder
DecoBros Over Cabinet Door Organizer Holder
2-Tier Storage Organizer Spice Jars Bottle Shelf Holder Rack
Wilton Piping Tips Organizer Case
So, how do you organize all your cake stuff? Do you do something similar to these ideas? I'd love to know!
Other posts you might like: