It's a common question in the baking world…what type of butter should I use when baking cakes? Here I share the differences in salted butter vs unsalted butter and what's best to use for baking cakes.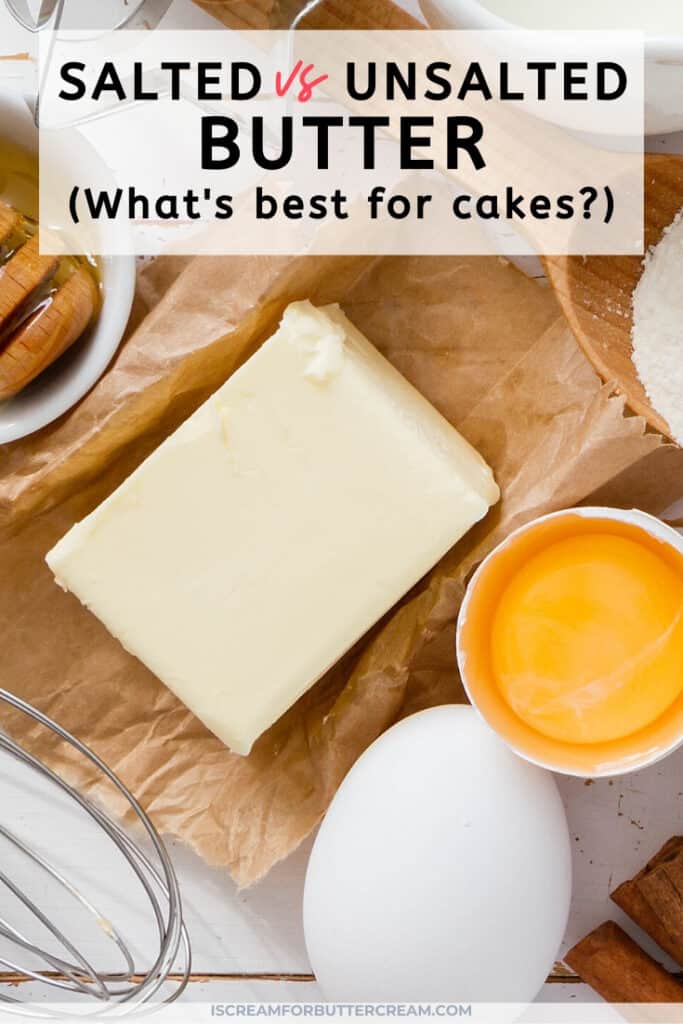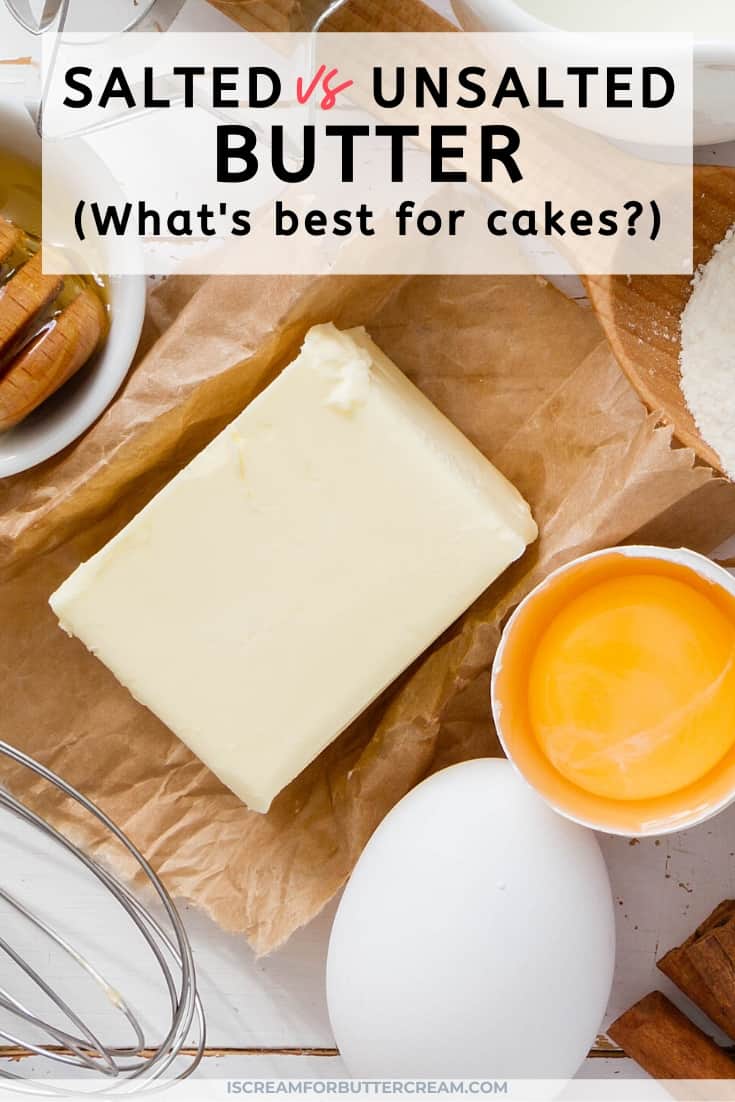 Do I use salted or unsalted butter in this cake recipe? I get this question, a lot. I try to make sure and specify when I write a recipe, but sometimes it just slips my mind.
I think I tend to just assume that unsalted is a given, but that's really not always the case with baking.
I mean generally when it's not specified, it's unsalted. But in this post, I wanted to go through the differences in salted and unsalted butter, so that it makes more sense and hopefully I can clear up some confusion.
As an Amazon Associate, I earn from qualifying purchases.
Now, to be a little more clear, I want to emphasize that I'll mostly talk about salted and unsalted butter when it pertains to baking cakes…not necessarily all baked goods.
Since this website is dedicated to cakes, I want to stick to that here and I think a good place to start is to dive into what each type of butter actually is.
What is salted butter?
Salted butter:
Has added salt.
Has a saltier taste than unsalted butter
May have a slightly higher water content
What is unsalted butter?
Unsalted butter:
Doesn't have added salt.
Doesn't have a salty taste.
Why would you use salted butter?
When the recipe calls for it. There are some baking recipes that do call for it.
To spread onto toast, muffins or other breads.
It's really good in oatmeal.
I find it's really tasty when used to make buttercream, but only when you use half salted and half unsalted butter. You can find my buttercream recipe here: Vanilla Bean Buttercream
Why would you use unsalted butter?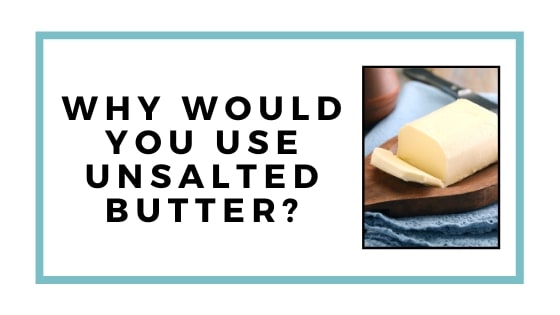 When the recipe calls for it (or it doesn't specify what type of butter)
Practically any other time you want to add butter to something.
When baking and you need to be particular on how much salt or water is added to the batter (especially when baking cakes).
What's the best butter for baking cakes and why?
Alright, you've probably figured out which type of butter I prefer when baking cakes. Yep, it's unsalted butter.
In general, my cake recipes use unsalted butter. But my buttercream usually calls for both. I love the taste of salted butter in buttercream, but you have to be careful because while it does add good flavor, you just can't predict how much salt it will add when used to bake a cake.
Salted butter may, at times, have a higher water content and that could throw off your cake ingredient ratios.
Some say that salted and unsalted butter are interchangeable, but I just don't think that way.
I feel like when you're baking a cake, you want that buttery taste, but you may not need that much salt added and it's just not as predictable as using unsalted butter and then adding in the perfect amount of salt on your own.
So what brand of butter should I use?
What I haven't gone into are all the different types of brands of butter. I'll just generally touch on that subject now.
While I'm not going to tell you exactly what brand you should use, I will say that a good quality butter is best. It'll have a higher fat content and when baking cakes, that's a good thing.
There are many times though that I have just gotten the store brand and it's worked just fine for me. So, if you don't have the money to spend on expensive butter, just get the store brand, but make sure it's actually real butter and not stick margarine.
Margarine is different and not the same thing as butter. The water content is much higher and there's no telling what kind of result you'll get if you use it. In my opinion, it just can't match the flavor of butter.
Something to look out for is that sometimes margarine will come in stick form and it'll say something like, 'Best for Baking' on the box. Well I suppose you could bake with it, but a lot of times it's sort of a trick and it's not real butter, but margarine.
Just make sure to read the box and make sure you're getting butter and not margarine that just looks like butter.
Final thoughts:
So there you have it. It's not too complicated and my advice is always to use what the recipe calls for, but generally here in the US if it doesn't specify, I just go with unsalted.
I hope this cleared up any major confusion you've had when choosing what type of butter to use. I really try to stick with the known factor and use unsalted unless the recipe specifies something else.
Other Posts You Might Like:
Like this post? Don't Forget to Pin it Below!