Learn to make a basketweave apple blossom cake the easy way with this step-by-step tutorial. This cake is all buttercream and is perfect for spring, for a woman's birthday cake, girl's birthday or even Mother's Day. There are no complicated buttercream piping techniques going on here and that makes it easy and simple to put together.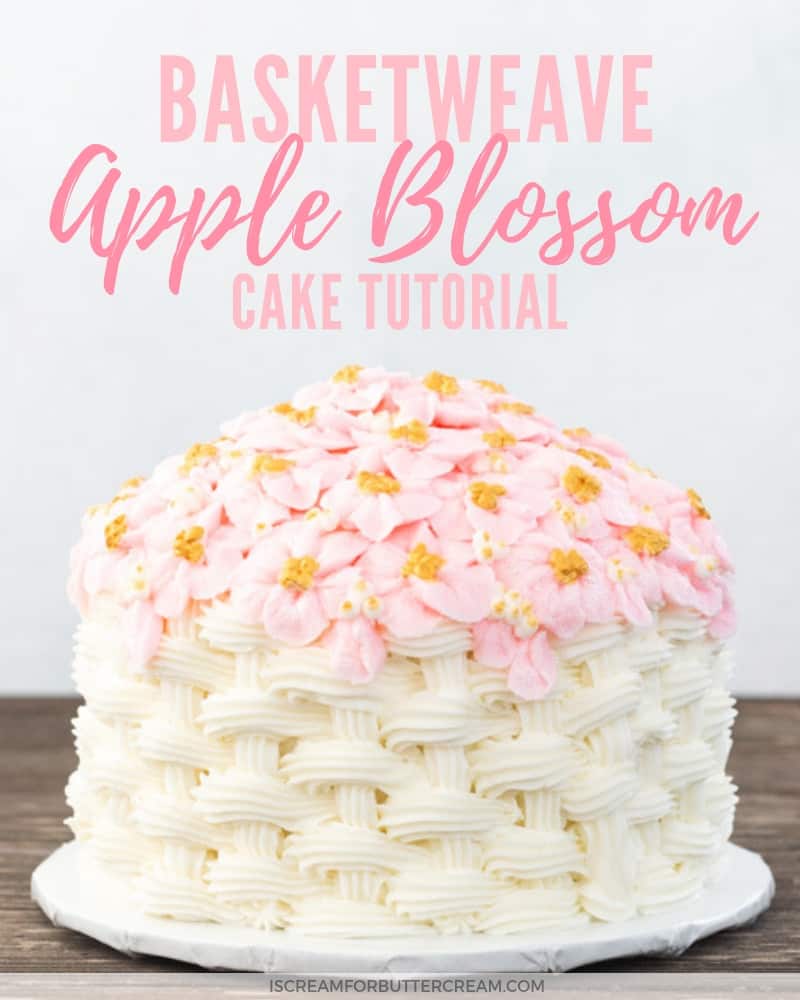 I'm really excited about this one. I think it turned out so pretty and feminine.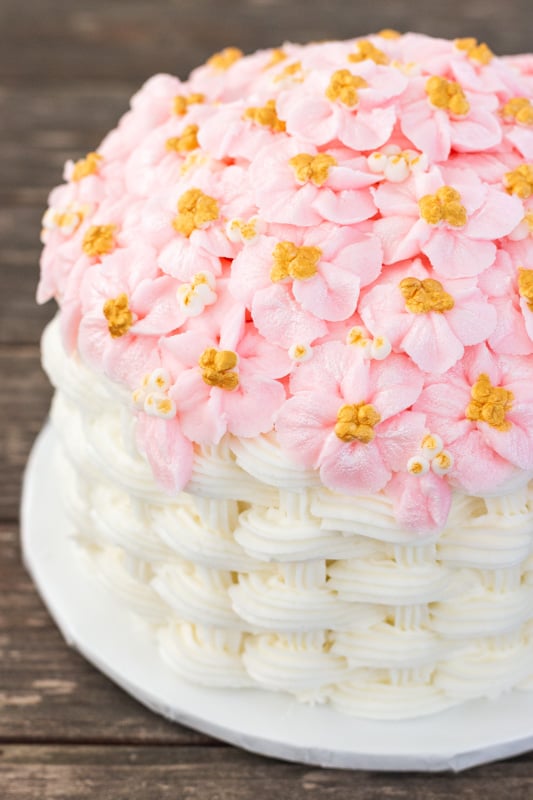 You won't need a whole bunch of piping tips for this cake. It looks like it would be complicated, but it's really not. You'll actually only need three piping tips.
The apple blossom flowers are a soft pink color and they're really easy to pipe. You'll use a petal piping tip (it's listed in the supply section below) and the piping method is an easy one…not like piping a rose.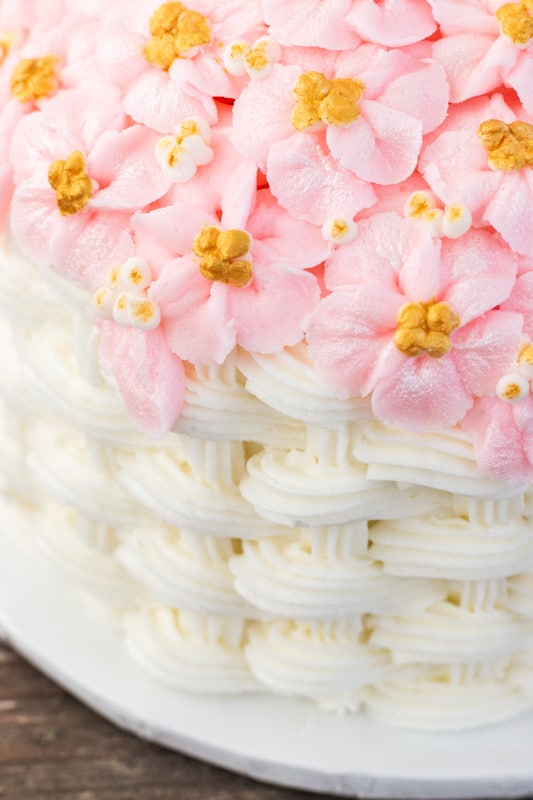 Right in the center of each apple blossom, you'll pipe in several small dots and paint them gold. Now, painting them gold is totally optional, of course, but I think it really adds a special touch if you do.
To make the basketweave, I like to use a star tip instead of a basketweave tip. To me, that's the easy way to make a basketweave. I find using the actual basketweave piping tip to be a little cumbersome.
The reason is that I have shaky hands. I could never be a surgeon, that's for sure. Anyway, if you're hands shake at all when using the basketweave piping tip, it'll show and you certainly don't want it to show. If you use the star piping tip, then you don't have to worry about getting it just perfect and it still looks great.
Ok, let's get to the tutorial.
I've added in some screenshots of the whole process, but remember there's a video at the bottom of this post as well.
Supplies to Make the Basketweave Apple Blossom Cake:
Parchment or Wax Paper Squares
Star Tip #21 (for the basketweave)
Lemon Extract or Vodka
Small Paint Brush
3 Layers of Cake (I used three 6″ round cake layers.) You can try by vanilla cake recipe here: Vanilla Bean Cake Recipe
Pink and White Buttercream – Here's my recipe: Vanilla Bean Buttercream Recipe (Make sure that the buttercream you use actually had butter in it because you need it to firm up in the fridge.)
How to Make the Basketweave Apple Blossom Cake:
Making the Apple Blossoms:
The first thing you need to do (after baking your cakes and making your icing) is to make the apple blossoms. You'll need to make these first, so they'll be good and chilled when you go to add them to your cake.
Make sure to use a buttercream with at least half butter, preferably all butter. If you use a shortening based icing here, it just won't firm up well and it'll be harder to add the flowers to the cake.
Ok, once you've got the buttercream made and tinted pink, add it to a piping bag fitted with a petal tip #103.
Now you'll want to have some parchment squares handy. You can purchase these, or you can just cut your own out of either parchment paper or wax paper. It's much cheaper to just cut your own, than to buy the squares.
Attach a square to your flower nail with a bit of buttercream.
Hold the piping tip with the thin side of the tip facing outward.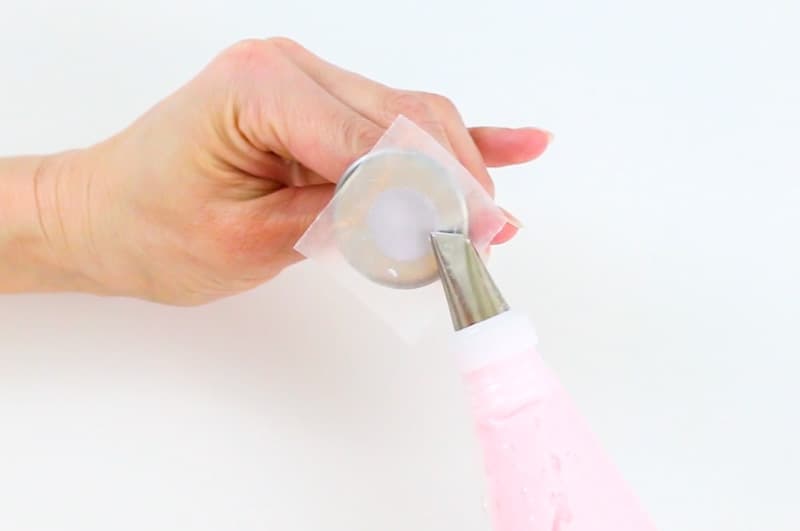 You'll start piping the petals by squeezing the piping bag and turning your flower nail at the same time.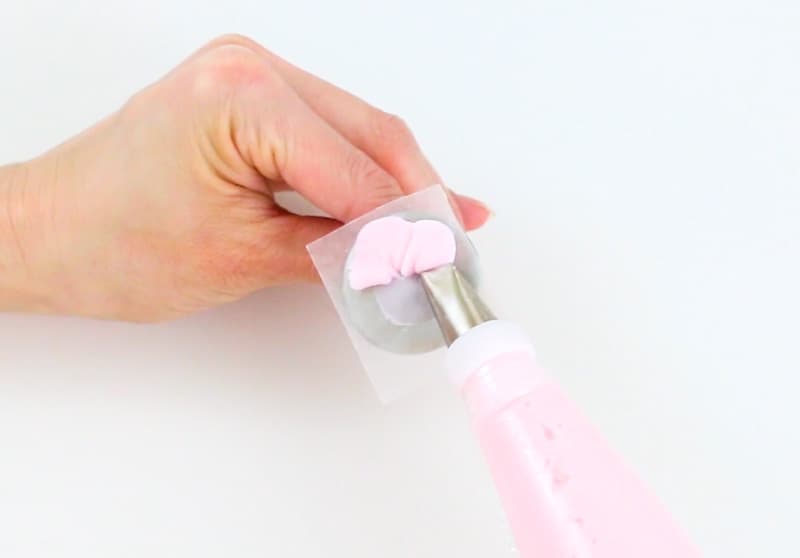 Pipe five petals for each blossom.
It'll look like this when you're done: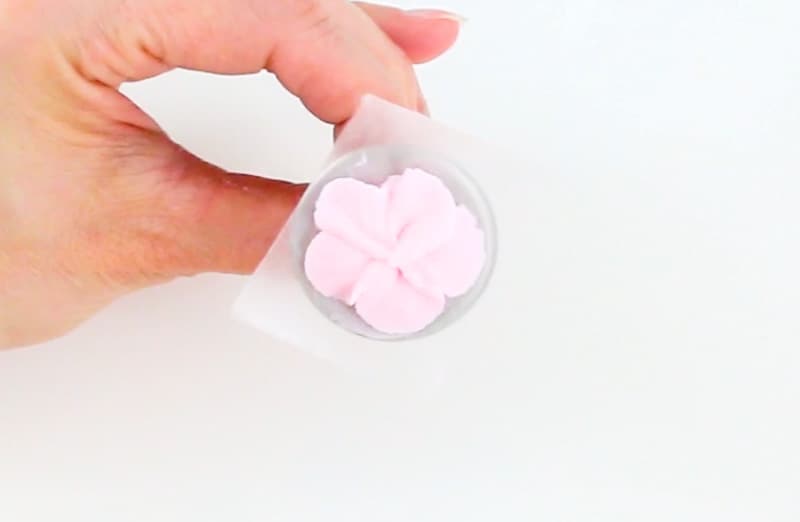 Pipe a bunch of these. You want to have plenty for later. Once you've piped a whole rectangle cake board's worth of them, just pop them in the fridge to chill and firm up a bit.
Once they're chilled a bit, pipe on some white dots with a tip #5 in the middle of each apple blossom. I piped on about four dots into the center of each blossom.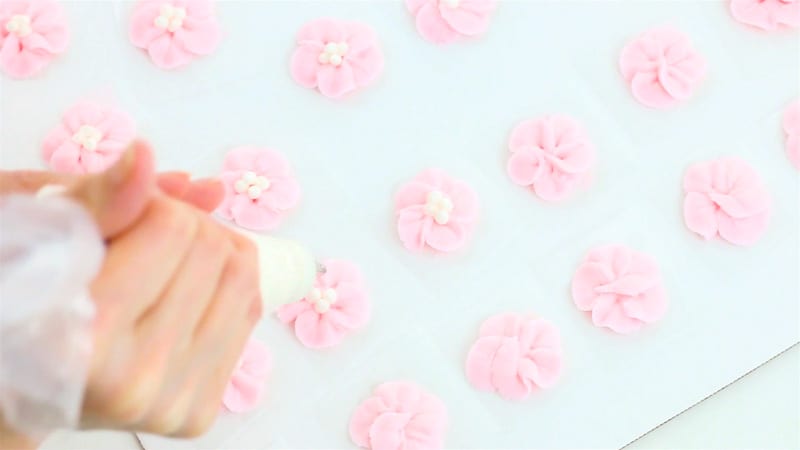 Once you've done that, then pop them all into the fridge to chill while you mix up the gold color.
Take a bit of the edible gold luster dust and mix with a bit of lemon extract or vodka. Make sure not to mix it too thin. You don't want it to run off when you go to add it to your flowers.
Now add the gold to the centers of the flowers. Just lightly dab it on.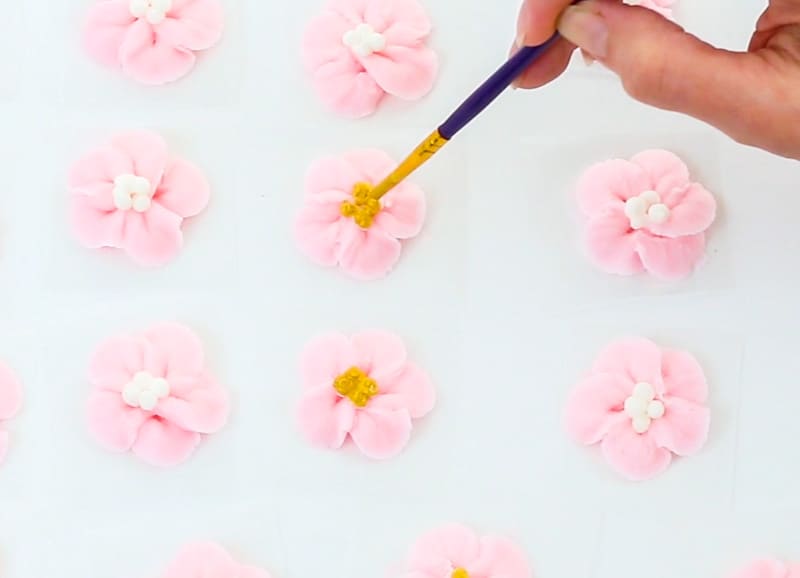 Now take your pearl dust and add it to the petals of your apple blossom flowers. Just add it lightly and don't mix it with extract. You want to add it dry.
This really brings out the veining on the petals and gives them a nice glow.
Now just pop the flowers back in the fridge until you're ready to add them to your cake.
Preparing the Cake:
Now you'll want to 'build' your cake. Just stack one cake layer (I'm using 6″ cake layers) onto a cake board. Add filling, another layer of cake, filling then the third layer of cake. I like to use three layers of cake because it makes for a nicer, taller looking cake.
Top everything off with a crumb coat, then another thin coat of buttercream.
Make sure to smooth it with a buttercream smoother.
For the top of the cake, you'll want to add pink buttercream to the top only. That way no white buttercream shows through when you add the flowers.
Piping the Basketweave on the Cake:
I like to make myself a guide, since I can't seem to pipe a straight line if my life depended on it.
Just take your buttercream smoother and make an indention straight down the side of the cake and mark a line for you to pipe your first vertical line.
Pipe a straight line from top to bottom following the line you just marked with the buttercream smoother.
Now pipe some horizontal lines across the the vertical line. Make sure you leave some space between them. (It kind of looks like football laces at this point.)
Pipe another vertical line to the right, going right over the right side of the horizontal lines you just piped.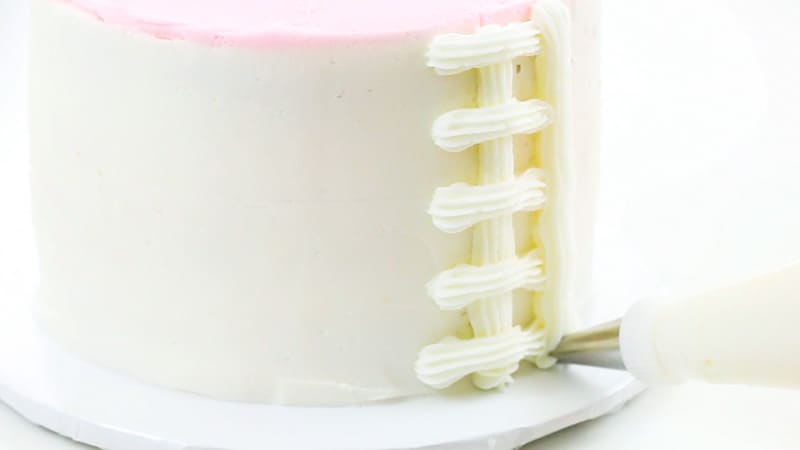 Now pipe on more horizontal lines, but pipe them into the spaces.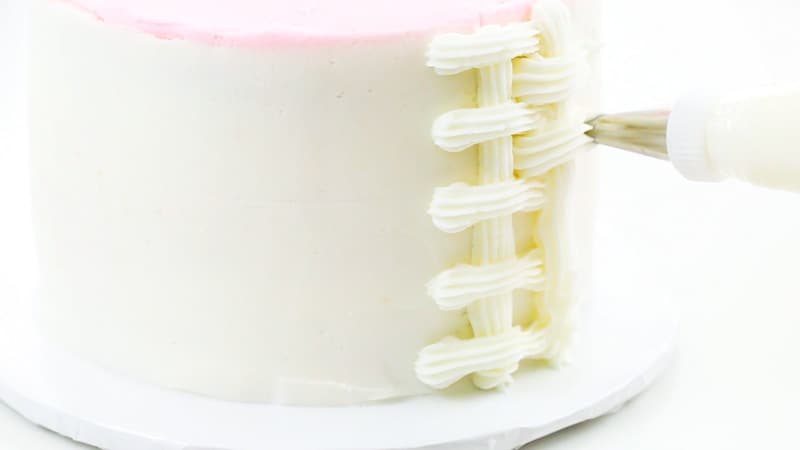 Keep on piping the basketweave. Use the buttercream smoother to mark your horizontal lines. It helps keep everything in line.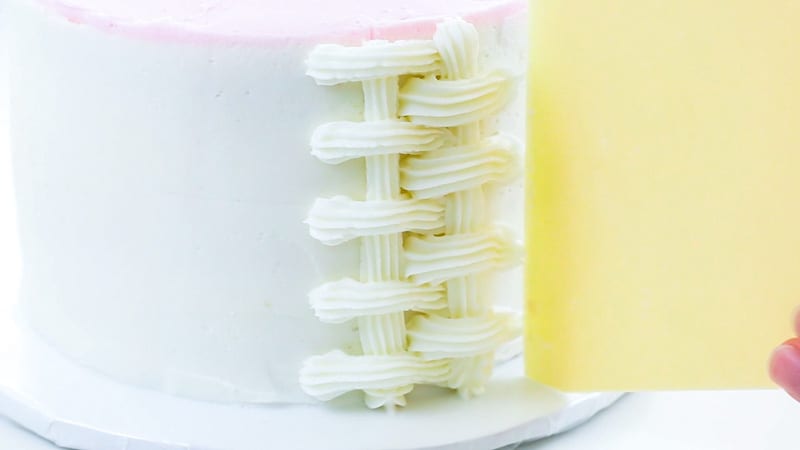 Just keep doing this all around your cake.
Adding the Apple Blossom Flowers:
Once the basketweave is done, you'll work on adding the apple blossom flowers.
You'll need to pipe some of the pink buttercream around the top of the cake to build it up a bit, so it's not so flat when you add the flowers.
Now take your chilled apple blossoms, peel off the wax paper and then add them to the top of your cake. You may need to add a bit of buttercream to get them to stick in certain areas.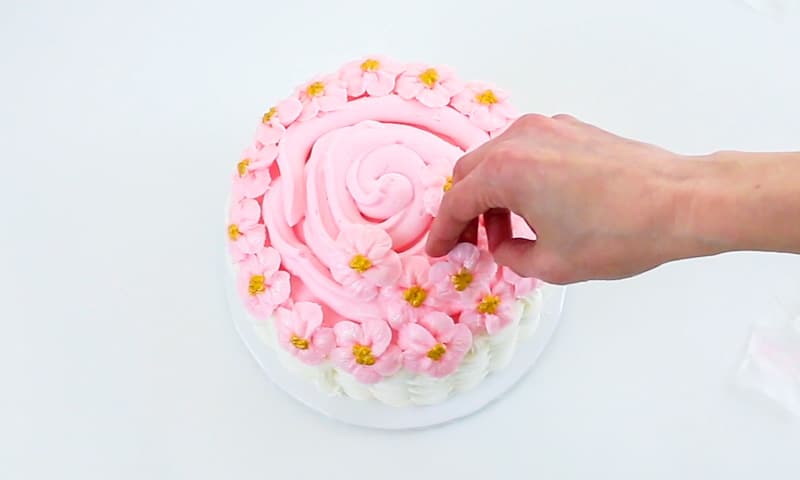 Keep going until the entire top of the cake is covered.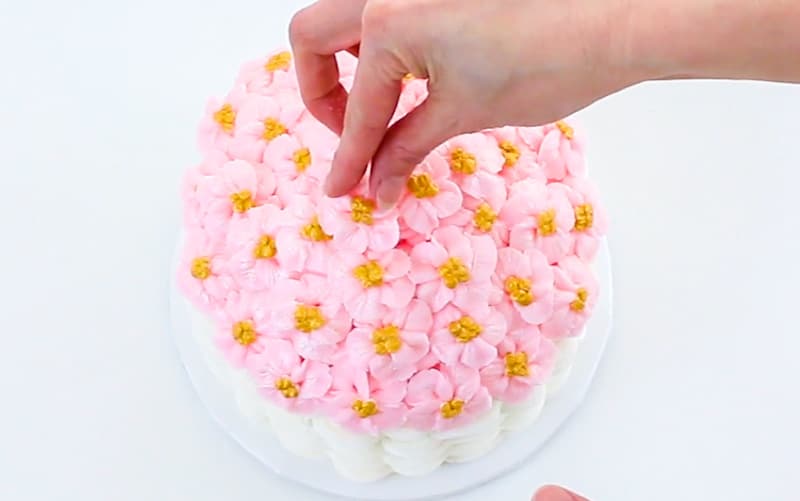 Finishing Up the Cake:
This next part is optional, but I think it adds a little charm.
Just pipe on some extra petals here and there around the top.
Brush on some dry super pearl dust to the petals you just piped. Have a super light touch when you're doing this though.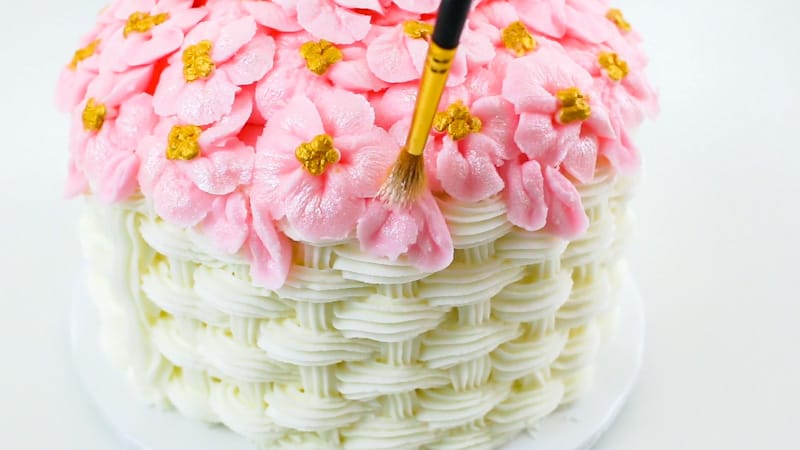 You can pipe some little dots (or berries) in random spots using the round tip #5.
Now you can dab on a bit of the gold luster dust mixed with lemon extract or vodka onto the berries you just piped. Just dab a tiny amount to the tops of the berries.
Ok, that's it! You've got a beautiful cake now! Keep reading for some helpful Tips and FAQs plus the video for making this cake.
TIPS & FAQs for Making the Basketweave Apple Blossom Cake:
Make sure to use a buttercream that uses real butter in it instead of just shortening. You need the buttercream to firm up in the fridge and if you use a shortening based buttercream, it won't firm up as well.
This tutorial uses a lot of buttercream, so make sure to make double the batch you normally make when covering just a regular cake in buttercream. (If you're using my vanilla bean buttercream recipe, you'll need to make at least a double batch…you can always freeze any extra buttercream for later.)
What if my hands are shaky? Oh, you and me both. Anyway, you can use your other hand to brace your piping hand. That helps me a lot and you can see that in the video. That's also why I use a star tip instead of the flat basketweave piping tip. The star tip shows less mistakes.
I don't have gold luster dust, do I have to use it? No, you don't. I just really like gold, so I use it in a lot of things. You could always use some silver luster dust, or just leave the flower centers white.
How many cake layers did you use? I used three layers of 6″ round cakes. One cake mix, or recipe should be enough to fill three 6″ round pans.
What recipes are you using? You'll want to scroll up to the supply section and it lists all the supplies and links to the recipes.
VIDEO FOR THE BASKETWEAVE APPLE BLOSSOM CAKE:
Other tutorials you might like:
Don't forget to pin it below!