This caramel carrot cake is a new twist on the classic family favorite carrot cake. A from scratch cake that is moist with a hint of caramel flavor, then topped with caramel cream cheese glaze. A homemade easy carrot bundt cake you'll love to make over and over.
Hey there! Before you scroll, there's lot's of important stuff in the post!…including the FAQ section, which may answer any questions you might have about this recipe. Enjoy!
Carrot cake is such a comforting food. It's a classic, so I didn't want to change it up too much, but I DO like to keep things interesting, so I came up with this caramel carrot cake.
I think the rich taste of the caramel works really well with the spiciness of the carrot cake. I've even added in a bit of caramel to the classic cream cheese topping.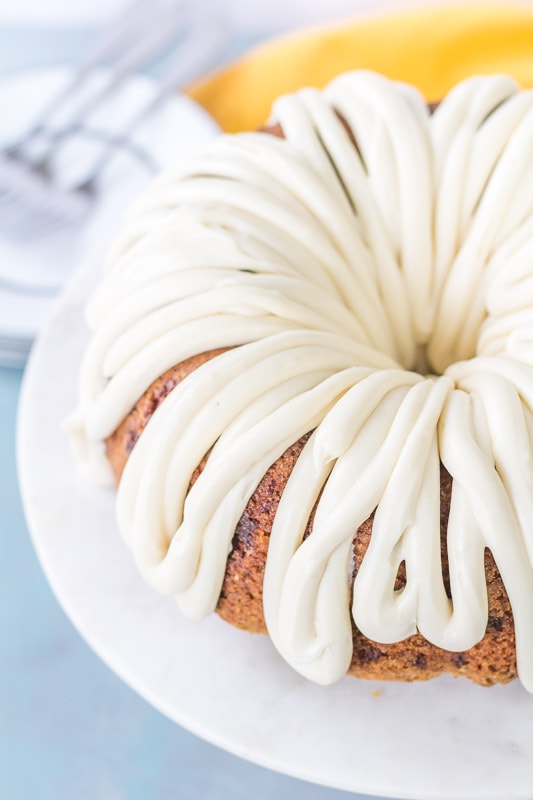 To get your bundt cake to come out of the pan perfectly, just make sure to grease and flour it very well. You can see all my tips for getting your cakes to release here: Tips for Releasing Cakes
LET'S TALK ABOUT SOME OF THE INGREDIENTS FOR THE CARAMEL CARROT CAKE & GLAZE:
Shredded carrots: You're using real shredded carrots in this one and you'll want to shred them yourself and thinly. If you buy the pre-shredded carrots, those can be a little too thick.
On a random note: I've had several people ask me, "Carrot cake has actual carrots in it?". Yes, it does. I always get a little confused when I'm asked that. I mean, apple cakes have apples, pumpkin cake has pumpkin, zucchini cake has zucchini.
I guess it's hard for some to imagine putting carrots in a cake and it coming out actually tasting good. I'm sure you've tasted carrot cake before, but if you haven't…trust me…it's good.
My mom always used to say, "Don't knock it til you try it" and that's true when it comes to carrot cake. Kids will even like this…just don't mention it has carrots in it. This works…I know because I've tried it 😉
Cinnamon: You'll be adding in a bit of cinnamon. Don't omit this because that in combination with the carrots are what gives the cake the classic carrot cake taste.
Caramel Chips: These are really good added to the cake. It gives it a hint of caramel, so it's ends up being not your normal carrot cake. You'll also add a bit to the cream cheese glaze to give it a caramely hint.
Cream cheese: You're going to add cream cheese to the glaze. It gives it a little tartness and cream cheese goes really well with carrot cake.
MIXING METHOD FOR THE CARAMEL CARROT CAKE:
The mixing method for this cake is really easy. Essentially you'll just be adding the liquid ingredients into the dry ingredients, stirring, then adding in the carrots. Super simple.
TIPS & FAQs FOR THE CARAMEL CARROT CAKE:
Make sure to use thinly shredded carrots.
Grate or shred your own carrots. The pre-shredded kind you get at the store can sometimes be to thick. You don't want thick pieces of carrot in your carrot cake.
Don't substitute the baking soda or baking powder.
They do different things and you'll need both in this recipe.
Do I have to use the caramel chips?
No, but that's part of the flavor of this cake. It's meant to be a caramel carrot cake and the caramel bits help to add some flavor and sweetness to it.
Why do I have to chop up the caramel chips?
This is so the caramel chips don't sink to the bottom of the pan while your cake is baking.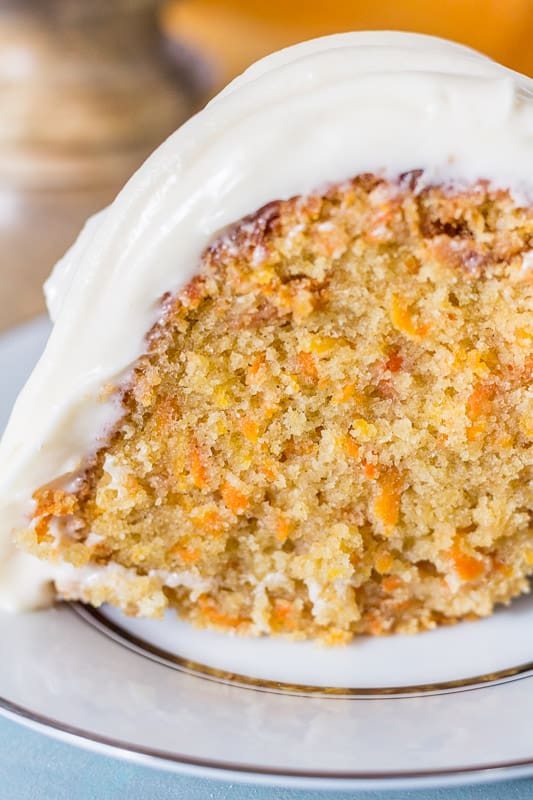 This post contains affiliate links. As an Amazon Associate, I earn from qualifying purchases. 
SUPPLIES/TOOLS USED FOR THE CARAMEL CARROT CAKE:
Ok, let's get to the recipe!
**By the way, this recipe was developed and tested using volume measurements (cups etc.). I do this because most people are used to measuring, instead of weighing. You may use the metric converter button to see the weight (gram) measurements. Those numbers are estimates on weight. Your results may vary a bit if you use the weight measurements.
Caramel Carrot Cake with Caramel Cream Cheese Glaze
This caramel carrot cake with caramel cream cheese glaze is a new twist on the classic carrot cake. This is such a moist cake and the combination of the carrots, cinnamon and hint of caramel work so well together. You can't have just one piece.
Print
Pin
Save
Saved!
Rate
Ingredients
Cake:
2 ½

cups

all purpose flour

2

cups

sugar

1

teaspoon

baking powder

½

teaspoon

baking soda

½

teaspoon

salt

2

teaspoon

cinnamon

4

large

eggs

1

cup

oil

½

cup

milk

2

teaspoon

vanilla extract

2 ½

cups

shredded carrots

(thinly shredded carrots)

1 ½

cups

chopped caramel chips

(I measured one cup, then chopped) (buy one package of caramel baking chips, the rest will be for the glaze)
Caramel Cream Cheese Glaze
½

cup

butter

(unsalted-1 stick)

8

oz

cream cheese

(1 package)

3

cups

powdered sugar

3

tablespoon

milk or cream

(3-4 tablespoons)

1

teaspoon

vanilla extract

½

cup

caramel chips

melted and cooled (just use the amount that's leftover in the bag from making the cake)
Instructions
For the cake:
Preheat oven to 325 degrees. Grease and flour a bundt pan very well.

Shred enough carrots to make 2 ½ cups worth and set aside.

Take 1 to 1 ½ cups of the caramel chips and pulse in a food processor to break them up a bit. If you don't have a food processor, just put them into a large ziplock bag, seal it, and use a rolling pin to break them up. (You need the chips smaller, so they don't sink to the bottom when baking and to distribute the caramel taste throughout the cake better. Set the caramel bits aside.

In a bowl, add the eggs, oil, milk and vanilla. Mix well and set aside.

In a larger mixing bowl, add the flour, sugar, salt, baking powder, baking soda and cinnamon. Mix well.

Pour the liquid mixture into the dry mixture and mix with a whisk or wooden spoon.

Add in the carrots and chopped caramel chips and stir.

Pour into the greased and floured bundt pan and bake at 325 degrees for about 55 minutes.

Cool on a wire rack for about 15-20 minutes. Release from the pan and let cool completely on a rack.
For the glaze:
Microwave ½ a cup of caramel chips plus 1 tablespoon of milk for no more than about 30 seconds. (Just use what's leftover from the bag. ) Add another tablespoon of milk and mix well. Keep mixing until it's smooth. Set aside to cool off a bit.

In a mixing bowl, mix the butter and cream cheese well.

Add in the powdered sugar, vanilla and two tablespoons of milk. Mix well.

Add in the melted caramel chips and mix well. If the glaze is too thick, add in milk by teaspoonful. You don't want it too thin though, or it will run off the cake and pool around the bottom.

Once the cake is cooled, spoon on the glaze, or use a piping bag to drizzle it on.
Video
Notes
Store this cake in the fridge, since it has a cream cheese glaze. Allow to come to room temperature before serving, or microwave a slice for no more than about 10 – 15 seconds.
Make sure to check out the TIPS & FAQs for this recipe in the blog post, which may answer questions about substitutions.
*This recipe card may contain affiliate links. As an Amazon Associate, I earn from qualifying purchases.
Nutrition
Calories:
499
kcal
|
Carbohydrates:
83
g
|
Protein:
6
g
|
Fat:
16
g
|
Saturated Fat:
8
g
|
Cholesterol:
90
mg
|
Sodium:
305
mg
|
Potassium:
212
mg
|
Fiber:
1
g
|
Sugar:
62
g
|
Vitamin A:
4335
IU
|
Vitamin C:
1.3
mg
|
Calcium:
83
mg
|
Iron:
1.5
mg
How to Share
I'd love for you to share this recipe link or tag it, but please do not share screenshots or copy/paste the recipe to social media as the content and photographs are copyright protected and we (bloggers) work really hard on our content. Sharing the link, tagging us on socials and pinning it is super appreciated though!
Don't Forget to Pin it Below!