This is an easy white sour cream cake with a great vanilla flavor. It's moist, super quick to mix up and comes out perfect every time. This is a cake you can easily make over and over and one your family will love.
Hey there! Before you scroll, there's lot's of important stuff in the post!…including a section about updates to this recipe, which may answer any questions you might have. Enjoy!
This recipe is an oldie, but goodie. If you've ever heard of the WASC cake, this is it, but with my spin on it.
It's super easy to mix together and bakes up the same every time. It starts with a box mix, but you add other ingredients, which really makes the difference.
If you are hesitant to use a box mix, don't be. They are so predictable and really an easy way to get started baking cakes.
I find many times when people are just starting to get into baking cakes, a scratch cake seems really intimidating. These doctored cake mix cakes are a great way to get your feet wet in the cake baking world, and they come out moist and tasty pretty much every single time.
This post contains affiliate links. As an Amazon Associate, I earn from qualifying purchases.
I will admit, when I was taking cake orders, I used a scratch cake recipe. It was truly an awesome recipe, but I will tell you no matter how good you are, sometimes a scratch cake just doesn't turn out the same every single time. That's just the nature of a scratch cake.
This cake is a 'no-worries' cake and I use it as the base for my other doctored cake mix flavors now. Try it out! I think you'll love it. Oh, and it's also great as cupcakes.
(And if you're feeling adventurous and want to try your hand at scratch cake baking, you'll want to check out my Favorite Vanilla Bean Cake Recipe. It really is amazing.)
So here's my spin on the WASC cake (which is what it's called in the caking circles). Instead of plain vanilla extract, I use vanilla bean paste. Yes, it really makes a difference.
The next spin is that I use a tiny bit of almond emulsion. You'll notice I didn't say almond 'extract'. There is a huge difference to me. I personally don't care for almond extract, but using a tiny bit of almond emulsion combined with the vanilla extract will knock your socks off.
I know you're probably saying, but I don't like almond flavor! Well, it doesn't taste like almond flavor. It's hard to explain, but the small amount I add to the cake batter, just brings out the vanilla flavor even more.
I've had people ask me what kind of illegal drug did I put into my cakes that makes them unable to stop eating it. Just try it once and I promise I'll get off your back about it 😉
Update on this recipe:
Lately, some of you (as well as I) have noticed this cake isn't baking up the way it used to. (Ex. the middles were sinking slightly and it just didn't have as much bounce.) I initially thought it was because they lowered the amount of cake mix in each box.
I did a little research online and it appears this is a problem a lot of people are having now with doctored box cake mixes. It appears that the cake mix companies have changed not only the amount included in the boxes, but the ingredients and that's causing what was once a favorite recipe, to come out differently.
I decided I'd do some experimenting and came up with something I think gets you closer to the original WASC recipe. The recipe card below reflects those changes, but here's a short explanation:
The first change is since there's less mix in the box, I lowered the amount of water to only a cup. I was noticing (as well as another reader) that when I made this with whole eggs, it came out much better, so instead of 4 egg-whites, I've changed it to three eggs. Although, it won't be a bright white cake, it now bakes up much better, since the cake mix formula was changed.
I hope you try it out and let me know how it goes. I've also found that this same recipe works wonderfully with other flavors. I just recently tried it with a Red Velvet cake mix and it was amazing.
Need an icing recipe? Try this cake with these buttercream recipes:
You also might want to check out my post about freezing cakes and cupcakes. There are lots of tips there to help you freeze them successfully.
Now onto the recipe!
***I write recipes using volume (cups) measurements because here in the U.S., this is what people are used to seeing and using. For weight in metric measurements, click the 'metric' button under the ingredients in the recipe card. The weights are converted by a program, not me, and it's a best guess. Please note that because I develop recipes using 'cups' I can't guarantee that weighing the ingredients will produce the exact same results.
Recipe: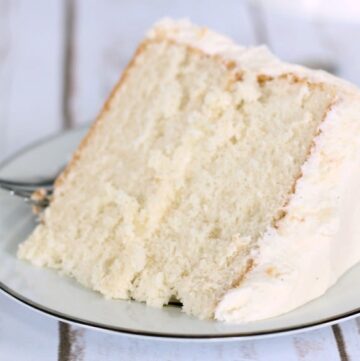 Easy White Sour Cream Cake
This is an easy white cake with a great vanilla flavor. It's moist, super quick to mix up and comes out perfect every time. This is a cake you can easily make over and over and one your family will love.
Print
Pin
Save
Saved!
Rate
Ingredients
1

box

white cake mix

Make sure it's a mix of at least 15 oz. Pillsbury works best

1

cup

all purpose flour

1

cup

sugar

¾

teaspoon

salt

1

cup

water

2

tablespoon

vegetable oil

2

teaspoon

vanilla paste

(you can use vanilla extract if you don't have vanilla paste)

½

teaspoon

almond emulsion

(this is optional, but gives the cake that secret ingredient taste)

1

cup

sour cream

3

large eggs
Instructions
Preheat oven to 325 degrees. Grease or spray your pans.

Put the dry ingredients in a bowl and whisk together.

In another bowl, mix the remaining ingredients, then pour onto the dry ingredients.

Beat on medium about two minutes. Scrape down the sides of the bowl, then beat for another minute.

Pour into greased pans.

Bake at 325 degrees for about 40 – 50 minutes. Cakes are done when a toothpick inserted into the middle comes out with a few moist crumbs on it, but no liquid batter.

Set cake pans on wire rack to cool for 10 minutes, then turn out of the pans onto the wire racks to cool completely before adding buttercream.
Notes
Baked cake layers can also be frozen for later use.
Nutritional information does not include icing.
This recipe card may contain affiliate links. As an Amazon Associate, I earn from qualifying purchases.
Nutrition
Calories:
339
kcal
|
Carbohydrates:
60
g
|
Protein:
4
g
|
Fat:
8
g
|
Saturated Fat:
3
g
|
Cholesterol:
50
mg
|
Sodium:
476
mg
|
Potassium:
80
mg
|
Sugar:
35
g
|
Vitamin A:
180
IU
|
Vitamin C:
0.2
mg
|
Calcium:
123
mg
|
Iron:
1.5
mg
Baking at higher elevation?
Adjustments will need to be made for that. This website does not specialize in higher elevation baking. Please take time to do your research on what adjustments should be made.
Want to support this blog?
Feel free to leave a tip here: Tip Jar!
Disclaimers
To see food safety, allergy & nutrition disclaimers, go here: Disclaimers
How to Share
I'd love for you to share this recipe link or tag it, but please do not share screenshots or copy/paste the recipe to social media as the content and photographs are copyright protected and we (bloggers) work really hard on our content. Sharing the link, tagging us on socials and pinning it is super appreciated though!