I've been seeing a lot of chocolate sails around pinterest. They're usually large chocolate pieces sticking out of the top of cakes. I think they're cute and they're not really too difficult to pull off. They're just a little delicate. I thought, wouldn't it be cute to make mini chocolate sails for cupcakes!
So, I'm a big fan of metallics (or really any kind of anything that's shiny and glittery), so in true 'Kara form' I decided to give my sails a lil' somethin' special. I covered them in edible metallic!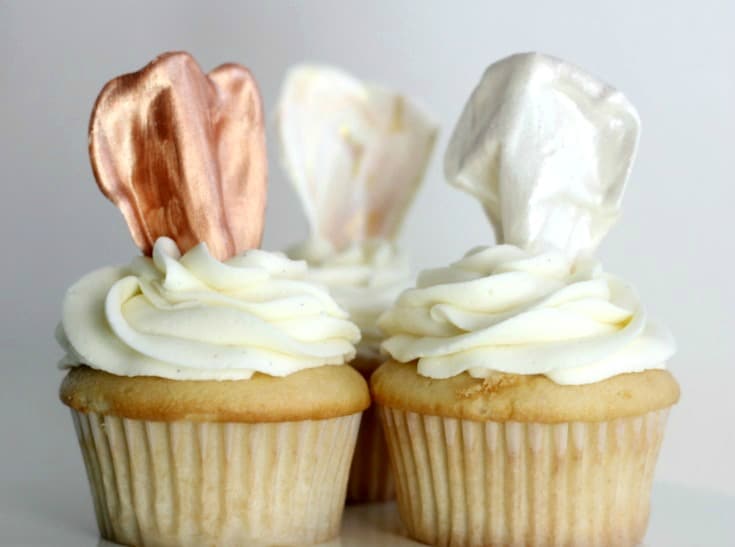 I couldn't just decide on one though. I had to have three different options. (By the way, there's a video close to the end of this post that will show you exactly how to make them.)
This post contains affiliate links. As an Amazon Associate, I earn from qualifying purchases. You can see my policies linked in the website footer.
Items you'll need for the mini chocolate sails:
Bright White Candy Melts
Candy gel color (for the marbled chocolate sails)
Small Icing Spatula
Edible Copper Sparkle Dust
Edible Silver or Super Pearl Dust
Edible gold dust
Paint brushes used only for food
Vodka or Lemon Extract (for painting the sails)
Paper clips or small binder clips
Wax paper or parchment paper cut into small rectangles
Baked Cupcakes
The Marbled Mini Chocolate Sail:
For the marbled sails, I just spread a little of the melted candy melts on a rectangle of wax paper. I then took a toothpick and add a little of the red candy gel coloring, took my small spatula and smeared it around.
I took the bottom of the wax paper square, crimped it and attached it together with a paper clip. You can also use a small binder clip.
I popped them into the fridge for about five minutes and then pulled the wax paper off the sails. These are delicate, so go slow.
I then added some lemon extract to edible gold dust and painted it on in small random areas.
Don't forget to check out the video at the end of this post to see how they're made!
The Copper and Silver Chocolate Sails:
These are the same process as the marbled chocolate sails except you'll just use plain white candy melts.
Once you've separated the sail from the wax paper, add some lemon extract or vodka to the petal dust and paint onto your sails.
You'll want to do several coats.
Set aside to dry and then just insert into the buttercream on your cupcakes.
It's best to keep these chilled so the buttercream can stay firm to hold up the chocolate sails.
Here's the video that will show you all the steps.
So, try them out and tell me what you think!
DON'T FORGET TO PIN IT FOR LATER!
FREE: 7 Quick & Easy Tips to Make Your Cakes Look Professional
Ready to start making cakes that look amazing?
Grab this FREE guide with quick and easy tips to make your cakes actually look like a professional made them, so you can start showing them off!

See our privacy policy here.