The best tips for cake boards, with tons of ideas, how to make your own DIY cake boards plus how to cover a cake board using practically anything.
Whether you're making your own or covering a cake board in fondant, fanci foil, or paper, there are tons of ideas here for decorating cake boards and bases.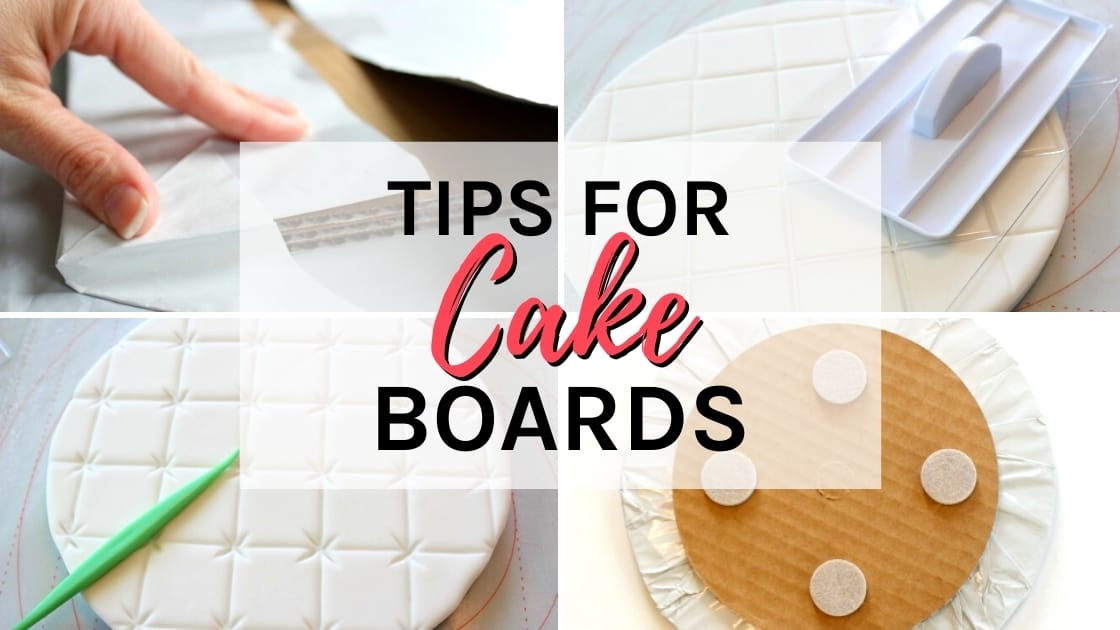 Here we'll go through how to make and decorate your own cake boards and bases without needing to buy the fancy ones.
Okay, confession time…I have a small pet peeve. Are you ready? It's the 'forgotten cake board'.
Now, I don't mean that someone actually forgot to put the cake on a cake board, I mean when they make a truly great looking cake and then forget about the design of the cake board.
I know what you're thinking, "Do they even really matter that much?" In my opinion, it can make or break a cake. You may not think so, but the cake board really completes the whole picture.
Have you ever seen a beautiful cake sitting on top of a flimsy, thin, unfinished Wilton board or a board covered in regular foil? It lowers the level of that beautiful cake.
I like to think of the cake board as the jewelry of your wardrobe. You don't want it to outshine your entire outfit, but you want it to add a finishing touch.
So, now I'm going to pull back a little and tell you I'm not getting onto you. You don't have to go to the principal's office if you've been neglecting your cake boards.
We have ALL done it. I promise…and to prove it, I'll show you.
I think by showing you examples of what I did wrong, that will help to prove my point that a good cake board (and I don't mean they have to be overdone) can really complete your design.
By the way, there are several videos close to the end of this post that go through several different ways to cover a cake board.
Ok, let's get started.
Jump to:
Types of cake boards:
First we'll talk about the different types of cake boards and bases. Now, this isn't every single kind of cake board ever known to man, but they are what is generally used.
There's also MDF cake boards. These are made out of wood composite. They're mainly used when making large stacked cakes or sculpted cakes.
For this post, we'll focus on cardboard cake circles and foam core cake boards. (MDF boards can be decorated in the same way).
One quick thing to note: There are premade cake bases you can buy and I do use these especially with buttercream cakes because they are easy to wipe off if my buttercream goes everywhere.
I'm about to tell you the ones NOT to buy, but there are many that (as my mother would say) don't look tacky.
Make sure if you purchase a premade board, that it will be sturdy enough for your cake and that it isn't super shiny or flashy.
By the way, if you want to get some tips on how to stack cakes, see this post.
What NOT to do with cake boards:
Ok, time to get real. When I first started decorating cakes, I focused so much on the cake that I neglected the cake base. Well…I'll just show you.
Ok, this was a birthday cake I made for myself the first year I was making cakes. So, the cake board isn't actually horrible, but it's so dang shiny, it casts this weird glow on the cake.
The main problem with it though is that it's so thin. It actually bowed when I picked up the cake.
Oh Lord…this next one is just terrible. This is one of the Wilton bases. Now, I love Wilton, but definitely not this cake base. Again, it's super shiny and the silver totally takes away from the cake.
I read somewhere that these bases are actually just cardboard cake circles attached together and then some sort of silver wrapping over the whole thing. It's just not good.
Now, we'll talk about the different options and I'll show you some ideas on how to use them.
Cardboard cake circles: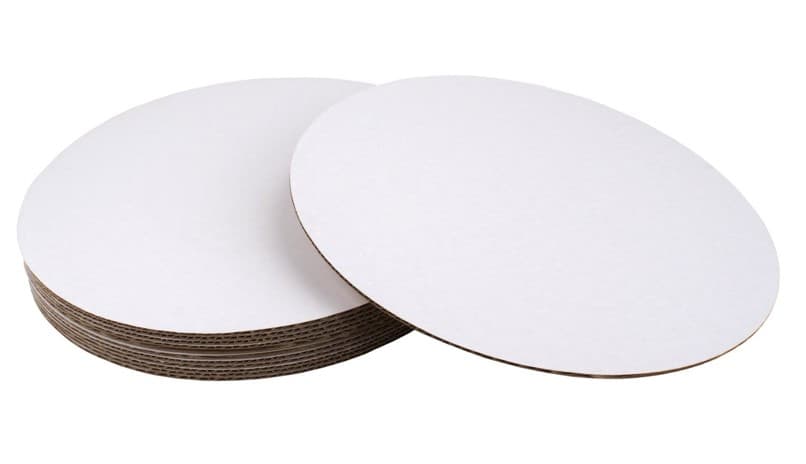 These are used under each cake tier, but you can also attach several larger ones together to make a cake base depending on how heavy your cake will be.
If you're making a really large cake, you should use something sturdier, but these are great for single tier cakes.
Here's how I use them.
Covering a round cake board:
First I tape several together with packing tape.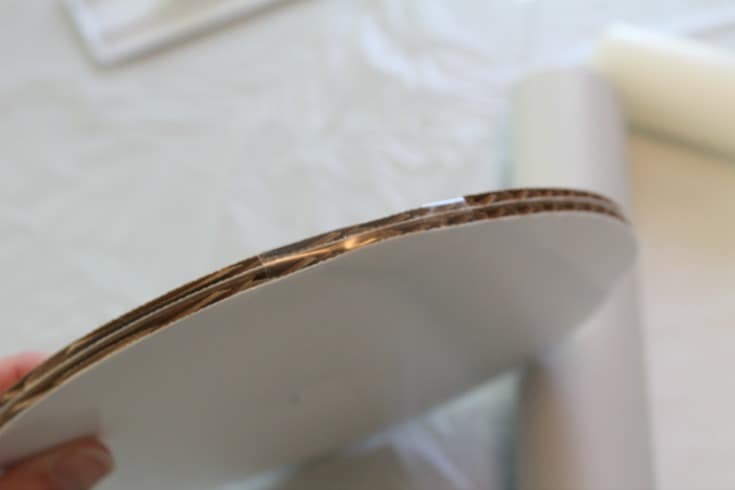 Take some fanci foil in white (I REALLY dislike the silver fanci foil) and cut it out larger than your base. Set your boards face down.
For the circle cake board, pull up a piece of the foil and tape it to the back with packing tape.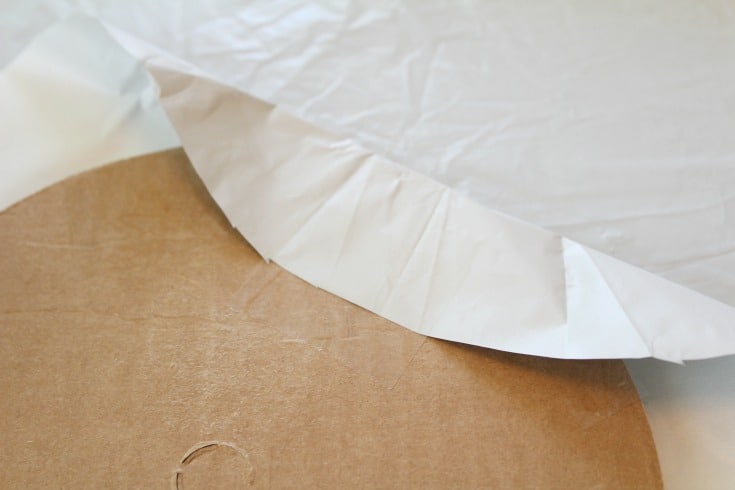 Put your finger under the paper, pull up on it a bit and then fold over and tape down.
Keep going around until it's all covered. No, it's not gonna look pretty.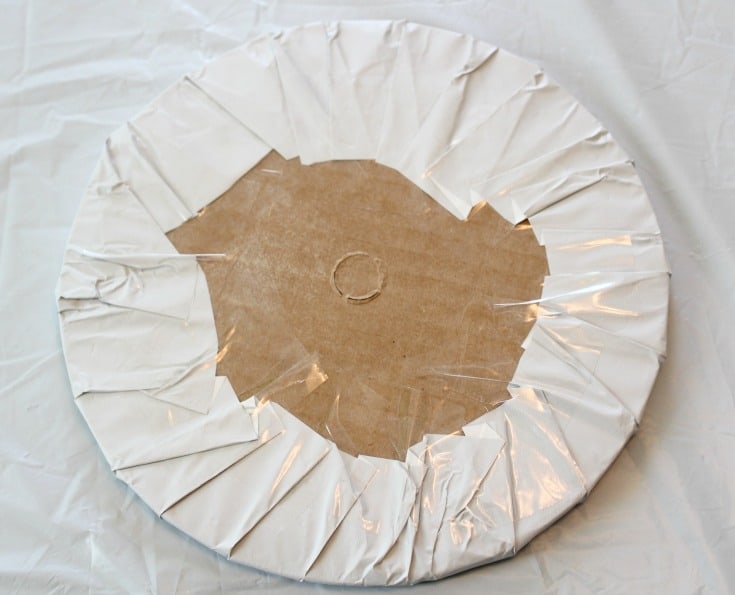 Now, here's a trick: Take another one or two smaller cardboard cake boards and attach them to the bottom with some hot glue.
This will allow the edges of the cake base to sit up from the table a bit and it's much easier to get your fingers under the board when you go to pick up the cake.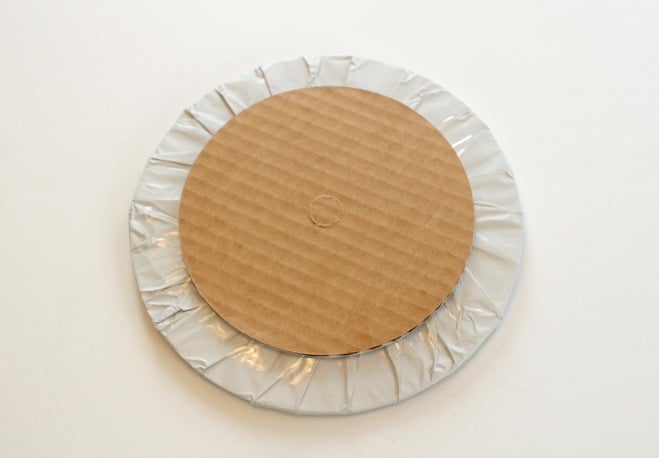 I also sometimes add some little 'felt feet' to the bottom. It lifts it up a bit more. Neat trick, huh?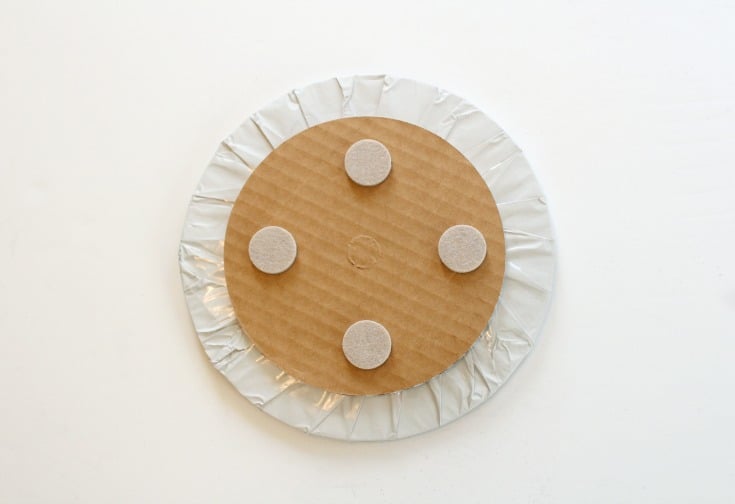 Take your board and roll the edges on the table to flatten down any little pointy parts.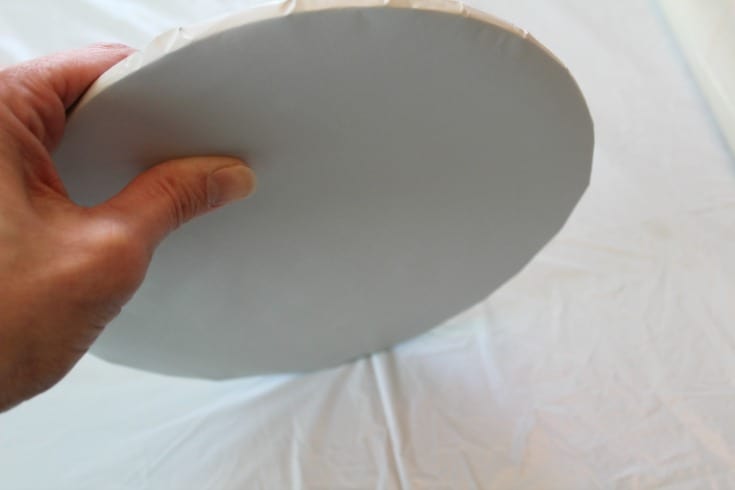 You can even glue a ribbon around the edge now if you want.
Covering a square cake board:
This is very similar to covering a round cake board. I wrap mine like you would wrap a present.
Tape several boards together, then tape each side of the foil down to the back of the board.
Now, push in the foil at the ends like you're wrapping a present.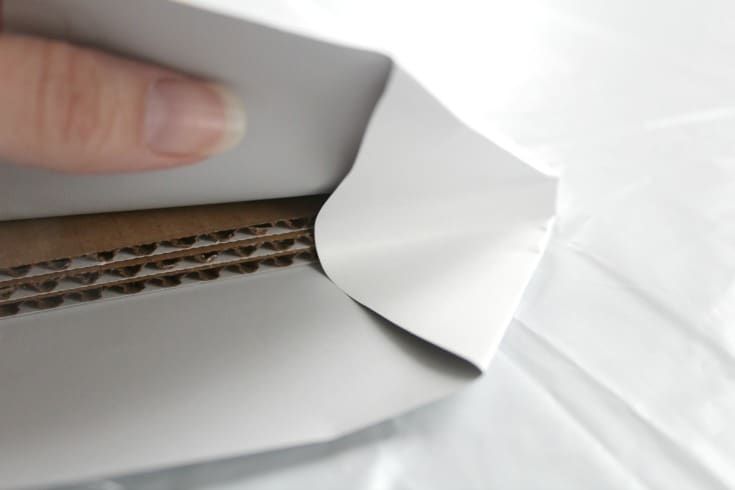 Lift up the top and fold back. Tape to the board.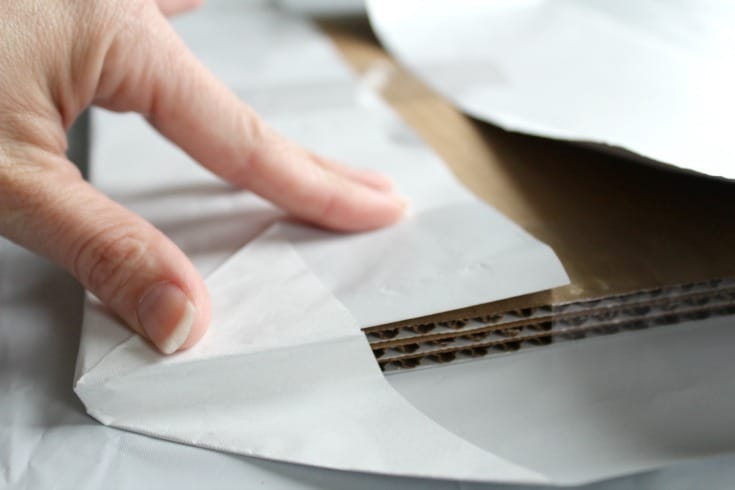 Now, take that bottom flap, pull up over the side and tape to the back.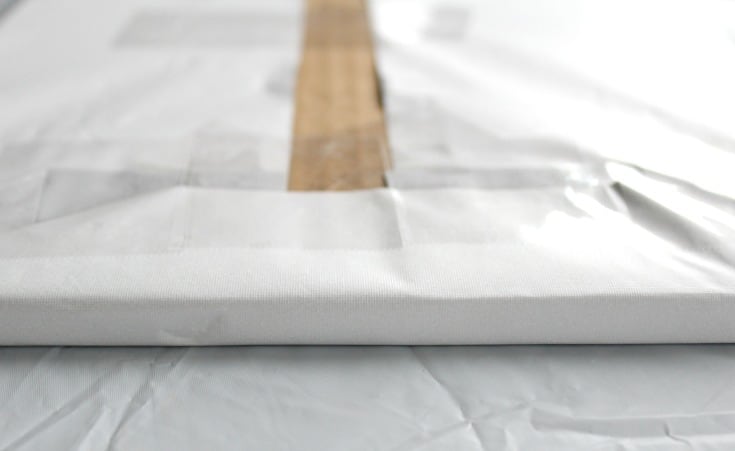 See? It's like getting a little present right?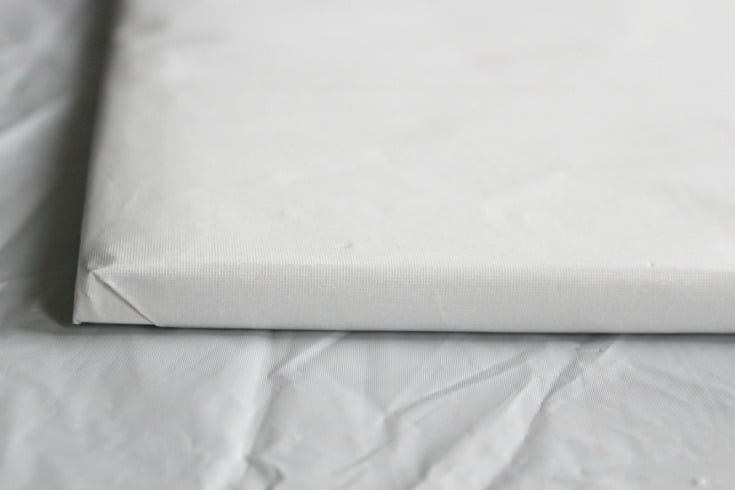 At this point, you can add some smaller square or rectangle boards to the back or you can just stick on some felt feet like we did for the round board.
You can also add some ribbon around the edges.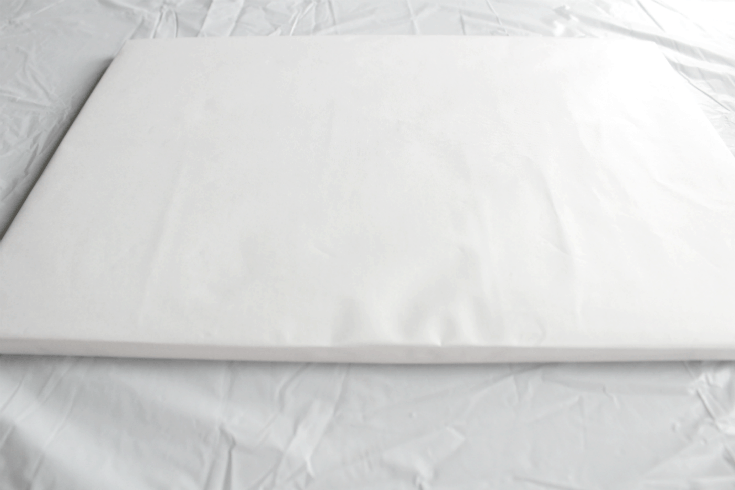 Ways to decorate them using fanci foil:
Here are a couple more ideas of covering cake boards using the fanci foil and ribbon, which just takes it up a notch and isn't so plain.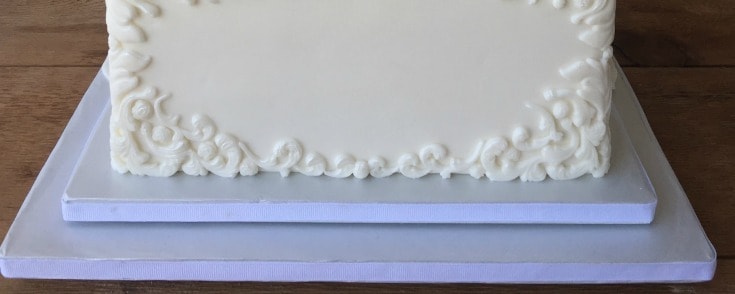 Foam core cake boards: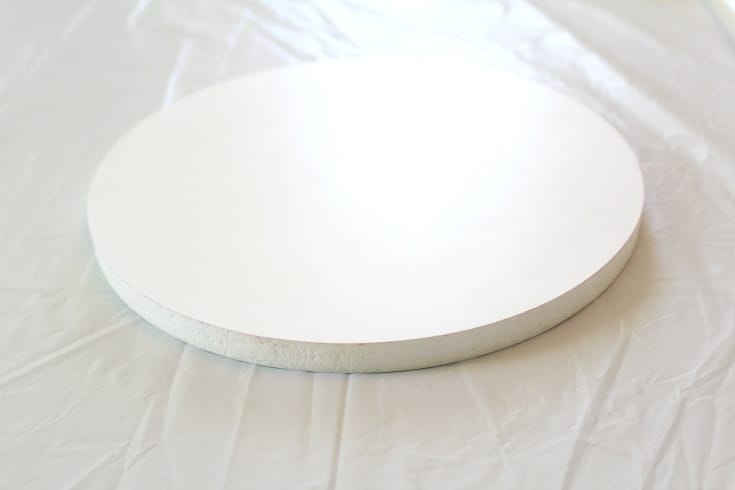 Ok, these are my absolute favorite. They're light, yet sturdy at the same time. They usually come in ¼ inch to ½ inch thicknesses.
I've used ¼″ foam core boards between each tier (not layer, of course) of cakes when I'm stacking a cake that will be very heavy, but I normally use the ½″ thick foam core board for the base of cakes. It is extremely sturdy.
By the way, if you want even more details about the anatomy of a decorated cake (like when to use boards and bases and how many layers of cake to use), you'll want to check out this post.
How to cover them with fondant:
You can cover foam core cake boards the same way you covered the cardboard cake boards with the fanci foil. You can also cover them with fondant, then attach a ribbon.
Here's a board I covered with marbled fondant: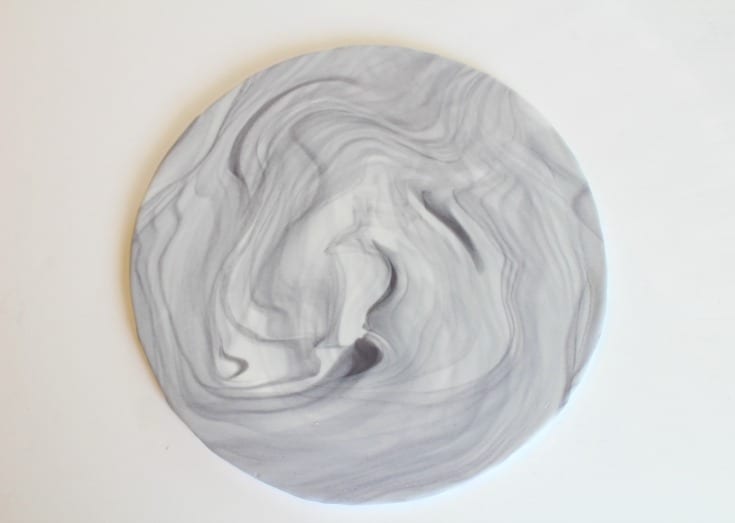 Video of marbled fondant covered cake board:
I also covered this board in a quilted fondant pattern.
Video of quilted fondant covered cake board:
Other says to decorate them:
Another way I like to cover boards is with scrapbook paper. Usually you can get sheets that are 12 x 12 inches, so that works great for smaller cakes that will set on a 10″ to 12″ board.
Just set your board over the scrapbook paper and trace around it. Cut it out and glue to the cake board.
Now, you want to cover that with clear contact paper to seal it, otherwise it will absorb any icing that gets on it. Then just add a ribbon around the edge.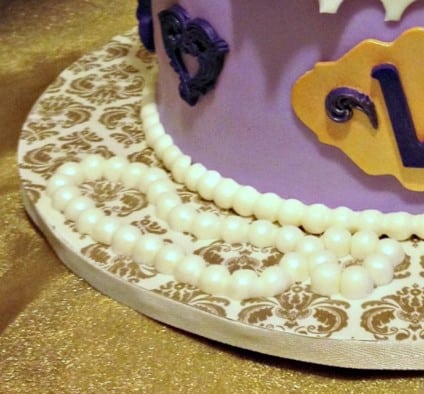 Video on how to cover them:
Final notes & helpful tips:
I like to cut a little circle out in the middle of whatever is covering the cake board, add some melted candy coating to the middle of the board and then set the cake on top on it (the cake itself will be sitting on it's own board the same size of the cake).
This way the cake will be good and stuck to the base board and not just what's covering the base board.
(That's all in the video above as well.)
Make sure that whatever cake base you choose, it will be sturdy enough for what you're putting on it.
I like to make my bases at least two inches larger than the cake itself. That gives you an inch around the cake.
Sometimes I go even larger if I want to add decorative items to the board or if there will be a floral arrangement close to the bottom of the cake.
Don't forget to finish your edges with ribbon.
Don't forget to attach another cardboard round or some felt feet under the base to give it some height and make it easier to pick up.
Please, please don't use regular aluminum foil to cover your boards. There are so many better options that are just as easy but look so much better!
So there you have it! Some really great ideas to get you started.
For some added bonus points, go back to the start of this post and look at those cake bases where I talked about what NOT to do and compare them to the others. It makes a big difference, right?
Other posts you might like:
Don't Forget to Pin it for Later!