This rich chocolate cake is covered in chocolate buttercream, topped with chocolate covered cake balls, then covered in pourable ganache.
Ok, I have a question for you. Do you like chocolate? No, I mean do you REALLY like chocolate because if you do, then this Chocolate Heart Cake Ball Cake is THE cake for you. Plus, I've included the recipe and instructions for making pourable ganache. Yep, there's some serious chocolate goin' on here.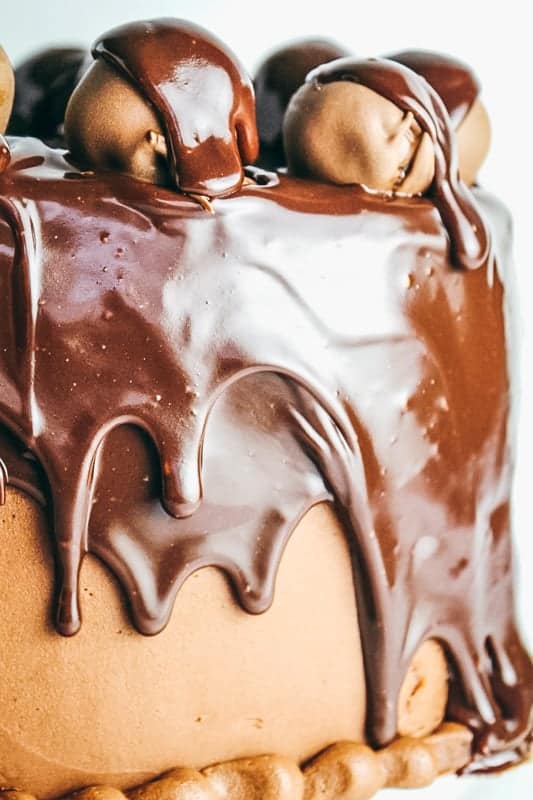 This cake is so rich, but SO good. It's perfect for Valentine's Day, an anniversary, a groom's cake, or just anytime you feel like you need a mega dose of chocolate.
This cake is three layers high. Originally I was going for four layers, but when I started putting it together, well four layers just seemed pretty extreme. (As if adding chocolate buttercream, chocolate ganache and chocolate cake balls wasn't already extreme.)
Anyway, I decided to go with two layers of chocolate and a layer of vanilla cake in the middle.
Supplies You'll Need for this Cake:
Cutting Out the Heart Shape:
(Also, don't miss the handy dandy video at the end that will show you how to put this mammoth of a cake together.)
Here's the thing: I don't have a heart shaped cake pan. (Horrified screams) I know, I know. Anyway, I kind of like challenges and I like doing projects with the supplies I have on hand.
I printed off some clipart of a heart in the size I wanted, then traced around it on a cardboard cake circle. I then cut the heart out. (Whoa, that sounded terrible.) I meant that I cut the cake circle into a heart shape.
I stacked and filled three layers of square cakes, set my heart cake board face down on top, then cut off the cake around it. SAVE YOUR CAKE SCRAPS! You'll use them later.
Now, flip the cake over and now your cake board is on the bottom and is the exact shape of the cake. Now, just set it on the cake base. (I didn't get pictures of this, but you can see in the video near the end of the post.) Preferable, you'll add a little melted candy melts to your cake base before you set your cake on it, so it's sturdy.
Icing the Cake:
Now, you'll ice your cake with chocolate buttercream and use your buttercream smoother to smooth it as best you can. You'll want to chill it afterwards. It'll need to be cold when you add the poured ganache later.
Make your Cake Balls:
Now take your cake scraps, add a little buttercream and roll them into balls. Pop them in the fridge to chill. You can add vanilla or chocolate buttercream…whatever you prefer. (And I just mixed the chocolate and vanilla cake scraps together.)
Once your cake balls are chilled, melt your chocolate bark or candy melts and dip your cake balls.
Set them back in the fridge to chill.
Making the Pourable Ganache:
This ganache is great for pouring over cakes. The ratio is not the same as you would use to ice an entire cake…this one will stay semi-soft, but not so liquidy that it doesn't firm up a little. For me, I don't want to cut into a crunchy layer of chocolate. I want it to be smooth and creamy. Yum!
The ratio for this pourable ganache is a 2:1 ratio. That's two parts milk chocolate to one part whipping (heavy) cream. You'll need to get yourself a scale. You want to measure the ingredients for ganache by weight. (I've included the printable recipe at the end of the post.) If you use semi-sweet chocolate instead of milk chocolate, you can probably get away with using a 1:1 ratio of chocolate to cream. I prefer the milk chocolate though which is best at a 2:1 ratio. Yummy.
Weigh your chocolate. Don't forget to zero out your scale when you set your bowl on it. I used 30 oz of milk chocolate chips. Set these aside.
By the way, this is gonna make A LOT of ganache. If you don't want that much, you can probably half the recipe, but I like to have extra. It lets me pour two coats onto the cake and gives me a bit extra to cover the cake balls plus to drizzle on ice cream later 😉
Next, weigh out your heavy cream (in some areas it's called whipping cream). I used 15 oz.
Heat your cream to almost boiling, then pour over your chocolate chips.
Let it sit there for several minutes and then stir it. The chocolate may not be completely melted. If it's not, just pop it in the microwave for about 20 seconds and then stir again. You may need to do this a couple of times. Be careful though and stir very well between heating it. It's easy to overheat the chocolate.
Now cover the ganache with plastic wrap. Push the plastic wrap all the way down onto the surface of the ganache, so it doesn't form a skin.
It will need to sit out until it cools down. It doesn't have to be completely room temperature, but you don't want to pour super hot ganache over buttercream. You can pop it in the fridge and use it the next day. You'll just need to be very careful heating it back up, since it will harden some in the fridge. If you pop it in the microwave to heat back up, only heat it in 20 – 30 second intervals and at 50% power. Mix well after each time. If the ganache heats too unevenly, it could separate.
Finishing the Chocolate Heart Cake:
Now, take your cake out of the fridge. Pour your slightly warm ganache over it and spread it a bit with a spatula so it drips down the sides.
Add your cake balls to the top and then spoon a little ganache over each.
Want to see all the steps in action? Here's the video:
Now, just cut into this chocolate heaven and chow down.
Oh, and here is the pourable ganache recipe:
Recipe: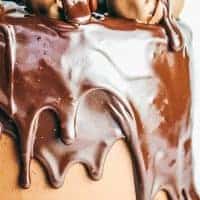 Pourable Ganache
Rich and smooth pourable chocolate ganache. Great for pouring over cakes or ice cream. It doesn't harden fully, but remains slightly soft. No cutting into a crunchy cake.
Print
Pin
Save
Saved!
Rate
Servings:
12
servings (enough to cover an 8″ round cake)
Ingredients
30

oz

semi-sweet or milk chocolate chips

15

oz

heavy cream

(called whipping cream in some areas)
Instructions
Heat the cream to almost boiling.

Pour over the chocolate chips and let it set for several minutes.

Stir well. You will still have some chocolate that isn't melted. Microwave for about 20-30 seconds and stir well again. You may need to do this a couple times.

Do not heat your chocolate too much or it can cause your ganache to separate. Just make sure to stir it very well between each round in the microwave. Sometimes it takes the chips a little bit to melt and stirring helps the process.

Now take some plastic wrap and cover your ganache while it cools down. Press the plastic wrap all the way down to the surface of the ganache. It needs to actually touch the ganache, so a skin will not form on the top.

Let the ganache cool. You'll still want it a little warm, but don't pour hot ganache over buttercream. You'll also want your cake to be chilled.
Notes
Ganache can be kept in the fridge for about a week. You can reheat it in the microwave, but only heat at about 20-30 second intervals and at 50% power. If it heats unevenly, the ganache could separate. Stir well after each round in the microwave.
This recipe makes a lot of ganache, but you'll have a bit extra to pour over the cake balls plus you can use any leftovers to pour over ice cream! This recipe card may contain affiliate links. As an Amazon Associate, I earn from qualifying purchases.
Nutrition
Calories:
532
kcal
|
Carbohydrates:
38
g
|
Protein:
5
g
|
Fat:
40
g
|
Saturated Fat:
23
g
|
Cholesterol:
52
mg
|
Sodium:
20
mg
|
Potassium:
428
mg
|
Fiber:
5
g
|
Sugar:
26
g
|
Vitamin A:
555
IU
|
Vitamin C:
0.2
mg
|
Calcium:
67
mg
|
Iron:
4.5
mg
Baking at higher elevation?
Adjustments will need to be made for that. This website does not specialize in higher elevation baking. Please take time to do your research on what adjustments should be made.
Want to support this blog?
Feel free to leave a tip here: Tip Jar!
Disclaimers
To see food safety, allergy & nutrition disclaimers, go here: Disclaimers
How to Share
I'd love for you to share this recipe link or tag it, but please do not share screenshots or copy/paste the recipe to social media as the content and photographs are copyright protected and we (bloggers) work really hard on our content. Sharing the link, tagging us on socials and pinning it is super appreciated though!
So I hope you try this out and share it with someone you love. Oh and I think you'll probably need a glass of milk too.
Don't Forget to Pin it for Later!