Cute and kid friendly, these ski slope cupcakes are a fun winter treat. These Christmas cupcakes are such a clever holiday idea and hey who doesn't love a bit of extra icing on their cupcakes?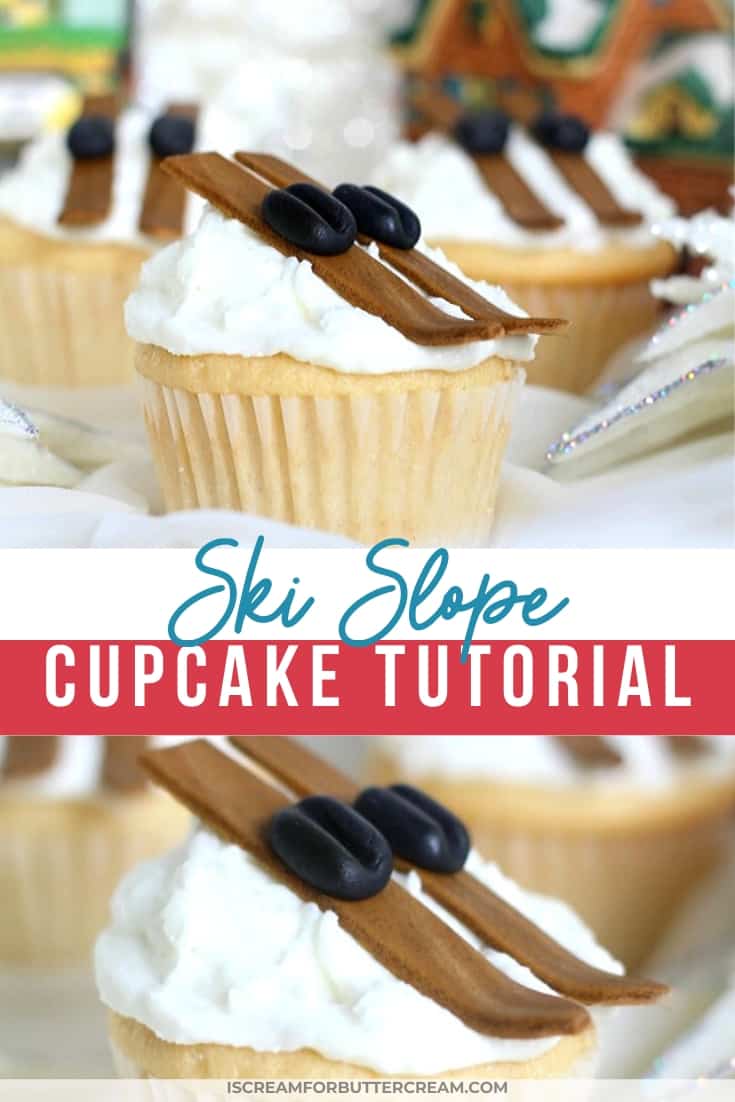 Here's something interesting…I've never been snow skiing. Wow, right? Well, I live in Texas, so there's not much opportunity to go snow skiing here.
I've also never traveled to another state where I COULD go skiing. Well, I didn't let that stop me from making these cute little ski slope cupcakes.
These little cuties are also the injury free way to go skiing. I'm a klutz so if I ever actually go skiing, I know I'll break something. I won't let that fact keep me from trying though.
Maybe if I wear enough layers of clothing, I can sort of pad myself a little. Anyone else thinking about that old commercial of the little boy who stuffs his coat full of Charmin?
For these cupcakes, I went with the old fashioned wood-grain skis. I think they look a little vintage, which I like. I didn't get too many in-progress pictures this time.
I captured everything on video, but I wanted to give you a little extra detail before we get to that.
Supplies for the Ski Slope Cupcakes:
Baked cupcakes: Here's my favorite vanilla cake recipe: Vanilla Bean Cake
If you'd like a super white cupcake, you'll want to try out this recipe: Moist White Cake
Vanilla buttercream (here's my recipe for Vanilla-Bean Buttercream) If you want a super white icing, you'll want to check out this recipe: Bright White Heat Stable Buttercream
Medium brown, cream and black fondant
Brown petal dust or cocoa powder
Caramel brown petal dust (optional)
Lemon extract or vodka for painting
Paint brush used only for caking
Small fondant rolling pin
Small pizza cutter or knife to cut the fondant
Making the Ski Slope Cupcakes:
You'll first take your two brown colors of fondant and roll them into logs of all sizes. Mash them all together, roll up and then roll into a log again. Do this several times to get the wood grain effect.
You'll take a ruler or straight edge and cut the strips for the skis. Cut one end into a point.
Set them aside to dry for at least 24 hours. You'll need to put a dowel or rolled up paper towel under the pointed ends of the skis, so they'll dry with a curve.
Once your skis have dried, mix equal amounts of the cocoa and caramel petal dust with a little lemon extract or vodka and paint onto your skis. It will just deepen the color a bit.
For the little shoe clips or straps, just roll up some black fondant, cut out circles and roll into balls. Use a popsicle stick and make an indention in the middle.
Attach these onto the cupcakes with a bit of water. When you ice your cupcakes, build up one side, so that it has a sloped look to it and then just set your skis on top.
You'll want to wait until shortly before you serve the cupcakes to set the skis on top, that way the fondant skis don't soften too much.
Check out the video below. It will take you through, step by step.
So, what do you think? I hope you have fun making these little cuties. I also think it would be such a fun project for the kids as well.
Like this post? Don't forget to pin it below!