Today we're talking about bright white heat stable pipeable buttercream that actually tastes good. It's a challenge to create bright white buttercream that tastes as good as it looks, but I was up for the challenge.
Shortening based American buttercream isn't exactly a new thing, so I'm not reinventing the wheel here, but I am adding a few things in that actually help to give you a great tasting buttercream when you can't actually use butter.
So the way you make bright white, heat stable and pipeable buttercream is to use shortening instead of butter. Yeah I know it doesn't sound super appetizing, but I promise it tastes better than it sounds.
If you're not quite up for going with all shortening here, you can use half shortening and half butter. Your icing won't be as white this way, so it's a give and take.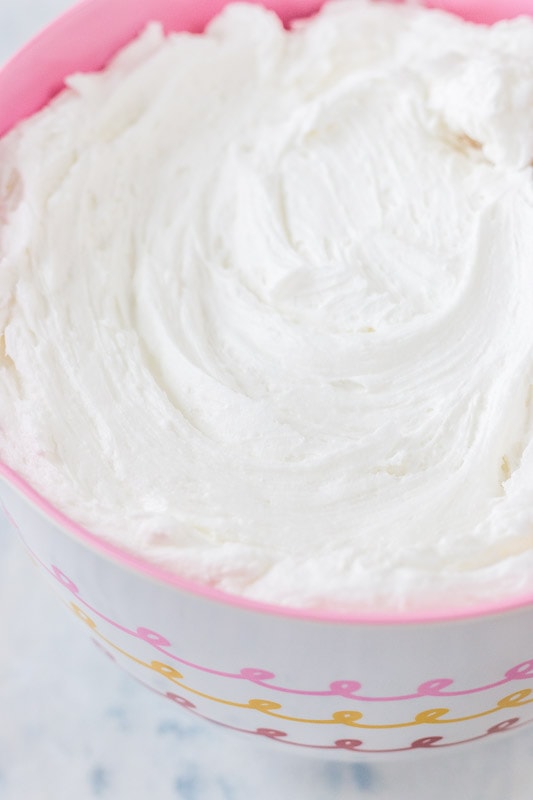 This buttercream is also a 'crusting buttercream', which means that a very thin film will develop over it which will allow you to smooth your cake using the Viva paper towel method. That's the method you use to smooth buttercream by letting your buttercream crust, then laying a viva paper towel over it and smoothing it lightly with your hand. To see more about getting smooth buttercream, you'll want to check out this post: How to Get Smooth Buttercream
Make sure you keep this buttercream covered after you've mixed it, so that it doesn't develop a film over it before you get a chance to ice your cake.
Now here's a caveat…I'm calling this buttercream 'heat stable', but that's within reason. There is nothing you can do to buttercream to keep it from melting if you're putting it out in direct hot sun. This buttercream stands up better to warmer temperatures than an all butter buttercream, but you want to be reasonable about it.
Another thing to note is that from my experience, this buttercream is not the best under fondant because it does not firm up as well as butter does in the fridge, which makes it a little more tricky when adding fondant over it.
I love this buttercream when it's summer-time and the temps are warmer. I also love it when I need a bright white icing. There are tricks you can use for all butter buttercream to get it more white, but to me, it just never gets truly white like this buttercream gets.
This post contains affiliate links. As an Amazon Associate, I earn from qualifying purchases. You can see my policies linked in the website footer.
So What's Actually In This Buttercream?
High Ratio Shortening or Regular Shortening: Now, I'm using high-ratio shortening. If you've got access to it, use it. If not, you can always use shortening (vegetable) at your grocery store. High Ratio Shortening just seems to be creamier and better quality. You can purchase it online.  I don't know how much longer it's going to be available though as it does contain trans fats and they are banning that stuff all over the place. If it's no longer available, then just use regular vegetable shortening, you can do that…I have used it before and it also works, it just doesn't seem to be as creamy.
Meringue Powder (optional): If you're using regular shortening, but you want to stabilize it even more, you can add in a couple tablespoons of meringue powder. This gives it some holding powder. I always seem to forget about meringue powder, so thanks to my new cake friend Robin for reminding me of that. 😉
Salt: Ok this is actually really important because shortening based icing tends to coat your mouth and 'seems' like it's actually sweeter. To combat this, we're adding salt.
Powdered Sugar
Cream or Milk
Clear Vanilla Extract: To keep this buttercream as white as possible, you can use clear vanilla extract in place of regular extract. I like the taste of regular vanilla extract better, but this is your call.
Butter Emulsion: I LOVE LorAnn Oils and the butter emulsion is really good. Regular butter extract you get at the grocery store just tastes gross to me, so I use this instead to give the buttercream more of that 'butter' taste. You can get this emulsion here: LorAnn Butter Emulsion
Buttery Sweet Dough Emulsion: This one is optional, but I really like the flavor it adds. You can get it here: LorAnn Buttery Sweet Dough Emulsion
Now, if you'd like an all butter buttercream, make sure to go here to get my recipe for that: Vanilla Bean Buttercream Recipe
Ok, let's get to the recipe:
Bright White Heat Stable Pipeable Buttercream
This bright white heat stable pipeable buttercream is perfect for those warmer days and for those cakes you want iced with super white frosting. This buttercream is also perfect for piping. Plus it actually tastes good!
Ingredients
3

cups

vegetable shortening

(preferably high ratio shortening if you have access to that. If no longer available, just use regular vegetable shortening.)

9-10

cups

confectioner's sugar

2

tbsp

meringue powder

(optional for more stability and holding power)

1/2

tsp

salt

6-8

tbsp

milk or cream

2

tsp

clear vanilla extract

(can use regular vanilla extract if you don't have clear)

1/2-1

tsp

butter extract/emulsion

(LorAnn oils has a good option)

1/2-1

tsp

LorAnn buttery dough extract/emulsion

(optional)
Instructions
Mix shortening until smooth.

Add in the salt, 4 cups confectioners sugar and 3 Tbsp milk and mix well.


Optional: If you want to add in a couple tablespoons of meringue powder for extra stability, you can do that now.

Add in another 5 cups confectioners sugar plus another 3 Tbsp milk and mix well.


Scrape down sides of bowl. Add a tablespoon or two of milk or cream if the buttercream is too thick. Mix well.


Add in the extracts and mix well.


Add more milk if icing is too thick. Add in only a tablespoon at a time. Mix well.


Finally, mix by hand with a rubber spatula to help press out any air bubbles.


This recipe makes enough to cover 2, 8" round cakes

Notes
This recipe will make enough buttercream to cover two, 8" round cakes.
This is a crusting buttercream, so make sure to keep your container of buttercream covered. It does not need to be refrigerated and can be left out on the counter for several days. 
If you want to keep it longer, you can pop it in the fridge and it'll be good for a week, or slightly longer. 
Lorann oils has all these types of butter emulsions. Try some out and see what you like best. The grocery store version of butter extract is not good. Do yourself a favor and pay a little extra to get a good tasting flavoring.
This recipe card may contain affiliate links. As an Amazon Associate, I earn from qualifying purchases.
Nutrition
Calories:
647
kcal
|
Carbohydrates:
72
g
|
Fat:
41
g
|
Saturated Fat:
10
g
|
Sodium:
83
mg
|
Potassium:
7
mg
|
Sugar:
70
g
|
Vitamin A:
10
IU
|
Calcium:
8
mg
|
Iron:
0.1
mg
Don't Forget to Pin it for Later!