This isn't your average mushy apple pie. If you want a crisp apple pie, then you've got to try this one. It's the perfect fall dessert.
I'm not a huge fan of the mushy, mealy apple pies. Everyone has their own preferences, but for me, I prefer my pies to have a little crispness to them. I decided to do some research on apples and different methods for pie baking.
Without getting too scientific on you, I decided to go with something a little different than the normal Granny Smith apples. I also decided to try out a different method than the normal 'throw the apples in the pie plate and bake' method. What transpired was this recipe for Not Another Mushy Apple Pie.
This post contains affiliate links. As an Amazon Associate, I earn from qualifying purchases. 
I found this Deep Dish Apple Pie recipe from Emeril Lagasse. I ended up changing it quite a bit. For one, I don't really like the idea of adding cheese to an apple pie and two, I found that sauteing the apples a bit longer made a big difference.
My first thought was that pre-cooking the apples a bit, might actually make the apples MORE mushy (or is it mushier?), but in fact, it has the opposite effect. It's something super scientific that I probably wouldn't do a good job of explaining.
Also, after doing a little research on apples (yeah I'm a nerd), I decided to go with Braeburn apples for their crispness and Golden Delicious for their sweet flavor.
I used two pounds of Braeburn apples and two pounds of Golden Delicious. I just weighed them before I sliced them. You don't have to get too specific. I also did not add any lemon juice. You don't need it because the Braeburn apples will have some tartness to them.
After slicing the apples, melt a half a stick (¼ of a cup) of butter in a large skillet.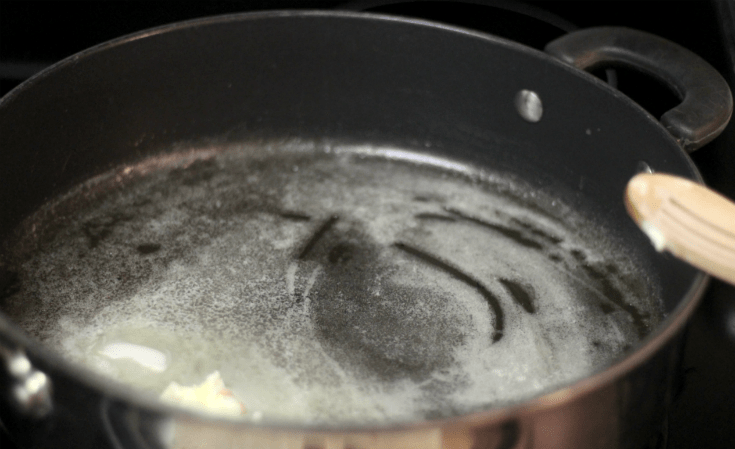 Add your apples to the melted butter and saute them for about three minutes.
Next add flour, sugar and spices.
Saute the apple mixture for five more minutes.
After you've sauteed your apples, they need to cool down. You can either set them in the fridge for a couple hours, or you can leave them there overnight and finish the pie the next day. That's what's so awesome about this recipe…you don't have to spend hours out of your day baking this thing.
Once the apples have cooled, fill a deep dish pie plate with your crust. Ok, moment of truth here…I don't make my own crust. Oh the horror! The way I see it, there are things I enjoy doing and that I like taking the time to do, but making pie crust is not one of those things. I just go with Pillsbury, but if you make your own pie crust, I say go for it.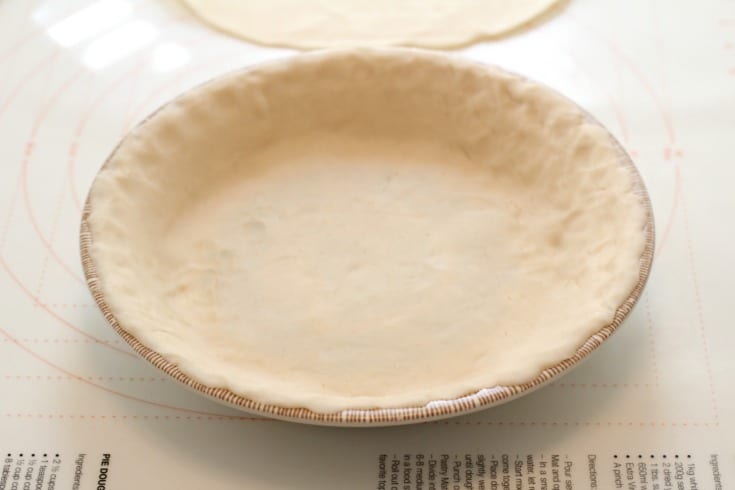 Next, fill your pie plate with the cooled sauteed apples.
Here's where I got a little fancy. If you're using pre-made refrigerated pie crust, you're going to need an extra package if you want to do this next step.
I had some apple and small leaf cookie cutters. I used them to cut out shapes I could add to my top crust. You know me, I can't leave well enough alone, right?
Before adding these cut-outs, you'll want to add your top crust. Don't forget to add a couple slits on the top of it and crimp the edges.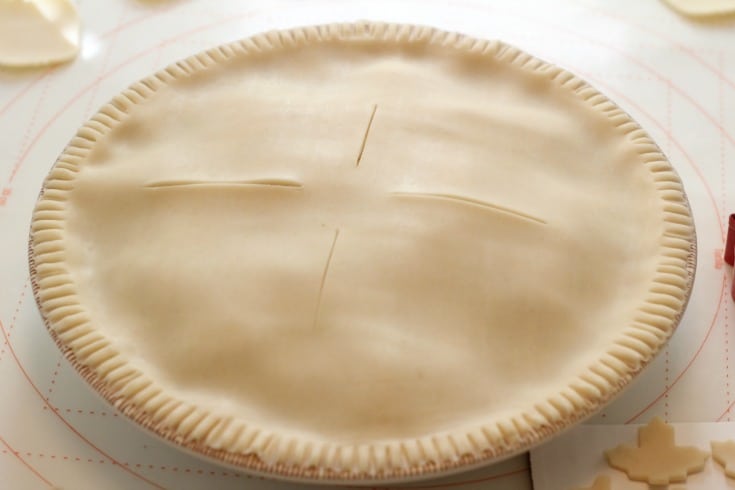 Brush a little egg wash (beaten egg with a little water) over the top and attach your cut-out pieces. Brush those with egg wash as well.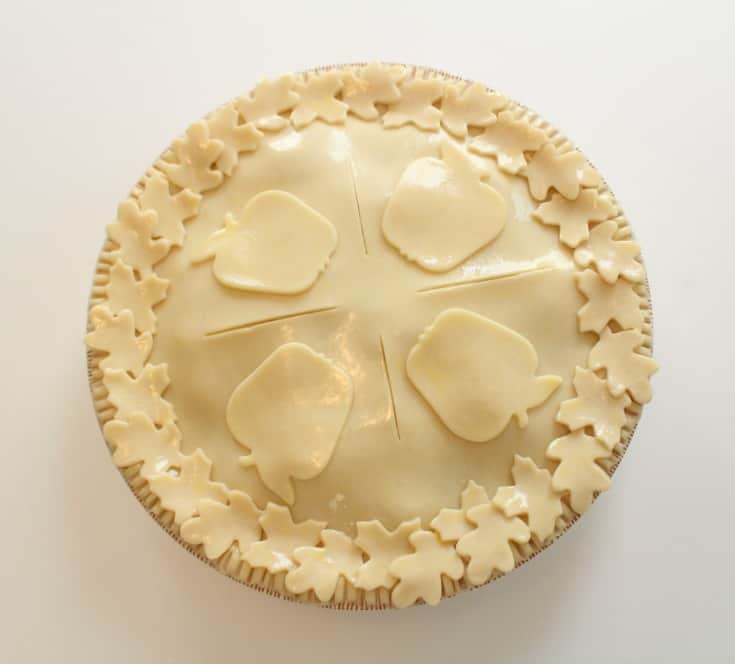 Now you'll bake it at 350 degrees for about an hour and 15 minutes. When it's done, set aside to cool completely before cutting it. Don't cheat on that part…I know you want to though. 😉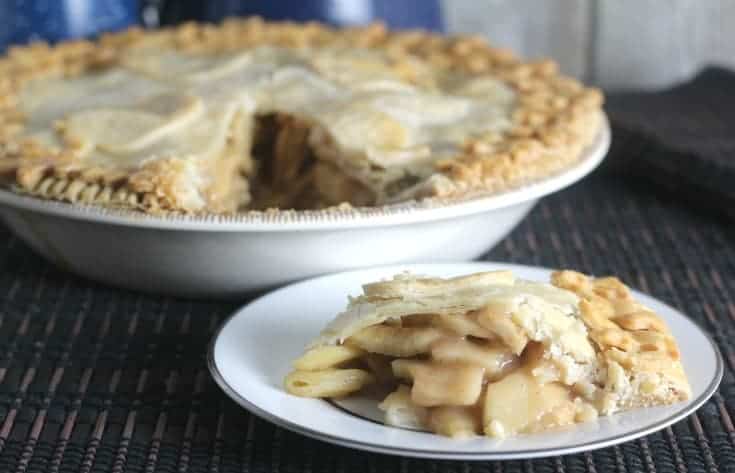 What you get is a sweet, yet slightly tart apple pie with no mushy bits of apple in it. The apples still have a crispness to them that I find refreshing and a little out of the norm for your average apple pie. It's SO good. You can top it with whipped cream, or my personal favorite, vanilla ice cream. I didn't get a picture of it topped with ice cream, because well let's face it, once I stick ice cream on something, I can't stop myself from digging in.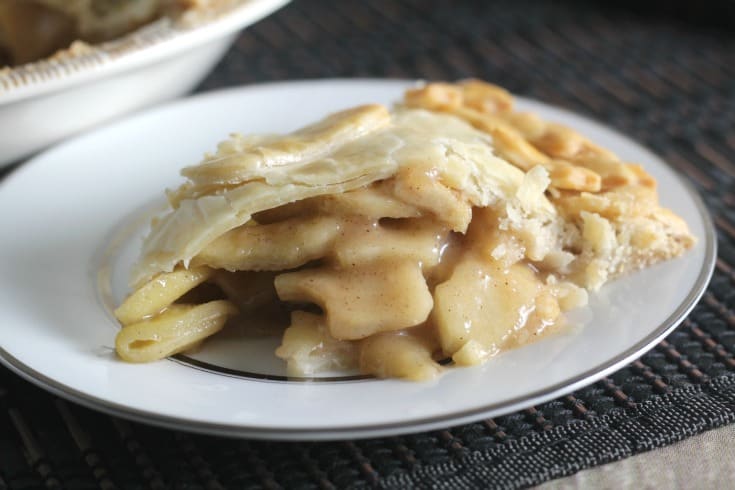 Not Another Mushy Apple Pie
This apple pie recipe uses a combination of two types of apples, one for their tart crispiness and one for their sweetness. The apples are sauteed with sugar and spices before baking in a crust, which surprisingly prevents them from turning mushy when baked. What you get is a sweet apple pie with bits of tart and slightly crisp apples with no more mushy bits.
Print
Pin
Save
Saved!
Rate
Ingredients
2

lbs

peeled and sliced Braeburn apples

2

lbs

peeled and sliced Golden Delicious apples

4

tablespoon

butter

½

cup

brown sugar

½

cup

granulated sugar

4

tablespoon

flour

¼

teaspoon

nutmeg

¾

teaspoon

cinnamon

½

teaspoon

salt

Refrigerated or homemade pie crust

egg wash
Instructions
Peel and slice your apples.

Melt butter in a large skillet.

Add apples and saute them for about three minutes.

Add the sugars, flour, spices and salt and saute with apples another five minutes. If the juices are still quite runny, you can saute for another minute or so.

Let the mixture cool completely. You can leave in the refrigerator over night.

Preheat the oven to 350 degrees and prepare your pie crust. Set the bottom crust into your pie plate.

Add the apples into the crust.

Cover with a top crust. Cut slits in the top and crimp the edges. Bonus points if you add some cute little pie crust cut-outs to the top.

Brush on an egg wash and bake at 350 degrees for about an hour and 15 minutes.

Let the pie cool completely before cutting it.
Video
Notes
Adapted from Emeril Lagasse's Deep Dish Apple Pie Recipe.
This recipe card may contain affiliate links. As an Amazon Associate, I earn from qualifying purchases.
Nutrition
Calories:
284
kcal
|
Carbohydrates:
60
g
|
Protein:
1
g
|
Fat:
6
g
|
Saturated Fat:
3
g
|
Cholesterol:
15
mg
|
Sodium:
202
mg
|
Potassium:
260
mg
|
Fiber:
5
g
|
Sugar:
49
g
|
Vitamin A:
300
IU
|
Vitamin C:
10.4
mg
|
Calcium:
29
mg
|
Iron:
0.5
mg
How to Share
I'd love for you to share this recipe link or tag it, but please do not share screenshots or copy/paste the recipe to social media as the content and photographs are copyright protected and we (bloggers) work really hard on our content. Sharing the link, tagging us on socials and pinning it is super appreciated though!
Don't Forget to Pin it for Later!