It's an age old problem. How to get a moist white cake. You try recipe after recipe and either they taste like cornbread, the texture isn't good, or it just isn't moist enough. So, you end up just going for a box when you really wanted to make something with that 'scratch wedding cake taste'.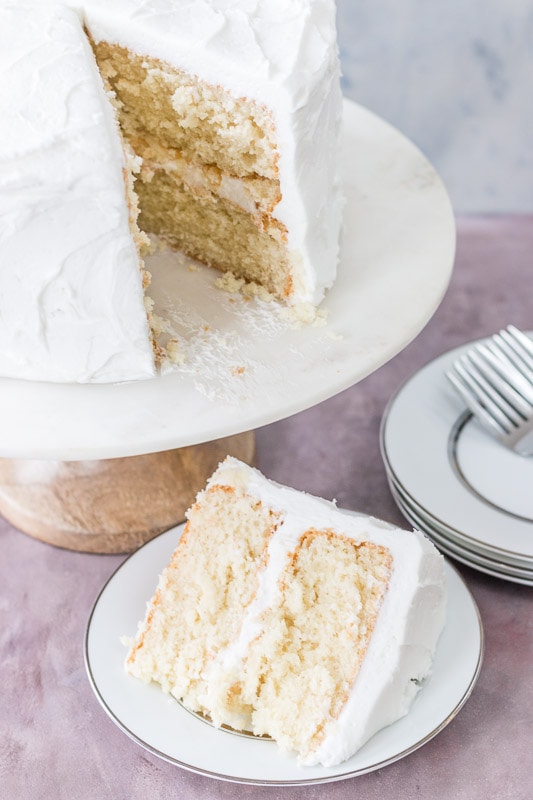 You may have seen my Favorite Vanilla Bean Cake recipe on the blog. If not, go and check it out…it's so moist and really tasty. It's my favorite, hence the name, but I wanted to see if I could get a truly 'white' cake and I wanted to get that wedding cake flavor.
This page contains affiliate links, which means I may receive a small referral commission, at no cost to you, if you make a purchase using these links. This helps to support my blog.
Well I think I've done it. This cake is actually a white cake that is actually moist, AND it's got that wedding cake taste.
So, when trying to get a cake as white as possible, I wanted to use only egg whites. Generally, using only egg whites can tend to dry out a cake a bit, so you have to add a bit more moisture. Now, I like a buttery taste to my cake, but in the effort to try and get a 'whiter' cake, I lessened the amount of butter and substituted the rest with shortening. If you want an all butter cake recipe (using no shortening), you'll want to check out my vanilla cake recipe.
Another thing to note is that you can use either all purpose flour or cake flour for this recipe. The amounts will differ and that's noted on the printable recipe below. Here's the deal though: Using cake flour will give you a whiter cake. I'm not a scientist or anything, but I think it's because the cake flour seems to be more bleached than the all purpose. I could be wrong, but regardless, you'll get a whiter cake using cake flour.
Now let's talk about the flavoring that's added in. Of course it's optional for you, but I think it really takes it to the next level.
First it's the vanilla. You can always use clear extract to make sure it's not adding any additional color to the batter, but I tend to use regular vanilla because honestly, it's just better. If you can get it, try to use vanilla emulsion…it's amazing.
Second, I added in my favorite flavor booster…almond emulsion. You're using just a touch of it, so you won't really get an 'almond taste'. It just adds to the flavor. Seriously most people won't even know you've added it in there…they'll just know it tastes amazing. Ok, if you just can't stand the thought of adding it, or you don't have any handy, then don't worry, it'll still taste good. Oh and the emulsion is much better than the extract. The extract just does not taste good to me.
Lastly I added in a bit of butter flavoring. Since I'd replaced some of the butter with shortening, I wanted to add back in some flavor. Now, that part is optional, but it really seems to give it that wedding cake flavor. The butter flavoring you can get at the grocery store is gross to me…now that's just my opinion. I feel like Lorann's Butter Emulsion tastes much better.
You'll also want to check out my vanilla bean buttercream recipe…it goes perfectly with this cake, but if you're looking for a bright white buttercream, you'll want to check out that recipe here: Bright White Heat Stable Buttercream.
Ok, I won't talk your head off…let's get straight to the recipe. (Also don't forget to keep scrolling for the video.)
Moist White Cake
A scratch white cake that's actually moist, with a soft texture and oh so delicious with that wedding cake flavor.
Total Time
1
hour
20
minutes
Ingredients
2 1/2

cups

all-purpose flour

(or 2 3/4 cups cake flour - for an even whiter cake)

2

cups

sugar

1/2

tsp

baking soda

1 1/2

tsp

baking powder

1

tsp

salt

2/3

cup

shortening

1/4

cup

butter

(room temp.)

1

cup

sour cream

1/2

cup

milk

2

tsp

vanilla extract

(can use clear extract)

1/2

tsp

almond emulsion

(optional)

1

tsp

butter extract

(optional)

6

egg whites

(large eggs)
Instructions
Preheat the oven to 325 degrees.

Grease and flour two 8 inch round (2 inch deep) cake pans. You could also use three 6 inch round pans.

In a bowl, mix together the sour cream, milk, vanilla extract, almond emulsion, butter extract and egg whites.

Whisk until smooth and set aside.

In a large mixing bowl, add the flour, sugar, baking soda, baking powder and salt.Whisk together.

Add the shortening and butter in chunks to the flour mixture.


Mix until the flour is coated with the shortening and butter. The mixture will be crumbly.


Add in half the liquid mixture and mix just until combined.

Add in the last half of the liquid mixture and mix just until combined.


Scrape down the sides of the bowl and then mix again, only for 10-15 seconds.You want to be careful not to over-beat the batter.

Pour into the greased and floured cake pans and bake at 325 degrees for 45-50 minutes.


Cool on a wire rack then cover with buttercream.

Nutrition
Calories:
329
kcal
|
Carbohydrates:
43
g
|
Protein:
4
g
|
Fat:
15
g
|
Saturated Fat:
6
g
|
Cholesterol:
16
mg
|
Sodium:
261
mg
|
Potassium:
124
mg
|
Sugar:
27
g
|
Vitamin A:
4.1
%
|
Vitamin C:
0.2
%
|
Calcium:
5.3
%
|
Iron:
5.8
%
And here's the video:
Items & Tools Used:
PIN IT HERE!–>
7 Tips to Make Your Cakes Look Professional
Never miss a post! Get on the free newsletter list by entering your email, and grab this handy printable!
Plus you'll get free cake tips & recipes in your inbox once per week and access to the subscriber only library!
See our privacy policy here.