This super moist white cake recipe from scratch is the best white cake I've ever had. It's made with sour cream and has a deliciously soft texture. No more looking around for a homemade white cake that's actually moist. It's the perfect recipe for a wedding cake or a birthday cake.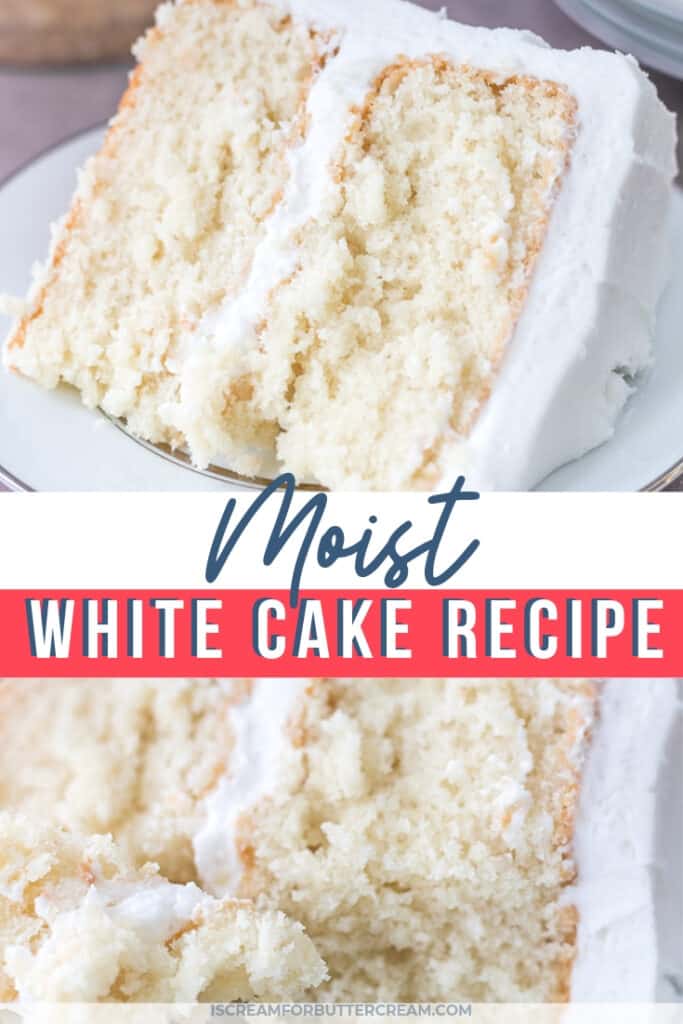 Hey there! Before you scroll, there's lot's of important stuff in the post!…including the FAQ section, which may answer any questions you might have about this recipe. Enjoy!
It's an age old problem. How to get a moist white cake. You try recipe after recipe and either they taste like cornbread, the texture isn't good, or it just isn't moist enough. So, you end up just going for a box when you really wanted to make something with that 'scratch wedding cake taste'.
You may have seen my Favorite Vanilla Bean Cake recipe on the blog. If not, go and check it out…it's so moist and really tasty. It's my favorite vanilla cake, hence the name, but I wanted to see if I could get a truly 'white' cake that I loved just as much and I wanted to get that wedding cake flavor.
Well I think I've done it. This cake is actually a white cake (I'd also consider it a vanilla cake) that is actually moist, AND it's got that wedding cake taste.
LET'S TALK ABOUT SOME OF THE CAKE INGREDIENTS:
Egg whites: So, when trying to get a cake as white as possible, I wanted to use only egg whites. Generally, using only egg whites can tend to dry out a cake a bit, so you have to add a bit more moisture, which I've done as well.
Butter & Shortening: Now, I like a buttery taste to my cake, but in the effort to try and get a 'whiter' cake, I lessened the amount of butter and substituted the rest with shortening. If you want an all butter cake recipe (using no shortening), you'll want to check out my vanilla cake recipe.
All purpose flour or cake flour: Another thing to note is that you can use either all purpose flour or cake flour for this recipe. The amounts will differ and that's noted on the printable recipe below.
Here's the deal though: Using cake flour will give you a whiter cake. I'm not a scientist or anything, but I think it's because the cake flour seems to be more bleached than the all purpose. I could be wrong, but regardless, you'll get a whiter cake using cake flour.
As an Amazon Associate, I earn from qualifying purchases.
Vanilla Extract: First it's the vanilla. You can always use clear extract to make sure it's not adding any additional color to the batter, but I tend to use regular vanilla because honestly, it's just better. If you can get it, try to use vanilla paste/emulsion (or grab it here if my shop is sold out).
Almond emulsion: Second, I added in my favorite flavor booster…almond emulsion (or get it here if my shop is sold out). You're using just a touch of it, so you won't really get an 'almond taste'. It just adds to the flavor. Seriously most people won't even know you've added it in there…they'll just know it tastes amazing.
Ok, if you just can't stand the thought of adding it, or you don't have any handy, then don't worry, it'll still taste good. Oh and the emulsion is much better than the extract. The extract just does not taste good to me.
Butter Extract: Lastly I added in a bit of butter flavoring. Since I'd replaced some of the butter with shortening, I wanted to add back in some flavor. Now, that part is optional, but it really seems to give it that wedding cake flavor.
The butter flavoring you can get at the grocery store is gross to me…now that's just my opinion. I feel like Lorann's Butter Emulsion tastes much better.
You'll also want to check out my vanilla bean buttercream recipe…it goes perfectly with this cake, but if you're looking for a bright white buttercream, you'll want to check out that recipe here: Bright White Heat Stable Buttercream.
MIXING METHOD FOR THE WHITE CAKE:
You'll be using the reverse creaming method when mixing this cake. I like using that because it helps preven over-mixing the cake batter (which can cause problems with the texture).
The reverse creaming method is just mixing the dry ingredients in one bowl and the liquid in another. Then you'll slowly mix in the butter and shortening to the dry mixture and let it coat the flour.
You'll then add the liquid in two parts, mixing in between. It's really an easier way to mix a cake in my opinion.
TIPS AND FAQS FOR THE WHITE CAKE RECIPE:
Can I substitute the baking soda or baking powder?
No, you don't want to do that. These do two different things.
What is shortening?
It's basically just fat. I use vegetable shortening like Crisco, not lard which is animal fat. This helps get the cake moist and I use this in place of most of the butter to keep the color as white as possible.
Why are you still adding in butter if you're using the shortening?
Because I like the taste of butter. You just can't beat butter in a cake.
Can I microwave my butter to get it to room temperature?
I don't recommend doing that. It could get too warm and will heat up unevenly. That could mess with the texture of your cake. Just set the butter out on your counter and let it warm up to almost room temp. It's ok if it's a little cooler than room temp…you just don't want it warm.
Can I just use milk instead of sour cream?
You can, but the cake won't be as moist and the texture and taste may be a little different than the original recipe. If you can't find sour cream, try using full fat yogurt (not the low fat kind).
I don't have clear vanilla extract. Is that necessary?
No not really. Actually regular vanilla extract or vanilla bean emulsion (or paste) tastes better, but clear will help keep the cake white if that's really an important factor for you.
Do I have to use the almond emulsion?
No. Some people just don't like almond taste, but  I will tell you that if you haven't tried it, you might actually like the small hint of it. A lot of people assume they won't like it, but honestly I think it tastes different than what most people think it would taste like. And you'll just be adding a touch of it, just enough to add a little flavor.
Do I have to add in the butter extract?
No, but I think it adds a little more butter flavor and that in combination with the vanilla and almond emulsion are what gives it that classic wedding cake taste.
Where can I get butter extract and almond emulsion emulsion?
I've got links just below the recipe card for the ones that I like to use.
Anymore questions? Just let me know. I'm happy to help.
As an Amazon Associate, I earn from qualifying purchases.
Items & Tools Used for this cake:
Video:
Ok, I won't talk your head off anymore…let's get straight to the recipe!
Note About How I Write Recipes: I write recipes using volume (cups) measurements because here in the U.S., this is what people are more familiar with and I don't want anyone to feel intimidated when baking. For metric measurements, click the 'metric' button under the ingredients in the recipe card below. The weights are converted by a program, not me, and it's just a best guess. Please note that because I develop recipes using volume measurements, I can't guarantee that weighing the ingredients will produce the exact same results.
Recipe:
Moist White Cake
A scratch white cake that's actually moist, with a soft texture and oh so delicious with that wedding cake flavor.
Print
Pin
Save
Saved!
Rate
Ingredients
2 ½

cups

all-purpose flour

(or 2 ¾ cups cake flour – for an even whiter cake)

2

cups

sugar

½

teaspoon

baking soda

1 ½

teaspoon

baking powder

1

teaspoon

salt

⅔

cup

shortening

¼

cup

butter

(unsalted, room temp.)

1

cup

sour cream

(full fat)

½

cup

milk

(whole milk if you can get it)

2

teaspoon

vanilla extract

(can use clear extract)

½

teaspoon

almond emulsion

(optional)

1

teaspoon

butter extract (or emulsion)

(optional)

6

egg whites

(large eggs)
Have questions?
Check out the Tips & FAQ section or the video in the post!
Instructions
Preheat the oven to 325 degrees.

Grease and flour two 8 inch round (2 inch deep) cake pans. You could also use three 6 inch round pans.

In a bowl, mix together the sour cream, milk, vanilla extract, almond emulsion, butter extract and egg whites.

Whisk until smooth and set aside.

In a large mixing bowl, add the flour, sugar, baking soda, baking powder and salt.

Whisk together.

Add the shortening and butter in chunks to the flour mixture.


Mix until the flour is coated with the shortening and butter. The mixture will be crumbly.


Add in half the liquid mixture and mix just until combined.

Add in the last half of the liquid mixture and mix just until combined.


Scrape down the sides of the bowl and then mix again, only for 10-15 seconds.

You want to be careful not to over-beat the batter.

Pour into the greased and floured cake pans and bake at 325 degrees for 45-50 minutes.


Cool on a wire rack then cover with buttercream.

Notes
This cake will keep for a couple days covered out of the fridge. (As long as you have not used a perishable frosting or filling and aren't storing it in a warm environment). Place in the fridge after a couple days to prolong it's freshness.
This cake can be frozen for up to a month if wrapped well in plastic wrap and foil.
Nutritional values are an estimate.
Make sure to check out the TIPS & FAQs for this recipe in the blog post, which may answer questions about substitutions.
*This recipe card may contain affiliate links. As an Amazon Associate, I earn from qualifying purchases.
Buttercream Recipe Links:
Vanilla Bean Buttercream Recipe
Bright White Heat Stable Buttercream Recipe
Nutrition
Calories:
329
kcal
|
Carbohydrates:
43
g
|
Protein:
4
g
|
Fat:
15
g
|
Saturated Fat:
6
g
|
Cholesterol:
16
mg
|
Sodium:
261
mg
|
Potassium:
124
mg
|
Sugar:
27
g
|
Vitamin A:
205
IU
|
Vitamin C:
0.2
mg
|
Calcium:
53
mg
|
Iron:
1
mg
Baking at higher elevation?
Adjustments will need to be made for that. This website does not specialize in higher elevation baking. Please take time to do your research on what adjustments should be made.
Disclaimers
To see food safety, allergy & nutrition disclaimers, go here: Disclaimers
How to Share
I'd love for you to share this recipe link or tag it, but please do not share screenshots or copy/paste the recipe to social media as the content and photographs are copyright protected and we (bloggers) work really hard on our content. Sharing the link, tagging us on socials and pinning it is super appreciated though!
OTHER POSTS YOU MIGHT LIKE: