This whipped cream cheese frosting is a super light and fluffy icing. With only a few ingredients, it comes together easily and is the perfect way to top cupcakes or cakes.
Hey there! Before you scroll, there's lot's of important stuff in the post!…including the FAQ section, which may answer any questions you might have about this recipe. Enjoy!
I've noticed that people really like the whipped style of frosting. I'm not into that grocery store whipped icing. That stuff is just whipped up shortening anyway. To me it doesn't even seem like it goes with cake, but that's just my opinion.
Anyway, I wanted to come up with a super fluffy, whipped icing that was similar, but that would be made with some really tasty ingredients and would be a little more stable.
The cream cheese makes this whipped cream icing more stable than other frostings made with just heavy whipping cream. Plus the tanginess of the cream cheese cuts the sweetness a bit, so it's not overly sweet like other frostings can be.
This frosting recipe is only four ingredients, plus the pinch of salt.
LET'S TALK ABOUT SOME OF THE INGREDIENTS IN THE WHIPPED CREAM CHEESE FROSTING:
Cream Cheese: You're going to use 2, 8 oz. blocks of softened cream cheese.
Confectioner's Sugar: This is what will add sweetness to your frosting.
Heavy Cream: You'll be using heavy cream (or whipping cream) to 'fluff' everything up. Now, whipping cream is also called heavy cream in some areas. You don't want to use cool whip though…that's not the same thing here and your frosting wont turn out right if you use it.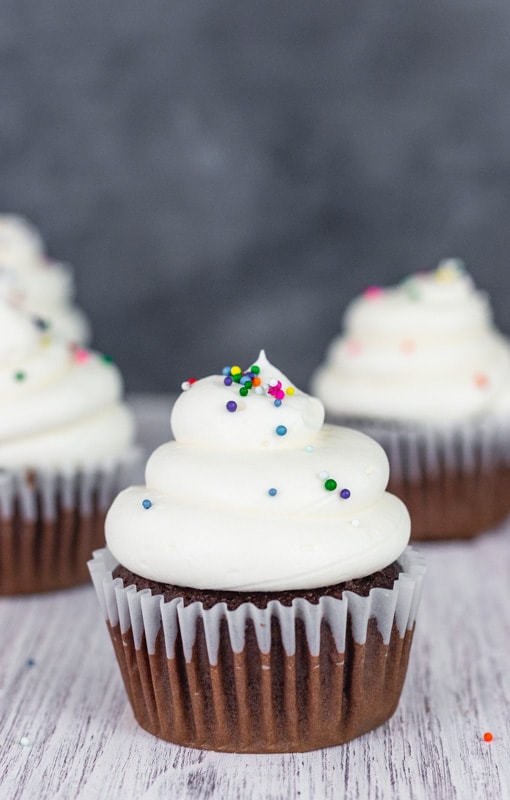 MIXING METHOD FOR THE WHIPPED CREAM CHEESE FROSTING:
Pay attention to the mixing method on this one. It's not complicated, but you'll be mixing in the whipping cream a small amount at a time. You do this so everything mixes together smoothly and you don't get any clumping.
TIPS& FAQs FOR MAKING THE WHIPPED CREAM CHEESE FROSTING:
I haven't tested this with low fat cream cheese. I mean you're about to eat frosting…just go for the gusto here.
You'll need whipping cream. (Not whipped cream…that's different.) Whipping cream is also called heavy cream in some locations. I'm not sure what it's called in other countries though. You won't be able to whip a milk or cream that doesn't have a higher fat content.
Add your whipping cream (heavy cream) cold. Use a metal bowl that is cold if you have one. That helps when whipping it up. You'll also want to make sure to add in your cream in small amounts at a time like the recipe indicates, so that you don't get any clumpiness going on in your frosting.
This is super easy and fast with a stand mixer, but you don't have to have one. It's completely do-able with a hand mixer.
Make sure if you're using a stand mixer, that you use the whisk attachment.
Make sure to add the vanilla extract and salt. That's going to round out the taste.
How long does whipped cream cheese frosting last? This frosting will last around five days or so, however it's at its fluffiest the day you make it and the day after. It's still very good for the rest of those days, but it just gets a little creamier.
How do you store whipped cream cheese frosting? You'll definitely want to store this covered in the fridge.
ITEMS AND TOOLS USED TO MAKE THIS RECIPE:
Ok, let's get to the recipe!
***I write recipes using volume (cups) measurements because here in the U.S., this is what people are used to seeing and using. For weight in metric measurements, click the 'metric' button under the ingredients in the recipe card. The weights are converted by a program, not me, and it's a best guess. Please note that because I develop recipes using 'cups' I can't guarantee that weighing the ingredients will produce the exact same results.
Recipe:
Whipped Cream Cheese Frosting
This whipped cream cheese frosting is a super light and fluffy icing. With only a few ingredients, it comes together easy and is the perfect way to top cupcakes or cakes.
Print
Pin
Save
Saved!
Rate
Ingredients
2

8 oz

pkgs of cream cheese

(softened, but not warm)

3

cups

confectioners sugar

1

teaspoon

vanilla

Pinch

of salt

2 ½

cups

cold heavy cream

(sometimes called whipping cream…NOT cool whip or 'whipped' cream)
Instructions
Add the cream cheese, confectioners sugar, vanilla and salt to a bowl.

Use a whisk attachment if you're using a stand mixer. If you don't have a stand mixer, just use a regular handheld mixer and mix it very well until smooth and creamy.

Now, you'll add in your heavy cream, but only a small amount at a time. You'll add it in four parts as follows:

Pour in a small amount of the cold heavy cream. (Only pour in about a ¼ cup at this point.) Mix well until creamy.

Pour in a bit more of the heavy cream and mix that until very creamy. (You're slowly adding in the heavy cream, so that the mixture doesn't become lumpy.)

Do this two more times (until the rest of the heavy cream is all added).

Once everything is incorporated, whip on high until stiff peaks form (about a couple minutes).

Add to a cooled cake or cupcakes.
Video
Notes
Makes enough to cover about 24 cupcakes, or a two layer 8″ cake.
Because this icing is a whipped frosting, it is on the softer side.
Store this frosting in the refrigerator. Set the cupcakes, or cake out of the fridge for about 15-20 minutes before serving, so the frosting can get closer to room temp and not as firm.
Nutritional values are an estimate.
Make sure to check out the TIPS & FAQs for this recipe in the blog post.
This recipe card may contain affiliate links. As an Amazon Associate, I earn from qualifying purchases.
Nutrition
Calories:
231
kcal
|
Carbohydrates:
25
g
|
Fat:
14
g
|
Saturated Fat:
9
g
|
Cholesterol:
54
mg
|
Sodium:
16
mg
|
Potassium:
29
mg
|
Sugar:
23
g
|
Vitamin A:
585
IU
|
Vitamin C:
0.2
mg
|
Calcium:
26
mg
Baking at higher elevation?
Adjustments will need to be made for that. This website does not specialize in higher elevation baking. Please take time to do your research on what adjustments should be made.
Want to support this blog?
Feel free to leave a tip here: Tip Jar!
Disclaimers
To see food safety, allergy & nutrition disclaimers, go here: Disclaimers
How to Share
I'd love for you to share this recipe link or tag it, but please do not share screenshots or copy/paste the recipe to social media as the content and photographs are copyright protected and we (bloggers) work really hard on our content. Sharing the link, tagging us on socials and pinning it is super appreciated though!
OTHER RECIPES YOU MIGHT LIKE:
Ok, let me know what you think! I could not keep myself out of this stuff. I ate it like it was pudding…straight out of the bowl. (Not a proud moment.)