Super moist apple crumb cake that's perfect for breakfast or any other time!
This sour cream apple crumb cake has amazing flavor. It's a moist coffee cake with apples, plus a cinnamon streusel on top, then drizzled with glaze. The cake is soft and the crumb topping is addicting. The whole family will love this cake for fall.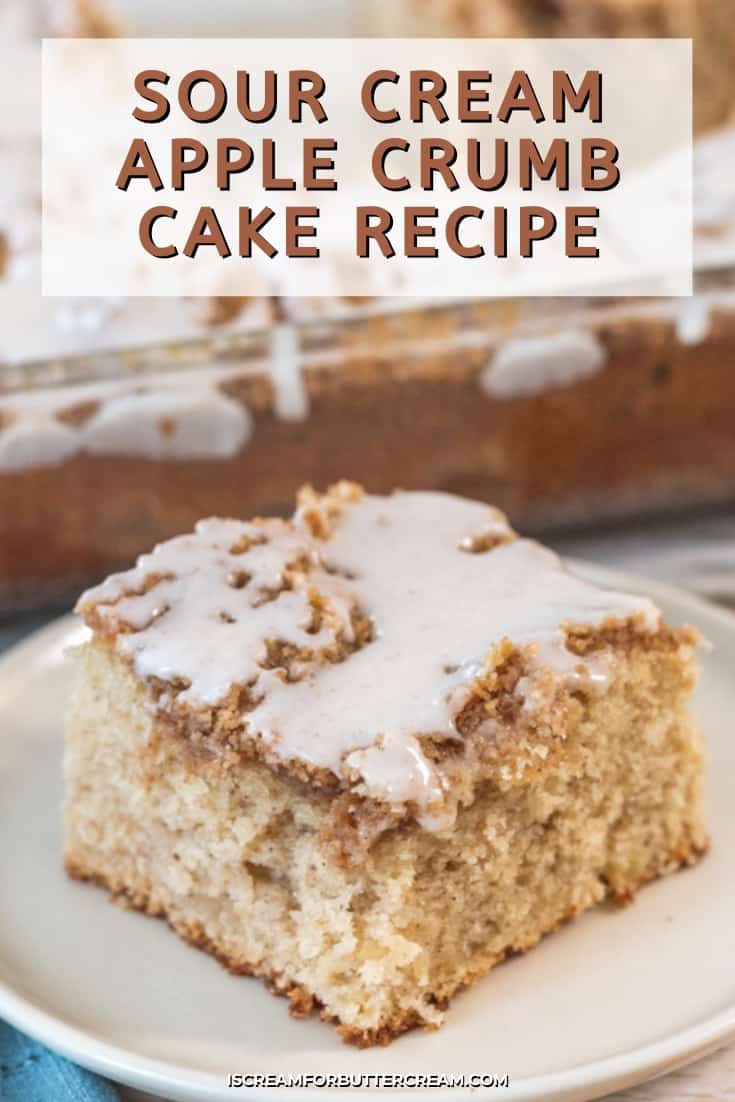 Hey there! Before you scroll, there's lot's of important stuff in the post!…including the FAQ section, which may answer any questions you might have about this recipe. Enjoy!
This cake is SO good. It's like THE definition of fall…apples, cinnamon, streusel topping…what's not to like!
It's super sweet, so if you don't have a sweet tooth then it may not be for you, but for all of us sugar addicted people…well you'll just love it.
Let's Talk About Some of The Ingredients in this Apple Crumb Cake:
Brown Sugar: There is A LOT of brown sugar in this cake. There's a lot for the crumb topping and there's also some in the cake. Brown sugar is what really makes this cake though, so it can't be substituted.
Cinnamon: This cake is very cinnamony. So you can taper down the cinnamon if you don't want that much. I like a lot of spice though.
Unsalted Butter: You'll use this for the crumb topping and the cake. Salted butter has salt added and it seems to have more water content in it, so you really want to go with unsalted here.
Sour Cream: This is always the secret ingredient in cakes…at least in my opinion it is. It just makes a cake so moist and soft.
Apples: You'll need to peel and chop your apples in smallish cubes, maybe about ½ inch sized. Don't be exact here, just make sure they aren't cut in large chunks or they'll all sink to the bottom of the cake.
Also, you can use any type of apple that you like, except I wouldn't use Red Delicious apples because they seem to get really mushy and mealy when baked. I used Honeycrisp apples.
The recipe card close to the end of this post will go into all the ingredients and amounts.
Mixing Method for this cake:
You'll make this cake in several steps. First you'll want to make the streusel and have it chilled and set to the side.
You'll mix up your cake batter using the reverse creaming method, which I find is easier and makes a softer cake.
Don't worry though, I go through how to mix it in the recipe card below.
One the batter is mixed, you'll then pour in into your pan and sprinkle the topping over all of it. Then pop it in the oven.
Tips & FAQs for Making the Apple Crumb Cake:
Make sure to measure your brown sugar properly.
You'll need to pack it into your measuring cup. Now, don't do that for the flour, but do it only for the brown sugar.
What kind of brown sugar do I use? Should I use light brown sugar or dark?
You can use either one. They are interchangeable, but most of the time, people just use light brown and that is what I use.
Can I substitute sour cream?
Sour cream is really the best way to go here, but if you absolutely can't get it, then you can substitute with yogurt or buttermilk. Try not to use the low fat kind though as you need the fat in the recipe. Just know if you use a substitution that the cake may turn out slightly different than intended.
What if I only have salted butter?
Just go ahead and use salted butter and leave out the other salt called for in the recipe.
What kind of apples should I use?
You can use whatever type you like, but I used Honeycrisp.
Make sure to peel your apples and cut them into small cubes.
If they are too large, then they'll sink to the bottom of the cake.
Do I have to use a stand mixer to make this cake?
No, you can just use an electric hand mixer.
Is apple crumb cake the same as apple coffee cake?
It can be. A coffee cake doesn't have coffee in it. It's really just a term people use to call a cake that you could eat for breakfast or a snack if you wanted with your coffee. You could also call an apple crumb cake a coffee cake and if your coffee cake has a crumble streusel topping, then you could call that a crumb cake as well.
Can you freeze apple crumb cake?
Yes, you'll want to wrap it well with plastic wrap and then foil and let it thaw completely before removing the wrapping.
How long does apple crumb cake last?
This cake will last up to a week in the fridge. Make sure to cover it well so that it doesn't dry out.
Do I heat this cake up before I eat it?
This cake is best served a little warm, so if you have leftovers, you can microwave slices for about 10 – 15 seconds to warm them up.
As an Amazon Associate, I earn from qualifying purchases.
Supplies used for this cake:
White mixing bowl set (similar)
Stand mixer (This is not mandatory to make this cake. You can also use an electric hand mixer.)
Ok let's get to the recipe!
Note About How I Write Recipes: I write recipes using volume (cups) measurements because here in the U.S., this is what people are more familiar with and I don't want anyone to feel intimidated when baking. For metric measurements, click the 'metric' button under the ingredients in the recipe card below. The weights are converted by a program, not me, and it's just a best guess. Please note that because I develop recipes using volume measurements, I can't guarantee that weighing the ingredients will produce the exact same results.
Recipe:
Apple Crumb Cake
This sour cream apple crumb cake has amazing flavor. It's a moist coffee cake with apples, plus a cinnamon streusel on top, then drizzled with glaze.
Print
Pin
Save
Saved!
Rate
Ingredients
Have questions?
Check out the Tips & FAQ section or the video in the post!
Instructions
For the crumb topping:
Add the brown sugar, flour, cinnamon and salt to a mixing bowl and whisk well. Pull out any brown sugar chunks. Add the chunks of butter and mix with a fork and your clean fingers smashing the butter as you go. Once all the chunks of butter are broken up and mostly incorporated, you can use the fork or an electric mixer to mix it just until the mixture is crumbly.

If using a mixer, be careful not to mix too long, or it will form a paste. Stop mixing once the mixture looks crumbly.

Cover the bowl with plastic wrap and place in the fridge to chill while you make the cake.
For the cake:
Preheat oven to 350 degrees Fahrenheit.

Grease a 9×13 inch pan. (I used a glass pan). If you're using a dark coated pan, the bottom may over-brown a bit, so just be aware.

In a large mixing bowl, whisk together the flour, baking soda, baking powder, salt, cinnamon, nutmeg, granulated sugar and packed brown sugar. Whisk well and set aside.

In another bowl, mix together the sour cream, milk, eggs, vanilla extract and vegetable oil. Whisk well and set aside.

Make sure your butter is slightly cooler than room temperature. Add the butter (in chunks) slowly to your dry ingredients. (You can turn your stand mixer on low and leave it on while you add the butter chunks at a time, or you can use a hand mixer.)

Turn the mixer up to medium and mix until all the flour is coated with the butter and the mixture is crumbly. It will have a sand-like texture.

Pour in about half of the liquid mixture. Mix on medium until just combined. About 15-20 seconds.

Pour the last of the liquid mixture and mix again until combined. Don't over mix the batter. Mixing it for several minutes is too long. Once all the ingredients are incorporated well, stop mixing.

Use a rubber spatula and scrape the sides of the bowl. Mix again for only about 10 seconds.

Add the chopped apples to the cake batter and stir in with a wooden spoon or silicone spatula.

Pour the batter into prepared pan and spread evenly.

Sprinkle the chilled crumb mixture evenly over the top of the cake batter.

Bake at 350 degrees for approximately 45 minutes. The top will be golden brown and a toothpick inserted into the center will come out either clean or with a few moist crumbs.

Set on wire rack to cool for at least 30 minutes. Add the glaze, then serve straight from the pan.
For the glaze:
If you do not want a lot of glaze, then you'll want to half the glaze recipe.

In a mixing bowl, add in the confectioners sugar, cinnamon, extract and milk. Mix well until smooth. Check the consistency. If it's too thick for drizzling, add more milk or cream by tablespoon until desired consistency.

Drizzle over cooled cake.
Video
Notes
This cake is very cinnamony. If you don't like that much cinnamon, leave it out of the cake and the glaze and just add it to the crumb topping.
Store leftovers in the fridge. This cake is great heated for about 7-10 seconds in the microwave.
Nutritional values are an estimate.
Make sure to check out the TIPS & FAQs for this recipe in the blog post, which may answer questions about substitutions.
*This recipe card may contain affiliate links. As an Amazon Associate, I earn from qualifying purchases.
Nutrition
Calories:
559
kcal
|
Carbohydrates:
83
g
|
Protein:
5
g
|
Fat:
24
g
|
Saturated Fat:
15
g
|
Cholesterol:
91
mg
|
Sodium:
237
mg
|
Potassium:
179
mg
|
Fiber:
1
g
|
Sugar:
58
g
|
Vitamin A:
739
IU
|
Vitamin C:
1
mg
|
Calcium:
86
mg
|
Iron:
2
mg
Baking at higher elevation?
Adjustments will need to be made for that. This website does not specialize in higher elevation baking. Please take time to do your research on what adjustments should be made.
Disclaimers
To see food safety, allergy & nutrition disclaimers, go here: Disclaimers
How to Share
I'd love for you to share this recipe link or tag it, but please do not share screenshots or copy/paste the recipe to social media as the content and photographs are copyright protected and we (bloggers) work really hard on our content. Sharing the link, tagging us on socials and pinning it is super appreciated though!
Other Posts You Might Like:
Don't forget to pin it below!