This banana chocolate chip cake is an easy bundt cake to make. It's so moist and tastes like banana bread plus the mini chocolate chips really add to the flavor.
Hey there! Before you scroll, there's lot's of important stuff in the post!…including the FAQ section, which may answer any questions you might have about this recipe. Enjoy!
Honestly time: I used to not understand the whole chocolate and banana combination thing. I just assumed I wouldn't like it.
Well this cake was a spur of the moment, fit of inspiration. I don't know if I was reading something or scrolling online, but I just got this huge craving for a banana chocolate chip cake and so here we are.
I was really surprised that I loved the combo of banana and chocolate chips so much. It's surprisingly good and using mini chocolate chips just gives it a hint and doesn't overwhelm the banana taste.
On the plus side, this cake is so moist that you don't even need any icing or glaze on it. You certainly can add that if you want, but you don't have to.
Let's talk about some of the ingredients in this banana chocolate chip cake:
Brown sugar: I went with brown sugar for part of the sugar in this recipe to give it a deeper flavor. Either dark brown sugar or light brown sugar will work, but I used light brown.
Cinnamon: You'll add a small amount of cinnamon to this cake. It's not overpowering at all, but it helps to bring out the flavor of the bananas. I like to use Saigon Cinnamon.
Sour Cream: Yep I'm adding sour cream here because it makes cakes SO moist. (Make sure to read the FAQ section below for substitute options.)
Bananas: Obviously we'll add bananas. You'll need three medium sized bananas and you'll need to peel and mash them. Make sure they're really ripe because they'll lend more flavor to the cake that way.
Vanilla Extract or Vanilla Bean Paste: If you can get vanilla bean paste, that's the way to go. It's SO good. If you can't get it, vanilla extract will work as well.
Mini Chocolate Chips: We're using mini chips here because it just adds a hint of chocolate flavor here and there, so it's not overpowering. Plus the mini chips won't sink in the batter.
Mixing method for this cake:
The mixing method for this cake is the reverse creaming method. That just means instead of whipping up the butter and sugar first, you'll actually add all your dry ingredients to one bowl and the liquid ingredients to another bowl.
You'll then cut in room temperature butter and slowly mix that into the dry mixture until it coats all the flour. Then you'll add in the liquid mixture in two parts. Don't worry…it's actually easy and I've got all the steps in the recipe card below.
Next you'll hand mix in the mini chocolate chips and it's ready to bake.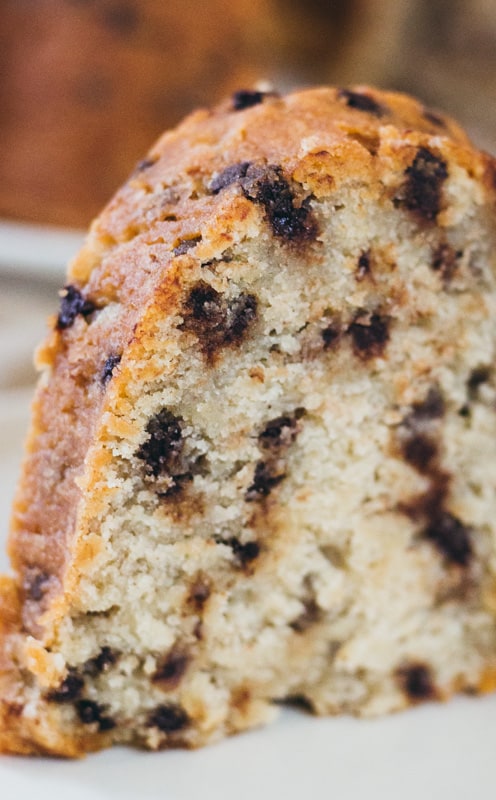 Tips & FAQs for the banana chocolate chip cake:
What kind of brown sugar should I use? Dark or light?
The short answer is either one. Really it doesn't matter which one you use, but generally light brown sugar is used more often and that's what I used.
Can I use margarine instead of butter?
It's best to use real unsalted butter for this cake. Margarine isn't real butter and has more water content in it, so you really can't predict what result you'll get if you use it.
Make sure your butter is just slightly cooler than room temperature.
Set your butter out ahead of time. If your butter is cold (or melted), this mixing method will just not work well.
Don't sub out the baking powder or baking soda.
They're not the same thing and you'll need them both.
I can't get sour cream. What can I substitute for it?
Sour cream is best, but if you can't get it in your area, you can use yogurt. Use the full fat version though and not the diet (light) kind.
I don't have whole milk, can I use 2%?
Yes you can. Whole milk has more fat in it, so it's better for baking, but if you're in a pinch, you can use 2% milk instead.
Make sure to use really ripe bananas.
Those will add the most flavor.
Do I have to add in the mini chocolate chips?
Nope! If you don't want to add them, you can omit them. If you can't find the mini chocolate chips, you can use regular chocolate chips, but it helps to chop them up a bit, so they don't sink in the cake batter.
What kind of chocolate are the mini chocolate chips?
The ones I used were semi-sweet chocolate, but it doesn't matter because you can use any type of chocolate chip you want.
Make sure to grease and flour your pan very well.
Bundt cakes will easily stick to the pan, so greasing and flouring the pan is a must.
This cake is even better then next day.
Bake it and let it sit overnight and the flavors will really come out.
If you're unsure of the mixing method in the instructions, make sure to watch the video.
I find that the reverse creaming mixing method is actually easier than the usual creaming method, but if you're unsure about it from the instructions, just watch the video.
SUPPLIES USED FOR THIS CAKE:
Ok let's get to the recipe!
**By the way, this recipe was developed and tested using volume measurements (cups etc.). I do this because most people are used to measuring, instead of weighing. You may use the metric converter button to see the weight (gram) measurements. Those numbers are estimates on weight. Your results may vary a bit if you use the weight measurements.
Recipe:
Banana Chocolate Chip Cake
This banana chocolate chip cake is an easy bundt cake to make. It's so moist and tastes like banana bread plus the mini chocolate chips really add to the flavor.
Print
Pin
Save
Saved!
Rate
Ingredients
2 ⅔

cups

all purpose flour

1

cup

packed brown sugar

⅔

cup

granulated sugar

1 ½

teaspoon

baking powder

½

teaspoon

baking soda

½

teaspoon

salt

½

teaspoon

cinnamon

1

cup

unsalted butter

(slightly cooler than room temp)

1

cup

sour cream

½

cup

whole milk

3

mashed bananas

2

teaspoon

vanilla bean paste

(or vanilla extract)

3

eggs

1 ⅓

cup

mini chocolate chips
Instructions
Preheat the oven to 325 degrees.

Grease and flour a large bundt pan.

Combine the flour, sugars, baking powder, baking soda, salt and cinnamon in a mixing bowl. Whisk and set aside.

In another bowl, combine the sour cream, milk, mashed bananas, vanilla and eggs. Mix well with a whisk.

Now cut your slightly cooler than room temperature butter into chunks. Turn your mixer on low and add in the butter slowly to your dry ingredients. Mix on medium to medium-high until all the flour is coated with the butter and the mixture is crumbly with a sand-like texture.

Pour in about a third of the liquid mixture. Mix on medium speed until combined. Only about 30 seconds.

Pour the last of the liquid mixture and mix on medium again until combined. Don't overmix the batter. Only mix until everything is combined.

Use a rubber spatula and scrape the sides of the bowl. Mix again for only about 10 to 15 seconds.

Add in the mini chocolate chips and stir in by hand.

Pour into prepared pan.

Bake approximately 60-65 minutes. A toothpick inserted into the cake will come out with a few moist crumbs on it and not batter.

Set on a wire rack to cool for 15 minutes, then turn out onto the rack and let cool out of the pan completely.
Video
Notes
This cake is even better if left to sit covered overnight before serving.
This cake will keep for a couple days covered out of the fridge. Place in the fridge after a couple days to prolong it's freshness. You can warm up a piece in the microwave for a few seconds.
This cake can be frozen for up to a month if wrapped well in plastic wrap and foil.
Nutritional values are an estimate.
Make sure to check out the TIPS & FAQs for this recipe in the blog post, which may answer questions about substitutions.
*This recipe card may contain affiliate links. As an Amazon Associate, I earn from qualifying purchases.
Nutrition
Calories:
462
kcal
|
Carbohydrates:
62
g
|
Protein:
6
g
|
Fat:
22
g
|
Saturated Fat:
13
g
|
Cholesterol:
82
mg
|
Sodium:
171
mg
|
Potassium:
232
mg
|
Fiber:
2
g
|
Sugar:
40
g
|
Vitamin A:
627
IU
|
Vitamin C:
2
mg
|
Calcium:
93
mg
|
Iron:
2
mg
Baking at higher elevation?
Adjustments will need to be made for that. This website does not specialize in higher elevation baking. Please take time to do your research on what adjustments should be made.
Want to support this blog?
Feel free to leave a tip here: Tip Jar!
Disclaimers
To see food safety, allergy & nutrition disclaimers, go here: Disclaimers
How to Share
I'd love for you to share this recipe link or tag it, but please do not share screenshots or copy/paste the recipe to social media as the content and photographs are copyright protected and we (bloggers) work really hard on our content. Sharing the link, tagging us on socials and pinning it is super appreciated though!
OTHER POSTS YOU MIGHT LIKE:
Like this post? Don't forget to pin it below!