This banana toffee cake is so moist and full of banana flavor with the addition of chopped toffee, then covered in rich browned butter toffee buttercream.
Hey there! Before you scroll, there's lot's of important stuff in the post!…including the FAQ section, which may answer any questions you might have about this recipe. Enjoy!
Recently, I've had this huge craving for banana cake. I LOVE banana bread, but I was really looking for something a little lighter in texture, plus something I could add buttercream to. You know how I love buttercream.
I really wanted to make this banana cake go beyond your average banana cake with cream cheese icing. I can't leave well enough alone, right? After much thought about how I could make this banana cake really kicked up, I came up with this Banana Toffee Cake with Browned Butter Toffee Frosting.
Wow, this cake packs a rich punch. It's moist, full of banana flavor and is kicked up with chopped toffee.
LET'S TALK ABOUT SOME OF THE INGREDIENTS IN THE BANANA TOFFEE CAKE:
CAKE FLOUR: This cake does require cake flour. I love using it because it just gives the cake a lighter texture than all purpose flour. Cake flour and all purpose flour are not really interchangeable. If you haven't baked with cake flour, I encourage you to try it. I use Swan's Down Cake Flour the most and really like it.
SOUR CREAM: The secret weapon for this cake is the sour cream. It's really my favorite thing to add to cakes because it makes them super moist.
TIPS & THE MIXING METHOD FOR THE BANANA TOFFEE CAKE:
Now, this cake is a scratch cake and as you know, it's important to mix scratch cake batter exactly the way the instructions say. Scratch cakes are particular that way. Just don't over mix the batter and you'll be fine.
My next important tip is to grease AND flour your pans. I've found the more moist your cakes are, the more likely they are to stick to the pan. So grease those pans and then coat them with flour.
If you'd like more tips on that subject, check out my post: Tips for Getting Your Cakes to Release
You'll also want to make sure your bananas are very ripe. Ripe bananas will make it much more flavorful. By the way, if you have any bananas left, did you know you can freeze them? I just pop them in a freezer bag and into the freezer.
NOW LET'S TALK ABOUT THE BROWNED BUTTER TOFFEE BUTTERCREAM: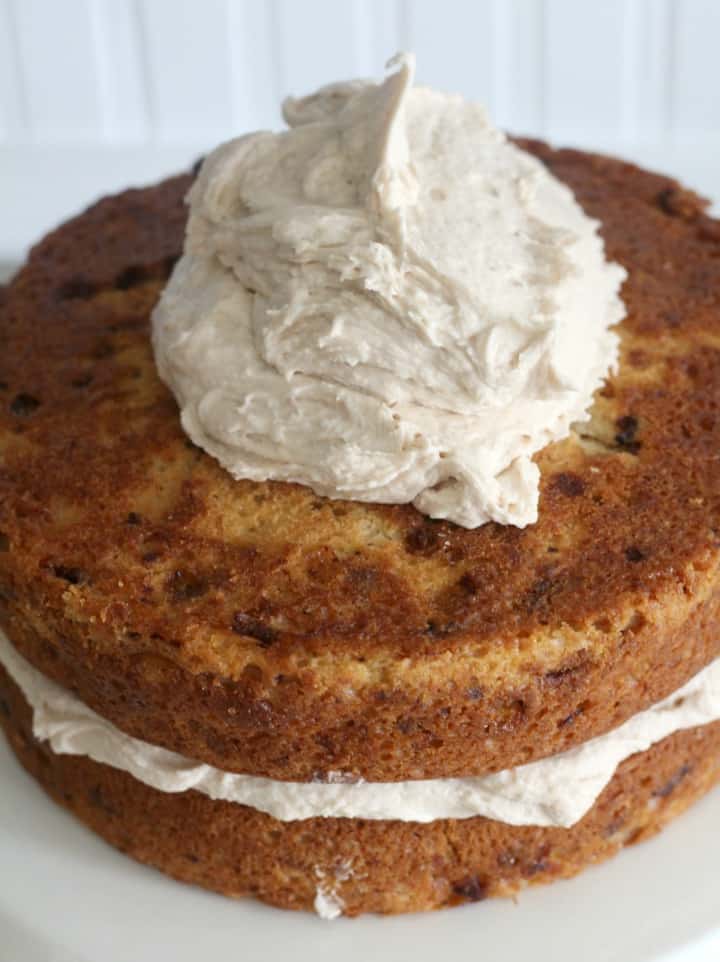 Whoa Nelly! (Do people other than Southerners, say that?) Anyway, this frosting will make you do a happy dance. My happy dance is the cabbage patch. Remember that? Maybe yours is the running man. (Ok, I'm showing my age now.) You're just gonna do some kind of happy dance and if you're really talented, maybe a back flip.
The icing is made by browning the butter first in a saucepan, then adding the toffee bits to the warm browned butter. You'll let it sit overnight (you can pop it in the fridge if you want) and then you'll add the other ingredients to finish it up.
The combination of the banana cake with the browned butter toffee frosting is to die for. I could hardly contain myself when I was putting this cake together.
I put this cake together, sprinkled more toffee on the top, took pictures and commenced to eating the heck out of it trying a piece.
Ok, now that I've sufficiently given you a banana cake craving, onto the recipe!
***I write recipes using volume (cups) measurements because here in the U.S., this is what people are used to seeing and using. For weight in metric measurements, click the 'metric' button under the ingredients in the recipe card. The weights are converted by a program, not me, and it's a best guess. Please note that because I develop recipes using 'cups' I can't guarantee that weighing the ingredients will produce the exact same results.
Recipe: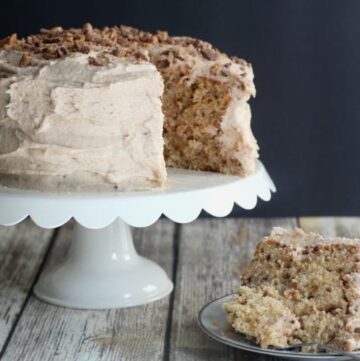 Banana Toffee Cake with Browned Butter Toffee Buttercream
This is a moist cake that's full of banana flavor with the addition of chopped toffee, then it's covered in rich browned butter toffee buttercream. The browned butter toffee buttercream has such a rich and delicious flavor. Browning the butter really makes the difference, plus the added chopped toffee really gives it deeper flavor.

Print
Pin
Save
Saved!
Rate
Ingredients
For the cake:
3

cups

cake flour

(not all-purpose flour)

1

teaspoon

baking powder

½

teaspoon

baking soda

½

teaspoon

salt

¼

teaspoon

cinnamon

¾

cup

butter

room temp (not warm)

1

cup

granulated sugar

1

cup

packed brown sugar

3

large

eggs

2

teaspoon

vanilla bean paste

(or vanilla extract)

1

cup

sour cream

½

cup

whole milk

1 ½

cup

mashed very ripe bananas

(about 3 bananas)

1

cup

chopped toffee

(I used Heath chopped toffee bits)
For the buttercream:
1

cup

salted butter

(room temp)

1

cup

unsalted butter

(room temp)

2

teaspoon

vanilla bean paste

(or vanilla extract)

¾

cup

chopped toffee

(I used Heath chopped toffee bits)

7

cups

confectioner's sugar

3

tablespoon

milk

(or cream) (add another tablespoon if needed)
Instructions
For the cake:
Preheat the oven to 350 degrees.

Grease and flour your pans. This recipe will fill two, 8″ round pans that are 2″ deep.

Using your mixer, beat the butter until smooth. Add in the granulated and brown sugar and beat on low until combined, then on medium high for a couple minutes.

Add in the eggs, one at a time and mix on low/meium after each addition, just until combined. Do not over mix.

In a separate bowl, mix together the flour, baking powder, baking soda, salt and cinnamon. Whisk to mix it a bit.

In another bowl, mix together the sour cream, whole milk, mashed bananas and vanilla. Whisk well.

Add your dry ingredients and your liquid ingredients alternately to the egg and sugar mixture. Start with a third of the dry ingredients, mix on medium after that addition, just until combined. Then add half of the liquid ingredients and mix on medium just until combined. Continue on with another third of the flour mixture. Mix just until combined. Add the last half of the liquid ingredients and mix. End with the last third of the dry mixture. It's important to only mix until each addition is combined. Do not over mix.

Fold in a cup of chopped toffee.

Bake at 350 degrees for approximately 45 – 50 minutes. Start checking at 40 minutes.

Remove from oven and set on racks to cool for 10 minutes. Turn out the cakes onto racks after 10 minutes to cool completely.

Ice with browned butter toffee buttercream.
For the buttercream:
Melt the butter in a saucepan on medium low to medium setting approximately six minutes.

Remove from heat and let it sit for about five minutes.

Add vanilla bean paste or extract and stir.

Let the mixture sit over-night to cool or you can store in the refrigerator until it's fully cooled down.

Once it's completely cool and room temperature, add to a mixing bowl. Beat on medium until fluffy.

Add 3 cups of powdered sugar. Beat on low until combined and then on medium until well mixed.

Add in 2 – 3 tablespoon of cream or milk and mix well. 

Add in the other 4 cups of confectioners sugar and mix well. If the buttercream is too stiff, add in more cream, a tablespoon at a time until you reach the desired thickness.
Notes
This cake can be kept in the fridge for 4-5 days. Set the cake out about 20 minutes before serving, so it came come closer to room temp.
This cake can be frozen for up to a month if wrapped well in plastic wrap and foil.
Nutritional values are an estimate. 
Make sure to check out the TIPS section for this recipe in the blog post, which may answer questions about substitutions.
This recipe card may contain affiliate links. As an Amazon Associate, I earn from qualifying purchases.
Nutrition
Calories:
992
kcal
|
Carbohydrates:
135
g
|
Protein:
7
g
|
Fat:
49
g
|
Saturated Fat:
30
g
|
Cholesterol:
178
mg
|
Sodium:
433
mg
|
Potassium:
234
mg
|
Fiber:
1
g
|
Sugar:
109
g
|
Vitamin A:
1551
IU
|
Vitamin C:
2
mg
|
Calcium:
93
mg
|
Iron:
1
mg
Baking at higher elevation?
Adjustments will need to be made for that. This website does not specialize in higher elevation baking. Please take time to do your research on what adjustments should be made.
Want to support this blog?
Feel free to leave a tip here: Tip Jar!
Disclaimers
To see food safety, allergy & nutrition disclaimers, go here: Disclaimers
How to Share
I'd love for you to share this recipe link or tag it, but please do not share screenshots or copy/paste the recipe to social media as the content and photographs are copyright protected and we (bloggers) work really hard on our content. Sharing the link, tagging us on socials and pinning it is super appreciated though!
Don't Forget to Pin it Below!