I get lots of questions about how to store a cake. It really depends on what kind of cake and a few other factors, but I'm going to give you lots of tips here on how to properly store cakes to keep them fresh and at their best.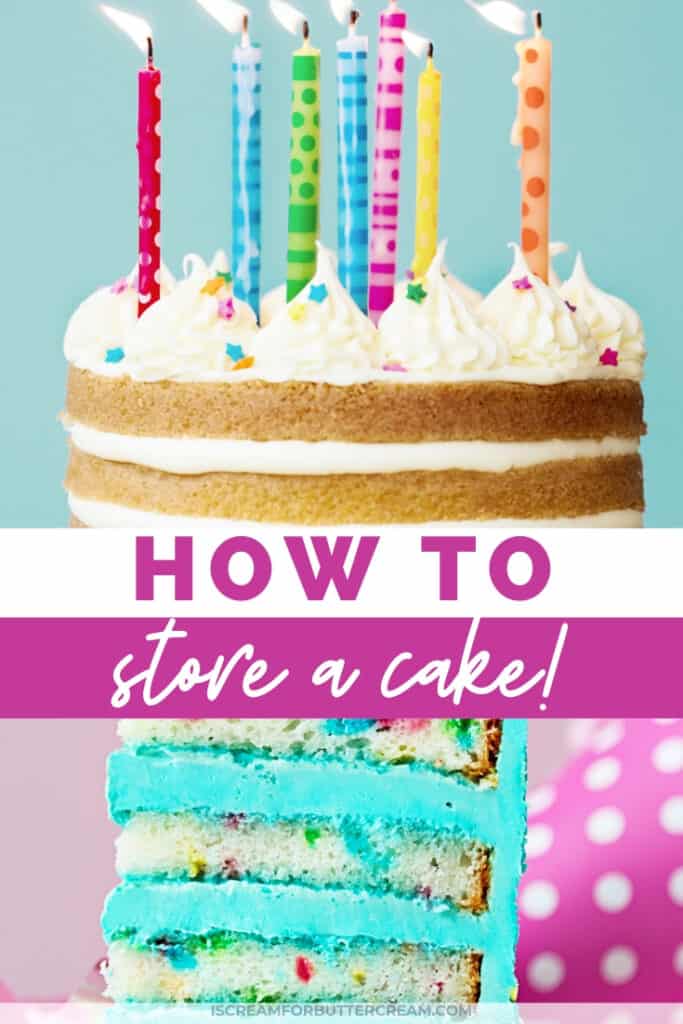 Alright, let's get to the tips.
This post contains affiliate links. As an Amazon Associate, I earn from qualifying purchases.
SHORT ANSWER: IT DEPENDS: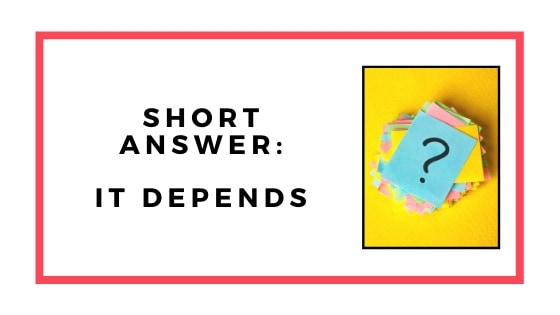 Ok, the short answer is that it depends on what kind of cake you're storing, when and how you plan to serve it plus many other factors. I've divided this post out into categories, so it's easier to read and figure out how to store your particular type of cake.
HOW AND WHEN ARE YOU GOING TO USE OR SERVE THE CAKE?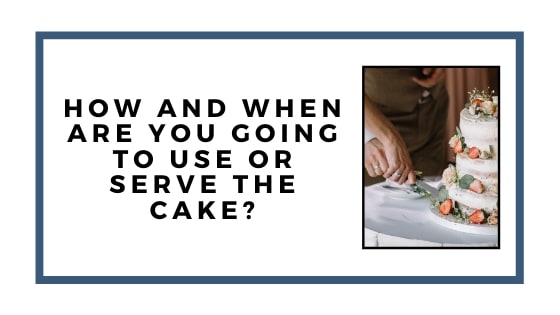 You'll need to also ask yourself these questions: Are you serving the cake soon? Do you need to keep it fresh for longer? Do you have a hot/warm environment? Do you need to firm it up in the fridge so you can travel with it?
All these questions will have a bearing on how to store it. We'll go through variations of these throughout the post.
UNFROSTED CAKES:
Here I just mean layers of cake, or even an unfrosted bundt cake. Maybe you just baked the cake and it's cooled, but you're not ready to use the cake layers yet. You've got some choices here.
First it will depend on how long it'll be before you'll be putting the cake together and serving it. If it'll be longer than three days or so, then I'd suggest freezing it. I have an entire post all about how to freeze cake and cupcakes so that you don't get freezer burn.
No one will ever know it was frozen. You'll want to check that post out here: Tips for Freezing Cakes & Cupcakes
If you'll be serving it in a couple days, then you just want to make sure to wrap the bundt cake, or cake layers with some plastic wrap. (I really like press-n-seal wrap, but you can just use regular plastic wrap. If you have a cake keeper you can keep it in that, or you could store it in a cake box.
You can store the cake layers or bundt cake at room temperature if it doesn't have anything perishable in it. If a cake has fruit in it, I like to stay on the safe side and store it in the refrigerator. If you do decide to store it in the fridge, make sure it's wrapped well with plastic wrap and then possibly a cake box, so it doesn't dry out.
Make sure when you're ready to serve your cake to let it sit at room temp for 15-20 minutes or so to come closer to room temperature. Most cakes aren't meant to be eaten cold…they taste their best when closer to room temperature. (Unless of course you'll be adding something perishable to it or it's one of those no-bake cakes.)
FROSTED CAKES & CAKES THAT DO NOT INCLUDE PERISHABLE FILLINGS & FROSTINGS:
When I was selling cakes, almost every single person who picked up their cake, or I delivered to, would ask me if they should put it in the fridge. I honestly don't know why we think everything should be refrigerated, but I think maybe it has to do with grocery stores and TV shows.
I think we're used to seeing cakes in the cooler at grocery stores and seeing people on TV have these huge coolers they pop their finished cakes into and maybe just assume it needs to be refrigerated. That's just a guess and I could totally be wrong on that.
A lot of the big bakeries chill their cakes. I'm guessing it's to keep the cake out of the way and to keep it fresh for a longer time, or those cakes may have perishable fillings and frosting. I'm sure it also gets pretty warm in a bakery as well, so in that case they'd need to be kept cool.
The thing is, most cakes taste better at room temperature. I know that there are some exceptions, but I'm talking generally here. Unless it has perishable ingredients in it, it doesn't really need to be chilled.
A cake that's covered in American Buttercream doesn't need to be chilled. Unless you've got a really warm room or a bug problem, it's okay to be left at room temperature for several days. Just cover it in a box, or a cake keeper.
Now, obviously you don't want your cake sitting out for a week. That's not good…and hopefully your cake is so good that it'll all be eaten up in a couple days anyway.
If, for some reason, it's not all eaten in a couple days, you can put it in the fridge to prolong the freshness. The fridge will keep it fresh for a bit longer than just leaving it on the counter. Make sure to either put your cake in a box though, or a cake keeper to keep it from drying out too much or absorbing the other scents (like onions or boiled eggs) in the fridge.
Personally I leave my cake out (covered or in a box of course) for a few days (as long as it doesn't contain perishable fillings) and then pop it in the fridge if there's still some left and I want it to last the rest of the week. (This seems to happen quite a bit at my house, since my kid is grown and doesn't live here anymore and I'm pretty much the only one eating the cake.)
Now this all goes out the window if your cake is covered in Swiss meringue buttercream, or cream cheese buttercream, or if it's got curd or fruit filling, or some type of whipped cream on it. We'll talk about that next.
FROSTED OR FILLED CAKES THAT DO INCLUDE PERISHABLE FILLINGS & FROSTINGS: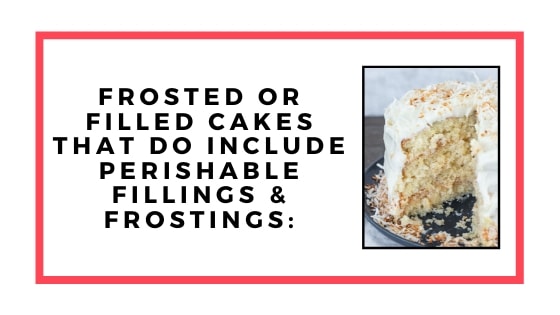 What are perishable ingredients? If you're not sure, you'll need to look up examples of that. Perishable ingredients will go bad if they're not chilled, so if you're using Swiss Meringue buttercream, cream cheese buttercream, fruit filling, or things like that, then your cake needs to be stored in the fridge.
You can set it out about 15 minutes before serving, so that it's not so cold (because cakes usually taste better when they're not super cold), but you do want to make sure you're being safe and store it in the fridge.
Make sure you've got the cake in a cake box or a cake keeper though. You don't want it absorbing any scents or flavors from other food that's in your fridge and you want to keep it from drying out as well.
A quick note about chilling cakes that are decorated with dark colored buttercream:
When you pull your cake out of the fridge, it will condensate. That's just science. Don't touch it when it condensates. If you used really dark colored buttercream, it could cause some weirdness in it. Sometimes it does and sometimes it doesn't.
Just don't touch it and let the condensation evaporate. It's better to just leave it in the box and hope that most of the condensation occurs on the outside of the box and not on the cake.
Another note about perishable ingredients: In Texas, we have something called the Texas Cottage Food Law and that allows people to sell food from their homes without having a certified commercial kitchen. The law states that you cannot sell any baked item that is perishable though. Stick with me for a second…I have a point here. 😉
If you want some examples of what constitutes perishable ingredients, you can take a look at that law as it lays out a lot of that for you. Even if you live in another state or country, perishable food is still perishable food. Here's a link to that law if you'd like to check it out: Texas Cottage Food Law
FONDANT COVERED CAKES: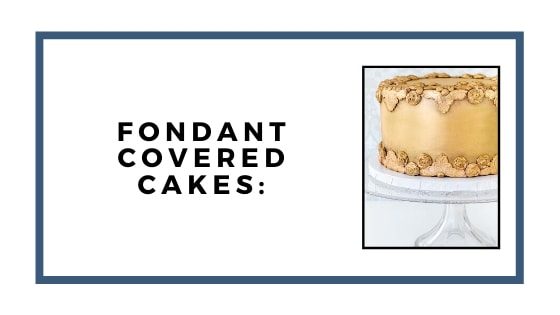 I never store my fondant covered cakes in the fridge (unless of course it has a perishable filling in it). I know many people that do chill their fondant cakes, but I found that it caused condensation on the cakes when you bring them out and it caused fondant bubbles for me.
It's totally your choice though and like I said, many people are very defensive about their methods and I am totally on board with you doing whatever works best for you. I'm not the cake chilling police.
If you do keep a fondant covered cake in the fridge, keep it in a box and just make sure not to touch the cake once it starts to condensate. The fondant will be sticky at that point. It'll eventually evaporate, but try not to touch it while it's got condensation on it.
There is a good article on Rose Bakes about freezing fondant covered cakes. She's done it and has some tips on how it works. You can check out that post here: Can You Freeze a Fondant Decorated Cake?
WHAT HAS WORKED FOR YOU IN THE PAST AND WHAT DO YOU FEEL MOST COMFORTABLE WITH?
Do you seem to like dealing more with cold cakes? I find that I don't like working with chilled cakes and that it encourages icing blowouts. (You can read more about why I don't normally chill my cakes before decorating them here.) But we each have different methods that work for us.
If you'll be decorating the cake and you really like decorating chilled cakes, then it's completely okay to chill it if that's what you prefer. There are no fridge police that will tell you that you 'shouldn't' do something. I have my preference, but it's just my preference….we all do things differently.
DO YOU WANT TO SERVE THIS CAKE COLD OR ROOM TEMP?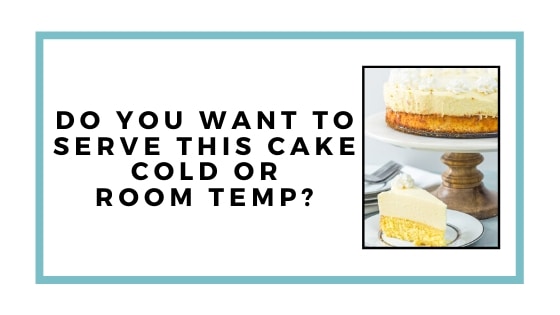 This is something to think about. Everyone assumes you have to keep all cakes chilled, but you just don't. If it doesn't have perishable filling or frosting, then it's okay at room temperature for a time. Again, I generally keep mine out for a few days and then chill it to keep it fresh longer.
But you do want to take a cake out of the fridge and let it sit until it warms up just a bit before serving it. Regular cakes are best eaten near room temp. They're softer (especially butter cakes) and the texture is better. That's how they should be eaten…that's when they're at their best. Cold cakes are just cold and sometimes hard, so take them out and let them sit for 15-20 minutes or so.
Now if you've made a no-bake cake, a strawberry shortcake or something like that, then those are meant to be eaten cold. Just use your judgement here. I'm just saying for general cakes, most just aren't at their best when they're so cold.
IT DOESN'T HAVE TO BE ALL OR NOTHING: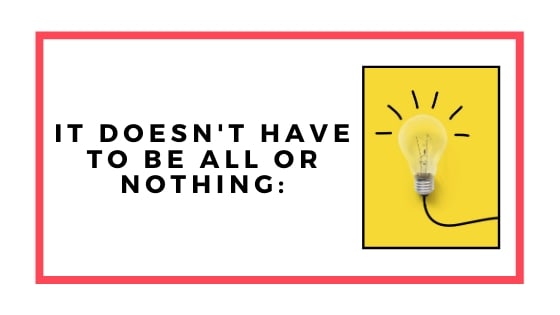 Don't put yourself in a box. Generally I don't like to decorate my cakes when they're cold and I normally store them at room temp, but before I transport it somewhere, I'll generally chill it to firm it up. It just makes traveling with a cake a lot easier. That's totally okay to do.
FINAL TIPS & THOUGHTS:
So, think about how you'll be serving the cake, when you'll be serving it, if it includes perishable ingredients, if you'll be decorating it and then you can make the best decision.
I hope this helps. I know there seems to be a lot of confusion on the 'right' way to store a cake. Mainly just make sure you keep it well covered either in plastic wrap, in a cake box or cake keeper and chill it if it's got perishable ingredients.
OTHER POSTS YOU MIGHT LIKE: