You can actually freeze cake and cupcakes without getting freezer burn. As long as you follow a few easy tips, you can defrost them and you won't be able to tell they were ever frozen.
I love freezing cakes and cupcakes. It makes things so convenient to work ahead, or to just save leftovers. I actually think they taste better and are more moist when they're frozen first.
In this post, I want to give you my best tips for how to freeze cake layers plus cupcakes before frosting them.
As an Amazon Associate, I earn from qualifying purchases.
Jump to:
So, I like to do things ahead of time. I like to bake my cakes in advance and I thought why not share with you how I freeze them.
I think there are a lot of people who don't realize that you actually CAN freeze cakes and cupcakes successfully.
It's an absolute time saver, especially if you have a cake business as a side job, or if you just like doing things ahead of time.
I never have freezer burn on my cakes, probably because I go a little overboard on wrapping them, but I thought I'd share with you my tips and tricks.
Psst…this post will show screenshots of the tips, but don't forget there is a video close to the end of this post that shows my process.
Supplies Needed:
Freezing cakes:
When I pull my cakes out of the oven, I set them on racks to cool for 10 minutes. I don't let them sit in their pans any longer than that.
After ten minutes, I then turn them out of their pans and onto the racks to cool completely.
I've heard of people actually wrapping their warm cakes and sticking them directly into the freezer, but honestly that makes me a little nervous.
Isn't it moisture that causes freezer burn? I just don't want steam in there when I wrap them up, so I let them cool almost completely before wrapping them.
I may have mentioned it a time or two, but I have a love-affair with Press-n-Seal Wrap. I can't seem to work regular saran wrap (plastic wrap).
Call me weird, but it always just crinkles up on me and sticks to itself. I find TOO clingy. Press-n-seal is just so much easier to use.
Now, if you can't get press-n-seal where you live, don't worry. Regular plastic wrap will work just as well. I just don't find it as easy to work with.
Now, take a large piece of press-n-seal and set it sticky side down on the counter, set a cake layer on it and wrap it up.
Oh, yeah, you can also go ahead and cut the domes off the cakes, if there are any. You don't have to do this right now though. You can certainly do this after you've defrosted them.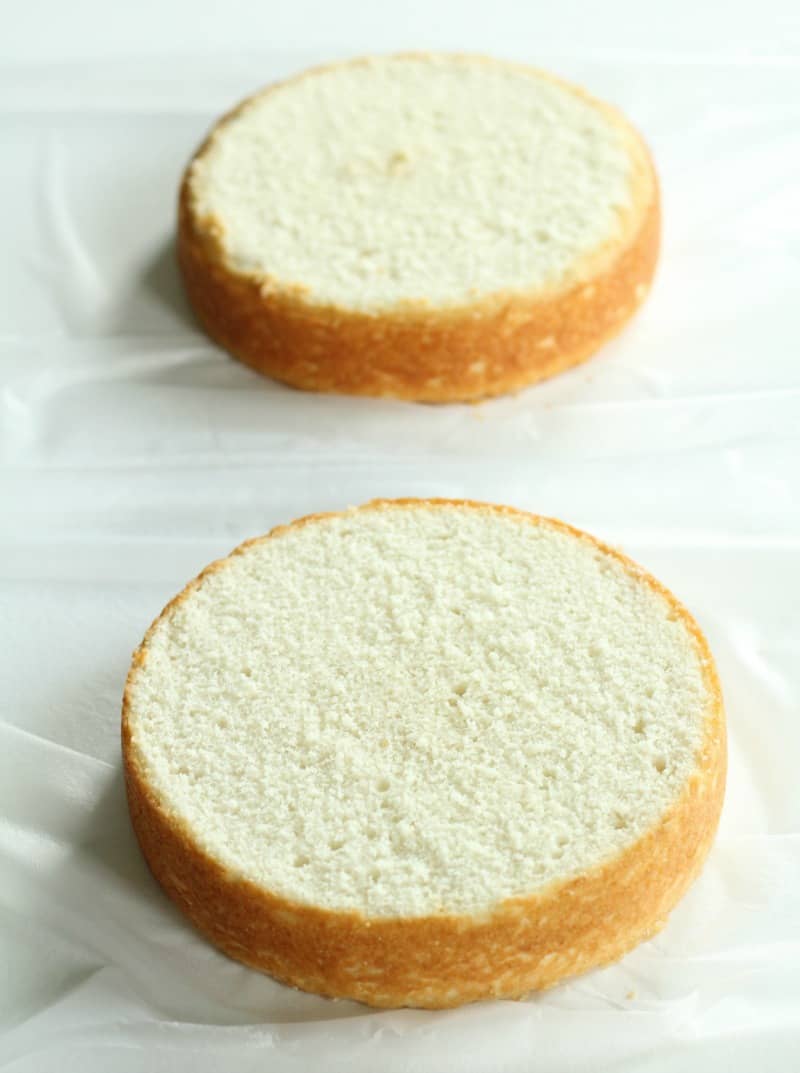 Next set a second piece of press-n-seal sticky side up on the counter, set the cake (seam side down) on it and wrap it up.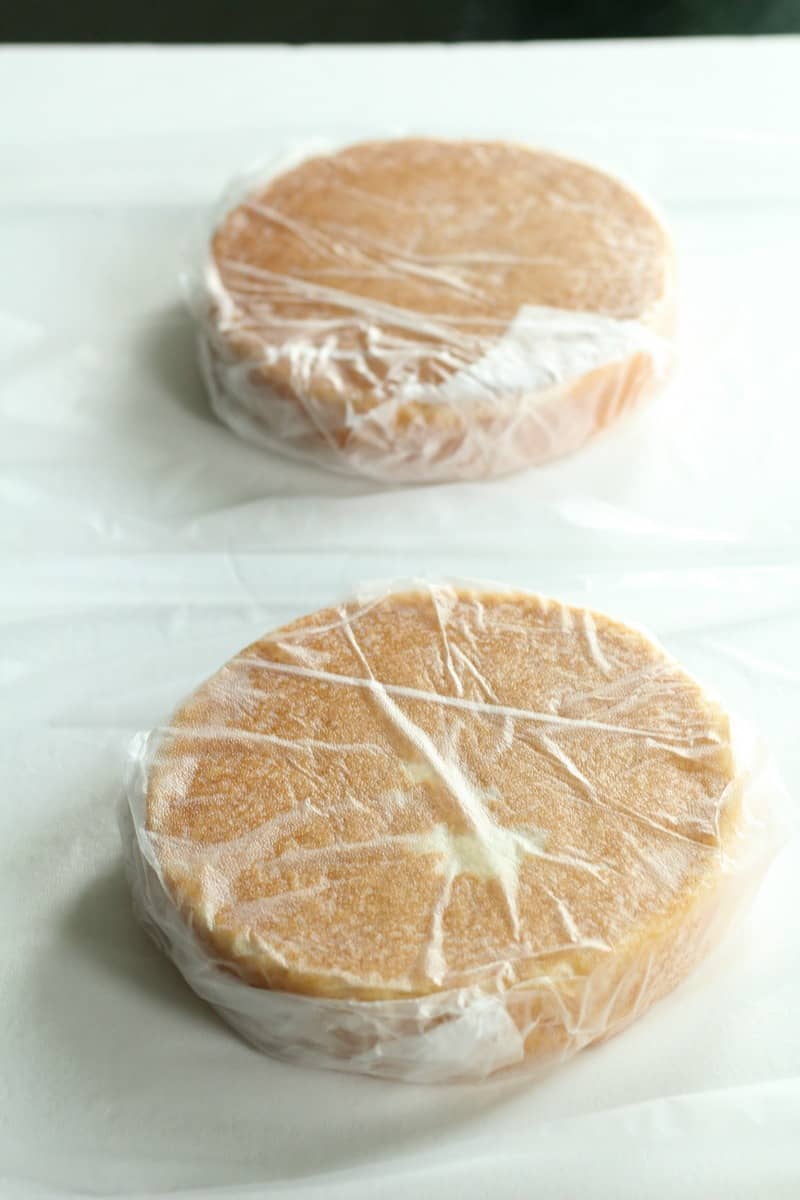 Now take a strip of foil and wrap them up.
Here's my method for the foil: Press down the ends of the foil, fold them in like a present and then roll up the ends. Wrapping it like that, keeps the foil from denting into the cake, or causing the cake to get misshapen.
After you've wrapped it once with foil, place the cake layer (seam side of the foil face down) and then wrap it up all over again. At this point you'll have two layers of plastic wrap and two layers of foil.
This may be a little overkill, but I just feel like it's better to me safe, than sorry and I definitely don't want any chance of freezer burn.
You can then stick a piece of tape on the top and write what kind of cake it is, the size and the date.
I do use a lot of materials, but like I said earlier, I never get freezer burn.
It's possible you only really need one layer of foil, and that's totally okay if you're making cakes for home, but when I was selling cakes, I always wanted to be dang sure, they were as fresh as I could get them and just went the extra mile.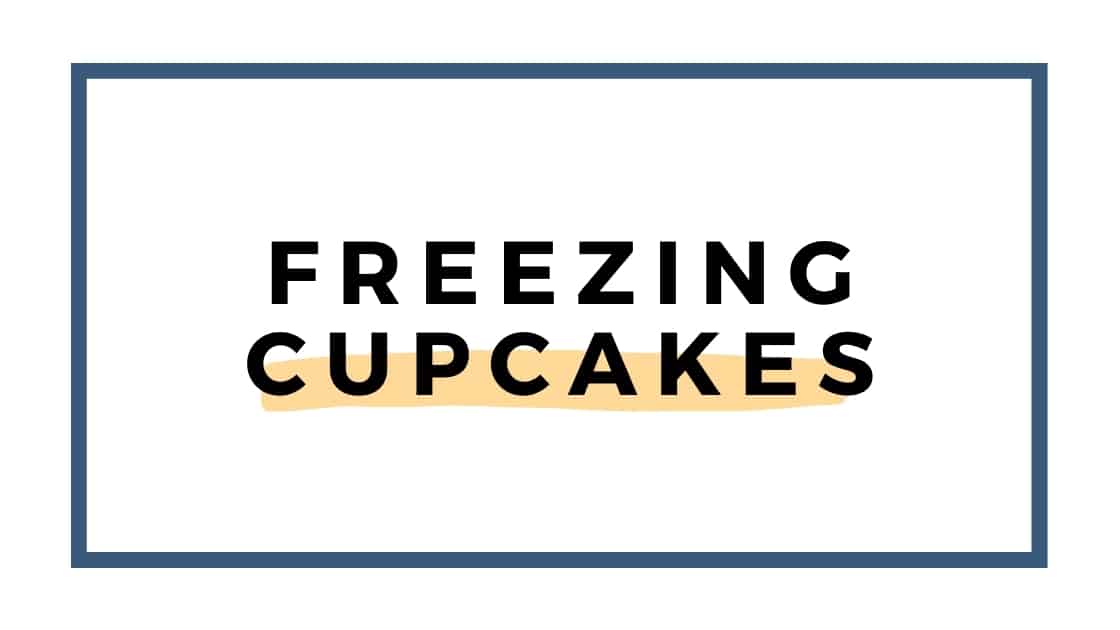 Freezing cupcakes:
Yes, you can make cupcakes ahead of time and freeze them. Freezing cupcakes is almost the same procedure as freezing cakes.
Take the cupcakes out of the oven and let them set in the pan, on the rack for about ten minutes.
Then take your cupcakes out of the pan and set them on the racks to cool completely.
Spread out a strip of press-n-seal (sticky side down), or you can use regular plastic wrap, and set 6 to 8 cupcakes on it and then wrap it up.
Set another strip of press-n-seal on the counter (sticky side up) and wrap them up again. At this point you'll have two layers of press-n-seal, or two layers of plastic wrap.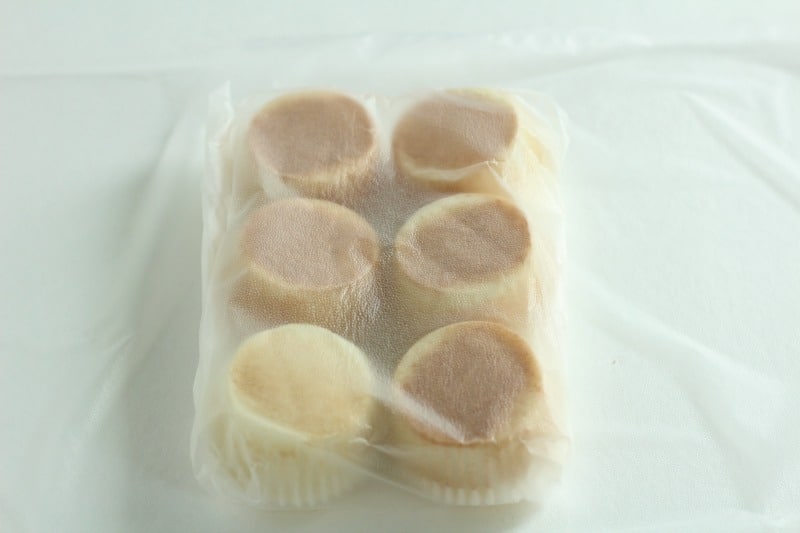 Next, place one or two of these cupcake packets into a gallon freezer bag. Then label the bag with the flavor and date.
Again, it may be a little overkill with the wrapping, but I'd rather be safe than sorry and I've never had a cake or cupcake come out of the freezer with freezer burn.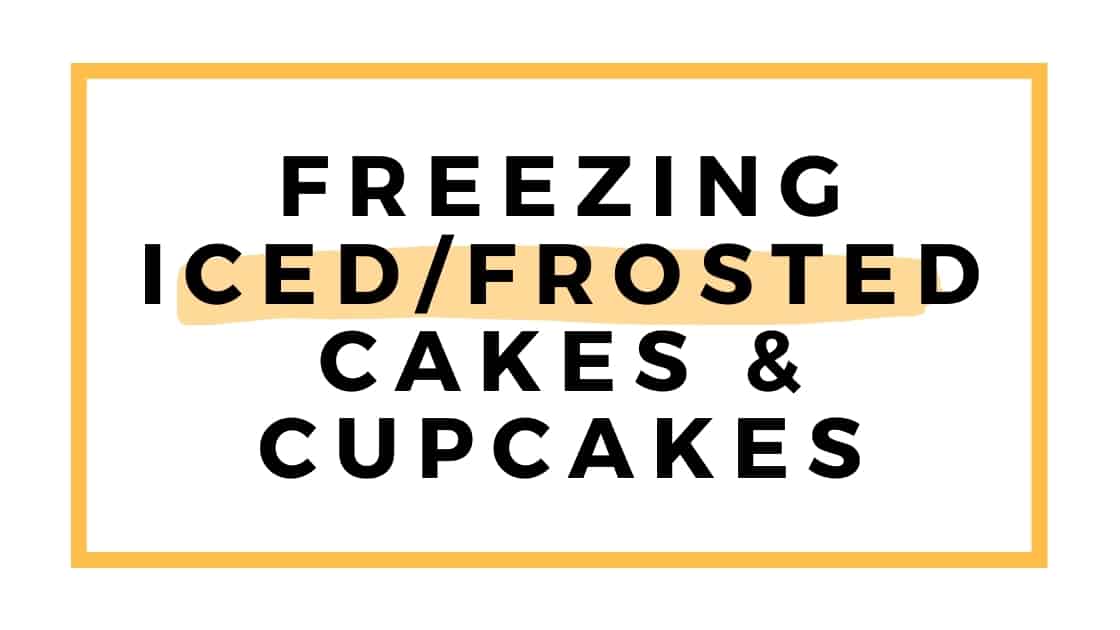 Freezing iced/frosted cakes & cupcakes:
It's not my first choice to freeze frosted cakes and cupcakes. It can be done though.
I have known people to freeze whole frosted and decorated cakes before, although I wouldn't do that unless you absolutely needed to.
Rose from Rose Bakes has a wonderful tutorial on how she froze an entire fondant covered cake and you can see how she did it here: Can You Freeze a Fondant Covered Cake?
You can also freeze iced or frosted cupcakes as well. You have to think ahead a little, but it can be done. I honestly prefer to freeze them without icing and then ice them once they're defrosted, but sometimes you don't have that option.
I have an entire post about how to store cupcakes that goes through what to store them in and what to freeze them in. You can see that post here.
In short, you want to place them in a container that won't squish them.
How long can I freeze cakes and cupcakes?
Personally, I don't like to keep cakes or cupcakes frozen over three to four weeks.
Yes, technically they are still fine to eat after that, but if you're selling these, then you want them as fresh as possible.
I have an entire post that goes through how far in advance you can bake cakes (and decorate them). If you like to work ahead, then you'll want to check that out here: How Far In Advance Can I Bake a Cake?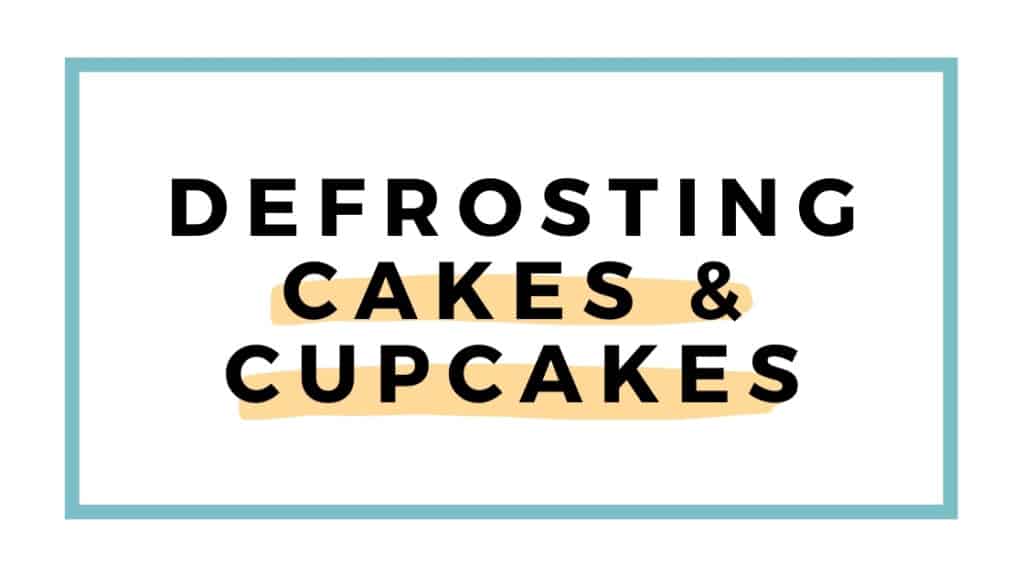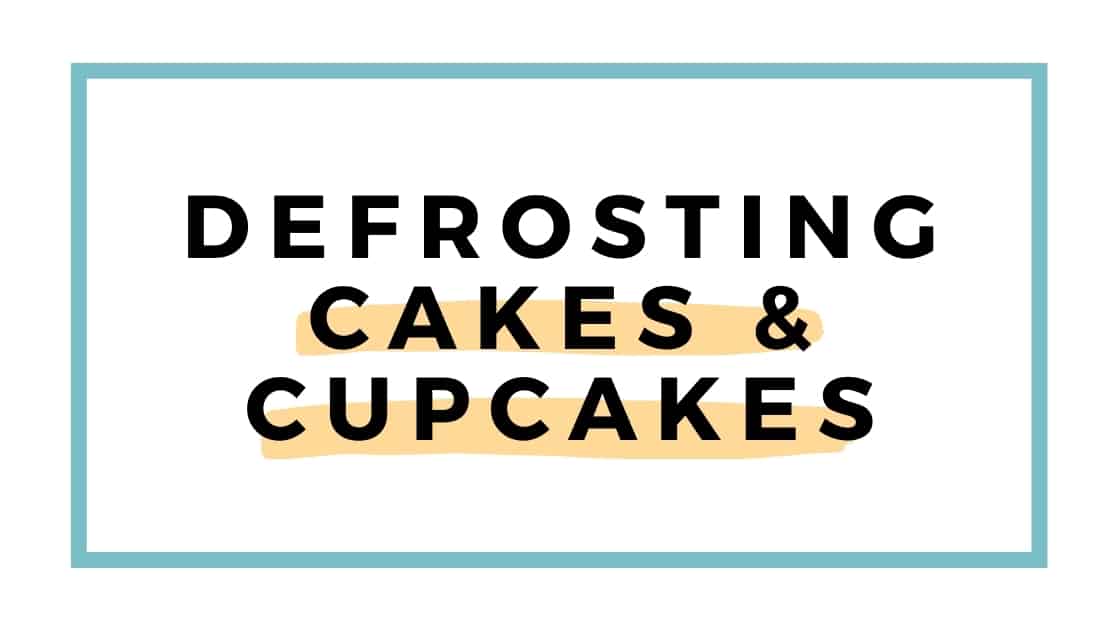 How to defrost cakes and cupcakes:
I think most people would assume you just take the cakes or cupcakes out of the freezer, unwrap them and then just let them defrost that way. YOU DON'T WANT TO DO THAT! Ok, I'm sorry I yelled at you, but I had to get your attention.
Here's what you DO want to do: Take your cakes or cupcakes out of the freezer, but leave them in their packaging to defrost.
The reason? Well, defrosting will cause some condensation and if you leave them in their packaging, then the condensation will form on the outside of the packaging and NOT on your cakes or cupcakes.
Too much moisture on your cakes can cause air bubbles when you try to ice it. The icing may go on smoothly, but a couple hours later, you'll look at the cake and there will be a blow out or icing bubble on the side of it.
For more info on why that happens and how to prevent it, you'll want to check out this post: Should I Refrigerate my Cakes before Decorating Them?
As for cupcakes, if you allow condensation to build on the actual cupcake, it could cause the liners to pull away from the cupcake, or perhaps the icing won't stick to the cupcake.
And unless your cake or cupcakes have perishable fillings in them or are frosted with them, then it's not necessary to let them defrost in the fridge. In fact, keeping them there can sometimes dry them out.
Video:
Ok, now it's your turn to try freezing your cakes and cupcakes and tell me what you think! I think you'll be surprised at how fresh they taste…like you just baked them actually.
Don't forget to pin it below!