I like to make my fondant decorations ahead of time. It really lessons the stress. So I came up with a way to keep premade fondant decorations soft and pliable for weeks, so they're ready when I need them.
Awhile back, I was asked to make this cake that included tons of fondant scroll-work on it. Well, I work a full-time day job and I knew that there was no way I'd be able to mold that many scrolls AND actually get them on the cake in the time I had to do the job.
This post contains affiliate links. As an Amazon Associate, I earn from qualifying purchases. You can see links to my website policies in the footer.
This cake was a two-sided cake, so it was very involved, plus they had ordered cupcakes to go along with it. I needed a plan. I knew I would have to pre-make most of the items and I had to come up with a way to keep premade fondant decorations soft.
Since I work a full-time job, I usually try to do everything that I can ahead of time. Obviously, there are things you can't do ahead of time, but with a little ingenuity, you can do a lot more than you thought.
I wanted to go ahead and mold all the scrolls, but I needed them to stay pliable because I wouldn't be able to work with them how I needed to if they were hardened. So I set out to do some experiments.
Below are the molds I used to make most of my scrolls and my small roses. You can find a similar scroll mold here. (The Wilton one I used has apparently been discontinued.) You can find the rose mold here.
The first thing I thought of was to use modeling chocolate because it doesn't harden as much as fondant, but the color of the modeling chocolate was a bit whiter than my fondant and they needed to be the same color. The modeling chocolate also didn't stay as pliable as I needed it to.
The next thing I tried was creating some scrolls and putting them in a plastic container layered between wax paper and then sealing the container. Well, that didn't work…they still hardened up too much. I even tried putting them into ziplock bags and then into a container and that STILL didn't do the trick. I needed something that would totally seal out any air.
Then I had a moment of clarity. My family knows I have a love affair with press-n-seal. I use it for practically everything…to wrapping my cake layers to freeze them, to covering bowls of icing or ganache, to just about anything.
In fact, my youngest step-son said the best thing he could think to get me for Christmas was an econo-sized box of Press-n-Seal. Do you know what? He was so right. By the way, you can get my tips for freezing cakes and cupcakes here. It'll pretty much prove to you how much I love that stuff.
So, this is what I ended up doing and it completely worked.
I pulled out a strip of press-n-seal and laid it on the table, sticky side up.
I made enough scrolls to cover half of the rectangle and set them on top of the press-n-seal. I made sure to leave space between each item and enough space at the edges of the press-n-seal.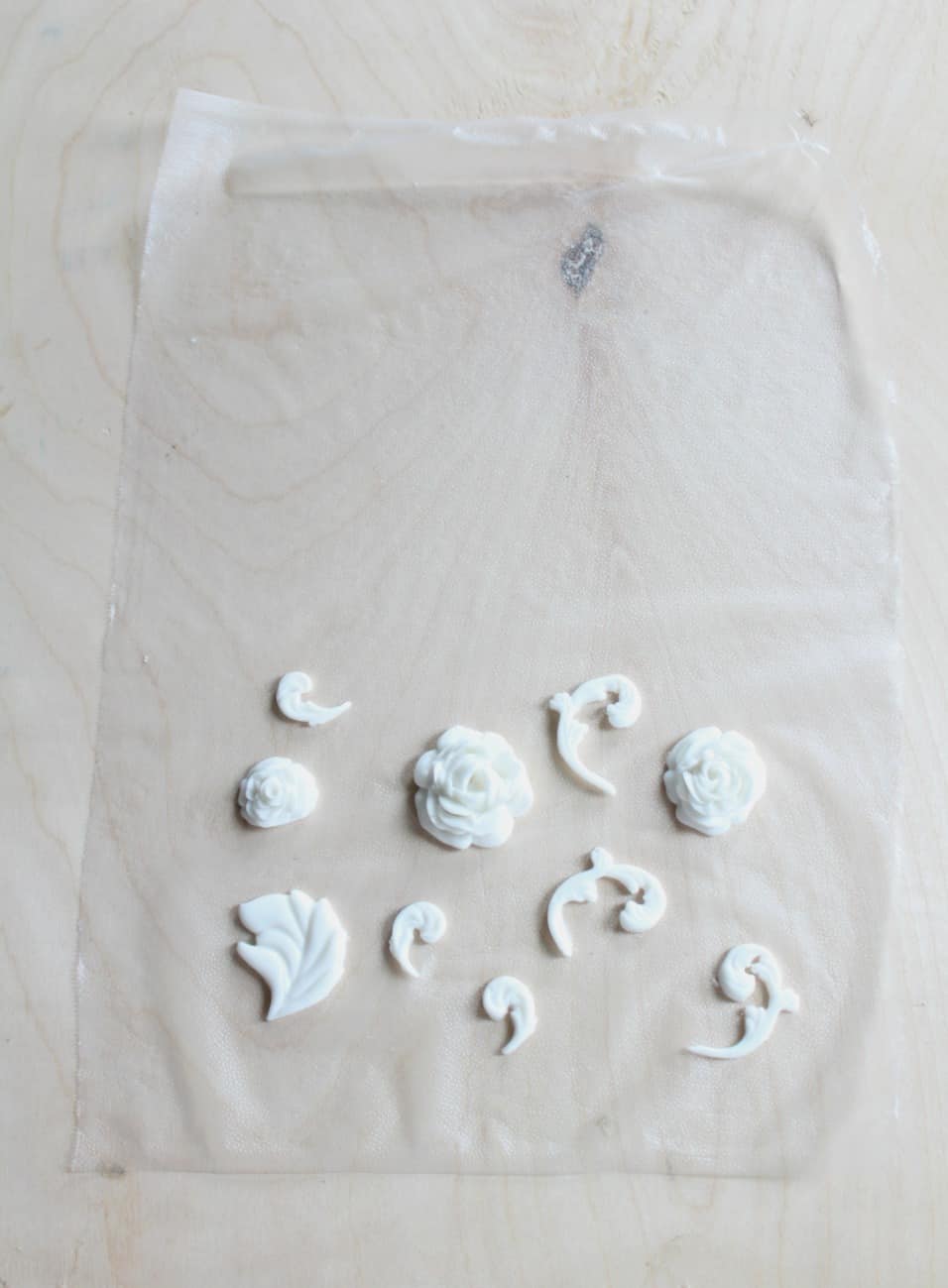 Then I took the other end of the rectangle and folded it over the fondant items.
I took my finger and pressed the top layer of press-n-seal into the bottom layer to stick them together. I did this first between all of the fondant items and then I sealed the edges. This completely seals off any air from getting to the fondant pieces. You want to be careful not to smash them when you're sealing around them. The press-n-seal forms a sort of bubble around each piece.
I picked up these little packets and laid them in layers in a plastic container. You can fill up your container with these (as long as they aren't large, heavy pieces) and then snap a lid on it. Keep these out of the sun and in a cool area of your house. I have a small closet I use to store my fondant in.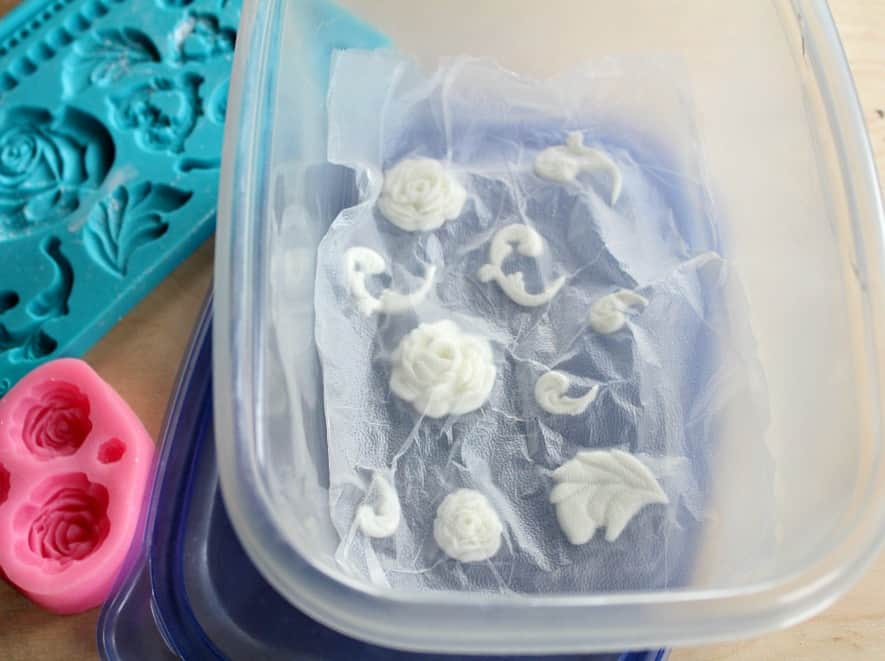 This totally worked for me! I made them weeks ahead of time and they stayed exactly the same as when I had put them in the container!
Ok, I'm about to get sentimental on you. About two weeks before this wedding, my dad passed away. He was diagnosed with pancreatic cancer and the doctors had only given him several weeks to live. I knew that not only would I NOT have time to do this all on decorating day, because I worked full-time, but that I would also be facing the death of my dad soon.
After work, I would go and spend hours sitting and talking with him, then go home and work on my cake projects late at night. It was sort of cathartic. My plan was to do a little bit at a time, so I could get as much out of the way as I could.
I had lost my mother ten years before and I knew what I would be facing when the time came. If you've ever gone through this, you know that anything and everything, including the smallest of decisions, will stress you out when you are grieving. I did not want to pull an all-nighter on this cake. I knew I would not be able to handle that.
You may or may not believe in God, but I do. If you do, you may or may not believe that God works not only in mysterious ways, but that he also works in very small ways. It may sound silly, but I'm glad He helped me figure this out because it took so much weight off me. Silly or not, I was grateful.
The day I put this cake together, all I had to do was pull apart the press-n-seal and attach the scrolls to the cake with a little water. It worked beautifully.
Now, I won't say this method is perfect for every situation, but it did work for me. If you have decorative items that aren't textured, this may not work for you. When you seal around each item, it sort of forms a little bubble around it to keep it safe, but if the press-n-seal gets a little wrinkled under it, you might get a little texture from the press-n-seal imprinted on your items. If your items are textured and don't need to be super smooth, it'll work great for you.
The thing about this method is that it doesn't just work for scroll work. It can work for a lot of different applications.
You might need to add a plaque to your cake, but you don't want to make it on decorating day. If you've got a round cake, that plaque is going to have to be curved around it. If it dries flat, well it just won't look right when you attach it to the cake. You could just dry it on a foam cake dummy the same size of the cake you'll be making, but what if you don't have one handy?
This tip might be your best option. Make the plaque, seal it in a press-n-seal pocket to keep it pliable. If you need it to harden up, just slightly so it doesn't get misshapen when you attach it to your cake, just let it sit out for a bit.
This method worked perfectly for me and I think my cake turned out really well. The bride loved it and that's what mattered. With everything on my mind during that time, I was able to put this cake together without pulling an all-nighter, which just wasn't an option at the time.
What do you think?
Oh and would you like to see the groom's side of this two-sided cake? It's pretty awesome, if I do say so myself 😉 The guitar parts were also made way ahead of time. Maybe you can just call me the Queen of Preparation. (Although that doesn't sound very fancy, does it.)
P.S. Would you be interested in a tutorial on how to make this two sided cake? Or maybe you're just interested in how to make the guitar? Let me know! I'd love to know what you're interested in hearing about!
I really hope this tip helps you out in a future project and you're able to do things little by little. I LOVE saving myself stress and I hope this tip saves you some as well.
Don't Forget to Pin it for Later!