You can never have enough caking tools right? I'm constantly adding things to my supply hoard, but there's only so much room one has in their house for cake supplies. Although, maybe a second house just for caking would be nice…is that crazy? Yeah, that's kinda crazy, but one can dream.
This is the place that I've gathered together some of my favorite cake decorating tools. These are tools I use and recommend.
There are also other helpful caking items including courses. (I'm only recommending courses I've personally taken.) I hope you find these recommendations truly useful.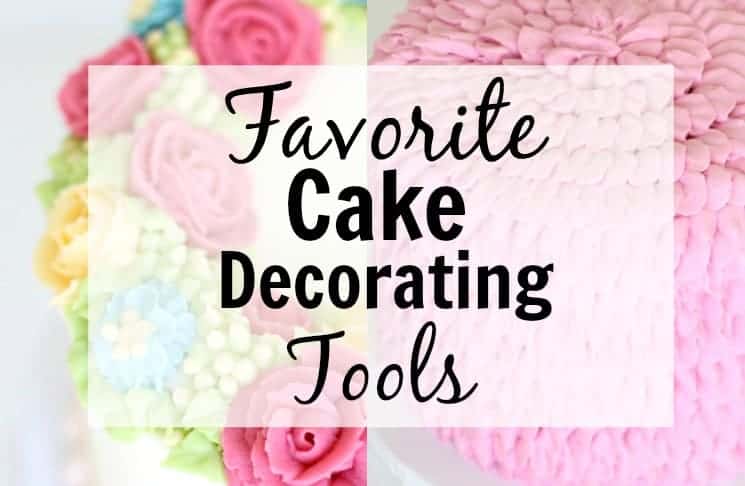 This post contains affiliate links, which means I will receive a referral commission, at no additional cost to you, if you make a purchase using these links. As an Amazon Associate, I earn from qualifying purchases.
These links also use cookies, which tracks and allows me to get credit for the referral. You can see my policies linked in the website footer.
Courses:
Free Mini Course – Making Fondant Ruffle Cakes:
My first recommendation is one of my own courses and the cool thing is it's actually totally free!
Free Mini Course for Making Fondant Ruffles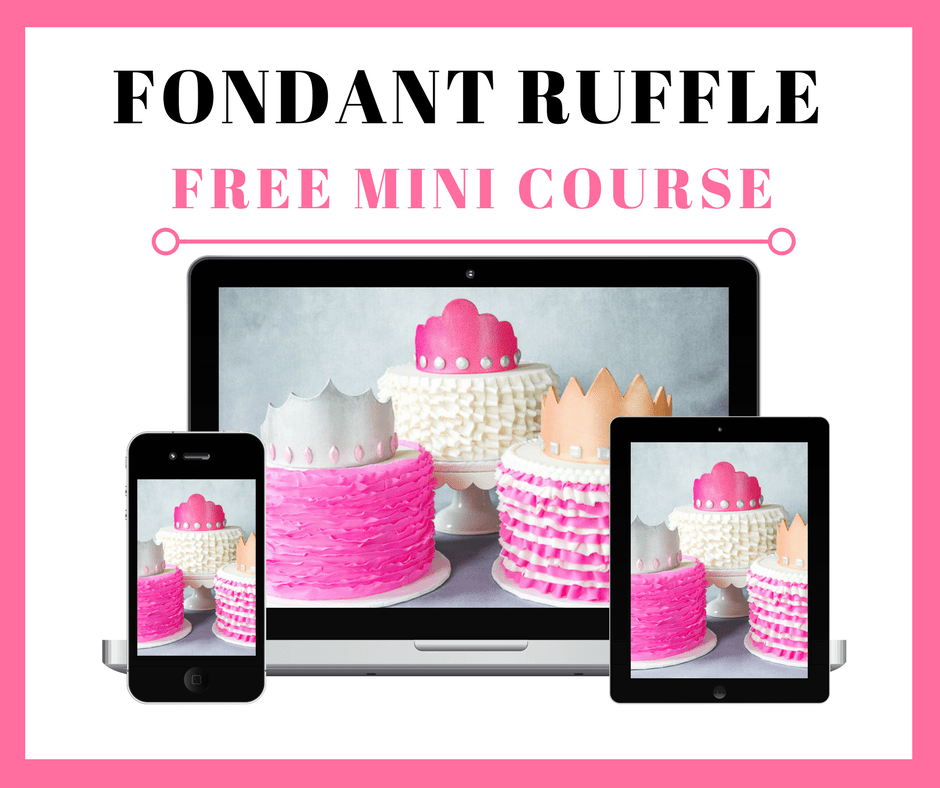 Cake Decorating Fundamentals: The Nitty-Gritty Basics of Buttercream Cakes:
My next recommendation for courses is my course I've created for beginner cake decorating. It includes all my best tips and advice for beginner cake decorating in a step-by-step format. You'll be able to complete five different cakes from start to finish by the end of the course, plus you'll gain a good basic foundation to start decorating cakes.
It's got over four hours of instruction plus recipes, cheatsheets, planning sheets and more. See more about it by clicking the link below.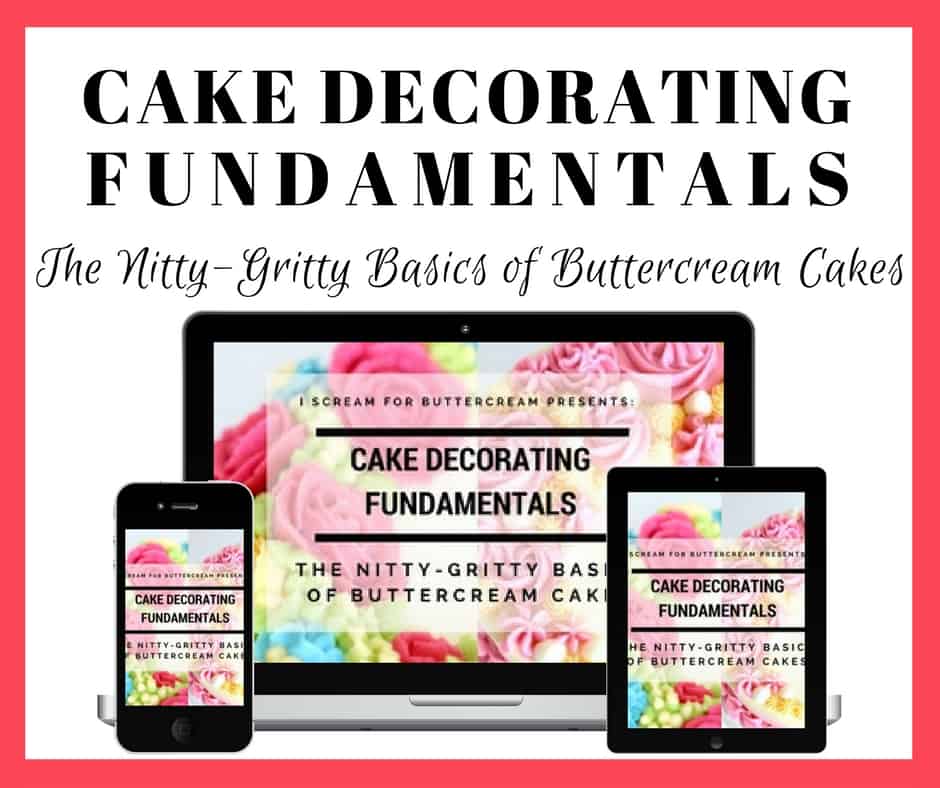 Cake Planning Course Plus The Ultimate Cake Project Planner:
The second course I recommend is also one of mine. (Shameless plus here.) If you're having trouble planning out your cake projects, or you're knew to it and don't know where to start, this course will show you all the steps in planning out your cake projects, so you're not stressed out about the whole process. It also includes The Ultimate Cake Project Planner, which is a downloadable and printable planner you can use to plan out your cake projects with style.
You can see more details about the course here:
Cake Planning Course Plus The Ultimate Cake Project Planner
Baking Equipment:
Magic Line Pans
Parrish's Magic Line Round Cake Pan, 8 by 2-Inch Deep
Magic Line pans really help to bake your cake evenly, plus they aren't super expensive. The link above is for the 8″ pan, but it's really great to get a couple in several different sizes. I recommend if you're just starting out, to get three in sizes 6″, 8″ and 10″.
Cooling Racks
Wilton 2105-459 Excelle Elite 3-Tier Cooling Rack, 15 7/8″ X 9 7/8"
These are the cooling racks I have. There are many different types. I like these because they are stackable. If you have a large cake though, you'll have to slide two of them together.
Kitchen Aid Mixer
KitchenAid Classic 250-Watt 4-1/2-Quart Stand Mixer
This is my most used item in my kitchen and it's my baby. I have this exact model, which is the classic model. There are other models to choose from as well. This baby makes life so much easier.
Paddle Attachment
KitchenAid KFE5T Flex Edge Beater for Tilt-Head Stand Mixers
I love the paddle attachment. I use it for practically everything. I barely use the whisk attachment…just mainly if I have to make a meringue of some sort. The paddle attachment is great though because it keeps buttercream from getting to much air incorporated into it and it gives you less chance of overbeating your cake batter. There are also paddle attachments without the scraper.
An Extra Mixer Bowl
KitchenAid K5GB 5-Qt. Tilt-Head Glass Bowl with Measurement Markings & Lid
It's always good to have an extra mixing bowl if you've got a KitchenAid Mixer. Once you bake your cake, you can go ahead and prepare the buttercream without having to wash the mixing bowl you just used for the cake batter. (I hate washing dishes and put everything in the dishwasher. Sometimes I just don't want to wait for dishwasher to do its thing. That's where the extra bowl comes in.) This one is great because it comes with a cover. I try to use this one when I make my buttercream because I  can just add the lid and it keeps it fresh.
Pasta Roller Attachment
KitchenAid KSMPSA Pasta Roller Attachment, Silver
This is one of my favorite tools that I own. It has paid for itself a hundred times over. If you work at all with fondant, this is one thing that will make your life so much easier. To see how I use it, check out my post: 3 Ways to Use a Pasta Roller for Cake Decorating
Cake Decorating Supplies:
Cake Leveler
Wilton Decorate Smart Small Cake Leveler
This is a good leveler to get you started. It's inexpensive and works. It's for cakes up to 10″, so if you have a large cake, you'll have to use a knife to level those. There are more expensive options for cake levelers, but I actually like using this one. I've used others that have a serrated blade but for me, this one that uses a wire, does a better job at cutting the cakes evenly.
Wilton Cake Turntable
Wilton Trim 'n Turn ULTRA Cake Turntable Rotating Cake Stand, 307-301
This is a good and inexpensive turn table to use when you're just starting out. I still have mine and I still use it.
Winco Turn Table
Winco CKS-13 Stainless Steel Round Cake Stand, 13-Inch
This is another option for a turn table. I have this one as well as the Wilton turntable. There are other options, but this one is very sturdy and turns very smoothly. See my post about How to Ganache a Cake to see how I use my turntable to get a smooth surface on my cakes.
Small Icing Spatula
Wilton 409-7712 Angled Icing Spatula, 9-Inch, Black
Large Icing Spatula
Wilton 409-7716 Angled Icing Spatula, 13-Inch, Black
Favorite Icing Tips
Wilton Decorating Tip, No.12 Round
Wilton Decorating Tip, No.4B Star
Wilton Decorating Tip, No.6B Star
Wilton 402-2110 1M Open Star Piping Tip
Wilton No.2D Decorating Tip, Drop Flower
Wilton Cake Decorating Tip Pkg Open Star #21
Wilton 402-104 Petal Decorating Tip
Wilton Decorating Tip, No.352 Leaf
Flower Nail
Wilton W4023007 Flower Nail for Icing, 1.5-Inch, No.7
You can get different sizes of flower nails. Most of the time I just use the standard size, but there are larger flower nails for making larger flowers.
Icing Coupler Sets:
Ateco 4-Piece Set of Standard Couplers
These are awesome because you can add these to your icing bags and change the tips without having to fill a different icing bag. They make things so much more convenient. They won't work on the very large icing tips like the 1M and 2D, but they work with most other standard tips.
Icing Bags:
Wilton 2104-1358 Disposable 12-inch Decorating Bags, 24 Pack
I really love the disposable bags because I'm kind of lazy and well washing out an icing bag is just not something I'm willing to spend my time on. I normally just get the 12 inch bags.
Buttercream Smoothers
Sweetly Does It 2 Piece Icing Scraper Set
Norpro Stainless Steel Scraper/Chopper
There are a lot of choices for smoothers. There are plastic and metal smoothers and I use both for different applications.
Here are links to some of my tutorials that show the smoothers in action:
Chocolate Heart Cake Ball Cake
Gel Food Coloring:
Wilton 601-5580 1/2-Ounce Certified-Kosher Icing Colors, Set of 12
Americolor Soft Gel Food Color
For cake decorating, you don't want to use regular liquid food coloring you get on the baking aisle. It will just water down your buttercream. There are some that come in little jars, like above and there are some that are a soft gel consistency…those are usually the Americolor gels. I use them both.
Small Level
It sounds weird, but this is really an important part of cake decorating. I use it to make sure the top of my cake is level and also the sides. It's saved my life many times 😉
Wilton Candy Melts:
Wilton 1911-1300 Candy Melts, Bright White
These can be used for all sorts of things, but what I mostly use them for is to stick the cake board onto the cake base. It's much more sturdy to use the candy melts instead of just using buttercream, especially if you're in a hot climate, since buttercream can get warm and you don't want your cake sliding around on the base board.
Cake Boards and Packaging:
Cake Boxes
Wilton Plain 10 x 10 x 5 Inch Cake Box
Cardboard Cake Rounds
Wilton 8-Inch Cake Circle, 12-Pack
You can use these for directly under the cake or attach several together for the cake base. See this post for cake board and base ideas.
Foam Core Cake Boards
Foam Core Cake Board Round White, 10 x 1/2 Inches by GSA
I love to use the 1/2 inch foam boards as cake bases. They are super sturdy. I'll also use them (in the 1/4 inch thickness) under each tier, if it's going to be a heavy stacked cake.
Press n Seal Wrap
Glad Press'n Seal Food Wrap, 140 sq ft-2 pack
If you've read these posts: Tips for Freezing Cakes & Cupcakes, How to Keep Cupcakes from Drying Out, and How to Keep Premade Fondant Decorations Soft, you'll know that I am obsessed with Press n Seal Wrap. I should really buy some stock in this company.
Fondant Supplies:
Large Fondant Roller
Wilton 1907-1211 Fondant Gum Paste Rolling Pin with Rings, 20-Inch
You'll need a large fondant roller for rolling out fondant that you'll drape over your cakes. There are a lot of different options, but this is the one that I have and it works great for me.
Small Fondant Roller
Wilton Fondant 9 Inch Rolling Pin
This is the mini version of the large rolling pin above. It's much easier to handle when you're rolling out decorative items like ruffles, gumpaste petals, leaves and cupcake toppers.
Flower Cutter Set
Pallet Knife
Dresden Tool
Ball Tool Set
Fondant/Gumpaste Shaping Foam
Mini Pizza Cutter
I really hope this was useful for you and if you happen to use an awesome cake decorating tool that I may have missed, just let me know. I'm always interested in new tools!
*This page is updated frequently with my most loved and used cake decorating tools.
7 EASY TIPS TO GET PROFESSIONAL LOOKING CAKES!
Grab the guide: 7 Tips to Make Your Cakes Look Professional PLUS access to the subscriber-only resource library!
Plus you'll get free cake tips & recipes in your inbox every week!
See our privacy policy here.