In this post, I'm giving you all my best tips on how to ganache a cake. Ganache is perfect as a smooth finish on your cake and also works well for piping when it's whipped.
Oh ganache…that smooth rich chocolaty goodness. It's perfect as the final coating on a cake and in my opinion, it's THE perfect icing for under fondant.
You just can't beat the look and taste. You can use it as a smooth coating around your cake, or you can whip it and pipe it on your cake. In this tutorial, I want to show you how to ganache a cake.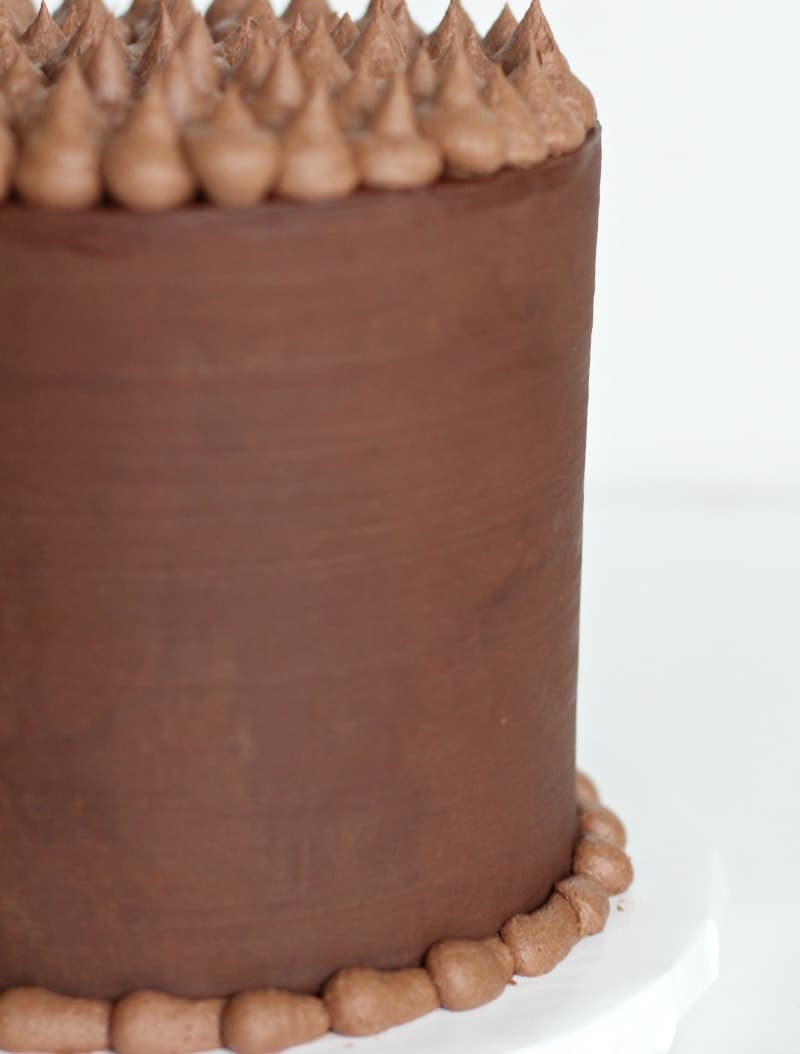 You can get a super smooth finish with ganache and it'll form a firm shell over your cake. Now, it's firm, but you can still cut through it. It's not going to be cracking on you.
Or you can whip the ganache and use it to pipe on your cake.
Both methods work beautifully.
This post contains affiliate links. As an Amazon Associate, I earn from qualifying purchases. You can see links to my website policies in the footer.
SUPPLIES NEEDED TO COVER A CAKE IN GANACHE:
Cake rounds (the same size as your cake)
A larger cake round (you're just using this one as a base until you put the finished cake on the decorative cake base.)
A cake base (one that's at least two inches larger than your cake.) For tips on making your own cake bases, go here.
Wax paper
Scissors
Long sharp knife for trimming the cake
Buttercream for filling (if you aren't filling your cake with ganache) I used my double chocolate buttercream.
Pot of boiling water (you'll use this later)
STEPS FOR GANACHING A CAKE:
(Pssst…you can find the video tutorial below the steps.)
First you want to stack and fill your cake. I like to use buttercream because well…I love buttercream and I like the variation when I'm using ganache on the outside of the cake.
After I've filled the cake, I like to let it settle at least a couple hours, preferably over night. I don't want to get those dreaded ridge lines in my cake.
After it's settled, I then add a top board, the same size of the cake and bottom board. Check to see if any of the cake needs to be trimmed off. You don't want any peeking through while you're trying to smooth the ganache.
After trimming the cake, take the top board off and set aside. You want to cut a circle of wax paper the same size of the cake board. (I'll show all this in the video below.) Attach to the cake board with a little buttercream.
Spread ganache on the top of your cake and set the wax paper covered board on top. Level the top and then level the sides. You want everything lined up. Now, chill it in the fridge for about ten minutes, so the ganache will set up a bit.
Once chilled, spread ganache with a large spatula and smooth with a smoother. Chill again for about ten minutes. Once chilled, do one more coat and smooth well. Chill one last time.
Once chilled, take your spatula and heat it up in your boiling water. Slide it under the top board and pop it off, then pull off the wax paper.
Spread a little more ganache on the top and smooth.
Go here to get the recipe for ganache: How to Make Ganache
And a quick and easy way to decorate a ganached cake, the Gold Polka-Dot Ganache Cake.
So, onto the video on how to ganache a cake:
Don't Forget to Pin it for Later!