A beautiful cupcake bouquet for the one you love.
This Valentine's Day cupcake bouquet makes a lovely gift for your sweetheart. The mini cupcakes are piped to look like roses and placed into a heart shape.
This step-by-step tutorial will show how to use mini cupcakes, floral foam, tissue paper, babies breath and a gift box along with red icing to make a one-of-a-kind gift.
I really love making these types of cake crafts. It combines my love of cakes and cupcakes with crafting…it's just so fun!
In this tutorial, I'm going to go through all the steps to make this cute Valentine's Day cupcake bouquet.
By the way, there is a video close to the bottom of this post that shows all the details.
This tutorial is more of a craft tutorial than a cake decorating one. The rosettes on the cupcakes are just so easy to do, it will take you no time at all.
If you want to delve deeper into how to pipe rosettes, then you'll want to see this post: Better Buttercream Rosettes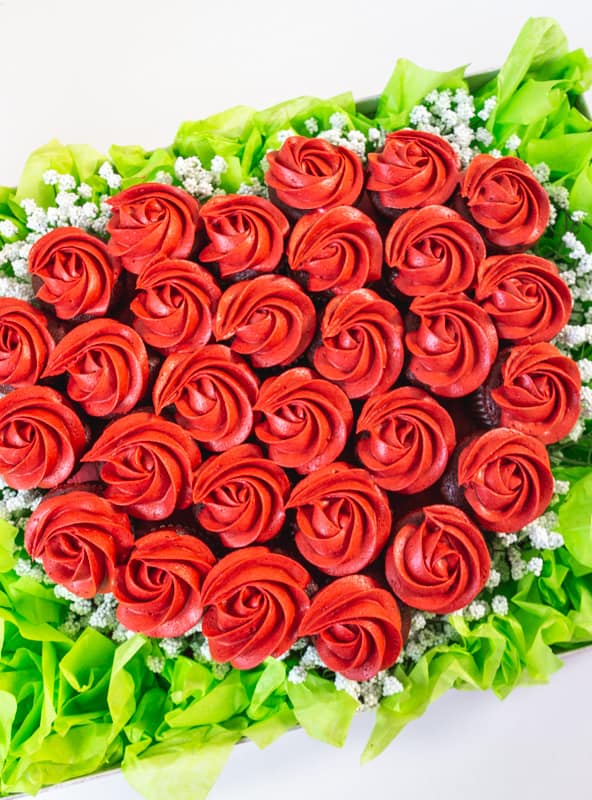 Red buttercream isn't hard to make, if you know the right tricks and I'll add a link to a post about that in the supply list.
I've also included a printable template for the heart to make things easier for you.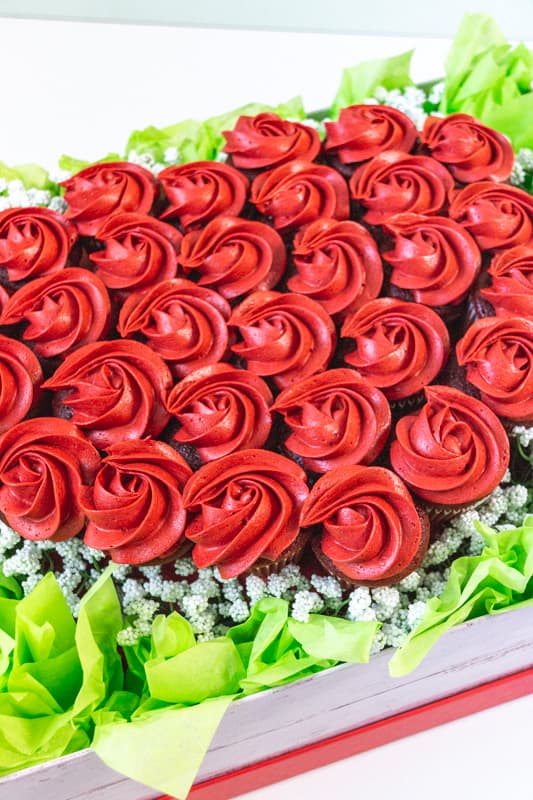 Ok, let's get straight to the tutorial and remember there's a video close to the bottom of this page that will show everything as well.
This post contains affiliate links. As an Amazon Associate, I earn from qualifying purchases.
Supplies Needed to Make this Valentine's Heart Shaped Cupcake Bouquet:
Mini red velvet cupcakes – You can use a box mix, or my recipe here: Sour Cream Red Velvet Cake. (If you make a full recipe using either my recipe or a cake mix, you will have A LOT of mini cupcakes left over, so you can either make two of these bouquets or just have some leftover to eat yourself. )
Mini cupcake pan
Mini cupcake liners
Super red gel food coloring (if my store is out, then try here.)
A gift box (I just grabbed one from the dollar store.)
Floral foam (I picked this up at my local dollar general.)
Hot glue and glue gun
Red and green tissue paper
Faux babies breath (I found this at the dollar store.)
Toothpicks
Steps to Make this Cupcake Bouquet:
Now let's get into the step-by-step details.
Prepare the box for cupcakes:
You'll want to use some kind of box. It doesn't really matter what size, although you'll want to use one big enough for the heart template.
I just used a Christmas one I found at the Dollar Store. (You won't see the top of the box anyway.)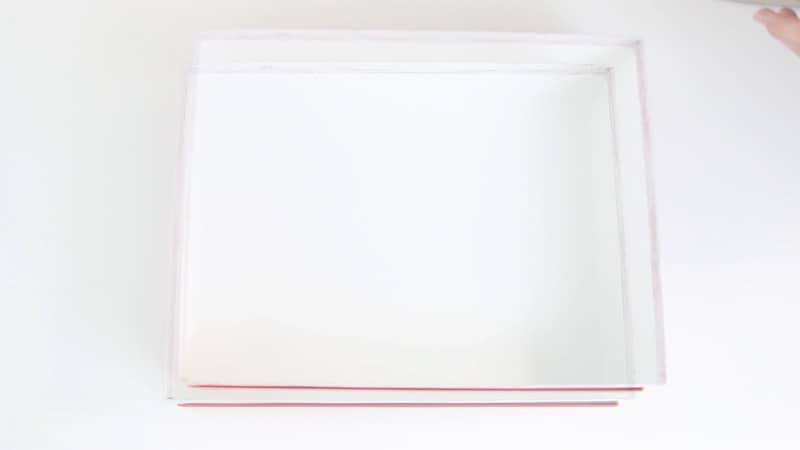 You'll then need to add floral foam to it. I got the floral foam blocks from my local Dollar Tree.
You'll probably have to cut a few blocks to get it into a rough heart shape. (You'll see this clearer in the video below.)
Just set your heart template on top and make sure you have enough floral foam in the box to cover it.
Once you've sized it all up, then you can hot glue the floral foam to the box.
Once you get one layer of the floral foam glued down, you'll need to add another layer of foam right on top of it.
Once they are glued down, cut out your heart template and trace around it onto the floral foam.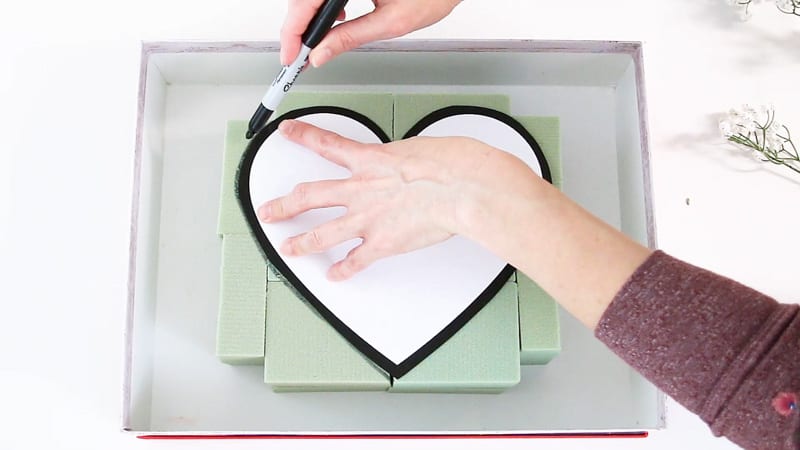 Take a knife and cut around the heart you just drew. Only cut the top layer of foam though.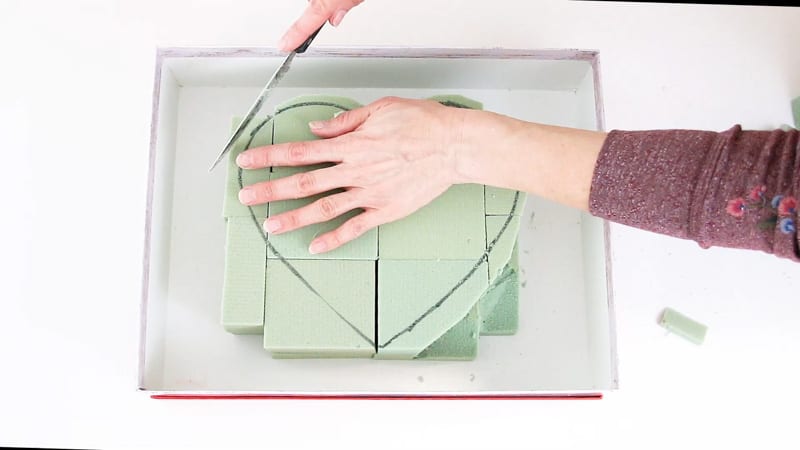 Cover the foam with red tissue paper. You don't have to glue it down, just kind of smash it and fit it around the foam shaped heart.
Now you'll attach some faux babies' breath all around the heart. You can use the stems and push them into the foam or you can hot glue them around the heart.
Now take your green tissue paper and add it to the box all around the heart.
Adding the mini cupcakes to the bouquet:
Add a toothpick and attach a mini cupcake to the top middle of the heart. Work around it adding toothpicks and mini cupcakes as you go until the heart is filled up.
Piping and finishing up the cupcake bouquet:
Using a 1M icing tip, pipe rosettes on each cupcake.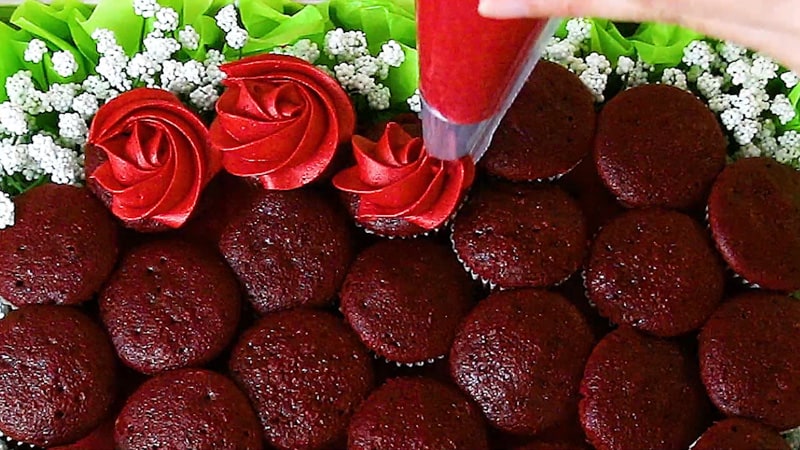 Video for Making This Bouquet:
That's it! Now you've got a beautiful Valentine's gift, or centerpiece for a party!
Other Posts You Might Like: